Chucking Bugs On the Go
Obsession knows no bounds, and I am obsessed with catching fish on the fly. If you're like me, the chance to wet a line in an unfamiliar body of water is not just a challenge, but an opportunity to come into contact with different species of fish than you may normally target.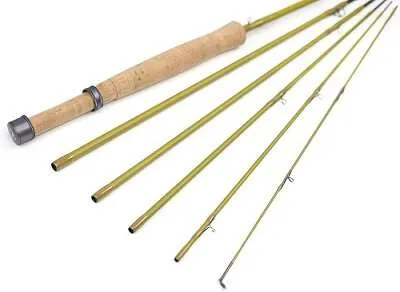 To do this effectively, a dependable and functional travel fly rod is a must. Here, I'll review some travel fly rods so that you can buy with confidence and be ready for those unexpected opportunities to fish at a moment's notice.
In this article we'll cover:
Best overall travel fly rods
Best travel fly rod for the money
Best telescoping fly rod
Travel bags & accessories
What to look for in a traveling fly rod?
And much more!
Let's dive in!
---
Best Travel Fly Rods (Overall)
These are our picks for the top performing travel fly rods while on the water and during travel.
The Orvis Clearwater model has consistently proven itself to fly fishing enthusiasts from the east coast to the west coast as an affordable and durable travel fly rod. 
The Orvis name is usually indicative of quality, and the Clearwater six-piece is no exception to the hype. With a $249 price tag, you get a lot of bang for your buck and the Orvis 25-year guarantee.
Many anglers that reviewed the Orvis Clearwater made note of the fact that, although it is a six-piece travel rod, it quickly found its way into everyday use due to its ability to pack small and perform big.
Features/Specs
9' Length Six-Piece

Chrome Snake Guides

Versatile

Gray Rod Tube Included

Orvis 25-year Guarantee
The 5 wt is the standard for multi-species fishing, but it also comes in a lighter 4 wt for creeks and blue-lining, and up to an 8 wt for bass and pike. The rod tube that is included is as durable as the rod itself and is a valuable bonus for the price.
Whether you're stowing the rod in your backpack to bring along while hiking or keeping it in your truck for pond-hopping on the way home from work, the Orvis Clearwater is a well-rounded, dependable fly rod for the money.
It's hard to get fly fishermen to agree on some things, but the Orvis Clearwater is an agreed-upon standard when it comes to travel fly rods and is highly recommended.
For more on this setup, see this dedicated Orvis Clearwater review
The Trip takes travel fly rods to the next level. It is an eight-piece rod that packs into an 18" case. There's no real reason not to take this compact rod with you on your travels.
The case packs so light, Echo recommends taking it along as a backup wherever you're fishing. As someone who has experienced the horror of a broken rod tip after a two-mile hike, this is a valid selling point.
Echo's advancement in ferrule technology means that this eight-piece performs like many four-piece setups.
Features/Specs
9' Length Eight-Piece

18" Segments

Low Friction Snake Guides

Medium-Fast Action

Improved Ferrule Technology

Echo Lifetime Guarantee
The Medium-Fast action allows the user to throw dries as well as streamers with ease, and I find this particularly useful in a travel rod meant for varying conditions. The dark green finish is elegant and goes well with the chromed snake guides aesthetically.
Echo honors a very forgiving lifetime return policy, but I must say, the durability of their travel rods may mean you won't have to use them. With a $279 asking price, it is only slightly more expensive than the Clearwater, and packs smaller. 
Here again, people that use the Trip extensively say that although they purchased the rod as a backup, its ease of use and versatility often means it ends up as a mainstay on fishing trips where more than one rod accompanies the angler. 
It is highly reviewed and definitely worthy of consideration when choosing a travel fly rod.
---
Increase efficiency with euro-style streamers
---
With this series of rods, Douglas has bridged the gap between graphite and classic bamboo. Upstream rods are incomprehensibly lightweight.
I have never thrown a fly rod this light, and can only imagine the sensitivity and delicate presentation that they provide.
I am a big fan of pursuing native brook trout in a small stream setting, and these conditions were exactly what the Upstream series was created for. Fishing high mountain streams call for precise placement of small flies, and the Upstream excels at this.
Features/Specs
2-4 wt Models

Incredibly Light (1.13 oz–1.75 oz)

6'6" Two-Piece to 8'0" Six-Piece Models

Graphite Construction Emulating Traditional Cane

Brushed Aluminum Rod Tube and Sock
Douglas has used everything that is good about graphite and combined it with the moderate-slow action that a classic bamboo fly rod would have.
These rods are not for big water! However, regarding their inclusion here as travel fly rods, I can think of no better rod to accompany me up the mountain or to a hidden spring creek.
Some models of the Upstream break down into six pieces for transportation, and every model, from the 2 to 4 wt, are feather-light and pack small (in a traditional brushed aluminum rod tube).
The Upstream series may be more expensive than the rods previously reviewed here, but this price reflects the uniqueness of the product.
In a world where bamboo is becoming highly sought after (and EXPENSIVE) these rods stand out as a modern angler's solution to achieving that classic feel and action.
---
Other Fly Rod Related Articles
---
Best Travel Fly Rod For the Money
Looking for something inexpensive for your next vacation? Check out this option. This rod packs down small and delivers great fishing performance, at a much more affordable price.
MaxCatch is a company that I'm sure plenty of anglers on a budget are familiar with.
They make affordable products meant for heavy use and abuse, and their eight-piece travel rod is a perfect choice for an all purpose rod.
The action on these rods is fast, so the 5 wt can stand up to throwing some chunkier streamers and indicator rigs. It packs easily into a backpack for on the go use and comes with a cordura tube to store it in while traveling. 
Features/Specs
9' Eight-Piece Construction

Fast Action

Included 17" Cordura Tube

Ceramic Stripping Guide

Cork Handle

Affordable Price
Some people that reviewed the MaxCatch said it was a bit stiff, but at this price point, that is hardly a game changer. If you're looking for something reliable and affordable that still packs light, I would recommend the MaxCatch for your first travel rod, or as a backup companion to the rod you already use.
Best Telescoping Fly Rod
Telescoping rods are more common for spin fishers or Tenkara fishing. However, we found a great telescoping fly rod that even comes with a fly reel and line!
REYR has done something special with this telescoping fly rod. When I got into fly fishing, I quickly realized how much trouble it was to try to fish a stream that was covered with overhang and brush.
It was a nightmare to try to navigate a rod and line into deep holes for trout and then back out to hike to the next pocket of water.
I was told by fishermen more experienced than I was then, to avoid telescopic rods, and that they were usually cheap and meant to catch the fisherman, not so much the fish. REYR has made the telescoping rod relevant again here.
Features/Specs
19" Collapsed, 9' Extended 4 wt

Medium-Fast Action

Quick Setup, No Knots

Aluminum CNC Reel Included

Internal Line Feature

Neoprene Case
This rod collapses to 19" for travel purposes, which is manageable, but its internally routed line feature is what really makes it stand out. The line runs up through the rod internally and comes out the tip. 
This not only means you can leave a fly attached and ready for use on the rod, but also that you can extend it to the length you need and start casting. There's also less exposed line to become tangled in branches and brambles.
The rod does sacrifice distance due to the friction of this internally routed line feature, but you don't need to cast long distances on small water.
I still find most telescoping rods to be stiff and fragile, but REYR has put a lot of time and effort into redefining what a telescoping rod can do. It's definitely worth considering especially if you hike and backpack near mountain streams.
---
Best Travel Fly Fishing Bags
It can be challenging to keep all your fishing gear neat and organized while traveling. These two gear bags are perfect for those traveling by air or taking a road trip. 
Allen Company has created a rugged and dependable travel bag for when you know you'll be spending some time fishing.
This bag holds an impressive 4 four-piece rods, meaning you can cover just about any desired method of fly fishing (light dries to bigger streamers and in between) with what you can bring along.
The bag has a slim profile and packs small for what it can carry.
Features/Specs
Fits up to 4 Four-Piece 9.5' Rods

Eight Exterior Adjustable Dividers

31.5" Long, 9.5" High

Padded Shock-Absorbing Construction
The exterior dividers and zippered pockets can hold a variety of reels and a selection of fly boxes. This bag does not skimp on organizational aides.
The case is padded and can withstand long distance travel. A few satisfied customers said that the slim profile of the bag enabled them to easily keep it at hand on flights and trains.
Fishpond has created the perfect companion for the frequent flyer and fly fisherman.
Their Teton Rolling Carry-on bag is a suitcase for your fly gear that can hold everything you'll need for an extended stay where there's water.
This bag was designed for use on planes and fits the size requirements of most airlines. The Teton would work equally well packed into a loaded van.
It is secure and tough and can hold the supplies necessary to keep you fishing longer while traveling. 
Features/Specs
Carry-on Size Rolling Luggage with Handle

Compression Molded Bottom

Ventilated Mesh on Interior Pockets

Multiple Exterior Pockets
With numerous organizational options and enough pockets to keep this bag as decked out as your vest, Fishpond's commitment to quality and functionality makes this bag a must when transporting high-end rods, reels, and everything in between. 
---
Other Gear Related Articles
---
What Makes a Travel Fly Rod?
A travel fly rod is usually a many-ferruled rod that packs smaller and lighter than a two or four-piece rod, for ease of transportation.
Whether it's kept in your vehicle for use on your commute to or from work, or packed into a hiking bag to prospect a spring creek, the characteristics of a travel fly rod are usually the same; light construction with all-purpose line weight and length, the ability to pack down to a manageable size, and the durability necessary to withstand the dangers of transportation. 
What will it be used for?
Some things to look for in a travel fly rod are directly related to what it will be used for, and your own definition of "travel." Many of us won't be taking our rods with us on an airplane, but some might.
You may only need your travel rod for fishing on the banks, or for use when you don't have access to waders or watercraft.
Durability is a must, and while I respect the anglers that can take a 2 or 3 wt rod into overgrown and complicated areas, I usually opt for a heavier line weight to endure the inevitable snags, brush, and obstacles that come with trailblazing and tough conditions. 
Using your travel rod as a backup should something happen to your pricey primary rod is another option. It only takes one bad event to leave you deep in the water with a broken tip or busted eyelet, and having another rod with you can save an otherwise ruined day. Know what the intended purpose of your travel rod is and buy accordingly. 
Reeling it in
There was a time when a travel rod consisting of more than four ferrules lacked play, and durability and took a hit to performance, but with all the modern advancements in graphite and ferrule technology, I would wager those days are for the most part over. As mentioned above, some of these travel rods perform so well and pack so light, they find their way into a fisherman's normal rotation of rods. 
A travel rod is worth the investment, even if it just remains in the front seat. Not having to sacrifice much in terms of performance is a plus, and the ability to get an hour of fishing in at a moment's notice is priceless. Consider one of the options reviewed above to stay ready and keep those fish fly educated!
Related Reading: