Fishing From Empty Sky
It is my job to stay abreast of what's current and interesting in the fly fishing world, and tenkara is gaining popularity, nationally and around the world.
This simplistic and unique method of fishing has spread far past its country of origin (Japan) with the help of Daniel Ghalardo, the founder of Tenkara USA.
I was first introduced to tenkara through an ad for Tenkara USA that popped up while scrolling through Facebook, and since then I have gained a real appreciation for this style of fishing and the culture behind it.
Join me as I take a deep dive into the history, gear, and application of tenkara fishing, and of course, offer my tenkara rod reviews.
In this article we'll cover:
Tenkara fishing history
Tenkara in the west
Tenakra fishing for beginners (techniques)
Kebari flies
Keiryu fishing
Best tenkara rods (overall)
Best tenkara rods for the money
Tenkara fishing accessories
And much more!
Let's Get Started!
---
Tenkara Fishing History
Tenkara translates to "fishing from empty sky" or "fishing from heaven," and originated in the mountain streams of Japan 400 years ago. This method of fishing was traditionally done with a long, light bamboo cane pole, line, and fly.
The focus in tenkara is on catching fish, and not so much on gear, tackle, or matching specific hatches. The name is derived from the technique– using a long and flexible rod with a light line and no reel, to drop a fly into pocket water, and catch feisty native trout/char.
This method of fishing was practiced for sustenance in Japan, and eventually used semi-commercially to get fish to market, but it fell out of use in the early 1900s for a variety of reasons, one of them being an influx of trade and fishing tackle from Europe.
It saw a resurgence of interest in high-altitude areas in the 1950s, and then again internationally in the late 2000s due to Daniel Ghalardo and his appreciation and passion for this style of fishing.
Ghalardo was mentored by some of the best in Japan in an effort to bring traditional tenkara techniques outside of Japan to the rest of the world.
Introduce Kids to Fly Fishing Via Tenkara
Tenkara and the West
I love native brook trout, and I love pursuing them in the high mountain streams of Pennsylvania. When I started researching tenkara, I immediately noticed very evident similarities between it and the methods my grandmother used to fish for "brookies" on the mountain.
Although she used the worm, the general idea was the same– a long piece of cane, line, no reel, and baited hook.
Both styles of fishing share many common roots, despite being thousands of miles apart, and these similarities lead me to further examine tenkara and its possible application to my own high mountain streams here in the states.
Tenakra fishing for beginners (techniques)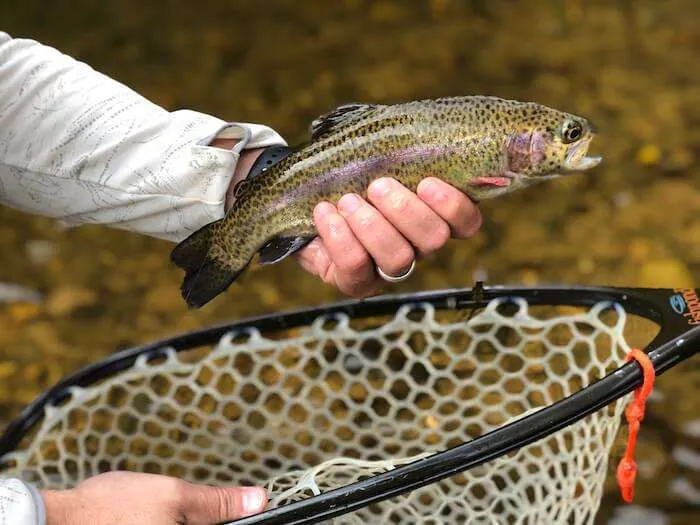 The best way I can describe tenkara in Western terms would be gentle "dapping" with a long and flexible rod and line. Dapping is letting the fly bob on top of the water without letting the line touch the water as well.
This method is where the name tenkara comes from–fishing from heaven, or dropping the fly "from the sky." Again, this technique mirrors cane pole fishing with a worm here in the west and elsewhere.
Water moves fast on mountain streams, so the seam alongside fast water and deep pools is where the tenkara angler usually wants to place the fly. The two most common techniques used in tenkara are the dapping mentioned above, and dead drifting, or letting the fast water carry the fly into view of the fish.
However, swinging the fly across riffles and into calmer water is also used, and anyone that fishes wet flies here in the US should be familiar with that technique.
The flies used in tenkara are different from the flies normally used in the west, and they too reflect the elegant simplicity of fishing in this way.
Tenkara flies are called kebari, and are best described as reverse hackle wet flies. Often, these flies were tied by hand at the stream. No vice, no mountain of materials, just the hook, thread, and a single feather.
The hackle spikes forward past the eye of the hook, instead of backward, and while this may seem strange to those of us well-versed with nymphs and wet flies, the reverse hackle style does provide an interesting action to the fly, especially in fast mountain stream water.
Fast water will make the hackle undulate when swung through the current, increasing the chances that the fly will be noticed by a trout or char.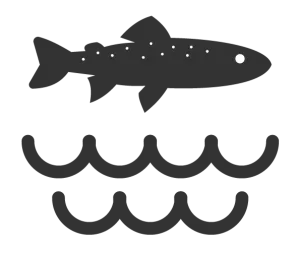 Keiryu Fishing
Keiryu fishing is more popular in Japan than tenkara, and I think this is due to it having more similarities to western fly fishing. This type of fishing is done with a stiffer rod and weighted nymphs or bait fished on or near the bottom instead of on top of the water like tenkara.
The rod is still long, and no reel is used. The line used in keiryu is made up of different colored furled sighters, enabling the angler to determine how deep their nymph is in the water.
If tenkara can be described as a sort of synthesis of wet/dry fly fishing, keiryu would share similarities with euro-nymphing or ultralight jigging. It is both fascinating and humbling to be able to look at all of these techniques and pick out the similarities between them, even though the regions where they originated are so far apart.
Trout fishing is a worldwide endeavor, and we as anglers will only benefit from learning about techniques and traditional methods used in different parts of the world.
Best Tenkara Fishing Rods (Overall)
We found and reviewed the best 3 tenkara rods currently on the market.
This is the all-around beginner/intermediate tenkara rod designed by the man himself, Daniel Ghalardo. This man's passion brought tenkara to the US, and his rods reflect how much he cares about preserving this method of fishing.
The Sato is a good choice for someone who is new to tenkara, or someone looking to take their mountain stream fishing in a different direction.
It is super light, telescopic, and super sensitive. This allows for a delicate presentation of kebari flies, and a sincere, traditional tenkara experience.

Features/Specs
Telescopic Carbon Fiber Design with Adjustable Length (10'8″ / 11'10" / 12'9")
Super Light 2.9 oz Weight
Rod Case Included
Collapses to 22.75"
If you want to try tenkara's more regionally popular 'younger brother' this keiryu rod comes with everything you need for a different day on the water.
Included with this rod is everything you need to fish the keiryu way right out of the box. It also comes with a kevlar floating line setup, so that you can throw dries on this long, expertly engineered rod.
If you know someone with a devoted interest in euro-nymphing, this rod would make a perfect gift.
Features/Specs
17.5' Length
Advanced Japanese IM8 Carbon Construction
Complete Keiryu Kit (Furled Line, Floating Line, and sighter)
Can Throw Nymphs and Dries
Rod Case and Rod Tube Included
Here's another package deal that is ready to be fished right out of the box.
Tenkara Rod Co. advertises this package for use on small fish, but owners of this product have said that the light weight makes bringing fish that are larger than the 6-12 inch mark an incredible fight.
That being said, this rod package was designed for high mountain streams and the obstacles that go with fishing such streams (overhang, brush, thorns, and ferns).
With a lifetime warranty and (at the time of writing this) a $180 price tag, you can't go wrong with this kit.
Features/Specs
8' Fully Extended, 18" Collapsed
2.1 oz Weight
8' Hand-Crafted Single Strand Non-Tapered Line
Wooden Line Holder
6X Tippet and 3 Kebari Flies
Lifetime Warranty
---
Other Fly Rod Related Articles
---
Best Tenkara Rods for the Money
The Dragontail Shadowfire 365 sports both an affordable price, and everything you need to get started in tenkara.
For the money, this package deal is great. Like other kits, you can fish it right out of the box, and the included rod tube and sock means you can store it safely in your backpack or under the front seat.
This is a great rod for backpacking and blue-lining, especially if you're new to tenkara.
Features/Specs
12' Extended, 23.25" Collapsed
Rod Sock and Rod Tube Included
Furled Line, Tippet, and Line Holder
Affordable $115 Current Price
The Goture tenkara rod is the best bang for your buck. If you are on the fence about investing in a Tenkara USA rod, or just want to see what all the hype is about without straining the bank account, this rod series from Goture may be for you.
This is not a kit, you are just buying the rod here, but if you're like me, you have what you need to get started in tenkara without needing to buy a kit anyway.
Most of us have various types of leaders, wet flies, etc laying about to modify or use outright on a tenkara rod. If that is the case, and you'd like an inexpensive alternative to the other rods reviewed here, I recommend the Goture.
Features/Specs
Variety of Lengths In This Rod Series
Price currently ranges from $14.99-$60
Free Rod Tip
Cork Guide
Rod Sock
Tenkara Fishing Accessories
A lot of our featured tenkara rods come with complete kits, although we wanted to highlight a few tenkara accessories suitable for the expert or novice.
While tenkara fishing can be done without a disc spool like this, having one (and learning the unique way to use it) can reduce the number of problems that come with fishing a long pole with no fly fishing reel.
Tenkara USA has designed a unique and utilitarian line spool here.
Additionally, the storage tunnels inside the spool are, in my opinion, an innovative and useful design feature for such a simple tool.
If you don't have one or don't use one, $12.00 is a low-risk price tag to check out this smart piece of gear.
Features/Specs
Line Spool for Line Management
Plastic Construction
Provides Storage for Tenkara line and flies
Designed to Hold Two Lines (Long Line and Tippet)
Integrated Line Catch to Prevent Slipping
I shouldn't need to reiterate that Tenkara USA makes quality products, and this kit reflects Daniel Ghalardo's love of tenkara well.
This kit is small, purposefully functional, and super useful to have at hand when out by the water, and makes a great companion to any of the tenkara rods I have reviewed above.
The whole kit is contained in a mesh bag and is reasonably priced. Whatever rod you may choose to purchase for your tenkara purposes, consider this kit along with it.
Features/Specs
Slim Profile All-Purpose Kit
Line Keeper (As Reviewed Above)
Forceps and Nippers
3 Kebari Flies
Tenkara Line and Tippet
Instructional Booklet and Mesh Bag
---
Other Gear-Related Articles
This line from Tenkara Rod Co sports an interesting guarantee that makes me want to check it out myself. Customer reviews are very favorable of this line, with almost all of them reporting back that the proprietary floatant is still going strong after multiple seasons.
Those that did have issues with the line were taken care of well by the Tenkara Rod Co customer service department.
I'm always keeping a watchful eye out on warranties and guarantees, and I see this line as a safe buy if you're getting serious about tenkara fishing.
Features/Specs
10.5' and 13' Lengths
Hand-Crafted With Single Strand Construction
2 MM Nickel Alloy Tippet Ring
Sports a Proprietary Floatant that is GUARANTEED to Float For Life!
I am a chronic buyer of flies that I either don't have or find to be well-made and different. This set of two dozen will probably end up in my cart, mainly because it will allow me to get right out to the water with a tenkara rod without forcing me to sit down at the vice to tie my own flies.
These flies are advertised as mostly size 12, and people that bought the package were satisfied with the variety that they received.
Features/Specs
18 Kebari Flies
Plastic Divider Case Included
Barbless Hooks
Random Assortment
Also, the hooks are barbless, and I know that hook barbs are a hotly debated topic in the fly world, but if the lack of a barb is off-putting, I highly recommend heading to Youtube University and learning how to spin up a few kebari flies yourself at the vice.
Either way, this assortment of flies from Dragontail is well-reviewed and exactly what you need to start swinging your tenkara rod.
Conclusion/Reeling it in
Tenkara fishing's elegant simplicity is what is gaining its attention outside of Japan. The fly fishing community has always had a certain preoccupation and devotion to gear, gadgets, tackle, reels, etc., and I think that in a way this is ingrained into fly fishing itself.
I know that I'm a huge tackle nerd (it's alright though, it makes gear reviews easier!), and I am always on the lookout for the next modern thing to make my time on the water easier, more streamlined, and more organized.

At the same time, this hyperfocus on advanced gear can become tiring, and repetitive, and sometimes leaves me in shock, especially in regard to some of the high prices attached to "the next big thing" in fly fishing.
Tenkara is a sincere departure from modern fly fishing. Its reduction of fly fishing to the line, pole, and fly allows the angler the ability to really reflect on the act of fishing itself.
With its rich cultural history in Japan and the similarities it has with fishing in other parts of the world, tenkara fishing offers a gentle and meditative option to those of us who have become mired in modern fly fishing and everything that entails.
I wager you'll understand just how special this type of fishing is after you've given it an honest try. There's only one way to find out!
Related Reading: