3 Weights Are All The Rage
Our "Best 3 Weight Fly Fishing Rods" guide below will walk you through the simple steps of choosing your new rod and help ensure you are getting the best 3 weight fly rod for your budget and application.
Fly rods are expensive—take a bit of extra time now to help ensure you will get the most out of your investment.
5 reasons to get a 3 weight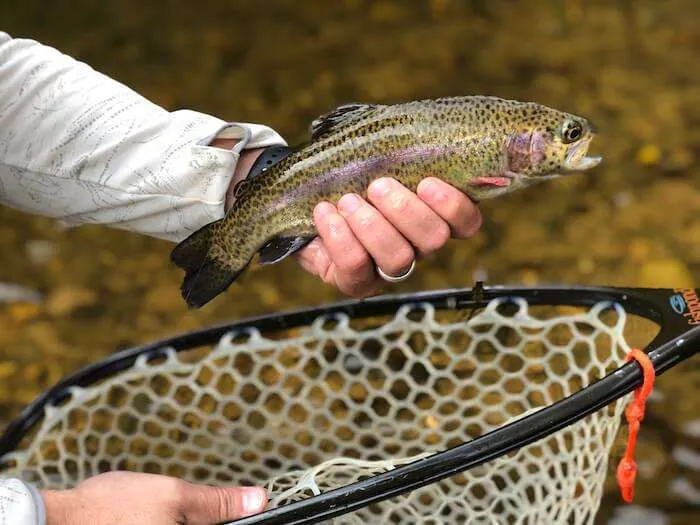 Increased sensitivity for detecting strikes
A sensitive rod tip protects tippet
Great for small streams
Lightweight (good for hours of high-sticking)
Killer nymphing rod!
In this guide, you'll learn
Best overall 3 weight
Best 3 wt fly rods (for the money)
Best 3 weight fly rod combos // outfits
Uses and application
Conclusion//Reeling it in.
Let's Go!
---
Introduction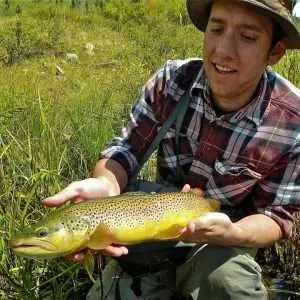 Due to the increased interest in euro-nymphing the 3 wt fly rod is the most popular rod on the market right now. AND top fly fishing companies are investing time, energy, and resources to make this specific weight of rod better.
The 3 weight fly rod is 100% my favorite rod in my arsenal.
3 weight rods are perfect for a number of uses and can make catching the smallest fish a thrill. 3 wts make the perfect addition to any fishing in close quarters, needing a delicate presentation, and targeting medium to small fish.
3-weight rods, like other rods, come in a variety of lengths and actions. Also like other rods, there can be a stark difference in price. We've highlighted the best 3 weight fly rods based on a variety of needs and budgets.
Sage has come out with a great 3-weight rod specifically designed for euro-nymphing. The ESN (European Style Nymphing) rod comes in a variety of sizes, but we felt their 3-weight 10 foot takes the cake as one of the best overall 3 weight fly rods.
The blank features KonneticHD technology which increases the recovery of each cast and adds unparalleled sensitivity, perfect for tight line nymphing.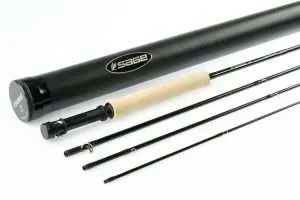 The rod is a medium action and although intended for nymphs, the soft casting presentation would work great for medium to small dry flies.

Features/Specs
10 foot
Medium action
Quick recovery
Soft presentation
Extra sensitive rod tip
Anodized aluminum reel seat
Chrome snake guides
The reel seat is snub-nosed, and made from anodized aluminum, and features down locking, chrome snake guides. The handle is made from high-quality half-wells cork
Pros
Very quick casting recovery
Precise and accurate casting

Lightweight but handles bigger fish well
Cons
Expensive, some feel the spendy price tag doesn't match the quality
Next up on our best 3 weight fly rods is the Avantt from Thomas and Thomas. These guys have been a powerhouse in the fly fishing industry for years. The amount of dedication and care they put into each rod is remarkable.
The Avantt series 3 weight is an 8'6" rod. The rod is intended for a variety of fishing applications but excels at close quarter fishing in smaller creeks.
The rods boasts an incredibly fast recovery time and extreme accuracy, making this a great dry fly rod. However, at further distances, this rod can still pack a punch creating powerful casts and tight loops.

Features/Specs
8'6"
Fast action
StratoTherm resin blanks
Accurate fly placement
Black Ash burl up locking reel seat
Premium cork handle
The Avantt by T & T comes in a matte blue blank with titanium frame stripping guides. They use StratoTherm resin technology to decrease vibrations and improve accuracy. The reel seats are made from a black ash burl up-locking reel seat with a premium cork handle.
The Avantt by T & T comes in a matte blue blank with titanium frame stripping guides. They use StratoTherm resin technology to decrease vibrations and improve accuracy. The reel seats are made from a black ash burl up-locking reel seat with a premium cork handle.
Pros
Crisp tight casts
Can turn over small dries or heavier nymphs with ease
Aesthetically pleasing, sleek finish and top-of-the-line cork
Cons
It's impossible to have any list of best rods regardless of weight without mentioning Orvis. For the best 3 weight category we felt the Orvis Recon 10' rod exemplified everything one needs in a rod.
This is another rod that has the intended purpose of Euro-nymphing with the length of the rod and soft tip, making it easier to notice those subtle takes from a trout.
The Recon features a lot of similarities and much of the design of the recon was based on their higher-end model the Helios 3D, but at about half the price.

Features/Specs
Comes in 7'6″, 8'4″, 10'
Fast action
Lightweight
Great for Euro-nymphing
Sensitive rod tip
Improved accuracy
Anodized aluminum reel seat
25 year warranty
The Orvis Recon features silver snake and stripping guides with anodized aluminum down-locking reel seat. The rod is light and perfectly balanced, allowing for better accuracy while minimizing fatigue often associated with longer rods. Orvis also makes the Recon in a 3-weight 9-foot model better suited for dry fly fishing.
Pros
Extremely Versatile, whether fishing dries, nymphs, or even small streamers
Very sensitive tip and accurate casting
People have noted very little difference with Orvis' Helios Rod but at half the price
Cons
No hook keeper
Some customers have had issues with splitting and snapping the rod blank
---
---
The Douglas DXF has made a name for itself in its 5 and 6-weight models, winning awards for the best mid-priced rod. The 3-weight model is also worthy of reverence as this rod meets the need of every angler whether you're stalking trout or panfish.
The DXF uses Xmatrix carbon technology in the blanks to add strength and precision to your casts. A great thing about this rod is its sensitivity, allowing the angler to notice the smallest strikes from a fish.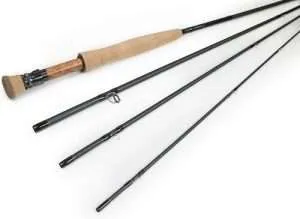 The 4-piece rod is a beautiful matte grey/green finish with chrome stripper and snake guides. Furthermore, the Douglas DXF has burled wood and an anodized reel seat, with a premium AAA cork handle. The model we chose is the 3-weight 9-foot but this rod also comes in longer sizes depending on your fishing applications.

Features/Specs
9 foot
4-piece
Fast action
Xmatrix Carbon blanks
Burled wood reel seat
Anodized aluminum reel seat hardware
Lifetime warranty
Pros
Extremely lightweight but still able to cast bigger flies effortlessly
Very soft and sensitive rod tip
Cons
This rod is advertised as fast action, but some felt it's closer to a medium-fast action rod
---
Other Gear Related Articles
---
Best 3 weight fly rods for the money
If you're looking for a great 3 weight fly rod at an affordable price, the TFO blue ribbon has you covered. Temple Fork Outfitters has been a staple in the fly fishing industry with the collaboration of fly fishing legend Lefty Kreh.

The Blue Ribbon 3 wt fly rod is an 8-foot rod perfect for those smaller streams or targeting trout or panfish with dries.

Features/Specs
8 foot
4-piece
Medium-fast action
Modulus Carbon Fiber material
Aluminum up-locking reel seat
Affordable price
This medium-fast action rod is also great for beginners wanting to learn the sport, as the casting is forgiving and the shorter length is easier to maneuver. The blue ribbon prides itself on the ability to load easily with minimal backcast and effort. Resulting in quick and accurate casts.
The rod blank is made from modulus carbon fiber material and finished with a warm chestnut color. The reel seat is made from aluminum and locks upward into the AAA cork handle. Because of this rod's beautiful appearance–this rod looks like it costs more than it actually does.
Pros
Well priced
Quality aluminum reel seat and AAA cork handle
Great for beginners
Cons
Has a fragile or delicate feel
Next up on our list of best 3 wt fly rods for the money is the Redington Vice. This is a solid all-around 3-wt rod. Redington uses carbon fiber blanks that have surprising cast recovery times.
The vice is a fast-action rod with decent accuracy and casting control. This is a shorter rod at 8'6" it excels at short-range casts and tossing smaller dries. However, the sensitive tip makes for easier detection of subsurface strikes.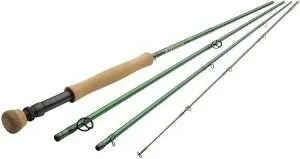 There are black anodized snake guides and a laser-etched reel seat with an uplocking reel seat. When it comes to price and quality it's hard to find a better rod at this price.

Features/Specs
8'6"
4-piece
Fast action
Decent recovery time
Sensitive rod rip
Accurate at short distances
Laser-etched

reel seat

Lifetime warranty
Affordable price
Pros
Very affordable
Casts way above average for a rod at this price
Stiff yet sensitive
Cons
Some feel this rod Casts slower than the advertised fast action
Rod finish is lower quality (prone to chips)
---
The Best 3 Weight Fly Rod Combo/Outfit For the Money
If you're wanting an easier rod and reel setup, it might be worthwhile to purchase a full rod and reel combo, otherwise known as an outfit. This will allow the angler to virtually hit the river immediately after purchase.
We wanted to highlight the one 3 wt rod and reel combo that we feel is the best for the money.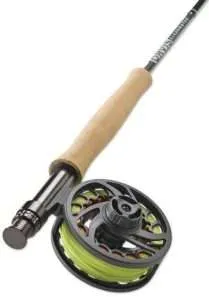 There's a reason the Orvis Clearwater continues to show up as one of the best rods currently on the market. It's respected, productive, efficient, and affordable.

The 3 wt 10 foot was designed intentionally for euro nymphing and other tight line nymphing methods. The added length grants the ability to cover larger areas of water with less movement. It's also easier to keep your line out of the water. If tightline nymphing isn't your thing, you can also use this rod with an indicator or dry-dropper setup. It can even handle some very small streamers from panfish.
The rod blank is made from forgiving carbon fibers with a black finish and white highlights. The reel seat is made from black nickel aluminum with a cork handle. This outfit includes the Orvis Clearwater II reel with a 5-wt clearwater fly line and Dacron backing, and tapered leader- all assembled, just add a fly and you're good to go!
Features of the Orvis Clearwater Fly Rod:
10'
4 – piece
Medium action rod
Great for nymphing
Nickel aluminum reel seat
Chrome snake guides
25-year warranty
Features of the Orvis Clearwater II Reel:
Large arbor reel
Die-cast aluminum material
Click-dragknob
Features of the Orvis Clearwater line:
Great all-around line
Front welded loop
90' long
Pros
Very affordable
Great Orvis 25-year warranty
Perfect for the beginner or getting started with Euro nymphing
Cons
Some customers have had issues with rod breaking
---
---
Uses For 3 weight Rods
There are several different practical and fun uses for a 3-wt rod. The general rule for most trout fishing setups is to use a 5-weight rod. What many anglers don't know is that going smaller in rod weight will still safely catch trout up to 20 inches. Much of this has to do with the reel's drag and tippet strength. There are other more specific uses for 3 weight rods below:
Small streams – As mentioned above 3 weight rods can catch larger trout, however, the biggest thrill of using a 3-weight rod is to catch smaller fish. Which will feel much larger on this lighter rig. Small streams will most often hold higher populations of smaller fish because of the limited food availability and space.
Smaller streams will also require some different fishing tactics such as roll casts, high sticking, or tight line nymphing. A 3 weight rod is going to prove more successful and productive than a larger bulkier setup.
Tight line nymphing – Also referred to as Euro-nymphing or Czech nymphing, tight line nymphing relies on "feel" to notice subtle bites over a strike indicator or sight fishing. 3 weight rods are much more sensitive and therefore easier to feel those minor takes. 3 Weight rods also come in a variety of lengths, some of them over 10 feet — making for a great setup when tight line nymphing.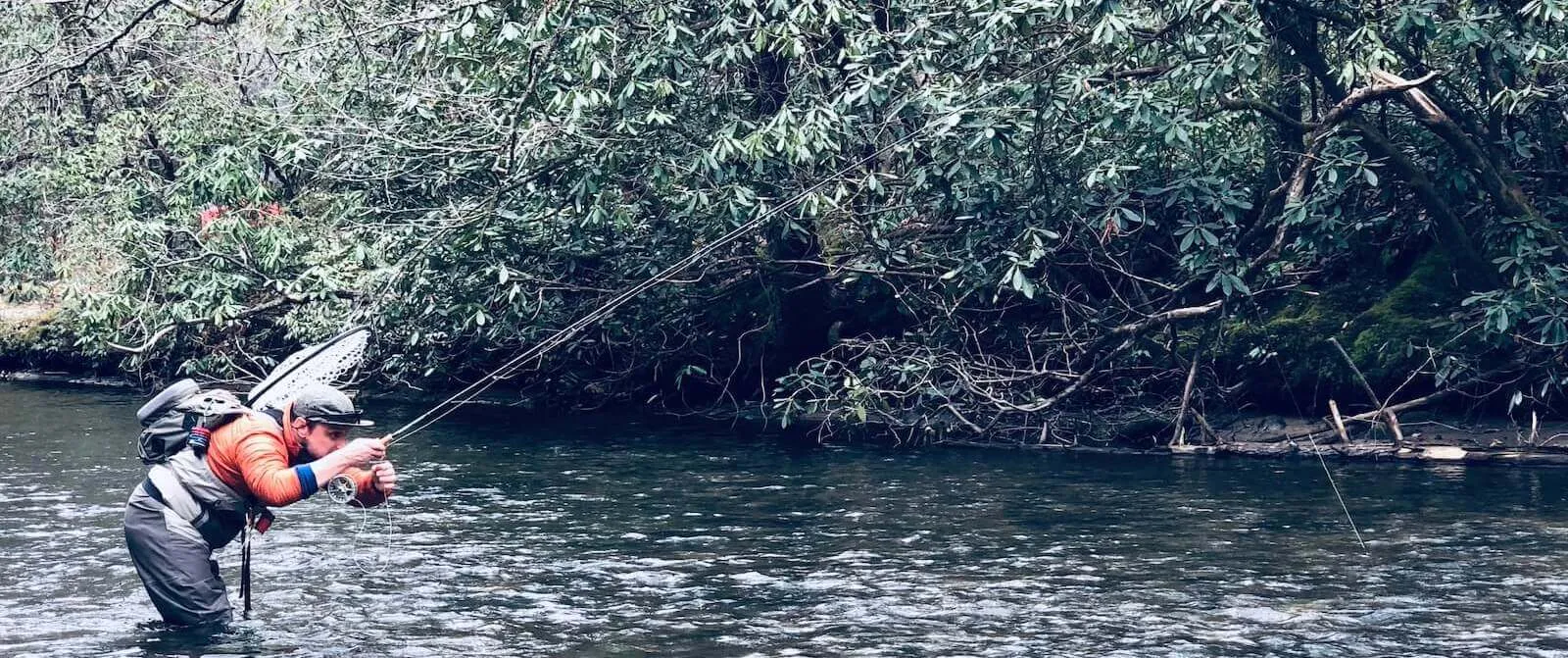 Backpacking – When hiking into remote lakes or streams, having a lighter rig can add convenience and efficiency while you're traveling. When backpacking with a full pack, including fishing gear, even a few ounces can make a difference.
Fish species – We mentioned above that even small fish can feel like a trophy when using a 3 weight. This lends itself well to other fish species that are naturally small, such as panfish. Most of us probably got our start fishing for these tiny colorful fish probably off the end of a dock somewhere.
As exciting as these fish were to catch as kids, the luster eventually wore off. However, using a lighter more delicate 3 weight brings that thrill and excitement back. Because of how easy panfish is to catch, a 3 weight is great for beginner anglers wanting to get practice catching these little guys before graduating to larger more wily trout.
Conclusion
Overall 3 weight fly rods offer a ton of applications and advantages over other more mainstream fishing weights. We hope this article was helpful in increasing your knowledge of these light rods and that our reviews provided you with insights into your next 3 weight rod purchase.
If you haven't already, please sign up for our free online newsletter for exclusive promotions and notifications when new content is published.
Additional: