A Tool to Tame Bigger Beasts
Roughly 155 miles from my home waters in Central PA is Lake Erie. I have friends and family that return there every year, like clockwork, in search of salmon.
The rods of choice for them are usually seven or eight-foot fiberglass spinning rods, with large, powerful spinning reels spooled with monofilament as thick as fettuccine.
I was told as a young adult that these rods were the only tool that could stand up to the powerful runs and heavy overall weight of Erie's salmon.
Don't worry though, this is not going to be a review of beater fiberglass rods from my garage.
In today's review, I will be looking at the best fly rods for salmon and breaking down the characteristics that make them suitable for pursuing what many folks in my neck of the woods consider the fish of all fish.
This article will cover:
Best fly rods for salmon (overall)
Best salmon fly rods for the money
What to look for in a salmon fly rod
Spey, switch, and traditional fly rods
Frequently asked questions
And much more!
Let's get started!
---
Best Overall Fly Rods for Salmon
Many fly rods will work for salmon as long as you have a heavy enough rod. However, a few rod companies have made more specialty fly rods designed for bringing in these big fish. We have found the best fly rods for salmon below.
Specifications/Features:
4-Piece 4wt-10wt Rod Series
9', 9'6" and 10' Available Lengths
KonneticHD Blank
Fuji Ceramic Stripping Guide
Hard Chrome Snake Guides
Uplocking Anodized Aluminum Reel Seat
Full Wells with Fighting Butt on 7-10wt Models
Very Fast Action
Rod Tube
Sage Guarantee
Sage is doing what it does best with its Igniter rod series. This series of rods does come in a 4wt and up to a 10wt, but the rods that are rated for salmon (and that have full-well handles and fighting butts) are definitely the 7, 8, 9, and 10 wts.
These rods have a very fast action, and they take considerable skill to cast, but they possess the backbone necessary for encounters with both large steelhead and salmon. The blank is where Sage put the money, The KonneticHD technology used in the construction of the blank is redefining what graphite can really do.
It excels at energy transfer for incredibly long but accurate casts. If you are looking for a salmon rod that can make those spey casts and transfer your energy efficiently, this is probably the one.
Pros
KonneticHD blank is lightweight but powerful enough for accurate 60' + casts
Great energy transfer
Sage guarantee and subsequent handling fee are low and they are easy to work with
Cons
Rods of this caliber are not cheap, and cheap rods often lack the features necessary for a salmon rod to function effectively. Even still, this is a spendy rod
Specifications/Features:
4-Piece 5wt-8wt, 10wt, and 11wt
9', 9'6", and 10' Lengths
Heptagonal Medium/Fast Fast Action Blank
Torzite-style Titanium Stripping Guides
Titanium Snake Guides
Uplocking Reel Seat, Double Uplocking Feature on Heavier Rods
Rod Tube
Unconditional One-Year Warranty
This company is causing a big stir with their 7x series of rods. Loop uses a heptagonal blank that masterfully transfers energy for tighter loops, pinpoint accuracy even at a distance, and easier, smoother casting.
Their proprietary blank is effective even at lighter weights, but as far as a salmon rod goes, the Loop 7x has it all–muscle, accuracy, and finesse, even with big, weighted flies.
The torzite-style stripping guides reduce friction for even more powerful casts that can throw large amounts of line with ease. This rod is well-reviewed and making waves, check it out if you're Great Lakes bound.
Pros
The heptagonal blank may be a sneak peek at what future rods may look like. Loop is on to something here
The action on this rod is a bit more forgiving than the Sage Igniter reviewed above
An unconditional warranty is a bit unheard of in the fly rod world, so that's a huge plus
Cons
This rod was reviewed very well, but it's still a heavy investment
Specifications/Features:
4-Piece 3wt-10wt Rod Series
7'6", 8'6", 9', 9'6" and 10' Lengths
Advanced StratoTherm Resin Blank
Fast Action
Titanium Stripping Guides With Zirconium Inserts
Chrome Single Foot Titanium Guides (3-7wt)
E-Coating Universal Snake Guides (
Blue Fiber Reel Seat, Double Uplocking Features on Heavier Models
Aluminum Rod Tube
T&T's Lifetime Warranty
I have had the pleasure of reviewing a few other Thomas and Thomas products here at Anchor Fly, and the Zone series is their lethally effective mid-price offering.
These rods have many of the same advanced engineering features that T&T's higher-priced rods have, at a much more inviting price. The StratoTherm Resin blank incorporates a proprietary blend of materials to make these rods both incredibly durable and functional.
Full wells and a fighting butt on the 6wt-10wt make these incredibly effective, responsive salmon rods. If you're looking for a quality rod for your first trip to the Great Lakes in search of salmon or steelhead, I would highly recommend this rod for your consideration.
Pros
Thomas and Thomas quality at an introductory price
Fast action, but not so fast it will impede the beginner
T&T Lifetime Warranty is solid and the service fee is negligible ($55)
Cons
None. This is a great rod for bigger fish and is reviewed well
Specifications/Features:
4-Piece 4wt-8wt Rod Series
10'6" and 11'6" Lengths
Multi Modulus Fast Action Blank
SIC Hard Chrome Stripping Guides
Hard Chrome Snake Guides
Anodized Aluminum Reel Seat with Double Uplocking Feature
Cordura Rod Tube
Douglas Original Owner Lifetime Warranty
These rods are big, with only 10'6" and 11'6" options, and Douglas has devoted the same amount of care and passion to producing these Switch rods as they do with their lightweight trout rods.
The fast-action multi-modulus blank has a taper that provides even smoother casting, and there's considerable muscle in the butt section.
Douglas knows fly fishing and their venture into Switch rods is no different. They are uncompromising in their commitment to quality.
Pros
The long length means accuracy and power, both in regard to casting and in fish wrangling ability. These rods can move heavy fish
Reasonably priced
Cons
None. These rods are reviewed well and are a favored choice for both the salmon enthusiast and the striped bass crowd
---
Best Salmon Rods for the Money
With the high price of many salmon fly rods, we included a few of our top recommendations at a more reasonable price.
Specifications/Features:
4-Piece 3wt-8wt Rod Series
10'6", 10'8" and 10'10" Lengths
Lightweight High Modulus Blank
Fast Action
SiC Chrome Stripping Guides
Hard Chrome Snake Guides
Anodized Aluminum Reel Seat
Removable Fighting Butt with Extension
Fabric Rod Tube
Echo Lifetime Warranty
I am a fan of Echo products and the care and thought that Tim Rajeff (the man behind Echo) puts into his rods. You can find a more detailed review of this company and its products here at Anchor Fly if you'd like to go deeper into this company and its rods.
This Switch rod and the ingenious removable fighting butt and extension allow for a variety of different casting styles for changing conditions. The versatility of this rod is its main selling point.
Echo has done everything possible to shed the weight on these rods while sacrificing little in terms of power. This tops the list as far as affordable and functional rods go.
Pros
Versatile
Lightweight and powerful
The removable butt section is a big plus here
Fairly priced
Cons
None. This company and these rods are a versatile, effective masterpiece. Highly recommended
Specifications/Features:
4-Piece 5wt-12wt
7'10", 8', 9', 9'6", and 10' Lengths
Fast Action Rod Blank
Aluminum Oxide Stripping Guides With Ceramic Inserts
Hard Wire Anodized Snake Guides
Uplocking Black Anodized Aluminum Reel Seat
Cordura Rod Tube
Redington Lifetime warranty
This is an impressive workhorse rod from Redington. This series has it all, and you're covered "from the lake to the flats."
Redington is great at producing dependable, affordable, and approachable products that are immensely functional whether you're a beginner or seasoned veteran. The rod blank has a fast action, but it is well balanced for ease of use regardless of skill level.
The Predator series was built for tossing big flies with heavy lines, whether you're after muskie or King Salmon.
Pros
Durable and effective in bad weather or water conditions
Powerful butt section to lift heavy fish
Affordable
Cons
None. One reviewer summed up the Predator series from Redington perfectly. Rugged, no-frills, and durable
Specifications/Features:
4-Piece 3wt-12wt Rod Series
7'6"-10' Lengths
Medium/Fast Action Blanks
Chrome Stripping and Snake Guides
Cordura Rod Tube
25-Year Orvis Guarantee
I've reviewed the Orvis Clearwater series numerous times, and for good reason! This series of rods from Orvis are affordable, dependable, and priced for the newly initiated fly fisher.
While I have often reviewed the lighter freshwater Clearwater rods, their saltwater offerings work just as well on salmon as they do on stripers, so don't forget this tried and true series from the one and only Orvis.
Pros
A great starter rod and an equally effective backup option for your quiver
The Clearwater series is well-reviewed regardless of what model you pick
Cons
There are some reports of brittle tip sections and occasional manufacturer errors, but Orvis is good at handling such issues and their customer service department is efficient and easy to work with. If you're getting started, start here
---
What to look for in a Salmon Rod
Salmon rods need to be able to handle the explosive takes and long runs of a fish that some consider the penultimate quarry on the fly. They also need to have the backbone to lift fish to the net that can weigh as much as a sack of potatoes.
These two attributes are of utmost importance when choosing a salmon rod. Adverse weather conditions and wind are other factors to consider when choosing a salmon rod.
Those bigger flies/streamers need to be able to turn over, even in powerful headwinds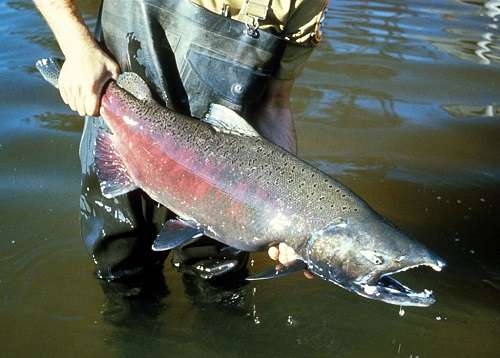 Spey Vs. Switch Vs. Traditional Fly Rods for Salmon
Spey rods usually top out at 12'-14' lengths. Switch rods generally measure 10'-12' in length. Spey rods are exclusively cast with two hands and are capable of delivering large, weighted streamers impressive distances through wind and rain.
Spey rods implement a variety of different casting styles and often rely on the water to load energy into the rod for precise casts. Roll-casts, double-hauls, and other casting styles are the name of the game with spey rods.
The advantage of Switch rods over a traditional spey rod or a traditional heavier fly rod is the ability to wield them one or two-handed, and they are more than versatile enough to handle fresh/saltwater fish.
They can also effectively be used as a nymphing rod, and are great at throwing rigs with multiple components, like an indicator, multiple nymphs, and split-shot.
Whether you're using a heavier grain floating line or sink tip line for streamers, a Switch rod can do both effectively.
A longer rod and heavier line mean longer casts and more power in both the butt section and in regards to getting bigger flies where they need to be. That being said, I love reading stories of fly fishers prevailing in twenty-minute battles with Salmon on a 5wt.
These fish can be caught with traditional rods, it's not impossible. But heavier rods with an action that's aggressive enough for 60' + casts will only make your pursuit of salmon that much easier.
---
Frequently Asked Questions
Q: What fly line should I use for salmon?
A: This question has multiple answers. What fly line you should use for salmon is highly dependent on what flies you're throwing. A traditional floating line works well when using "skating" flies and when throwing a nymph under an indicator. A sink tip is also a great option when you're throwing streamers.
Q: What fly rod weight should I use for salmon?
A: I think the answer to this question hinges on experience. As stated above, a lightweight (5-7wt) can make for a memorable fight with a salmon. But generally, leaning towards a rod with the backbone to keep salmon out of laydowns and debris can be extremely beneficial to get these big fish into your net. A heavier rod can also get your flies where they need to be with better accuracy and precision.
Q: How long should a salmon rod be?
A: Again, this comes down to a matter of preference. Longer rods mean more power in the parabolic bend, and can also greatly improve the accuracy of casts that rely on water loading. Generally, longer rods are used for salmon but don't count out some shorter models, like the Predator series from Redington for example.
Reeling it in
Salmon are heavy, aggressive fish. It's hard to see photos of these monstrous hook-jawed pigs and not regard them with a certain sense of awe.
When you're in pursuit of fish like this, you need functional and effective tools to entice an encounter. I hope that this review has shed some light on the rods that are equipped to handle these anadromous bullies.
If you're bound for the Great Lakes, there's a rod in this review that will work for you. Here's to hoping you're successful in big water. Tight lines my friends.
Related Readings: