Recognizing the Take
One of the most effective ways of catching fish on subsurface flies is, nymph fishing with an indicator or dry dropper.
Your indicator is much more than a strike detector, perhaps even more importantly it is a drift detector. Having an indicator prominent and riding high gives you info on where your fly is at and what it is doing. This is paramount in achieving the all-important drag-free drift.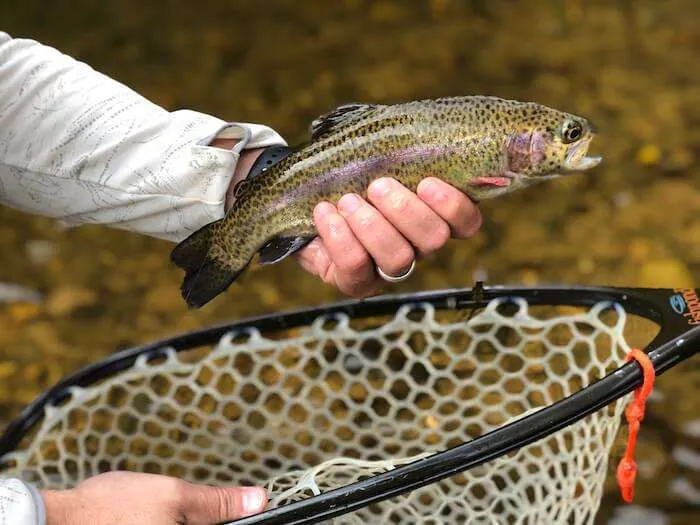 Fly fishing technology has come a long way in a relatively short amount of time. These days indicators are sophisticated. It is wise for an angler in this day and age to take advantage of this technology and keep a couple of different styles of indicators in his or her gear bag.
I'm going to examine some of the more popular strike indicators on the market in this article and explain their form and function while offering up some strategies for using them in the field.
This article will cover:
How strike indicators work
Best fly fishing strike indicators

Best slip-strike indicator

How to choose the right strike indicator
How to fish with a strike indicator
Frequently asked questions about strike indicators
And much more!
Let's get started!
---
Quick Picks | Best Strike Indicator
These indicators are easy to use and great for beginners. They ride high but presentation can tend to spook fish.

A bit more difficult to use than the Thingamabobber, but versatility creates better presentation–good for more technical water.
What's a strike indicator?
Simply put, a strike indicator is any floating piece of material that helps a fly fisher discern a strike, especially when using nymphs.
To some of us, 'strike indicator' is just a term to protect the purist's ego. If it floats, attaches to your line or leader,  and alerts you to a bite, it's a bobber, right? While the answer to this question is yes, there is some nuance specifically here.
How Strike Indicators Work for Fly Fishing
There are times when small nymphs are the only bugs that picky trout will accept, and this can be particularly true in the winter months.
Detecting a strike while nymphing is difficult because your line is rarely tight when you're attempting a drag-free drift.
Trout takes on nymphs can be incredibly subtle, and they can tell almost instantly that an artificial fly is fake, and reject it.
A strike indicator attempts to provide the angler with a visible cue that their nymph has been hit so that they can set the hook. This is particularly useful in turbulent water and deep holes.
If the strike indicator comes to an unnatural stop or moves unnaturally in the drift, your nymph is either hung up on the bottom or, in the mouth of a fish.
Using a strike indicator can take a lot of the mystery out of nymphing, and can also lead to more results at the end of the day.
Becoming familiar with a strike indicator and being able to discern these subtle takes can give you the skills you need to eventually nymph without one.
Best Strike Indicators For Fly Fishing
Air-Lock brand strike indicators are another bubble-type indicator, with an adjustable thumb screw to secure the device to your line.
They are now being made out of a lighter biodegradable foam, and from a conservation standpoint, it warms my heart that they have switched from plastic to this material. Less plastic is always a good thing, and Air-Lock deserves credit for that.
That being said, these strike indicators do have some drawbacks.
The thumb screw that pinches your line onto the Air Lock tends to kink your leader, especially when you're using a thinner diameter.

Specifications:
Note: The pictures in the attached link show plastic Air Lock Indicators. However, they have switched to a biodegradable foam, which is what you will receive.

The new Foam design is 30% Lighter

High Visibility Color Options

 Lands Softer on the Water
The thumb screw itself also tends to get lost when you're out on the water. Anyone who has dropped a small fly on the ground while attempting to rig up their leader can attest to how difficult it is to find small dark objects out in the field.
If you can keep track of the screw, the Air Lock is easily adjustable for a variety of depths, and its lighter construction means less SPLAT on the water for a sneakier approach.
Pros:
Highly visible and buoyant

Switched from plastic to biodegradable foam

easy to add, remove, and change depths
Cons:
The larger sizes are heavier and harder to cast

Can "plop" on the water surface spooking fish

difficult to attach to thinner leaders
Wool Strike indicators are growing in popularity, and for good reason. They can be cut to size for use on small streams where a light presentation is a must, or left bushy to use where the water is more turbulent and deep.
This indicator system works by using a special tool and sections of plastic tubing to pinch a section of New Zealand wool to your leader.
The wool is the strike indicator, and how much of it you apply to your leader will determine how it performs.

Specifications:
Wool Indicator

Smartly Designed Attachment Tool, Fits on Your Lanyard

100% Knotless

Wool can be Cut to Size
In slow, still water, the wool can float lightly weighted nymphs with ease. When the water gets deeper and faster, a little bit of fly floatant applied to a dense ball of wool will keep it above water and buoyant enough to float heavier nymphs.
This New Zealand Wool package comes with everything you need to make several strike indicators, including different colored wool for fishing in different types of water.
The wool is very buoyant but does struggle when throwing multiple heavier nymphs. Despite this, the New Zealand Wool indicator system is an effective way to manage your nymph rig in multiple different water conditions, and I highly recommend it.
Pros:
Subtle Presentation

Very Responsive to Even Small Strikes

Very Visible

Light and easy-to-cast

Determine the size of your indicator
Cons:
Difficult to float using heavy flies

The application is easy but requires more steps

Requires floatant
If you've ever used a strike indicator there's a good chance you've used a Thingamabobber!
It's a simple design and is essentially a hard plastic ball that you attach to your leader for use as an indicator.
It will not sink, even in turbulent water, and casts well. This new design has improved on the original with an attached pin and gasket to affix the indicator to your leader.
Specifications:
Improved "Thingamabobber" Design

1/2″ size

Multiple Color Options

5 Indicators per package
The original Thingamabobber was more complicated to attach to your leader, and much more difficult to adjust according to depth. With the new pin and gasket, you can easily reposition it higher or lower on your leader after a few initial casts to get your nymphs into the strike zone.
The older Thingamabobber would kink your leader up over time, but this new closure system eliminates this problem.
This strike indicator is warmly reviewed, and people have switched over to this style when they need a reliable strike indicator. They are a great first-strike indicator for the novice, and their reputation speaks for itself.
Pros:
Highly visible and buoyant

easy to add, remove, and change depths
Cons:
The larger sizes are heavier and harder to cast

Can "plop" on the water surface spooking fish
Strike indicators are disposable–please be a good steward of our sport and the environment by not only taking your trash with you but by picking up trash when you see it.
I must admit, that foam is not my preferred choice of material in a strike indicator.
The vast number of recreational pan fishermen and those who will only pursue catfish when they have a case of beer leave my local waterways littered with all sorts of various trash, and I find no shortage of foam floats bobbing away in the Spring as a result.
Still, I cannot deny that these types of indicators are effective, float high on top of the water, and are affordable.

Specifications:
Affordable (Currently $9.99 for 12)

Multiple Visibility Colors

Rubber O-Ring

High Floating
The Andux strike indicators are made of multiple rectangular slits of foams contained on a large rubber O-Ring, making it super easy to attach to your leader, even with cold fingers.
When your nymph is stuck or struck, the foam slits will rise up vertically to alert you. In this way, they almost remind me of an ice fishing tip-up. They're very easy to see, and at this price point, worth checking out. Just try not to lose them in the water!
Pros:
Light and easy-to-cast

Lands softly on the water

Rubber O-ring makes adding and removing easy
Cons:
Difficult to float using heavy flies

Difficult to attach to thinner leaders
Sunshine Fishing has designed another functional and affordable float here, and I spend just as much time picking these types of indicators out of trees as I do retrieving other snapped-off floats from the edge of the bank.
This same design is used in other strike indicators and consists of a line-through tube that can be twisted to secure it to a specific point on your leader.
If you move around a lot while fishing (like I do) then easily changing where your indicator attaches to your leader is a must, especially when you find deeper holes. This slip strike indicator does exactly that, and at a good price point.

Specifications:
High Density EPS Foam Construction

Line-Through Design

Six Pieces Per Unit
With heavy use and hours of casts under your belt, these strike indicators can twist your leader. However, if you're using a straight mono leader (or a thicker section of your tapered leader) with a heavier diameter, they work all day, float high, and are sensitive. If you are looking for a true slip-strike indicator this is one of the best slip-strike indicators on the market.
Pros:
Easily Adjustable According to Depth

Highly visible and buoyant
Cons:
Can twist leaders

Difficult to attach to thinner leaders
This is a new product coming from the always unique company of Loon Outdoors. This is a biodegradable putty material.
It is fairly easy to use, just wet your fingers and break off a piece of the putty. Simply roll it into a ball apply to your leader and create an oval shape.
When done simply remove the putty from your leader and return it to the container. Loon offers these putty indicators in a variety of bright colors to suit your needs.
This is perfect for anglers fishing a variety of flies and may need to change indicator size throughout the day.

Specifications:
Removable Putty

Biodegradable

The container has a split key ring for easy attachment to the vest or pack

Comes in several vibrant colors
The Loon Biostrike has a split key ring on the container which can be easily secured to a zinger, making it very accessible while on the water.
The one downfall of the biostrike is the need to use more putty to effectively float while using bigger flies or faster currents. Nonetheless, it is still much lighter than plastic strike indicators and won't make as big of a splash when casting.
Pros:
Biodegradable

easy to apply and remove

Reusable

Lightweight
Cons:
Difficult to fish heavier flies

Requires more putty to fish in stronger currents
---
Other Gear-Related Articles
---
The conservationist in my heart is singing in praise of these CorQ strike indicators. I really hate plastic, and more than using it or buying it, I hate finding it when I'm outside fishing.
I will at least try any product that is not made from plastic, and these CorQ strike indicators are of particular interest to me!
What doesn't really get mentioned in the attached link is how small these things are. The X-Small size is ⅜ of an inch and meant for floating real small midges and nymphs in the size 18-24 range.
Specifications:
Made from Sustainable Materials

Incredibly Small Sizes available for the Most Delicate Presentations

3 Pieces Per Unit
This makes them perfect for the Winter season ahead. The tops of these circular floats are coated in a variety of fluorescent colors so that you can keep a watchful eye out for small nibbles.
If you're looking for a strike indicator for those extra small flies, you've found it here.
Pros:
Sustainable material

Light but very buoyant

Floats high in the water
Cons:
Difficult to attach to thinner leaders
These yarn indicators from ETRE come at five per unit with twenty tippet rings included. They share many similarities with the New Zealand Wool indicator system reviewed above.
They can be trimmed to suit the needs of your particular body of water and float high in multiple different colors.
Including two different-sized packs of tippet rings (in 2mm and 2.5mm sizes) allows you to rig the float differently for different uses.
Specifications:
'New Zealand Wool' Made Easy

Trimmable Yarn Indicator

Tippet Rings Included
With the tippet rings and a little bit of tippet, you don't have to chew up your leader when attaching the float, and you can attach the float to a tag end going off your main leader for those long drifts downstream. You can't beat this package deal for the money.
Pros:
Super Light Presentation

Can detect very small strikes

Bright vibrant colors
Cons:
Difficult to attach to thinner leaders

Won't work well with heavier nymphs

Requires floatant
I must preface my review of this product with a short anecdote. I was blue-lining an unnamed mountain stream, high in the PA wilds when I kept coming across single-use foam strike indicators like these on rocks and near the bank.
At first, I didn't know what they were, and only later did I find out I was fishing far behind someone, and picking up their trash.
It's a shame that I have to address this at all, but don't litter.

Specifications:
Functional Pinch-On Design

Comes in a pack of 24

Variety of bright colors
Strike indicators are handy to have, but they also create one more piece of trash that gets left behind by careless anglers.
That being said, these indicators are handy, super sensitive, and have a very low profile. When you're nymphing somewhere small and wild like I was, I can see them being extremely productive. Just please pick up your trash on the way out.
Pros:
Easy to apply

Sensitive

Stealthy Presentation
Cons:
Single-use

Difficult to use with heavier flies

Can fall off over time
How to Choose the Right Strike Indicator
I've reviewed many different styles of strike indicators here, but which one is the right one for you? That question can only be answered through trial and error, which seems to sort of encompass the whole of nymph fishing in general.
Even on our home waters, it is difficult to be able to estimate depth accurately, so be prepared to continuously change where your float is on your leader (or tag end), and change how much weight you have attached to it, whether that be tungsten bead head flies or split shot.
Hard plastic indicators like the Thingamabobber are great for rough water and deep holes because they will not sink. However, they're a pain to cast and create quite a splat when swung, and that can spook fish.
Wool and Yarn indicators are easier to cast, but they can become waterlogged and sink. Having to add fly floatant to your indicator can be trying at times, especially if you're wading in chest-deep water.
They are good for still water and more shallow conditions. Bring a selection of different indicators with you, especially if you're fishing unfamiliar streams.
How to Fish With an Indicator
Fishing with an indicator is a unique way of throwing your nymphs, and the ability to slowly float your flies where you want them allows you to prospect areas of the water that would be inaccessible otherwise.
With nymphs, a drag-free drift is how you entice trout to attack your fly. You want as little resistance on your bugs as possible as they float down suspected feeding lanes, and to achieve that you'll have to actively mend your line and keep slack in it while also attentively monitoring that bright new strike indicator.
If your indicator pauses while drifting, or moves counter to the natural current, set that hook! You're either scraping bottom, or you have a fish.
You want your strike indicator to aid in suspending your nymphs only slightly above the creek bed. I have found the "sweet spot" to be where the indicator will drift, but also occasionally catch slightly on the bottom.
Freeing it should take nothing more than a lazy mend of your fly line, and then it's back to business with a smooth floating drift.
I advise the novice to purchase a strike indicator that can be adjusted with the least amount of thought and effort at first, so you can spend more time trying to achieve this type of drift and less time battling with your indicator system at the bank.
Nymphing this way can be challenging at first. There's a lot to learn here, but when you have achieved a tenuous grasp on this style of fishing, it is extremely productive.
Tom Rosenbauer taught me what I do know about fishing under an indicator, and the man is an overall stellar teacher concerning all things fly fishing, so I highly recommend perusing this video for more information regarding indicator fishing.
Frequently Asked Questions about Strike Indicators
Q. What size indicator should I use?
A. This all depends on the weight of the flies that you're using. You want an indicator that will stay mostly upright and above the water line. The river current is also a factor. Faster-moving water will require a harder indicator to keep it from being pulled underwater with the current.
Q. Do I have to fish nymphs with a strike indicator?
A. No you don't have to. Most beginner anglers will find the strike indicator an advantage when learning to fly fish. However, some types of tight line nymphing don't require a strike indicator and can be a more productive way of fishing. If you're new to the sport stick to an indicator until you get experience.
Q. Will my strike indicator spook fish?
A. It depends on how weary the fish you're targeting are. As a rule of thumb, you want to minimize any possibility of spooking fish. This means avoiding an indicator that is too large or will make a big splash when casting, especially in calm waters. However, I've had numerous fish surfaces to target my strike indicators. 
Q. Can I use a big dry fly as an indicator?
A. Yes! This is a very popular and efficient way to fish. Although make sure your dry fly is large enough to hold up your dropper fly, and that the dry fly will resemble a current hatch. 
Q. How often should I adjust my strike indicator?
A. This is a very important question, and the answer is often. If you're fishing a stretch of river with varying depths it's imperative to adjust your indicator at each new pool or run. Adjusting your strike indicator (and weight) are two of the best options to try if you're not getting any action.
Conclusion/Reeling it in
My close proximity to the Susquehanna River is why I started fishing flies under an indicator. It's big water, and there's a lot to fish.
Indicator fishing has produced a lot of smallmouth for me, in places I couldn't reach without swinging a Thingamabobber and letting it do its thing to get me in the strike zone. I highly recommend familiarizing yourself with fishing this way, so that you can fly fish anywhere, under a multitude of different circumstances.
To me, understanding how to fish under an indicator is essential to being a well-rounded and resourceful fly fisherman.
That being said, trial and error is how you will hone these skills. It takes determination and persistence, but there's nothing quite like that first big brown that yanks your indicator deep into the current and begins its run.
Try it out for yourself and see how you fare, but bring some extra indicators until you feel it out. Tight lines!
Related Readings