This is the ultimate guide to the best fly fishing reels on the market.
In this comprehensive guide we'll cover:
Choosing your new reel (tips)
Best fly fishing reels for the money
Best saltwater fly reel
Best reel overall
Best fly reel for under $100
Best fly reel under $200
Tips for beginners
The most exciting new product (for the gear-heads!)
Euro-Nymphing specific
If you are looking for information on fly reels, you'll love this guide.
Let's dive in.
---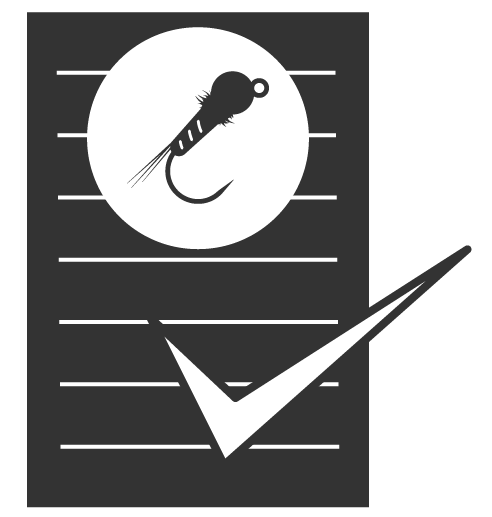 Choosing a new reel can be difficult, as someone who spends a lot of time selling them to people I know this all to well. One of the most common questions I get asked is "what's the best fly reel for the money?". While this is a broad question it basically sums up the main idea of reel buying.
Anglers want the best reel for the least amount of money. There is nothing wrong with this, in fact, this is probably the mindset one should have when shopping for a new reel.
You should get the reel that is going to serve your fishing style, location, and your situation, AND at a price you feel the most comfortable paying.
We have found that the main concerns for those shopping for a reel are (in this order):
Price and build quality
Capabilities of the reel
Durability or How long they can expect the reel to last.
The truth is that for the majority of anglers these variables should be equally important when making your decision. For example, if you fish often and are tough on your equipment you probably should not buy a reel simply because it is cheap.
Alternatively, if you fish 3-5 days a month and the majority of days are spent on your local small stream (catching 5-12 inch native trout) you probably don't need to buy an overly expensive reel. This is because you will likely end up feeling like you aren't getting your money's worth. There's nothing worse than buyer's remorse, especially when you realize you dropped $500 on a fishing reel that you actually didn't need.
So, is your new fly reel going to simply hold line when you catch smaller trout, or do you fish often and target larger fish??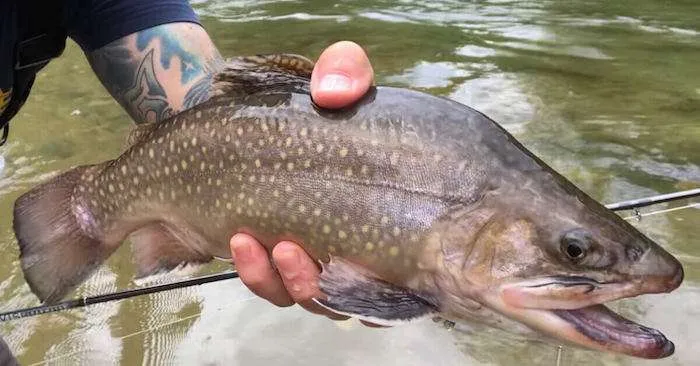 Then… What is the Point of Expensive Reels?
There is definitely a time and place for the expensive reels though. For example, if you plan on flats fishing in Belize and are looking for a reel that can handle the speed and power of ocean-going fish, it may be worth it to spend the extra cash on that large spool and capable drag system. This will help to ensure that you are prepared for whatever is thrown your way.
There's no better wake-up call than realizing you aren't the one in control when you hook into a big fish.
About This Guide
This will be a straightforward review of some of the best reels available to you. I'm going to go over my picks for new and existing reels, this will include.
For those on a budget
Saltwater
Best reel Overall
Best reel for the money
The best reel for beginners
The most exciting and new product
Euro-Nymphing
Related Reading
We did write a more in-depth info guide on reels, in general, a while back. If this interests you check out our fishing reels 101 resource guide.
See also
Tips for Budget Shopping
Like I said earlier, buying a new reel doesn't necessarily mean that you have to spend ridiculous amounts of money.
There are a lot of reliable, low budget options on the market for those who are looking to get a new reel on the cheap. It's important to know that inexpensive doesn't necessarily mean cheap quality—it's just a matter of choosing the reel that's going to perform maximally, for your intended purpose.
Consider the reel's construction when buying a reel on the cheaper end of the spectrum
In terms of reel construction, the main thing to consider is what it's made out of.
Reels on the lower end of the spectrum are usually made of plastic or cast metal. If you are willing to spend a bit more money you can get yourself a machined reel that is superior in almost every way when compared to plastic and cast construction reels.
Plastic tends to look bulkier and less attractive but is typically more durable than cast metal. If you know you are tough on equipment and put in a lot of days on the water, plastic can be the better choice because of its durability. Reels made of cast metal are often better looking and better constructed however they are prone to cracking and bending if they are dropped on something hard.
If you can spend that extra little bit of money on the machined reel you can usually expect to receive both, durability and higher quality construction.
The Best Fly Reel Around $100 (Reviewed)
The Lamson Liquid is, in my opinion, and experience is the best budget reel on the market. It is considered by many "the best fly reel under $100!"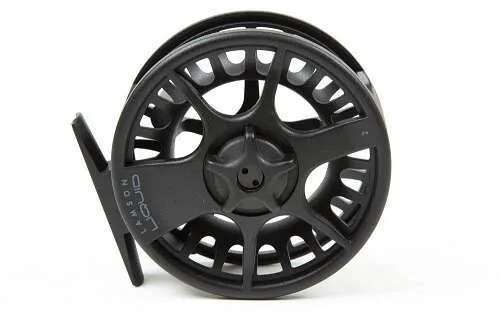 This fly reel is around or under $100, 50% manufactured in the US and 100% assembled in Idaho, it's pretty much bombproof and it has all the features of its higher-end machined brothers and weighs about the same for half the price.

When somebody comes into the shop looking for a new reel, and they aren't looking to spend a whole lot this is the reel I usually recommend.
Budget, Runner up: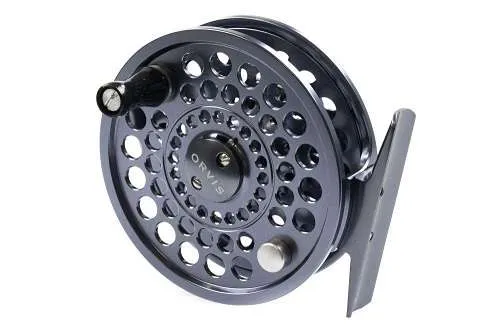 Not only is the Orvis Battenkill a fun reel to fish—but it's also the most dependable reel I've probably ever used, at least in this price range. Certainly, one of the best fly reels right around or under $100.

The Orvis Battenkill is beautifully machined, doesn't eat your fly line, and is truly enjoyable to fish with. It features a click and pawl drag, meaning you control the drag and the fish with your palm which can be a really rewarding way of landing fish and an overall good time.
Cons
The only negative thing I can say about this reel is the durability of the nickel plating on it. A few drops or bumps into rocks here and there have left mine looking pretty torn up.
Mechanically though the reel is still sound and has not bent or cracked, even when I tripped and fell on it. For the slightly higher price, this reel is more than worth it in my opinion.
Saltwater Fly Reels
Saltwater reels are an entirely different world. Ideally, saltwater-specific reels are purpose-built to perform well in saltwater environments, they have sealed drag systems to prevent corrosion and are almost always machined aluminum for superior build quality.
They boast large arbors for more line pickup per revolution of the spool and the drag systems are constantly being improved upon in order to lower startup inertia and increase strength, which is necessary to keep up with the demands of something like fighting a tarpon or other large game fish.
The standard for quality in the saltwater reel market is relatively high and sorting through them all can be tough, especially because many of them are identical in features and build quality, with their only differences being looks.
The Best Saltwater Fly Reel
If you're looking for a reel that is not only reliable but will also save you money in the long run then you should consider the Nautilus CCF-X2.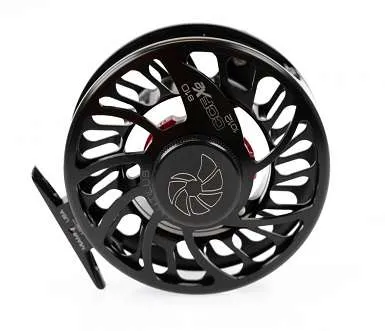 Not only is this reel totally unique, but owning it actually saves you cash!

How does it save you money?
The 8-10 wt share the same frame and so does the 10-12wt. This means that all you need to do to switch from an 8wt reel to a 10wt is just switch the spools out. If you have an 8-12 weight rod arsenal then you only need two reels rather than four.
The features don't end there though! This reel's frame also works as a spey reel with just the simple addition of some spacers and a new spool! This addition cuts down the space between the spool and the frame to 0.003-inch which means thin running lines stay on the spool and will not migrate into the innards of the reel.
Extra spools are not overly expensive either and the quality and versatility of the reel is more than worth the price tag when compared with the rest of the reels in its class.
The Best Fly Fishing Reel Overall
Picking one reel out of the many hundreds offered to us anglers is kind of a hard thing to do. Things start to get dicey when you say one is better than the rest, feelings get hurt, hearts are broken and opinions and loyalties are brought out into the open.
The fact of the matter is Ross Reels reign supreme. This isn't a hollow statement either—there are several reasons why Ross currently makes the best reels on the market. Specifically, the Evolution LTX.
The Evolution LTX is my top choice on the market right now, it's the updated version of the older LT, if you've owned an LT in the past you know how great that reel was and still is. The LTX is the updated version, featuring a drag system that is 4x stronger than the LT while still weighing the same.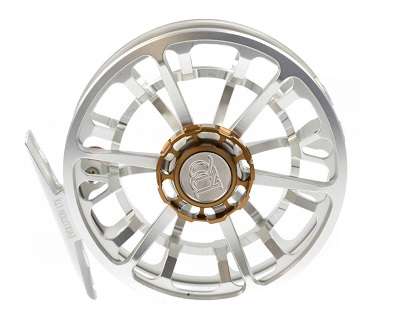 It's machined and assembled in Colorado out of 6061 aluminum and stainless steel. Its got an extra-large bell-shaped arbor with a slot cut to accommodate the knot used when tying on your backing and help the line wind on evenly.

This reel also has a huge range of applications, not only can the smaller sizes be used on a trout stream, but the 7/8wt with its large arbor and improved drag is more than capable of wrangling fish in the salt as well.
Did I mention it looks amazing?
And if that's not enough, 10% of Ross's profits go towards conservation.
For $395 (in every weight), this reel is about as good as it gets. Its competitors, the Lamson Speedster S or Orvis mirage, for example, pale in comparison; both of which have the same features as the LTX but will cost you the same amount as the Lamson in its smallest size or $40-$350 more for no discernible reason as the weights go up.
The Evolution LTX, by Ross, seems to have it all: high-quality builds, a great warranty, sharp design, and a really good price tag. If you're looking for a new reel that's going to last you a very very long time then the Evolution LTX is for you.
The Best Fly Fishing Reel for Your Money
Everyone wants to maximize the dollar, especially in the fly fishing world. If you spend $600 on a reel you expect it to last for a long time.
Unfortunately, this sometimes isn't the case and it's easy to feel like the hundreds you just spent on that new reel were wasted if it doesn't perform the way it was advertised, or breaks down on you prematurely. Alpen is a company to look for when you're looking to get the best fly reel for under $200.
My choice, in this case, would be any reel from Alpen Reel Co. Alpen is a newer company that entered the market in 2017. The great thing about Alpen is the price of their reels. All of their reels are direct to the consumer which means that they machine them and sell them in the same facility, with no middle man. This means you can get a bombproof, fully machined aluminum, sealed drag reel that looks amazing for $185, with $5 of that going to conservation.
This is one of the best reels on the market for under $200. Based on build quality you are essentially getting a 250-300 dollar reel for much less than that.
If you are looking to get the best reel for your money—you likely won't find anything better than this.
The Best Fly Fishing Reel For Beginners
As a beginner, getting your first reel can be a bit daunting, to say the least. Especially if you're unfamiliar, with the sport. The first time you see that round piece of metal with a price tag of $300 it can be surprising, if not traumatizing.
I'm here to tell you that I went through that feeling as well and what I learned from it was, don't spend more than $100 if you don't have to.
Keep it simple, my first reel didn't have a drag. Ultimately, a beginner wants to have as few things to fiddle with as possible.
My first serious reel (I used a reel from the 80s for 6 years before that) was the Orvis Battenkill II and 5 years later I'm still using it.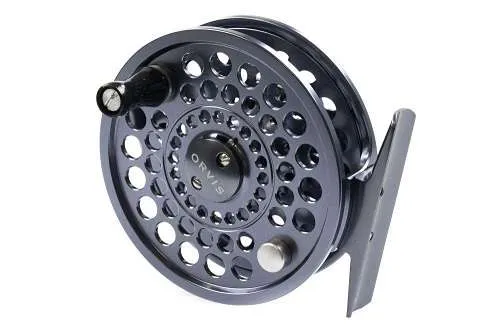 It was light, cheap, and super durable, the lack of a drag knob allowed me to fight the fish with minimal distractions and the click and pawl drag made a cool noise.

Later on, when I learned to play fish with my palm it became a rewarding experience to do battle with just my hands—no fancy compressed carbon disc drag needed.
I still use that reel to this day and have never had to send it back to be fixed even though I've fallen on it and dropped it more times than I can count.
The Battenkill II is available for around and in some cases under 100 dollars. It is in my opinion and experience, probably the best reel a beginner could ask for.
The Most Exciting New Reel for 2022
Is this section for you!? …Well
Do you like to stay ahead of the game?
Are you a gearhead always looking for the latest and greatest equipment?
Or do you just like to have a reel that is both truly enjoyable to look at and fish with?
If you answered yes to any of those questions then the Ross Evolution R is right for you.
One of Ross's newest reels for 2022 the Evolution R possesses some pretty advanced features not found in any of the competition.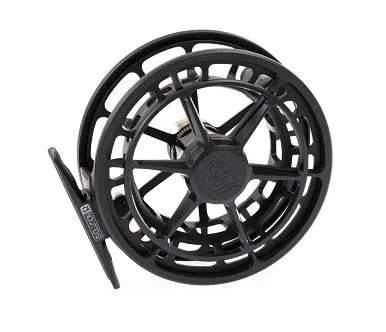 Some of those include a totally re-designed drag system, featuring a bonded fluoropolymer and carbon stainless steel stacked disc assembly that provides more friction than any other lightweight reel around. Speaking of lightweight, every reel weighs less than 5.2 ounces, even the 8wt!

The Evolution R has a super large arbor that is specifically shaped to the force-level winding of the fly line on retrieval, something that hasn't been seen yet in the fly reel market. The drag knob is also incorporated into the frame for seamless drag adjustment and looks.
This reel looks really good! if you're looking for something that'll catch the eye this gets the job done.
Don't let its refined looks fool you though, because it's machined out of one solid block of 6061 T6 aluminum making it much more durable than it looks.
On top of its solid construction and great looks, this reel also has a fairly agreeable price tag. Currently, coming in at $495, which is about the same as the other reels in its category.
If you like to have confidence in your rig and have it look good at the same time then this reel is for you.
The Best Euro Nymphing Reel
With the way Euro Nymphing is gaining popularity in recent years, you may find yourself wanting to get into it just like I did. My main challenge though was finding a reel that doesn't eat your euro leader, especially on a budget.
Lower price reels often have looser clearances that allow the leader to slip into the innards of the reel—leaving you sad and frustrated when you hook a fish and it breaks you off because the leader was wrapped up in the reel.
After testing reels over the past few months, I can say the Lamson Liquid tops the list!
Unlike a normal reel, a Euro reel has 2 jobs—balance your rod and hold your line. The drag is used sparingly and traditional casting is mostly out of the question.
The Lamson Liquid does all of the above, it balances most rods well and its design prevents the leader from getting sucked into the frame. It's fairly durable and solid in construction and for roughly $100 it's a great deal, especially if you're just getting into euro nymphing and want something that does what you need it to do at a price that won't break the bank.

Conclusion
Hopefully, this guide was helpful in your search to find that new reel. Whether you were just looking to get into fly fishing or you're looking for that new shiny addition to your arsenal I hope this guide had all the information you needed to make your decision.
If you have any further questions or comments feel free to leave them in the comments section below or reach out to us directly on our contact form.
Looking for more broad scope info. guide on reels in general? Check out our fishing reels 101 resource guide.
Additional Resources: