Trying to find the right rod and reel for the right price. It's easier said than done.
The Orvis Clearwater rod and reel is one of the best values in fly fishing. We took one of the Euro nymphing set-ups for a spin and found that it exceeds expectations and is a hell of a lot of fun to fish.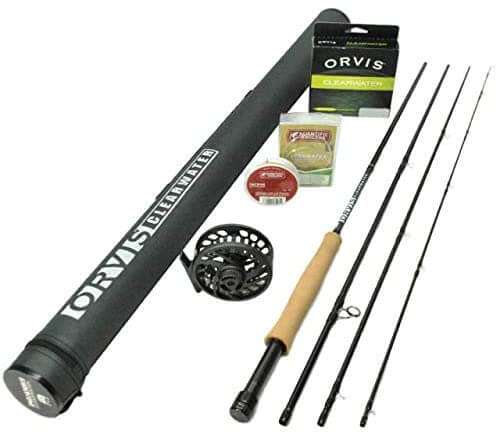 In this review we will cover
A quick note from Orvis
Price meets performance
Clearwater rod
Orvis Clearwater reel
The combo / Orvis Clearwater outfit
Orvis Clearwater review, author's experience
Pros and cons
Other Orvis products
And much more!
Let's get started.
---
Quick Note On Orvis
Orvis is an industry giant, and not just your granddaddy's tackle shop
They've been crafting fly rods and reels for over 150 years. Orvis has thrived as rod-makers through numerous eras. They were founded in the days of bamboo rods and grew their business as fiberglass became the new standard for rod-making material.
Lightweight graphite revolutionized the fly fishing industry in the 1970s, and one thing has remained constant through all of this change: Orvis is one of the most trusted brands in the business.
Orvis takes pride in their product. They stand by the warranty they offer on their American-designed rods and reels. They have a well-established commitment to wildlife and nature preservation and a strong group of conservation and non-profit partners.
All of my interactions with their customer support and store staff have been positive experiences, which speaks to their culture as an industry leader in the fly fishing world.
One of the immediately apparent benefits of buying an Orvis rod and reel is just that – it has over a century-and-a-half of history, tried-and-tested design, and customer commitment tied to it.
---
Free silicone fly box with every purchase
Asheville, North Carolina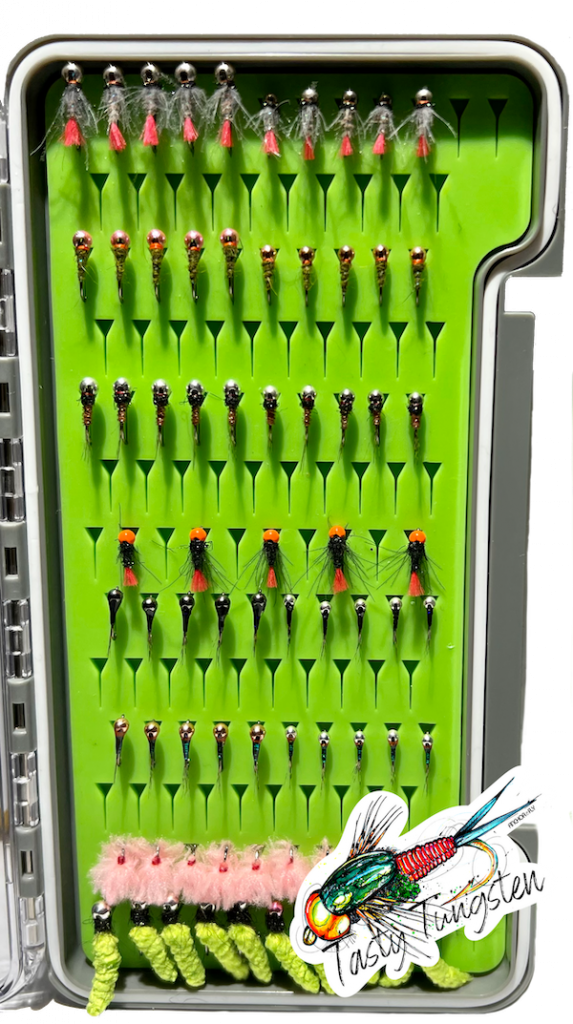 ---
Orvis Clearwater: Price meets performance
With all of the rods and reels that Orvis offers, all of the technologies and features to weigh, and all of the budget considerations to consider, the purchasing waters can begin to feel a little murky.
When I'm shopping for a fly rod, especially one for a specific specialized use, I like to find the sweet spot where price meets performance.
I don't want to blow through my annual rod-buying budget on a rod for trying out a new technique in just one click, only to discover that my near-four-digit-priced rod spends too much time on the shelf and too little time getting bent.
---
Other Gear Related Articles
---
I also dislike going all-out on an expensive (or too-expensive) rod to accomplish a specific job, only to have a buddy show me his more-affordable, pretty-much-equally-performing rod three months later.
The shine and "I've got a (insert fancy rod here)" novelty has dulled a bit by then, and really, if the fish don't care (they don't) then why should we?
On the flip side, if the cheapest option got the job done perfectly, the expensive options probably wouldn't exist. Buying a too-generic, not-refined-enough rod can easily leave an angler missing out on the benefits of a specific new technique.
This can be even worse in the long-run than over-paying for a rod: it's fairly easy to imagine wanting to give a certain type of fly fishing a spin, going out and spending the bare minimum on a setup, and then giving up on the technique altogether when results don't happen and fish don't find nets.
Having the right gear, and especially the right rod, is important. We've all had those times when we haven't been ready – horsing dry flies around with a rod lacking delicacy, or flopping streamers with something that feels more like a raw spaghetti noodle than a fly rod.
I'm always in search of rods and reels that meet my budget and allow me to isolate and enjoy specific features. The Clearwater Rod and Reel by Orvis sits perfectly in this confluence of price and pleasure.
If you're going after spooky brown trout in mountain streams, Pacific-run steelhead on large rivers, or migrating tarpon in the flats, Orvis has a Clearwater for you. And no matter the tactic you're going to use to catch these fish, be it delicately presenting dries, to Euro nymphing in a riffle, to swinging a spey cast, there's a Clearwater for that.
Orvis offers the Clearwater Rod in four different categories:
freshwater
saltwater
two-handed spey
travel editions
Their freshwater edition ranges from a medium action small-stream 7'6" 3 WT rod to a medium-fast 9' 6 WT rod.
They also have a Clearwater designed for European nymphing, coming in 2 WT, 3 WT, 4 WT, and 5 WT flavors.
The Clearwater saltwater rod comes in 6 WT – 12 WT sizes and 9' – 10' lengths, allowing anglers to find the right rod for their targeted species.
Orvis Clearwater Fly Rod Review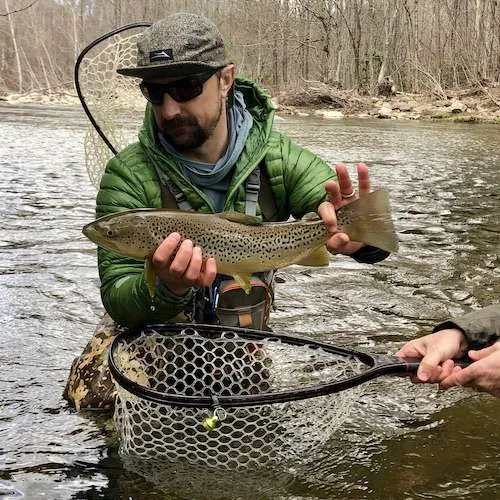 The Clearwater features chrome snake guides that retain their shape and durability well. It has a stripping guide with a ceramic insert and attractive full black nickel aluminum reel seats. For as affordable a rod as the Clearwater is, it's the small details like the nicer reel seats and the improved snake guides that set it apart from the competition.
Again, Orvis is an industry leader for good reason. The Euro nymph and larger-game rods feature fighting butts with composite tips for added durability. All Clearwater rods have black chrome blanks with white accents that give a clean, sleek and identifiable look as part of the Orvis rod family.
The Clearwater comes with a hard gray rod tube with separate sections and padding. As with all Orvis rods, the Clearwater is backed by Orvis's 25-year Guarantee.
---
Orvis also offers a Clearwater reel to match their rod (or any fly rod, for that matter). The Clearwater reel is a large arbor reel that picks up line quickly and does so at an incredible value. It's a die-cast reel with a dark gray powder coat.
The Clearwater reel works on Orvis's Carbon®-to-stainless stacked disc drag that puts it at the top of it's class amongst die-cast reels. It has an easily-adjustable click drag knob and sports an open-faced, modern look.

Orvis Clearwater Reel
The Clearwater LA II for line weights 4-6 weighs in at 5.4 oz. and has a 3.5" diameter, while the larger Clearwater LA IV for line weights 7-9 weighs 6.1 oz. and has a 3.75" diameter. It can easily be converted to either left-hand or right-hand retrieve.
---
Interested in other Orvis Reels?
Check out our review on the Orvis Battenkill Fly Reel.
---
Orvis Clearwater Combo
One awesome thing about the Clearwater is the variety of rod and reel weights and lengths. For anglers wanting to bundle their purchase the clearwater is offered in a rod and reel outfit. This comes with rod, reel, fly line, and backing.
---
To put the Clearwater to the test, I wanted to see how it held up to my measuring stick of delivering specific results for a specific purpose.
I took Orvis's 10' 3 WT 4-piece Clearwater rod and Clearwater LA II reel out for a spin with my heart set on some Euro nymphing. I lined the Clearwater LA II reel with Orvis's Hydros Tactical Nymph Fly Line and a long Euro nymph leader. I grabbed my tungsten-jigged flies and set out to hit the water.
Almost immediately, the Clearwater's purpose could be felt – this is a well-designed Euro rod.It felt very light in-hand and balanced extremely naturally paired with the Clearwater LA II reel.
Any Euro nympher will preach the importance of this in a Euro stick. Finding a natural balance in-hand that allows you to hold the rod extended and keep the tip up and leader tight means the difference between detecting strikes and missing out, and ultimately catching fish or catching more fish. I found that I was able to get in this rhythm quickly and naturally with the Clearwater rod and reel, and I didn't have to work to find it.
I'd expect to find a lightness and natural balance in a Euro setup – what I didn't was to find it so well and for such a light price. That's the first thing I noticed about the Clearwater, and it served as a constant reminder; the rod just felt right in my hand.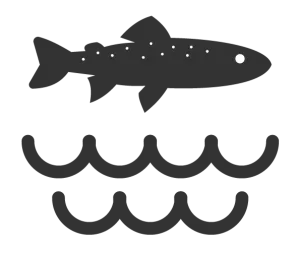 One of the joys of Euro nymphing in general, and Euro nymphing on a 10' 3 WT Clearwater specifically, is playing fish. The Clearwater offered an appropriate amount of power, allowing me to switch gears from detecting strikes with the rod tip to fighting fish with the rod's backbone with ease.
I landed multiple fish ranging from 14" to 18" and had a great time feeling the head shakes twitch through the rod. In a few instances I put running brown trout on the Clearwater reel, and let the large arbor let line before I picked it back up with quickness.
The Clearwater's sensitivity also lent itself to detecting strikes. I was able to feel strikes that I normally might not have felt. I don't doubt that a more expensive, more refined rod might offer a little more in the way of sensitivity than the Clearwater.
At the same time, I also don't doubt that the Clearwater is more sensitive than many higher-priced rods. I've fished Euro nymph rods that offer similar specifications (length, similar weight, similar materials) that sit in the $200 – $400 price range, and the Clearwater comes out ahead in offering the best feel, backbone, and sensitivity.
There are a few downsides to the Clearwater, although minor. It doesn't feature a hook keeper, which I found to be a little strange. Certainly nothing to lose sleep over, and I'm sure that the Clearwater's fancier (read, more expensive) Euro nymphing cousin the Orvis Recon features a hook keeper.
I also tested out the Clearwater for dry fly usage by tying on a hopper pattern with a dropper below. I wasn't wowed by the accuracy offered casting the dry-dropper rig, but it could have been a lot worse. I chalk most of this up to the nature of the rod – it has a sensitive softer tip that isn't designed to cast dry flies. This also doesn't mean you can't.
Another note of interest (I hesitate to mark it as negative or positive) is Orvis's 25-year Guarantee. While some other rod companies offer lifetime warranties on their rods, Orvis's only extends for 25 years. Only. I mean … if you are still fishing the Clearwater a quarter century from now when the Guarantee expires, I'd chalk that up as a win. As previously noted, customer service will be a commitment from Orvis during those 25 years as well.
Orvis Clearwater Pros and Cons
Pros
Lightness and in-hand feel
Sensitive tip for strike detection, tippet protection
Decent backbone for landing fish
Cons
No hook keeper
Not incredibly accurate with dry flies
---
Other Orvis Products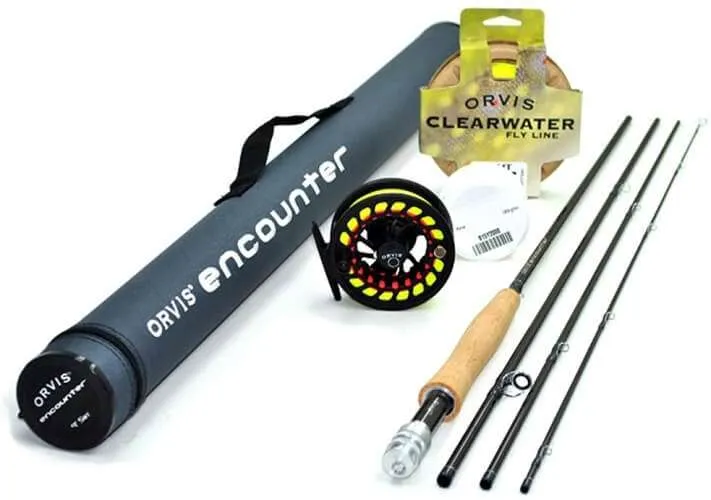 Orvis offers a wide range of fly rods and reels. Their rod selection includes specialized rods for European nymphing, spey casting, and targeting saltwater species.
These rods stretch from the entry-level price range with the Orvis Encounter to the high-end, top shelf price tag of the Orvis Helios 3D.
---
Other Orvis Reels
Orvis mirrors their fly rod offerings with their fly reels; there's a reel to match your rod and specific needs. Ranging from the entry-level Clearwater to the contemporary Battenkill click and Battenkill Disc reels, Orvis has a nice selection of durable, yet affordable fly reels.
The Orvis Hydros, the Mirage LT and Mirage reels are fantastic and are suited for those with larger budgets.

Orvis Battenkill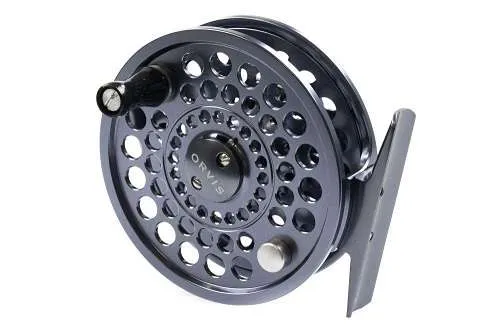 Orvis Battenkill Disc
Orvis Hydros
Orvis Mirage LT
Final Word
Orvis set out to make a fly rod and reel that carries the brand's tradition of excellence at an obtainable price point, and they hit their mark with the Clearwater line. You'd be hard-pressed to find a better value in fly fishing than the Orvis Clearwater combo. I enjoyed the 10' 3WT's feel and sensitivity, and it balanced perfectly with the Clearwater reel.
The Orvis Clearwater rod and reel hits right in that sweet spot of affordability and features. You can't go wrong with the Clearwater, and there's a version out there for every fly angler.