I consider my boots the most important component of my gear. Our feet are our foundation, and I suggest getting the best wading boots you can afford.
This is a comprehensive guide to men and women's wading boots in 2020.
In this guide I'll cover:
The Importance of Good Boots for Fly Fishing
The Best Wading Boots for the Money
Wading Boots With the Best Grip
Best Boots For Hiking And Tough Wading Conditions
Best Women's Wading Boot
Best Lightweight Wading Boots
Let's dive in!
---
The Importance of good boots
Wading boots, it can be easy to discount their importance, I can't tell you how many times I've had to explain to customers in the shop just how much difference a solid pair of wading boots can make between a good day and a really really bad day.
I would rank the importance of having good wading boots while fly fishing just below having a rod and reel. They are literally the ground, with which the whole operation stands on.
If you can't safely wade to that tough spot in the river to make the cast to that juicy looking piece of water—then you might not catch as many fish. If you're trying to get to that spot anyhow and don't have the right boots (or no boots at all) and you slip and take a dunk, not only is your well being in danger (especially during the winter), but your day may or may not be ruined depending on your situation at the time.
Moreover, the fact that the amount of water you cover is entirely dependent on how easily you can wade. Not having the right boots will severely limit your range.
The point is, yes they are "just" boots, but they're really important, specialized, purpose-built, and designed boots that I can guarantee will up your game if you get the pair that is right for you.
This short guide will go over some of the basics of choosing the best wading boots for you and also give you some of my suggestions to streamline the buying process for you.
Best wading boots for the money
The Orvis Ultralight wading boots, at around $170 are on the lower end of the spectrum as far as price goes and are about as low as I'd go. Sure there are a few comparable boots around the $100 dollar range but at that price point you're settling for a product that I can say from experience will be a disappointment.
These boots are great for an all-around fisherman, they have a rubber sole and robust build. They don't necessarily perform best in one specific situation, they are more of an all-rounder and provide adequate grip on almost all bottom compositions.
If you need more grip out of them you can always add studs to the soles but so far I haven't felt like that has been necessary.
I have worn mine several times in saltwater environments and can say that they do well on the beach, the flats and jetties.

Features/Specifications
40 oz

Sizes 7-14 (men's)

Quick-drying Clarino™ microfiber

Custom Vibram Sole

Can attach metal studs
The thing I like most about these boots is how lightweight they are. Unlike normal wading boots, they don't feel much clunkier than normal hiking boots, making them an excellent choice if you do a lot of hike-in fishing and don't like to change your boots once you get to the river. They're also super comfortable to hike in because of their hybrid Hiking/Wading boot design.
These are the best wading boots you can get, for the money—when it comes to the build quality, as well as all-around performance The Orvis Ultralight wading boots can't be beaten. I would recommend these boots to anyone looking for the best boots for their money.
Wading Boots With the Best Grip
If you've spent any amount of time standing in a river you have probably made this observation: rocks are kind of slippery. I've taken more than enough spills to know this and I'm sure many of you have as well.
Having adequate footwear while fishing can mean the difference between a good day and a bad day. A bad day can range anywhere from just not catching any fish to hypothermia or even in the worst cases death.
Having a good grip is not only important for your safety but also for your success as an angler, being able to be confident in where you're standing will allow you to cover more water and catch more fish.
The boots that are going to give you the best traction right out of the box are the Patagonia Foot Tractor. These boots are a kind of super boot, they are a mashup of all the best possible features.
USA Made
Vibram Sole
Made by Danner
They are made in the USA, have a Vibram sole, the boot itself is made by Danner, meaning they have rock-solid construction, reinforced ankle supports, and most importantly come stock with 7 aluminum plates (per boot) screwed into the sole for the most grip you can possibly get.

Features/Specifications
86 oz

Sizes 7-14 (men's)

Durable, waterproof full-grain leather

Vibram Sole

Perforated drains on both sides of upper boot
This is because aluminum is softer than most rocky bottoms meaning the rock bites into the aluminum as you walk, giving you a super solid no-slip wading experience.
Overall these boots are not only going to provide you with the most solid platform (best grip) to fish from out of anything else offered on the market but will also be the last pair of wading boots you buy for a very long time, even If the aluminum gets worn out you can just screw new plates on.
If you don't want to even think about slipping and falling ever again then these are the boots for you.
---
Other Gear Related Articles
---
Best Boots For Hiking And Tough Wading Conditions
Do you have multi-mile hikes into your favorite fishing spots? Or enjoy having a comfortable and solid boot on the walk from the car to the river?
Is your favorite river or stream on the slimy or bouldery side? Or both? If you answered yes to any of these questions then the Korker's Terror Ridge Boot is for you.
The Terror Ridge is one of the most versatile and capable boots on the market at the moment. I'm not just saying that either, it really is a true do-all boot.
For the most part, this is due to the interchangeable sole that all Korkers boot's feature—the Terror Ridge comes with two soles right out of the box! That's double the normal amount right off the bat!
It's available in two combinations, a felt and rubber bundle and a studded rubber and normal rubber bundle. With either bundle you are given the power to hike with the rubber soles to save your felt or studs and then switch them out to the high traction felt or studded soles once you reach the river.

Features/Specifications
4.5 lbs.

Sizes 7-14 (men's)

OmniTrax Interchangeable Sole System

Vibram Sole

Hydrophobic materials

Internal Drainage: Water flows through midsole ports
The actual boots themselves were designed to be as versatile and adaptive as possible, with a super solid construction and most importantly adjustable heel support, something a lot of boots should have but don't.
The adjustable heel support paired with the interchangeable soles makes these boots the best in both worlds, the studded or felt soles give you all the traction you will ever need and the reinforced heel support and solid build will make you feel like you're glued to the bottom of the river.
Getting to the water is just as easy and carefree, the grip of the conventional rubber soles paired with the comfort and solid platform provided by the boots themselves makes hiking and walking in these boots just as comfortable as any other hiking boots you might use to get to your favorite piece of water.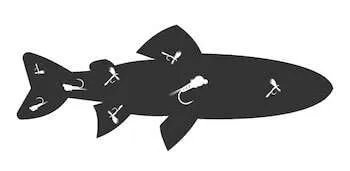 Best Women's Wading Boot
In past years the number of wading boots specifically designed for women was lacking, to say the least.
Luckily, most companies have caught on to the fact that the women in the flyfishing world put in just as many or more days on the water fishing then men. With that fact being realized by the industry it only makes sense that a boot is made to keep up with those demands.
The best women's wading boot on the market in 2020 is the Simms Women's Flyweight. It's a Women's specific lightweight boot that's a perfect balance between a low weight rubber sole hiker and super solid wading boot.
The women's flyweight has tough welded TPU in high wear points and a synthetic mesh upper construction paired with a shock-absorbing midsole and super grippy rubber sole providing a comfortable and solid wading experience while also being light enough to be a great boot to hike in.

Features/Specifications
Sizes 5-12 (women's)

Women specific fit

Low profile and lightweight

Welded TPU film in high abrasion areas
Best Lightweight Wading Boots
Wading boots have a tendency to feel heavy and clunky, especially when wet. For some, having a lightweight and comfortable boot when wading is the difference between having a good day or ending the day in a worse mood than when you got on the water.
For those who prefer that lightweight and capable boot, the Korkers Greenback has you covered.
While not actually marketed as a lightweight boot, it only weighs 1oz more than the Simms Flyweight, which is a boot specifically advertised as being lightweight.
The reason that the Greenback takes our "Best Lightweight Wading Boot" title is because of its interchangeable soles. It basically means that you get a super lightweight boot with two sole options for 2oz more and a lot less money than the Simms boots.

Features/Specifications
Sizes 7-15 (Men's)

2lbs 7oz

Two soles included

Traditional laces with rugged web loops

Includes cemented parts & strategic seam locations
The Korkers Greenback, like all other Korkers boots, has two sole packages:
Rubber and felt
Rubber and studded
Moreover, these wading boots have cinching laces, so no more untied boots, and a super comfortable midsole and really lightweight upper portion that makes wading and hiking a super comfortable experience.
Overall these boots only weigh 2 pounds 7oz, a lot less than a lot of other boots on the market, and with the interchangeable soles, there isn't really another lightweight boot with the same capability and versatility as the Korkers Greenback.
---
Conclusion
Whether you're looking for a new boot on a budget, something to keep you upright in the river, or get you into your favorite fishing spot we hope this breakdown has helped you end your search and make an informed and confident decision when buying your new pair of boots!
If you have any further questions or comments please feel free to leave a comment down below and we'll do our best to answer it for you!
Additional: