Updated on May 10, 2021
This is a complete guide to the best fly tying kits in 2020.
In this new guide you'll learn:
Pros and cons of kits // Is a kit a smart way to get started?
3 questions to ask yourself before making your purchase
What are the products we suggest and why + the pros and cons of each
Determine if it's a better fit to purchase your fly tying items separately

Vises singled out
Tools singled out
Materials singled out
If you are thinking about getting a fly tying kit we are confident this article will save you both time and money.
Let's dive in!
Introduction
Here at Anchor Fly we have taken the time to review the best fly tying kits for 2021. We are dedicated to researching and reviewing all products to provide you with the most comprehensive list of everything you need to get started: tying kits, vises, tools, and materials.  
One of the main features that makes this guide unique is that we have created lists below for people that would rather 'mix and match' their tying kits. Here we've outlined the best custom kits for quality, and affordability.
If you are new to fly tying all-together and wish to explore our Fly Tying for Beginners resource guide please do so now. This is a comprehensive guide for beginners and breaks down everything the beginner fly tyer needs to know.
Fly Tying Kits Overview | Is This RIght For Me?
We need to start off–up front by stating that many fly tyers will suggest not purchasing a kit. There are pros and cons to getting started via a kit. Read on to see if they are a good fit for you.
Many tyers who are opposed to kits feel that the quality of materials and tools is not worth the money. This is true in some, but certainly not all cases. What these tyers need to know is that there is also immense value in:
Having exactly what you need chosen for you and sent to your door
The convenience of getting everything you need quickly and all at once
My personal experience in getting started with a kit:
I started off with a kit because I really wanted to get into tying but I had buyers freeze. With all the products and materials–hooks, beads, lights, feathers and fluff I did not know where to start. I bought a kit, got started immediately.
Yes my vise was horrible, but it worked… AND I had a good baseline of material (albeit some of it not the best quality), tied a ton of flies, CAUGHT A TON OF FISH, learned a bunch AND when I was ready to upgrade I did and still use previous tools as back-ups and spares.
Goal: get the benefits of a kit AND increase quality
One of the main features that makes this guide unique is that rather than simply reviewing out of the box fly tying kits—we also offer curated kits for people that would rather 'mix and match' their tying kits.
This is recommended as it allows for more flexibility and increases value.
1. Here we've outlined the best custom online kits for quality, and affordability.
2. If you want to mix and match or source a vise, tools and materials separately (according to your preference and or budget) you can click the corresponding section below.
As a beginner Fly tyer you should ask yourself these three questions.
How much money do you want to spend to, "get started"?
What size hooks will you be using?
Do you have a good fly shop near you?
First of all, fly tying equipment can be expensive and it's a fallacy that learning how to tie flies will save you money on buying your flies down at the shop. It's important to look at your overall budget and find out what makes the most financial sense—as kits can range from $60 – $200 dollars.
The second question is helpful in looking at the type of fishing and fish you're targeting. For example, if you mostly spey fish for salmon and steelhead you'll want a vise that supports larger hooks and materials commonly found in those flies. The fly tying kits we reviewed below are geared towards dry and wet fly trout fishing.  
The third question might be the most important.  Do you have a good fly shop near you?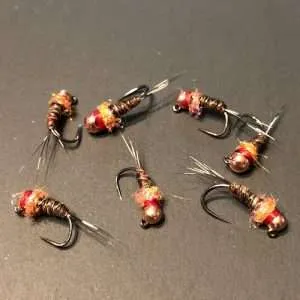 Many fly shops offer beginner tying classes and often provide the tools and materials. These classes can help gauge your interest level and desire in making fly tying your new hobby. Also, a good fly shop will give you advice on certain patterns and materials that will be most useful in your local waters.
If you are committed to learning or even advancing after a tying class you'll need to invest in your own tools and materials.  For many, an all-inclusive tying kit is the best way to get started fast. These kits can sometimes be more affordable than buying everything separately. 
Another important feature of these all-inclusive kits is—they provide the new tyer with the instant gratification of getting all their tools and materials at once. They are also designed for tyers with virtually no experience and are able to hit the ground running.
Anchor Fly Custom Fly Tying Kits for Beginners
The best bang for your buck could be had by separating out vise, tools, and materials separately. We have pointed out two custom online mix & match kits below that we feel provides the best quality fly tying kits for two different budgets.
Is your budget under $200?
The vise, tools and materials listed below is rock solid for under $200!
This Anchor Fly custom, mix & match fly tying kit comes with:
The Colorado Anglers 2001 ez rotary fly tying vise.
The Orvis Encounter Super Slim Tool Set.
The Hareline fly tying materials kit.
The KING in the kit below is the Hareline fly tying material. Hareline offers plenty of high quality materials—and having all this material upfront will keep you tying for a long time.
Plus! The high quality rotary vise by Colorado Anglers and the Orvis tool set are unmatched in quality for price.
It does not come with an instructional DVD, but with all of the patterns easily found online these instruction are not necessary. Besides, DVD players are pretty hard to come by these days.
Is your budget under $100?
The vise, tools and materials listed below, we feel, without a doubt are your best option if your budget is under $100.
This Anchor Fly custom, mix & match fly tying kit comes with:
The YZD rotary fly tying vise.
The Orvis Encounter Super Slim Tool Set.
The XFISHMAN materials kit.
At this price point the sacrifice is in the vise and the materials. However, if you are a beginner fly tyer you might not notice much difference in vices. One positive about this material kit is the plethora of materials you do receive. 
They may not be as high quality as Hareline; but you're getting enough to keep you busy for awhile tying tons of different flies. 
Again, this will not come with an instructional DVD, but again there are so many patterns online we feel that a instructional DVD is not necessary.
Note: A couple of other items you will need to start tying immediately are, hooks, thread & weight e.g. tungsten beads for tying nymphs.
Best fly tying kits currently on the market.
If you're wanting an easier way to jump into fly tying check out our fly tying starter kits below!
This is without a doubt one of the best fly tying kits listed and comes with materials and instructions, which enable the beginner fly tyer to tie 16 patterns. 8 basic patterns AND 8 "guide proven" patterns.
Tools included in this fly tying kit
High-quality vise
ceramic lined bobbin
scissors
bodkin
half-hitch tool
hackle pliers
hair stacker
whip finish tool
The eight basic patterns are
Woolly Bugger
Klinkhammer
SOS Nymph
Bead Head Caddis Larva
Beadhead Sili-Prince
Rusty Parachute
Elk Hair Caddis
Chernobyl Ant
The eight "guide proven" patterns
Parachute Emerger
Pearl Flash Zonker
Fur Ant
Black Rubber Leg Stone
San Juan Worm
BH Lighting Bug
Zebra Midge
Hollow Egg
Plenty of Materials 
Trusted Orvis brand
Unique patterns not found in other kits
Easy to follow video tutorials
Expensive 
DVD (Many households do not have a DVD player or computer that supports DVDs)
The Wapsi Deluxe Fly Tying Starter Kit is an expanded version of their popular Starter Kit. The kit includes all the tools and materials to tie 17 of today's best fly patterns.
The kit comes with a DVD detailing the steps of each pattern.
Hackle pliers
Head cement
Scissors
Fly patterns the materials included can create

Bead Head Caddis
Foam Beetle
Woolly Bugger
Stretch Tubing Scud
Poly Caddis
Brassie
Fur Ant
San Juan Worm
Poly Spinner
All Purpose Nymph
Cone Head Rabbit Streamer
CDC Emerger
Soft Hackle Wet
Green Weenie
Cone Head Leech
Deer Hair Bug
Clouser Minnow
Easy to get started
Affordable
No instructional booklet, only DVD
Minimal tools
This beginner fly tying kit by Scientific Angler offers everything one needs to start tying dry flies, nymphs, and streamers right away.
Heavy-duty vise
Thread bobbin
Bobbin threader
Hackle pliers
Scissors
Hair stacker
2 colors of dubbing
Chenille
Marabou
2 colors hackle
Elk hair
Peacock herl
Pheasant tail
Poly yarn
1 color thread
Fine copper wire
Affordable
Nice carrying case
Easy to get acquainted with the tools and materials.
Good for someone who has never tied before
Limited tools (no half hitch or whip finish, head cement, wax)
Limited materials (only one color thread and 2 types of dubbing)
Minimal patterns you can tie.
Rotary vise
Scissors
Bobbin
Bodkin
Bobbin threader
Hackle pliers
Hair stacker
Whip finisher
Grizzly & brown hackle
Dubbing
Marabou
Peacock herl
Pheasant tail
Elk hair
Chenille
Poly yarn
Black thread
Copper wire
Hooks, size 8, 12, 14
Clear plastic box with multiple slots to hold thread, hooks, and beads
Nice organizer and case
Vice has rotary function (most beginner vices do not have a rotary function)
Expensive for the quality of materials
Limited amount of flies you can tie
Poor quality vice
C-clamp vise
Bobbin
Scissors
Hackle pliers
Hair stacker
Bodkin
Half hitch tool
Whip finish
Thread (multiple colors)
Dubbing (several colors)
Marabou
Rabbit strips
Hare's mask
Peacock herl
Pheasant tail
Partridge feathers
Turkey
Elk hair
Deer hair
Chenille (multiple colors)
Hackle
Hooks (wet and dry fly in various sizes)
Beads
Wires
High Quality materials
Abundance of materials
Easy to follow tutorial
Expensive
Minimal dry fly patterns
Vise
Scissors
Hackle pliers
Bobbin
Bobbin threader
Hair stacker
Book and DVD
Hooks, sizes 8, 12, 14
Grey dubbing
Olive dubbing
Chenille
Marabou
Grizzly hackle
Brown hackle
Black thread
Fine copper wire
Peacock herl
Pheasant tail
Elk hair
White poly yarn
Affordable
Book and DVD
Easy to get started
Limited tools
Limited materials
Lower quality materials
Anchor Fly Custom Fly Tying Kits | Mix & Match By Budget

Mix and Match fly tying kit components to get the "most bang for your buck."

You have probably noticed that one commonality among all of these kits is they often feature economy tools OR a limited quantity of materials. 
We wanted to look at alternatives for the beginner fly tyer who wants to "mix and match" their kits to better suit their needs.
So, Anchor Fly has reviewed the best vices, tool sets, and material kits.  With these we have broken them down into two categories; best quality and best price.
Let's first look at our picks to create the best quality kit.
This simple yet sleek design is one of the top vises out there. It is the most expensive vise we're featuring but the value is incredible. It is made from high quality steel and aluminum, and offers a lifetime guarantee.
The HMH offers a very smooth rotary function, and easy grip locking cam lever—making for an easy one-handed locking.  There are 3 interchangeable jaws that can fit hooks 2/0 – 20. Another great feature of this vise is it comes with both base pedestal and C-clamp. 
The Renzetti Travler 2000 vice is one of the better vices on the market today.  Depending on your needs it comes in either a pedestal base or sturdy C-clamp.
 The Renzetti is versatile enough to hold small hooks as small as size #28 and larger hooks as big as 4/0 with its cam jaws. This vice also comes equipped with a rotary function and bobbin cradle.  
A classic and well known vise, Peak holds a reputation for its durability and quality materials. It is made from steel, brass, and aluminum. The Peak is capable of holding hooks big as 2/0 and small enough for 24.
This vise is connected to a large heavy base that allows for easy adjustment of the shaft. In addition, the vise has a rotary function along with a bobbin cradle.
Best Beginner Fly Tying Vices Online (Middle Tier)
Quality but Affordable Vises
This vise is moderately priced but comes with features that resemble a high end vise. It is geared towards the beginner tyer that wants a more durable vise to learn and practice on. It has a rotary function and bobbin cradle. 
The Griffen Odyssey features a smooth jaw grip but still holds hooks very well. It mounts to your desk or table with a C-clamp.
This is a basic rotary vise at an affordable price. The EZ vise is made from durable aluminum and steel. It comes in with a heavy base pedestal, and easy adjustments. There is also a bobbin cradle and smooth jaw grip. This vise features a lot of advanced functions for an entry level price.
This is the best quality vise under 30 dollars. It offers a basic 360 degree rotary function. It does feature a hinged rotary offering more versatility. This would make a great vise for someone who wants a better quality vise than most kits but won't break the bank.
Best Quality Fly Tying Tool Sets (Top Tier)
This beginner set has all the tools you need to get started tying any fly. With the higher price you're getting extra quality of materials.
Bobbin threader
Super-smooth bobbin
Tweezers
Whip finisher
Hackle pliers
3½" arrow scissors
4″ all–purpose scissors
Bodkin
Half hitch tool
Suede pouch
This is a high quality tool set at a modest price.
The set includes
Ceramic bobbin
Pair of all-purpose 4″ scissors
Bobbin threader
Hair stacker
Whip finisher
Hackle pliers
From a name like Orvis you can expect some quality tools. The super slim set is not as high end as the master series tool set, but still a great beginner tool set.
Orvis offers 5 main tools (plus the organizer) needed to get started tying—at an incredible value.
Each kit contains
Super slim organizer
Ceramic bobbin
Scissors
Bodkin
Whip finish tool
Hackle pliers
SUPER ECONOMIC TOOLKIT
The XFISHMAN Fly Tying Tools Set suits for both beginners and intermediates. It includes 12 basic tools you will need for tying virtually any fly.
This kit comes with 4 bobbins so you can save time by keeping common thread colors on each bobbin—unique feature not found in many other tool kits; making for quick and convenient tying.
The Xfishman tool set offers the most valued tools at an economical price.
The 12 tools all fit in a travel case for easy tying and organization while on the move.
This kit includes
Bobbin threader
Dubbing twister
Rotary whip finish
Half hitch tool
English whip finish
Telephone bobbin
Bullet head standard bobbin
Mini standard wire bobbin
Doctor disc bobbin
Straight scissor
Curved scissor
Hair stacker
Hackle pliers
Best Quality Material Kits
Hareline is another trusted name in fly tying and offers great quality and quantity of materials. This kit tops our list and frankly, we like it so much we decided not to add any other material kits to the "best quality material kit section." This is perfect for the beginner tyer who already has a vise and tool set.
The Hareline material kit features 48 different materials, including plenty of hooks and beads.
There is an instructional manual that comes with this kit, and gives directions for 20 common patterns. Everything comes in a large plastic case offering easy storage and transport.
Most Affordable Material Kits
Great for the beginner fly tyer. It Includes 10 different materials you'll need to tie your favorite flies. You won't be tying hundreds of flies or patterns with this kit, but you will get accustomed to some common materials.
Unfortunately, this material kit does not come with thread, weight or hooks. This Xfishman kit features easy to read labels that identify the contents and uses for each material.
The Phecda tying material kit offers tons of materials at a very affordable price.
What's unique about this kit is it offers several color variations for almost every material. It includes different colors of marabou, dubbing, crystal flash, and feathers. This creates variations in your patterns and lets you get creative in tying some distinctive flies.
The materials are not as high end as the Hareline kit, but still a great material pack.
This is a good, general list of recommended fly tying equipment for a beginner. We hope you found the article above relevant and helpful. Leave a comment and let us know what you think!
If you are new to fly tying all-together and wish to explore our Fly Tying for Beginners resource guide please do so now. This is a comprehensive guide for beginners and breaks down everything the novice fly tyer needs to know. Moreover, for a complete look at vises, please feel free to check out Best Fly Tying Vises.