In this "best backpacks for fishing, buyer's guide," we're going to look at the top backpacks on the market today. We are constantly on the prowl for the best setup on the water. Though preferences vary according to the individual, we hope this article helps you find the perfect fishing backpack.
In This Guide, We Cover
Best fly fishing backpack
Best fishing tackle backpack
Best fishing backpacks for the money // budget

Spiderwire fishing backpack

Best waterproof fishing backpacks
What are the benefits of a fishing backpack?
What to look for in a fishing backpack?
Conclusion
Let's jump in!
---
Best Fly Fishing Backpack
This backpack below ranks the highest on our list of best fly fishing backpacks! Obviously, this backpack could also be used in spin or bait cast fishing, but some of the features are more exclusive to fly fishing gear.
Specifications:
11″ x 6x 21
2.6 lbs
1,648 Cu. In
If you're looking for a high-quality fly fishing backpack, then look no further than the Simms Flyweight fishing backpack. The flyweight backpack is one of the toughest backpacks out there; made from 420D Cordura nylon and with a DWR treatment.
Externally features a 5.11 HEXGRID webbing for securing gear or clothing, along with pouches on either side of the backpack.
There are adjustable padded shoulder and waist straps equipped with flyweight webbing for attaching additional gear. Internally there is a mesh divider to help keep things organized and a spot for a water bladder reservoir.
The backpack is large enough to hold all of your essential gear and some extras for those long days on the water.

Features of the Simms Flyweight Fishing Backpack include:
420D CORDURA® Nylon Oxford with PU Coating and DWR Treatment
Padded shoulder/waist straps with additional tool ports and pockets
Tool ports and pockets throughout the shoulder and waist straps.
External 5.11® HEXGRID® webbing
Internal water reservoir compartment (water bladder not included)
Compatible with other Simms Flyweight accessories
Best Waterproof Backpacks
The majority of the fishing backpacks on our list feature a water-resistant coating, but these four packs have been designed to withstand water in the most extreme storms or from taking a plunge in the river.
Specifications:
13.5″ x 9″ x 21″
2.2 lbs
29L (1770 cu in)
If you're looking for a high-quality and completely submersible fly fishing backpack, then look no further than the Patagonia Guidewater.
The Guidewater is one of the toughest backpacks out there; made from 100% recycled waterproof nylon. This backpack can be completely submerged.
Everything on the backpack is completely sealed. There are adjustable padded shoulder straps and a removable padded waist strap.
The backpack is large enough to hold all of your essential gear and some extras for those long days on the water.

Features of the Patagonia Guidewater Backpack include:
100% recycled nylon plain weave with a PU coating
Waterproof zipper on the main compartment
Right or left net holster
Padded shoulder straps
Sternum and waist strap w/buckle
Waterproof daisy chain
Rod tube holder
Compatible with Patagonia Convertible Vest or Stealth Work Station
Specifications:
25-liter capacity
11½"W x 21″H x 8″D. 25L/1526 cu. in.
Weight: 1 kg/2.2 lbs.
This waterproof fishing backpack comes from Orvis. They have created a great backpack that can handle just about anything.
This backpack is 100% waterproof and made from TPU-coated 600 denier polyester and can withstand heavy rains or a drop in the water. The backpack comes equipped with a rod tube holder/water bottle holder, a D-ring for your net, and a gear station on the shoulder strap.
Orvis' waterproof backpack comes in at only a couple of pounds, while the added cushion on the shoulder straps and molded back panel, makes for a very comfortable pack.
Another solid choice from one of the leaders in the fly fishing industry.

Features of the Orvis Waterproof backpack include:
100% recycled Eco condura
Integrated net storage
Removable divider
External water/rod tube holder
Tuckaway hip straps
Shoulder strap docking station
Sealed zippers and seams
Adjustable shoulder straps with secure sternum strap
Padded bottom to prevent damage to gear
Specifications:
17" x 15" x 25"
4.4 lbs.
1,708 Cu. In
If you're looking for a great quality backpack that's also customizable the System G fishing backpack has got you covered. The different components of the backpack are meant to be repositioned and adjusted based on the angler's preference.
The backpack is made from recycled materials and water-resistant treated to ensure your gear stays dry.
Furthermore, all seams are welded shut and the backpack has a roll-down top to keep moisture out. The main compartment is large enough to fit 7 medium-sized tackle trays!

Features of the System G Dax Fishing backpack include:
Adjustable shoulder straps with sternum strap
A hard molded back panel
Customizable
Waterproof with welded seams and roll-down top
Large main compartment that stores 7 medium-sized trays
Lots of additional pockets and compartments
Recycled materials
Compatible with all System G add-on accessories
Specifications:
20" x 14" x 7.5"
2,135 Cu. In
2.3 lbs.
"Skog A Kust" is Swedish for, Forest, Creek, Coast. Their waterproof backpack is one of a kind, featuring a roll-down opening, welded seams, and a completely waterproof TPU coating to keep all your tackle and gear dry from the elements.
The "Skog A Kust" backpack also features a padded back support with adjustable shoulder straps and a removable waist strap.
If you're planning on doing any evening fishing the backpack consists of reflective materials making the bag and you more visible in low light.

Features of the Skog A Kust Waterproof Backpack include:
Completely waterproof TPU nylon coating
Roll down opening
Welded seams
Removable waist strap
Padded shoulder straps and back panel
Daisy chain and several D-rings
Elastic side pockets for water bottles or other gear
Reflective elements to be seen at night
Best Fishing Tackle Backpacks
Tackle boxes can be heavy and cumbersome making them challenging to use if you're doing any fishing outside of a boat. Tacklebox backpacks are convenient in that they allow one to carry all of their tackle and gear on their back.
Specifications:
5 lbs.
18.5" x 17" x 8.5"
The Nomad fishing tackle backpack by Wild River has virtually anything and everything an angler could need.
There is one large main compartment that can hold 4 large tackle trays or 6 medium-sized trays. The upper compartment comes with a removable divider to stay organized, and 5 extra storage compartments on the exterior.
This backpack is unique in that it has a molded sunglasses holder on the top of the pack, a removable pliers holder, and a small LED light to help see when the sun goes down.

Features of the Wild River Nomad Tacklebox Backpack include:
Reinforced bottom to prevent damage
Protective rain cover that fits over the entire backpack
Large tackle tray compartment (comes with 4 large trays)
Upper bag compartment with removable divider
5 external storage compartments
Mounted LED light
Molded sunglasses holder and protector
Removable pliers holder
Specifications:
12.5" x 8" x 17.5"

3.5 lbs.
With an average review of 4.8 out of 5 from 1700 reviews, it's hard not to include Piscifun's fishing tacklebox backpack on our list. It is made from high-quality and durable nylon fabric and is surprisingly lightweight at only 3.5 pounds.
The backpack is highly water resistant but also comes with a removable rain cover, and 4 rubber feet on the bottom to keep the bag off the damp ground.
The main compartment is big enough to hold 4 large-sized tackle trays (included). There are a ton of extra perks from an adjustable drink holder, a mounted sunglasses case, waterproof interior pockets, and much more!

Features of the Piscifun Fishing Tacklebox Backpack include:
Water-resistant nylon fabric
Adjustable padded shoulder straps
Ergonomic padded back
The main compartment holds 4 large trays (included)
Spacious upper storage compartment
Hard molded sunglasses case
Adjustable drink holder
11 total compartments!
Protective rain cover
Affordable
1-year warranty
Specifications:
12.5" x 8" x 18.5"
5.2 lbs.
Plano has been a big name in tackleboxes forever, and I'm sure most of us remember our first tackle box being a Plano. They have upgraded their gear to fit the more adventurous angler with the A-series tackle backpack.
This is a sleek and stylish backpack with ample room for 5 large tackle trays (included), and 3 exterior snap-closure pockets.
The heavy-duty backpack is on the heavier side at 5.2 pounds but has a cushioned back and shoulder straps for added comfort. At currently under $100, this is one of the more affordable tackle backpack options out there.

Features of the Plano A-Series Tackle Backpack include:
Premium durable fabric
A large compartment that includes 5 large trays
3 exterior snap closure pockets
Padded shoulder straps and back cushion
Internal dividers for optimal organization
Affordable
Heavy-duty hardware and large zippers
Best Fishing Backpacks For the Money
We have found two fishing backpacks that are ahead of the curve when it comes to quality and affordability. These backpacks are both under $100.00 but rival some of the higher-end backpacks in function and durability.
Note: The Spiderwire fishing backpack below is super popular, mostly amongst spin fishers. Check that out for the "best backpack for the money."
Specifications:
13.5" x 9.25" x 21.25"
3 lbs.
1,537 Cu. In
KastKing is a relatively new company less than 10 years old. Their mission is to provide high-quality and affordable fishing equipment for anglers of all skill levels.
Their day-tripper fishing backpack makes our list because of the price, features, and plethora of positive reviews.
The cushioned back panel, padded shoulder straps, and oversized waist straps are ideal for those arduous walks up and down the river or shoreline.
The main compartment holds up to 4 large tackle trays with several additional pockets and organizers in the spacious upper compartment. The outside of the pack has even more pockets, a rod holder, and a sunglasses pocket.

Features of the KastKing Day Tripper Backpack include:
Water-resistant 420D nylon material with an extra PVC layer inside to help keep moisture out
Cushioned shoulder and waist straps
Soft molded back panel with ventilation curves
The large bottom compartment holds 4 3600 tackle trays
The upper compartment comes loaded with extra pockets and organizers to keep everything in place
Rod holder
D-rings and daisy chains for gear attachment
Fleece-lined sunglasses pocket
Affordable
Specifications:
Spiderwire is mostly known for its fishing lines, but they have created a decent fishing backpack at an unbeatable price.
The backpack comes with 3 large-sized tackle trays that fit in the bottom compartment. The upper compartment is divided into thirds to optimize organization.
This backpack is on the smaller side compared to some of the others on our list, but can still fit plenty of tackle, gear, and room for food or extra clothes.

Features of the Spiderwire Fishing Tackle Backpack include:
Polyester material
Flat bottom to ensure the backpack sits upright when on the ground
Padded shoulder straps and back panel
Sternum and waist strap for added stability
Includes 3 large tackle trays
Rod holder
Molded sunglasses case
Cooler compartment
Removable plier holder
---
Other Gear-Related Articles
---
Benefits Of A Fishing Backpack
There are several reasons why a fishing backpack makes more sense than a fishing vest or other type of pack.
Most notably, a fishing backpack allows the angler to carry more than just specific fishing tackle and equipment. The added room is suitable for food, extra clothes, a camera, and even backup equipment.
I like using my fishing backpack (Simms Freestone) for those days when I'm going to be on the water all day and may need to bring some extra food or water. They can also come in handy for longer fishing trips when a backup reel and additional gear are required.

I recently took a weekend trip fishing for steelhead in the UP of Michigan. The extra room with my backpack allowed me to carry a couple of extra reels with different lines, food, and some warmer clothes for the unpredictable fall weather.
Additionally, Tackle boxes are often heavy and bulky, making them challenging to use when moving up and down rivers or along lake shores. A backpack ensures you can always be on the move and can switch spots quickly.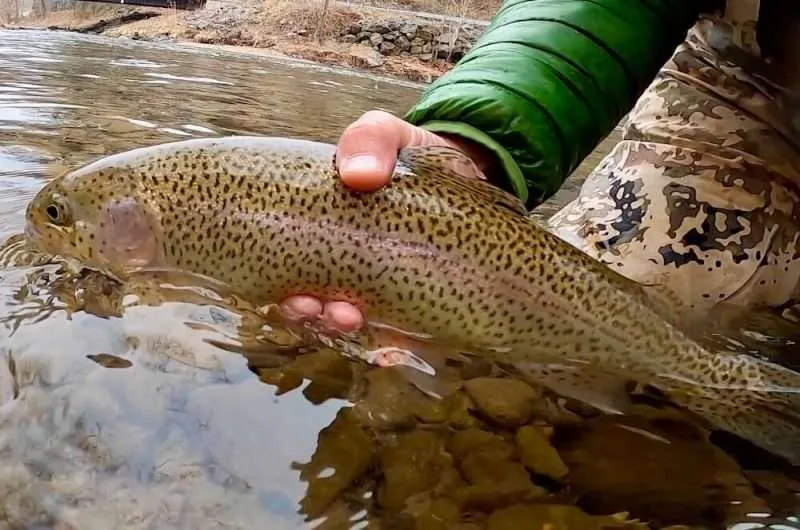 How To Choose The Right Fishing Backpack For You?
There are several factors to consider when choosing the right fishing backpack. We've outlined a few of these important features to look for when you're buying a fishing backpack
1. Comfort
It's imperative that the fishing backpack is comfortable. Because of the larger size, they can get fairly heavy and a long day on the water can start to strain. Finding a backpack with padded straps and a cushioned back panel is ideal.
Many of the backpacks have a ventilation system on the back panel to allow for optimal airflow—keeping you cool and dry on those hot days. Lastly, a waist strap and sternum strap can be helpful in ensuring the backpack stays in place and supported.
Furthermore, fishing backpacks come in a variety of sizes and weights, it's important to find the right size backpack for your needs.
2. Space & Organization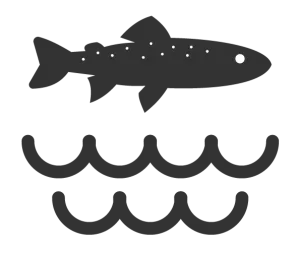 The amount of space you need depends on the amount of gear you plan on using. Additionally, certain elements may inform the size and amount of space needed.
For example, if you do a lot of fall and winter fishing having a backpack with additional room for an extra jacket or gloves can be very helpful. On the other hand, if you're used to fishing smaller rivers with limited gear a smaller backpack is probably more practical.
With bigger backpacks organization is prime, and having enough pockets and dividers to keep your gear in place will minimize any frustrations on the water.
3. Durability
The majority of fishing backpacks are made from a base material of nylon. Nylon is fairly lightweight and durable, but what makes fishing backpacks even more durable is the use of a TPU coating for added water resistance.
TPU stands for thermoplastic polyurethane. It's a plastic material with similar properties to rubber. TPU is ideal for keeping water out of your backpack and your gear dry. There are other features that help improve the durability such as rubber feet on the bottom of the backpack to keep the bag off of the ground.
Another feature that helps improve durability is high-quality zippers and welded seams.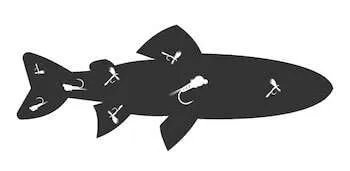 Conclusion
Overall, we hope you've found this article useful. Please leave us a comment letting us know what you liked or felt could be improved.
If you haven't already, please sign up for our free email newsletter to be informed when we publish new articles.
Additional Reading: