Wade Into the Deep
Waders are an extremely important piece of gear for fly fishing. They keep you dry, and warm, provide added protection from brush, and help create an overall sense of comfort while in the water.
When do I NOT need waders?
Oftentimes in the summer or in warmer bodies of water, a fly fisher can get away with wet wading or fishing from the bank. However, waders will allow the angler to access hard-to-reach spots on the water, cast further and more accurately, and ultimately catch more fish!
In this guide, you will learn all about waders, including what we deem as the best fly fishing waders for 2023 (reviewed).
Contents Overview:
How important are waders? Do I need them?
Tips for purchase // buyers guide
Different wader materials
Wader Types: Fishing wader pants, chest waders etc…
Fishing wader size chart
Tips for wader storage
Fly fishing wader bag
Fly fishing wader reviews
Best fishing pant waders
Best waders for the money
Best women's fly fishing waders
Let's dive in!
---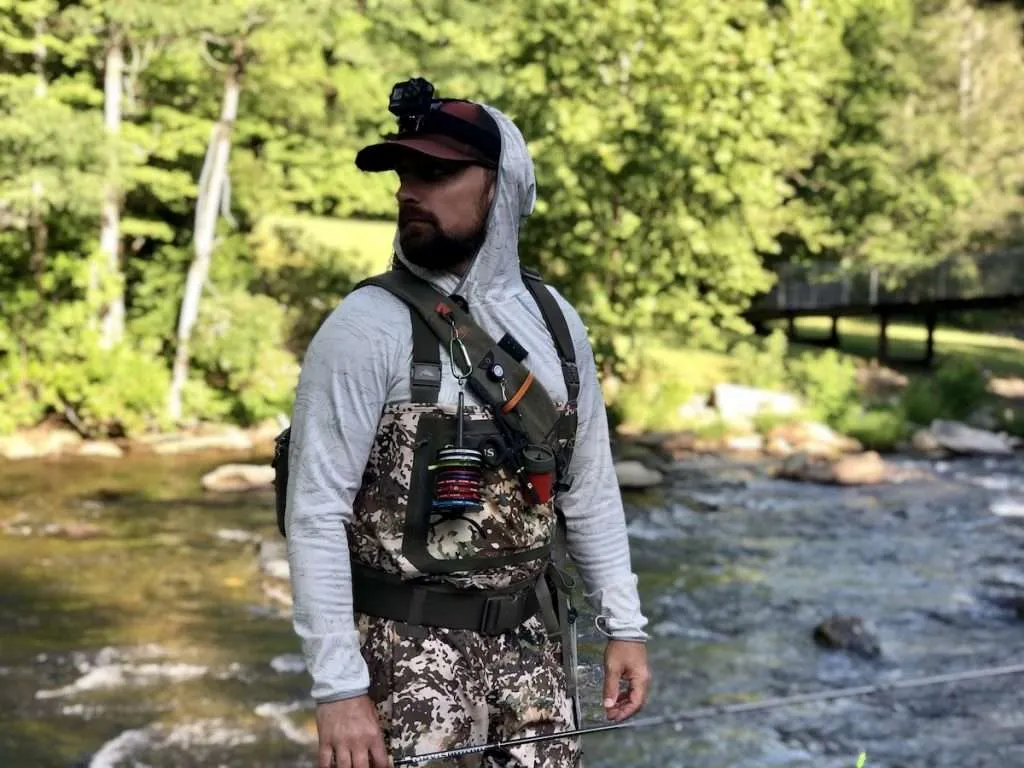 Best Fly Fishing Waders (Overall)
A mix of solid customer service AND a bomber product helps draw confidence when shelling out the cash for these waders.
This is one of the main purchases for a fly angler and splurging for the G3's, for most people, will increase comfort on the water, as well as days on the water (longevity).
Simm's Gore-Tex 3-layer upper and Gore-Tex Pro 4-layer lower are noticeably a notch above similar waders in the price point. Moreover, the quality of the shoulder straps and the wading belt are rock solid, which is a huge plus.
Pros
Durable //heavy-duty Gore-TEX material
Breathable
Chest pocket
Comfortable
Cons
No front zipper option on the G3
You cannot talk about the top waders for fishing, without mentioning Simms. Some revere Simms as the best waders in the world. Therefore we have added the Freestone as a secondary option herein
Their unique and highly sought-after collaborations with GORE-TEX are one of the most waterproof materials out there. These waders are thick and feel very durable, while still remaining very breathable.

The Simms Freestone waders are great for the beginner and seasoned angler. Simms offers several other lines of waders, most of which can be fairly expensive. The Freestones are moderately priced but with the same great technology and craftsmanship.
Simms also makes the Freestone line in just a pant style, and a zippered front to make putting them on and off easier.
Pros
Durable Gore-TEX material
Breathable
Chest pocket
Comfortable
Cons
Thicker material is harder to move in
The Swiftcurrent waders by Patagonia are top-of-the-line in quality and durability.
They are made from 87% recycled polyester microfiber H2No, and further equipped with a DWR (durable water repellant) coating.

A really useful feature of the Swiftcurrent is their EZ lock suspender system that allows easy transition from chest to waist waders.
There is a waterproof internal pocket that can be flipped out to store those valuable electronics. In addition, a reach-through hand warmer pocket for those colder days, and a drawstring enclosure that can be cinched tight to keep heat from escaping out the top of the waders.
Pros
Made from recycled material
EZ lock suspender system allows for flawless transition between chest and waist height.
Waterproof interior pocket
Fleece-lined hand warmer pocket
Cons
Expensive
Form-fitting which can be uncomfortable for some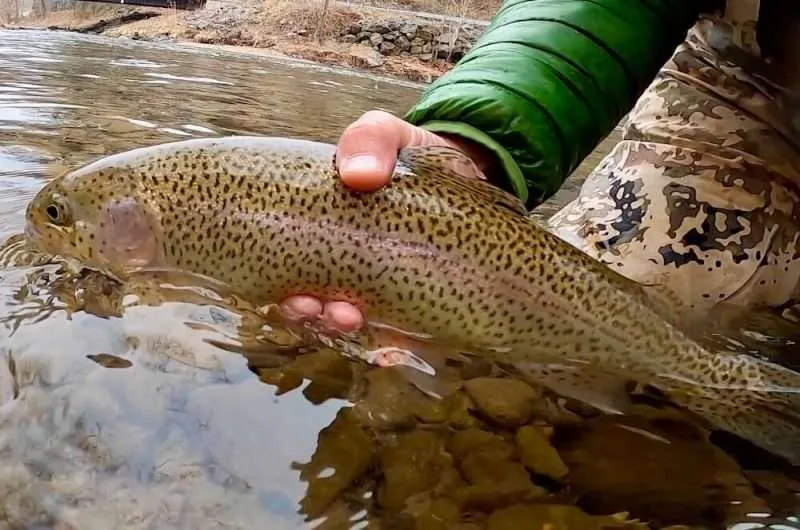 Redington's Sonic Pro HD waders are made from high-quality materials including a thick neoprene foot and 4-layers of breathable materials. All the seams are sealed perfectly, preventing any leaks.

The Sonic Pro also comes with a large chest pocket for holding fly boxes and other tools, along with fleece-lined pockets for warming hands on cold days.

The hardware is coated with an anti-corrosion agent to prevent rust from developing.
Redington Sonic Pro line also comes in a more simple design, along with the HDZ which features a front side zipper for easy in and out.
Pros
Very breathable
Fleece-lined warmer pockets
Lightweight
Cons
Poor quality belt
Not very insulated or as warm in cold weather

Only 1-year manufacturer warranty
---
Other Gear Related Articles
---
Best waders for the money (Currently Under $250)
Simms makes our list again with their tributary line. This is one of the lower-priced models but still features the top-of-the-line materials that Simms provides.
It is made from 4-layer polyester material for the leg and seat, with 3 layers for the torso. It also includes a front pocket with fleece lined hand warming pockets.

The tributary waders are simple and straightforward, but one can pay more for a few extra bells and whistles, such as the tippet tender pocket and waterproof wader pouch.
Pros
Affordable
Trusted Simms brand
Great natural mobility
Cons
Less durable than Simms GORE-TEX or Toray-QuadLam materials

Waterproof wader pouch sold separately

Thinner and not as well insulated
Next up on Best waders under $250.000 comes from Orvis. Their Clearwater chest waders are modestly priced and offer much of the same quality you'd expect from one of the leaders in fly fishing.
They are made from 4-layer breathable nylon material, which offers superior water protection while still feeling fairly light.

Side-release buckles allow for easy conversion from chest to waist height on those warmer days. The Clearwater waders redesigned the traditional fit of bulky waders to make them more form-fitting and comfortable.
There is a zippered exterior pocket for holding small items and a pull-through warming pocket.
Pros
Affordable
A modern form-fit design
A chest-to-waist height conversion system
Warming pocket
Cons
Interior waterproof pouch sold separately
No elastic on the gravel guard, which causes the ankle to roll up
Neoprene booties are tight
Compass 360 is a pretty new company, opening a shop in 2016. They create mostly rain gear and various waders for hunting to fly fishing. Their fishing waders are starting to gain recognition for their strength and decent price.
The Compass 360 waders are made from solid nylon and have 6 layers of material in the legs and 4 in the chest. In addition, there is a waterproof coating on the exterior while all seams are extra protected with waterproof seal tape.

The tailwater also has an outside waterproof pocket and fleece-lined hand warmers. It is going to be hard to beat the quality and price of these waders.
Pros
Durable
6 layers of protection
Waterproof seal tape
Affordable
Cons
Newer company
Can feel a little bulky
No "long" or "short" sizes
Best Fishing Pant Waders (Reviewed)
Chest waders vs pant waders are similar to pants vs shorts. They are simply more comfortable, cooler, and less restrictive.
Pant waders are good for days when you know you won't be wading deep and it is not going to get too cold. With that said if I only have one pair of waders I will choose chest waders every time—I see pant waders as more of a luxury item.
Frogg Toggs is another well-known name when it comes to waders. They offer affordably priced waders with exceptional quality.
These would make a great pair of waders for someone wanting to get started in fly fishing or someone who fishes smaller creeks that don't need chest-high protection.

The Hellbender Guide Pant waders are made from a 4-layer nylon material to support breathability and water protection.
An adjustable belt with quick-release buckle keeps the waders snug, while elastic gravel guards attach to the wading boots.
Pros
Affordable
Quick release buckle
Elastic Gravel guards
Cons
Tend to run larger in size
Tendency to leak after consistent use
Our second pair of pant waders we wanted to feature are Aquaz Trinity pant waders. Aquaz is a lesser known company that is starting to make a name for itself here in the US.
They have been around for roughly 30 years. Based out of Korea, this company makes waders, wetsuits, scuba equipment, and other water-resistant clothes. They have also been making Patagonia's waders for a while!

The Trinity pant waders have an adjustable and removable suspender system. The waders are made from breathable 5-layer polyester and nylon materials—with an extra polyurethane membrane and exterior coating.
These nice pant waders also come with hand-warming pockets for chilly days.
Pros
Decent price

Durable

5-layer with extra polyurethane coating

Adjustable suspenders
Cons
Limited pockets
Limited sizes
The first pair of women's waders we are featuring include Orvis' Women's pro waders. These awesome waders are made from 4 layers of water-repellent Cordura fabric.
Cordura fabric is made from a combination of nylon and natural/synthetic fabrics. Cordura is said to be more waterproof than neoprene. The Cordura fabric is also resistant to scratches and abrasions, perfect when traveling through brush and rocks.
Orvis is a trusted name in fly fishing and their waders are seen as some of the most durable on the market. The Orvis Pro also has a waterproof exterior pocket and an interior pouch with several more pockets.
Pros
Durable Cordura fabric

Lots of pockets for storage

Fleece-lined chest pouch
Warm
Cons
We mentioned Simms twice now and felt necessary to include their freestone waders in the women's section as well. Like the Men's version, these are made from a 4-layer Toray Quadralam system of heavy-duty water resistance that is also breathable and warm.
The Women's Freestone waders also have a fleece-lined warming pouch for hands, and an exterior pocket for fly boxes, leaders, and other tools.

Pros
4-layer Toray Quadralam
Breathable
Warm

Great Simms warranty
Cons
The last waders we have chosen for the women's category is the Redington Sonic Pro Women's waders. This is our pick for the best women's fly fishing waders for the money.

These stylish waders are similar to the men's Sonic Pros HD, but a little simpler.

The Sonic Pros are made from 4-layer waterproof nylon with a DWR coating (durable water repellent). Attached are soft 4 mm thick neoprene stocking feet, with gravel guards.
The suspenders are also adjustable and the back is a flexible mesh for a perfect fit. These are some awesome waders at a great price!
Pros
4-layer material
DWR coating
Flexible
Affordable
Cons
Not as warm
Material feels Thin
---
Other wader Related Articles
---
Tips When Selecting Fishing Waders
As with many aspects of fly fishing, the gear selections can seem endless, and waders are no different. Here are a few things to keep in mind when finding your pair of waders.
1. Price / Warranty
Waders can be expensive! It's important to know what your budget is, and most likely, you get what you pay for.
Top fly fishing companies like Simms and Orvis can get up there in price, BUT they do offer good warranties and repair programs. It's always a good idea to have a look at the company's warranty and repair program to make sure it feels right for you.
---
---
2. Fit
When you're out on the water all day you're going to want a pair of waders that fit correctly and do not limit your mobility. A pair of waders that are too tight or too loose can cause discomfort and potentially damage the waders.
Higher-end companies like Simms or Patagonia place so much importance on fit that their men's wader size chart literally has 25 options! Getting the right fit is an advantage of going with a company like Simms.
3. Breathability
The word breathable comes up a lot when talking about waders; Breathability means air and moisture are able to escape from the interior — while preventing water from entering from the outside. Breathability prevents sweating and limits condensation from forming. Nylon and Polyester are the superior materials to promote breathability.
4. Durability/Longevity
This one seems obvious, but different materials used in waders will affect the puncture and abrasion resistance. Waders also have multiple layers of material, with the higher layer count the more durable.
Wader Materials
Waders come in a variety of materials and each type will provide the wearer with different advantages.
Neoprene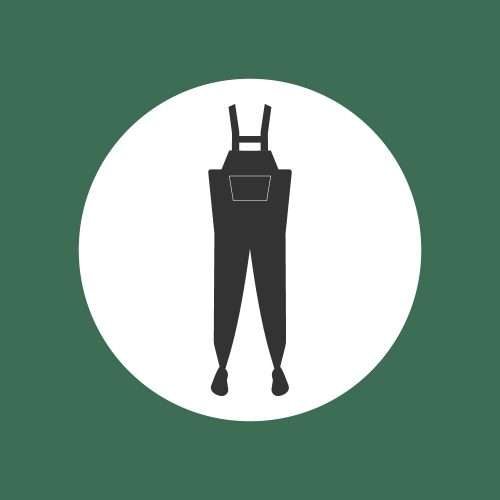 Neoprene is a type of synthetic rubber that is thick and pliable. Neoprene is waterproof and known for its insulation properties; making it a good choice for cold-water fishing.
However, it is not breathable and can be very uncomfortable in warmer weather. Neoprene although very flexible and soft is heavy and can be challenging to move in.
Rubber
Rubber waders became popular in the early 1900s once a rubber was discovered and produced. It is hard to find rubber waders nowadays as neoprene and breathable materials have filled the market. However, rubber is extremely waterproof, but not breathable or pliable.
Nylon/Polyester
Nylon/Polyester these materials are usually the main components in "breathable" waders. They usually consist of 3 or more layers with a waterproof core, and some type of waterproof coating.
The characteristics of nylon and polyester allow for heat and moisture to escape to prevent condensation and sweat from forming. All of the waders featured in our guide are made from either nylon or polyester as the main materials.
Most of the time these nylon or polyester waders will feature extremely waterproof polyurethane-based plastics such as GORE-TEX.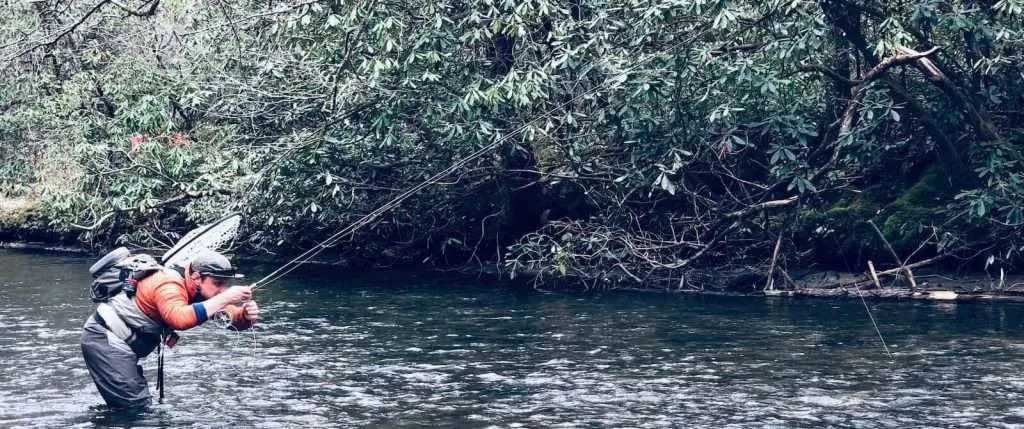 Types of Fishing Waders
Which type of waders is right for you? Bootfoot vs stocking foot and chest waders vs pants…
1. Bootfoot Waders
These types of waders are usually found in neoprene or rubber waders, but sometimes in breathable nylon and polyester waders too. The entire boot is attached to the rest of the waders.
This style can be seen as clunky and heavy; and can be hard navigating slippery rocks and terrain. Bootfoot waders makes putting on and taking off waders much easier. Additionally, they are generally cheaper due to the negated cost of buying wader boots.
2. Stocking foot
This is the most common and popular type of wader. The waders have a neoprene sock attached to the waders for your feet and are accompanied by wading boots. This style is lighter than boot foot waders and is great for balance and overall mobility.
3. Fishing Chest Waders
Chest waders are the preferred option for fly anglers for their versatility. Chest waders are better for deeper water, float tubes, and colder weather. However, they can feel more restricting than pant waders and hotter in summer.
4. Fishing Pant Waders
Pant waders are often overlooked as too minimal, but they do have some advantages. Pant waders have a select purpose for those wanting something that is lighter and easier to maneuver in.
They are suitable for smaller rivers and bodies of water. Because of their size, they are not conducive to float tubes or deeper water. I personally have both chest and pant waders and tend to prefer my pant waders when fishing small creeks in warmer weather.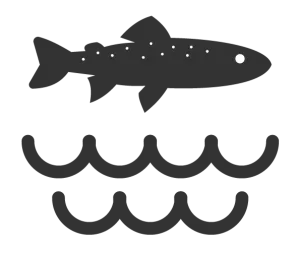 Fishing Wader Size Chart
All wading companies sell waders in a specific sizing chart, with some variations among companies. It's important to check with the specific company to determine how they size their waders. Here is a general overview of men's wader sizes.
| | | | | |
| --- | --- | --- | --- | --- |
| Size | Shoe size | Inseam | weight | Height |
| Small | 6-9 | 28"- 30" | 120 – 160 lbs | 5'5" – 5'9" |
| Medium | 8 – 10 | 29" – 32" | 140 – 180 lbs | 5'7" – 5'11" |
| Medium-Tall | 10 – 12 | 32" – 34" | 150 – 190 lbs | 5'10" – 6'1" |
| Medium-King | 8 – 10 | 30" – 32" | 160 – 200 lbs | 5'7" – 5'11" |
| Large | 10 – 12 | 31" – 33" | 170 – 220 lbs | 5'10" – 6'2" |
| Large-Tall | 11 – 13 | 34" – 36" | 180 – 230 lbs | 6'1" – 6'4" |
| Large-King | 10 – 12 | 31" – 33" | 200 – 250 lbs | 5'10" – 6'2" |
| XL | 11 – 13 | 32" – 34" | 200 – 250 lbs | 6' – 6'4" |
| XL-Tall | 12 – 14 | 34" – 37" | 210 – 260 lbs | 6'2" – up |
| XL-King | 11 – 13 | 32" – 34" | 230 – 300 lbs | 6'" – 6'4" |
Wader Storage and Care
Taking care of your waders is huge! And doing a few easy things can help keep your waders durable and lasting longer. Here we've outlined a few tips for maintaining your waders.
Keep waders out of sunlight and hot temperatures. Keeping waders in your car during the summer for prolonged periods of time will break down the materials causing rips and punctures to form.
Hang them up to dry after each time on the water. The proper way to hang waders is upside down by the neoprene stocking foot or boot foot (depending on the kind you have). Hanging them upside down will allow any internal moisture to naturally fall out, and relieves tension on the suspenders.
Hand washing every few months. Dirt, sand, and other small particles can get stuck inside and on our waders, which over time can cause small abrasions and weaknesses in the fabric. In addition, bacteria can start to form causing an unpleasant odor, this is common in neoprene waders, but even breathable waders can get bacteria.
Applying a water repellent coating to clean dry waders every couple of months will help them stay durable. Most waders have a water repellent coating that over time wears off. It's important to replenish this coating. Here is a great product for replenishing your wader's waterproof coating.
During the offseason store your waders in an airtight container or hang them in a cool dark area. There are also special fly fishing wader bags that allow for easy transport, storage, and drying, see below.
A fly fishing wader bag is certainly not essential, however, waders are expensive and a bag can help to:
Keep your gear organized (helps to not forget them, which does happen).
Helps protect your gear. Particularly after fishing when you just want to get home and all of your gear (coolers and other) are thrown in the back. A fly fishing wader bag can keep hooks and other from accidentally puncturing your waders.
Additional:
If you found this wader review guide helpful or have feedback/questions please feel free to leave a comment below.