A Tactical Advantage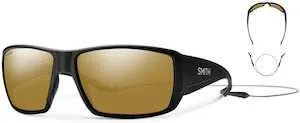 This is a complete guide to the best fishing sunglasses in 2023. The info. below will walk you through the simple steps of choosing sunglasses to help ensure you are getting the best-polarized sunglasses specific to fishing—for your budget.
Review Breakdown:
(Top tier) best on the market
Tips: choosing lenses for fishing

Best Costa sunglasses for fishing

Best polarized sunglasses for women
(Middle tier) best fly fishing sunglasses under $100
(Bottom tier, backups) best cheap polarized sunglasses for fishing
General Info:
Sunglasses for fly fishing
Polarized Lenses | Best for sight fishing
Buying factors
Glass vs plastic lenses
Sunglass care
Accessories
Let's Go!
---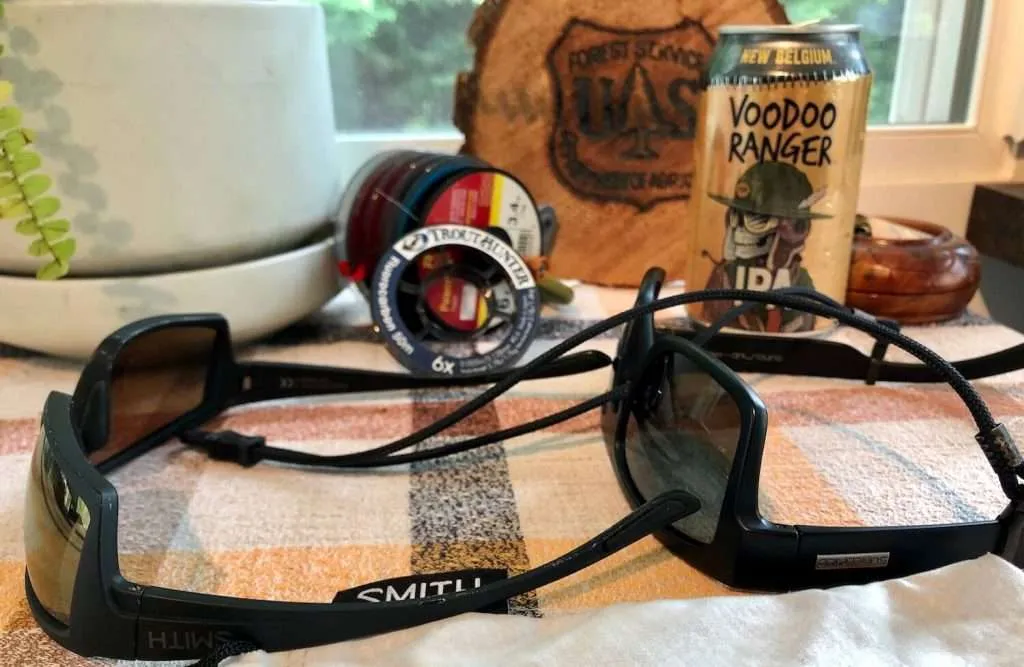 Sunglasses are obviously not essential to casting and catching, but by increasing visibility, an angler also increases efficiency and safety. Sunglasses are an item that any angler would be wise to make part of their gear bag.
Best Polarized Sunglasses for Fishing (Top Tier)
For this top section, most people swear by Smith Optics or Costa when it comes to outdoor sunglasses that are fishing-specific. However, Oakley is a behemoth in this industry with a couple of very solid options including the incredibly lightweight Flak AND Maui Jim with their super-thin glass lenses should not be left off of this list.
The advantage of spending your money in this section is going to be clarity/visibility, comfort, scratch resistance, lens quality (plastic or glass), and style.
◊A Quick Note on Choosing Lenses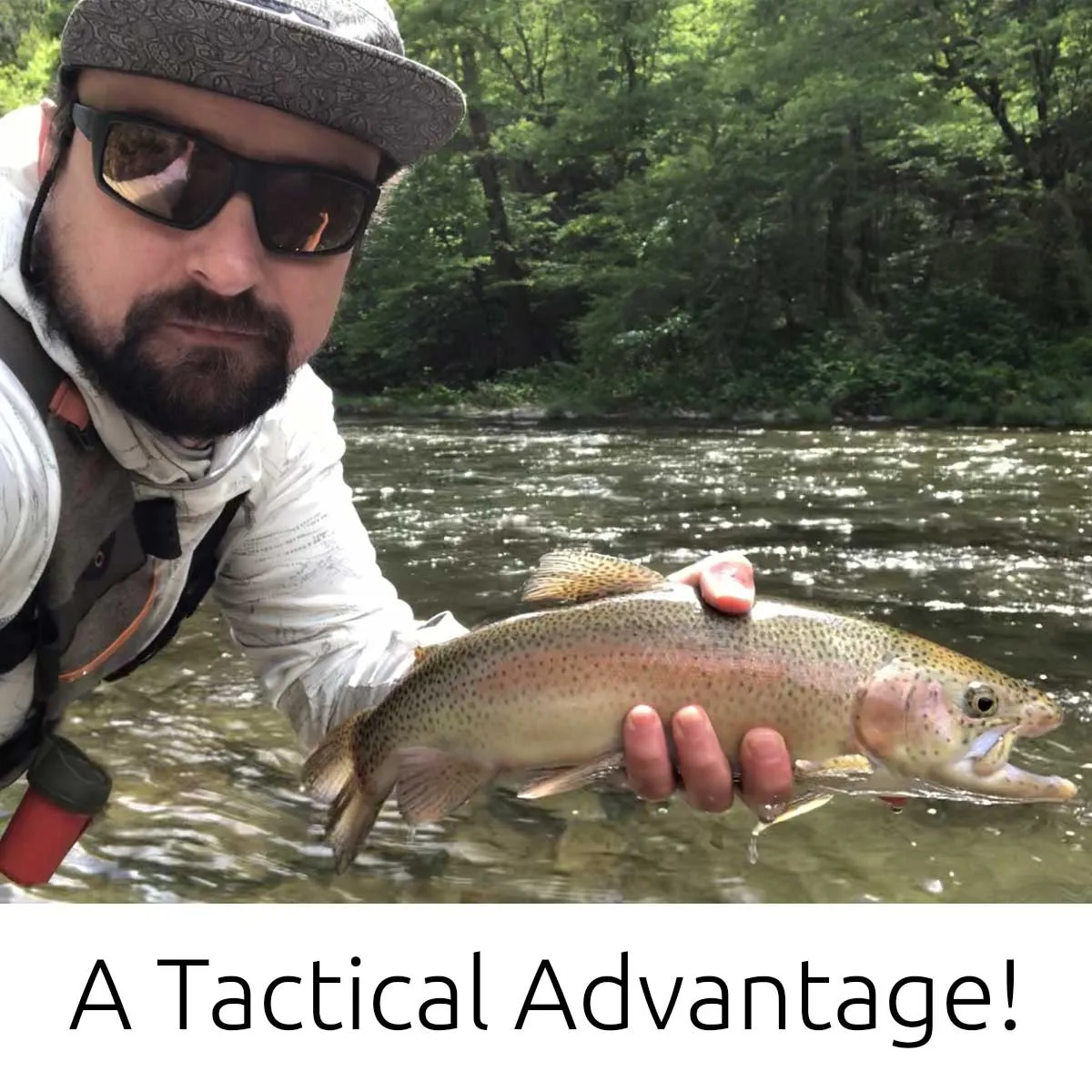 These higher-end sunglasses in our top tier recommendations have many lens types to choose from—based on your fishing application
Guides choice, general:
Blue lenses are great for freshwater
Green lenses for saltwater
Amber lenses to brighten things up on cloudy days
Gray lenses are a good all-around color for rivers, lakes, and streams
Best Sunglasses for Fishing
Costa sunglasses are the Lambo of fishing sunglasses for Anglers. The glass lenses on the Tuna Alley are a noticeable luxury.
The Tuna Alley shades are top of the top and are considered by some the best fly fishing sunglasses, period. These glass lenses increase scratch resistance, as well as visual clarity. Providing both quality and longevity.
A good bit of money, but this purchase might be the last one you ever make.
Handmade in the USA
Lifetime Warranty
High tech lens
Best polarization available
100% UV
The Costa Del Mar Men's Tuna Alley takes our pick for "the best Costa sunglasses for fishing"

Stingray's, by Maui Jim, feature their Super Thin Glass Lenses which offer the benefit of increased scratch resistance and clarity without the extra weight! The PolarizedPlus2 is proprietary polarization. This increased clarity is excellent for sight fishing.
2-year warranty
Imported
SuperThin Glass Lenses
Lightweight frames built for comfort and wear
100% UV
The Flak 2.0 has incredible lenses but the frame, being lightweight and durable is the high point in my eyes. The lightweight frame increases comfort for long days on the water.

This frame can actually bend all the way around without breaking and are very easy to pop lenses in and out.
2-year warranty
Made in the USA
Optimized peripheral view
Available with prescription lenses
100% UV
These sunnies offer Smith's proprietary Chroma pop lenses, which deliver amazing detail and visual clarity.
They are fishing-specific and offer a special coating that repels moisture and oil. Smith has a fantastic warranty.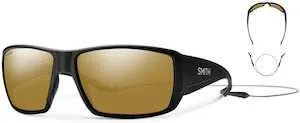 One of the best sight fishing shades available.
Lifetime warranty
Superior lenses
Italian hinges
Eco-material construction
Fishing specific
100% UV

Yep, we get it—this is not everyone's cup of tea. But when you can combine expression and product you can't deny it. I love these!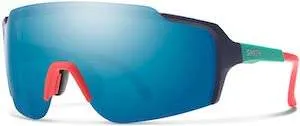 Smith makes a killer product. These have everything you need for river glasses AND they offer some individuality.
Lifetime warranty
Chroma Pop lens technology
Water and oil proof Coating repels moisture
Eco-material construction
100% UV
You'll drop the $200 pair in the river, but have your $20 pair forever (avoid this!)
Accessories to consider
These items are relatively inexpensive and help to increase longevity.
Sunglass retainers. As mentioned in our care section these are a must-have as they are inexpensive and can dramatically reduce the chance of loss and damage
A protective case for your sunglasses is also a very inexpensive way to support your investment by protecting your lenses when not in use. I also find that a case like this helps to create a routine of putting your shades in the same spot each time
Microfiber cleaning and storage bags serve as two factors

They are another way to help protect your lenses by giving you a quick/convenient way to store them when not in use and

They also give you a quick/convenient way to clean your lenses safely
Polarized Fishing Sunglasses for Women
Many of the sunglasses herein are unisex, however, this section is specific to the woman angler.
If you are a woman angler looking for a top-end pair of polarized sunglasses for fishing I recommend looking in our best of the best section above and choosing a pair with a smaller profile like the stingray. Or if you are looking for the best pair for the money—check out the Suncloud Zephyr's below.
Sunglasses for women, tip: Do not store your sunglasses in your purse. There are too many loose objects in your bag that can damage your expensive shades.
This is the same listing as above with a different color. We kept these in the women's specific list because the Guides Choice, by Smith, and fantastic sunglasses for fishing. They are unisex and have stellar lenses.

Chromapop technology, fishing-specific, great warranty—awesome for sight fishing.
Lifetime warranty
Superior lenses
Italian hinges
Eco-material construction
Fishing specific
100% UV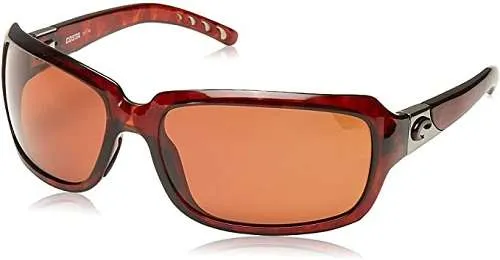 Lightweight and durable, Costa's Women's Isabela Sunglasses is top of the line in terms of UV protection and durability. This lightweight and attractive design is perfect for a long day on the water or cruising around town. These are great sunglasses but the factor that makes this option one of the best products for the money is Costa's Lifetime Warranty.
Ultralight
Polarized
100% UVA/B/C

Our last pick for the best women's polarized sunglasses goes to Oakley and their Unstoppable sunglasses. These shades are functional and look great. The lenses provide 100% UV protection, and the wrap-around design helps protect your periphery. Furthermore, the lenses are polarized and are anti-UVA, and UVB.

Soft adjustable nose pads
Anti-UVA, UVB
Hyperflow cutting lenses that avoid condensation
(Middle Tier) Best Polarized Sunglasses Under $100
This is a good middle-tier section with some fantastic polarized glasses, currently under $100. Both of these options below meet the criteria for the factors you need on the water. By finding the balance between quality and price, these take our pick for:
The best polarized fishing sunglasses for the money!
HUK is a performance fishing brand that has grown in popularity due to its quality products and reasonable prices. These fishing sunglasses come with options!
This listing comes with two frame types, each with 4 different lenses to choose from. Moreover, there are two different sizes –so, those with a larger dome can select the med/large category.
Wrap coverage
Polarized
100% UV
Performance frames
Finally a pair of floating sunglasses that function and look great. The Eddies by Rheos are a great option for anglers needing to keep their sunglasses budget well under $100.
The Rheos Eddies offer everything an angler is looking for, and at a good price. The fact that these are fully polarized and offer 100% UV protection makes the Eddies one of the best polarized fishing sunglasses for the money.
Floating
Polarized
100% UV
Flexible Frames
---
Accessories to consider (Longevity Hack)
The reason I keep pressing these accessories is that these items– if used properly will without a doubt protect your investment significantly.
---
From Flying Fishermen ($20) to Costas ($250), get the best pair you can afford to lose and don't lose them.
(Bottom tier) Best Cheap Polarized Sunglasses for Fishing
If you are on a tight budget there are some really great options here.
The cool thing about this section is that if you feel inclined to save up a bit of money for a top-tier product at a later date you can use the ones you purchase from this section as a backup down the line.
We love these Sunclouds listings (#'s 1 & 2 herein) because they check all the boxes–quality, performance, warranty & price! Polarized, 100% UV, and lifetime warranty = SWEET! The lens quality and clarity are not going to be as good as a Costa or a Maui Jim, but this will get the job done. These are the glasses I currently use as my backups.
Lifetime warranty
100% UV
Street style
Suncloud is owned by Smith Optics and without a doubt is my favorite company when it comes to best sunglasses for the money.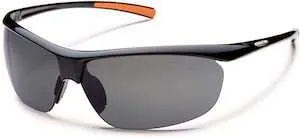 The style of these shades is not for everyone but they are comfortable and high quality at a price point you can't beat!
Lifetime warranty
Universal Fit
100% UV
Lightweight
RIVBOS makes some big claims with these shades. These are 1) unbreakable frames and 2) Lifetime breakage warranty on both the lenses and the frames.
This is the perfect $20 product to conclude our sunglasses reviews is the definition of best sunglasses for the money.
Lifetime warranty
Unbreakable Frames
100% UV
---
Why are sunglasses Important for fishing?
Sunglasses when fishing serve two main purposes
Eye protection
Increased visibility for anglers
---
Eye Protection
Eye protection simply means protecting your eyes from ultraviolet radiation or UV damage. Protecting your eyes from UV light becomes even more important as the time outdoors increases.
This study from the NIH says,
Ultraviolet light exposure to the eye has been associated with cataract formation and retinal degeneration. In both cases, it is hypothesized that ultraviolet light can initiate the formation of free radicals, which can cause protein modification and lipid peroxidation. Several procedures can be recommended to prevent ultraviolet light damage to the eye, such as the use of suitable protective glasses when outdoors.
For max. Protection make sure that the sunglasses you are considering purchasing say, 100% UV protection
Safety
Another factor for this section is—shielding your eye. It sounds a bit silly, but eye protection also means protecting your eyes from physical objects like a tree branch or perhaps a fly on the backcast. When it comes to the eye it is better to be safe than sorry.
Increased Visibility with Polarized Lenses
Increased visibility is a huge win. The ability to see underwater can assist in an angler being safer and more effective on the water.
"Polarized" by definition means– to restrict vibrations. In this case, polarized sunglasses restrict the vibrations of light which helps to reduce glare from the sun.
This allows an angler to
See underwater with increased visibility allowing him or her to avoid obstructions like boulders or logs and ultimately, wade safer
See fish and fish lies more easily for sight fishing or just more effective determination of fish lies to avoid spooking fish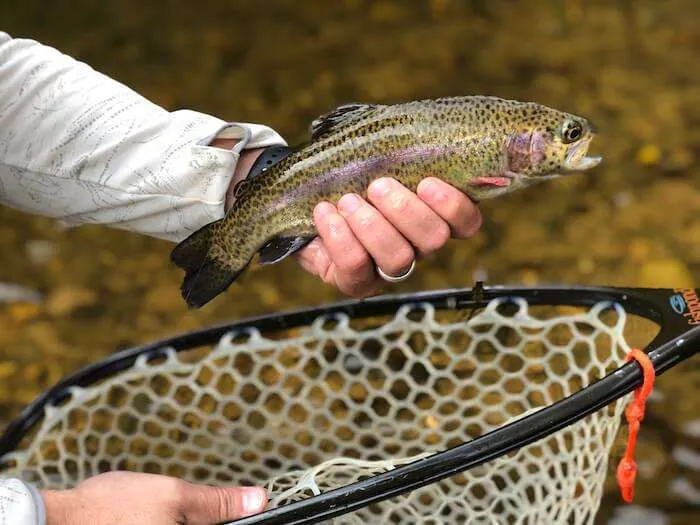 Note: Polarized sunglasses have nothing to do with UV protection.
The two main factors when purchasing sunglasses for fishing are
1) The best-polarized lenses you can comfortably afford and
2) 100%UV protection
Tip: All About Vision states, "In addition to sunglasses, wearing a wide-brimmed hat on sunny days can reduce your eyes' exposure to UV by up to 50 percent."
Sunglasses for fly fishing, specific
Polarized sunglasses are a must for all anglers. But because this is a fly fishing site we do emphasize the use of sunglasses for flyfishing specifics.
Polarized glasses are a tactical advantage when fly fishing. By taking the glare off the water you can see further into the water making sight fishing easier. You see trout lies that you would not otherwise and avoid spooking fish. Moreover, one can wade more safely by seeing obstructions.
---
Check out our other gear-related articles:
---
Buying Factors
This section serves as a bit of a sunglasses buyer's guide to help you ask the right questions and choose the right product. Personally, I like to have one pair of glasses from our best section and one from our budget section. Right now I have Smith Optics, Challis, and SoundCloud's, Flatline. I find this is a good way to always have a backup without "breaking the bank"
Tips | Points | Questions to ask yourself when considering the best sunglasses for fishing
The product should protect against UVC and UVB rays. Look for 100% UV protection
Sunglasses should have polarized lenses
Determine how much time are you spending outside (on the water, hiking, boating, climbing, etc)? This could help determine your budget and/or style
If you are spending heaps of time outside or on the water consider a wraparound style of shades
Color of lenses
From $20 to $300– get the best ones you can comfortably afford to lose, then don't lose them 🙂
Amber, copper, or brown lenses for fishing in low-light situations.
All polarized lenses cut glare, however the higher the quality the higher the clarity.
Darker lenses do not equate to better UV protection
Tip: if you are going to spend a good bit of coin on some new sunglasses for fishing I highly suggest spending a few more bucks and getting some sunglass retainers to keep your shades close at all times.
Glass vs Plastic Lenses
Due to a myriad of variables, each product needs to be evaluated on its own but here are some overarching points pertaining to glass vs plastic lenses
Plastic lenses
Are more versatile as polycarbonate plastic is a product that can be modified easier. On average plastic is less expensive, but less scratch-resistant.
Plastic can be significantly lighter creating a much more comfortable experience when worn for longer periods. Polycarbonate plastic is more durable and has greater depth when it comes to tinting and protective coatings and lens treatment.
Glass lenses
Are typically more expensive, but more scratch-resistant. Moreover, glass lenses tend to have better average optical quality/clarity but tend to be heavier.
If you do choose glass lenses I highly recommend getting glass that is anti-reflective
Sunglass Care (Protecting Your Investment)
Below are some general tips that will help you care for your new investment and prevent you from losing them.
The tips below have helped me to have my expensive glasses for about 5 years already and my backups for about 2 years and with the lenses still in good shape.
You'll drop the $200 pair in the river, but have your $20 pair forever (avoid this!)
Lenses
Get your sunglasses wet prior to cleaning the lenses
Always use a microfiber cloth for your lenses. The bag that came with your sunglasses is typically the best material to clean your lenses with.

Never use a napkin, paper towel, or your shirt to clean your lenses—this can cause unnecessary scratching

Be mindful of where you place your sunglasses keep them in a protective case when you are not using them
Getting a couple of microfiber cleaning and storage bags will 1) support you to put your sunglasses in a safe place and 2) serve as a safe way to clean your lenses without scratching them
Avoid putting your sunglasses in precarious places like the dashboard of your car. Take an extra moment to put them in a case
Do not lay your sunglasses on surfaces face down
Avoid Loss | Proper Storage
Try and put them in the same place each time you get home
Check out sunglass accessories like these sunglass retainers. These are a must for sunglasses over $100, as they keep you from setting your shades down in general.

Keeping your sunglasses close will help avoid loss AND damage in the long run
Conclusion
Glasses are comfortable, feel good to the eye, help in all different scenarios, and… can look kinda cool 🙂
If you can afford it I like to have two pairs at all times. I currently have a pair of Smith and a pair of Sunclouds. Expensive and not too expensive for backup. If one gets lost or broken I can work on replacing rather than needing to bite the bullet so to speak with an out-of-the-blue cost.
Additional