Stay agile, comfortable, and efficient on the water
This article is a resource designed to help anglers find the perfect fishing vest for their budget and fishing purposes.
In this guide, we will cover
Types of fishing vests
How to choose the right vest
Fishing vest size chart
Best overall fly fishing vests
Superior lightweight vests
Best vest for the money
Best fly fishing vests for under $100
Women's fly fishing vests
And much more!
Let's get started!
Introduction
Fly fishing vests are synonymous with the classic fly angler—often seen paired with a bucket hat and hip boots. Fishing vests have been coming back into style after a hiatus where more desirable packs were introduced to anglers.
Fishing vests have changed since your grandfather's time and are making a comeback, and for good reasons too—fly fishing vests are light, convenient, and practical.
---
---
Types of Fly Fishing Vests
Vests are broken down between traditional and mesh. Traditional fishing vests are made from solid fabric; usually cotton or nylon. Although traditional vests can feel heavy and bulky, they are very durable.
Mesh vests are made from a combination of lightweight polyester, spandex, and nylon. They are desirable for their breathability and comfort, especially on hot summer days.
Modern vests diverge from older vests in their utility. Instead of having an array of pockets, most contemporary vests are fitted with some unique perks from rod holders, retractable cords, tool loops, net rings, and much more. The type of materials used and designs have also changed—offering a sleek, modern look and bringing fly fishing out of the 20th century.
Are All Fly Fishing Vests The Same?
NO! While all vests share similar characteristics, there are definitely discrepancies among them. There are differences in materials, and quality of materials depending on the vest. The number of pockets and sizes of pockets will also vary depending on the specific model.
Lastly, certain vests will offer a more simple design with basic utility, while others will feature all the bells and whistles.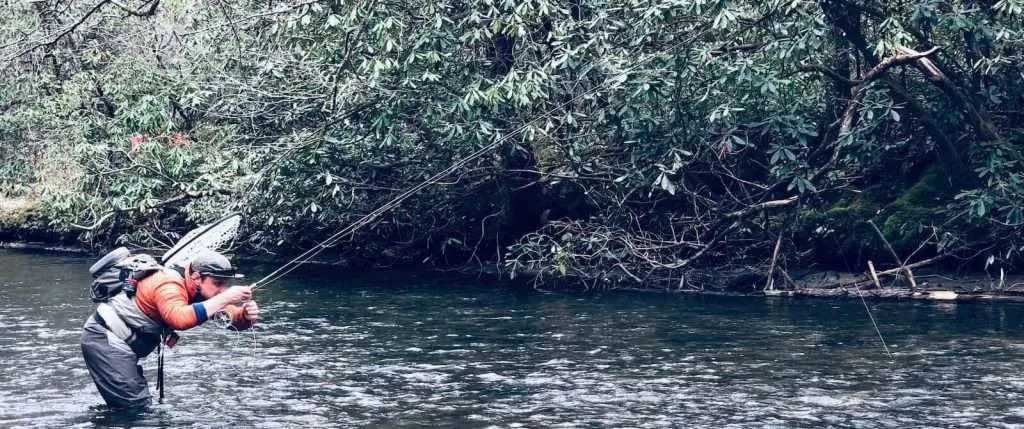 How To Choose The Right Fishing Vest?
There are several different factors one should consider when buying a fishing vest.
1. Mesh vs. Traditional
There are some benefits and challenges of having a mesh vest. First off, they are generally the most comfortable. The mesh is lightweight and contours your shoulders better, which helps with mobility.
Mesh is also going to be much cooler during the summer months as moisture and sweat can easily evaporate through the openings. This trait also makes mesh vests much easier to dry when wet. One downside of mesh vests is they are not as durable as solid fabric vests and can rip if snagged by a branch or thorn.
2. Space and Size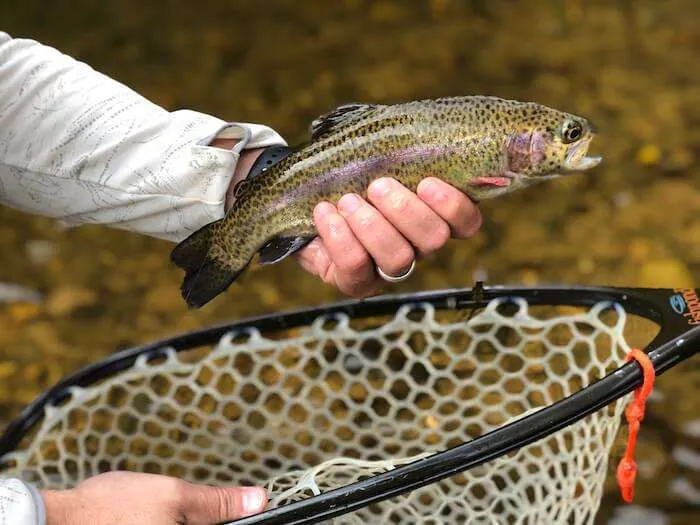 How much space and size of the pockets is another worthy consideration. Vests range in amount and size of pockets depending on the kind of fishing you're doing. If you're planning on using a vest to replace a pack of some kind, a larger vest with more pockets will be better suited.
Moreover, if you're looking for a minimalist addition to your bulky pack and something to use while hitting the creek after work, you might be better equipped with a lightweight and smaller vest.
Another relevant piece to point out is pocket placement. Most higher-end vests will have pockets positioned in a way that creates the most efficiency and comfort. Certain vests can bulk up quickly when over-filling pockets. If you're looking for one to hold a lot of gear make sure the pockets are organized in a way where a little extra bulk won't affect your cast or mobility.
3. Comfort and Breathability
If you've read our other guides on waders or wading jackets you'll know that comfort and breathability are key when looking for wearable gear. Breathability is the ability for moisture and sweat to evaporate through the layers of material to keep the wearer cool and dry.
When looking at vests not all offer the same level of breathable protection. Materials such as nylon and polyester tend to offer the best. Cotton is not as breathable and becomes heavy when wet. It can also become hotter during the summer months.
4. Access To Gear and Tools
Because you will be carrying all of your items with you, it's important that your different tools and fly boxes are easily accessible and within reach. Sometimes, this is done through retractable cords already equipped to the vest.
Important tools should be easily accessed to prevent fumbling through overcrowded or too small of pockets. Forceps, nippers, and tippets should all have places outside your vest for quick and easy access.
5. Extra Features You May Want
Technology has been increasing and providing fly fishing vests with unique and important features. It's important to identify what features are important for you in the type of fishing you're doing.
Some unique features may include a velcro rod holder, fly drying patch, foam fly holder, net ring or net holder, retractable cords, tippet holder, and large back pouch for bigger gear such as a light jacket or water bottle.
If you are just starting out with fly fishing you may want to glance at our blurb on essential gear for beginners.
Pros and Cons of Fishing Vests
There are some great benefits to using a vest; primarily comfort/feel, mobility, and accessibility. Vests can feel lighter and easier to wear compared to bigger bulkier packs. Vests also offer convenience in their ease of access to tools and other gear.
Although vests have some great advantages, there are still some disadvantages.
One drawback is their lack of room for water. Most vests have a large back pouch for bigger gear but having a water bottle back there can be hard to reach and feel uncomfortable. Another con is that despite being made out of breathable and lightweight materials, the vest can still get hot, especially compared to a sling pack or waist pack.
Fly Fishing Vest Size Chart
Here is a quick generalization to help choose what size fishing vest to choose. It is used merely as a guide and for a more accurate depiction, it would be best to check with the company's size chart.
It is important to note that fly fishing vests are meant to ride high on your body. Vests usually sit off of the shoulders extending down to the middle of your abdomen. This is to help prevent submerging while wading or using a float tube.
Some fly fishing vests do not offer sizes, but a "one size fits most," model. This is done through adjustable shoulder and waist straps which can be conveniently changed.
| | | | |
| --- | --- | --- | --- |
| | Neck | Chest | Waist |
| Small | 15'' – 16'' | 36'' – 38'' | 28'' – 31'' |
| Medium | 16'' – 16.5'' | 39'' – 42'' | 31'' – 34'' |
| Large | 16.5'' – 17'' | 42'' – 45'' | 34'' – 37'' |
| X-Large | 17'' – 17.5'' | 45'' – 48'' | 37'' – 40'' |
| XX-Large | 17.5'' – 18'' | 48'' – 51'' | 40'' – 44'' |
---
Best Fly Fishing Vests (Overall)
The Orvis pro fly fishing vest is one of the best vests on the market and for good reasons. It is the perfect vest to hold all your gear and keep it dry.
The exterior of the vest is made from durable nylon with a DWR coating (durable water repellent) to help stay dry during rain or water splashes. The fitted design is form fitting allowing for a more comfortable and sleek look.
The Orvis Pro comes equipped with 18 pockets in total. 10 outside, 6 inside, and 2 additional pockets on the back that are easily reached.
There are tons of cool features to the Orvis Pro Vest, such as front loops for attaching a tippet bar, a rear net holder, two fly drying patches, and additional gear attachment points.
Specifications
Available in M, L, XL, and XXL
Abrasive resistant nylon with DWR coating
Fitted Design with mesh interior
Padded collar
Features
18 total pockets
Elastic loops for tippet bars
Two fly drying patches
Hideaway tool ports under top pockets
Multiple daisy chains for tools
Tri-ring net holder
What happens when you combine versatility, comfort, and design is Fishpond's Upstream Tech vest.
The vest is designed as a "one size fits most" with adjustable shoulder and waist straps. The vest itself is made from ECONYL regenerative fiber.
This attractive fishing vest has everything you need. From multiple pockets large enough to carry a few fly boxes, several Hypalon attachment ports, and cords, a hemostat keeper, D-ring net attachment, the Upstream Tech Vest has it all.
Specifications
Made from ECONYL Regenerative Fiber
Front zipper closure
Mesh interior with padded shoulder straps
One size fits most with adjustable waist and shoulder straps
Features
14 total pockets 2 extra large pockets for bigger fly boxes
Hypalon Tool attachment ports
D-ring net attachment and integrated net sleeve
Foam fly patch
Integrated rod holder

Large back pocket for water bottle or light jacket.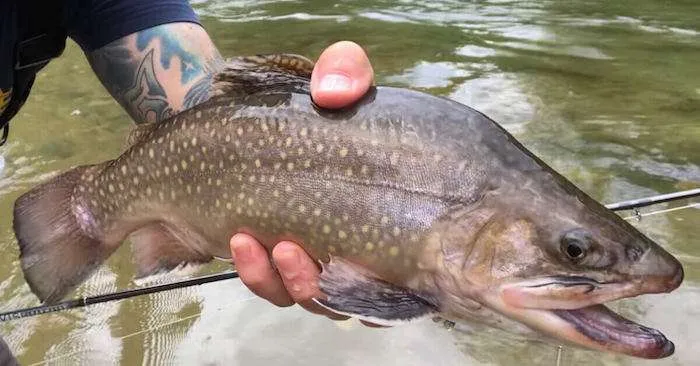 Best Lightweight Fishing Vests
When it comes to fishing vests sometimes all you need is a small lightweight vest to carry a few items and not weigh you down. Here are a couple of must have lightweight fly fishing vests.
Orvis' ultralight vest hosts a modern sleek design made from quality materials.
The slim design is meant to take out a lot of bulk carried by other modern vests, without compromising gear space.
The nylon vest is treated with DWR (durable water repellent) to stay dry, along with a spandex mesh interior for added comfort and breathability.
The ultralight vest comes with 11 total pockets with one large back pouch for larger gear. This minimalist style vest also comes equipped with two fly-drying patches and hidden tool attachments. 
Specifications
Available in S, M, L, XL, XXL
Durable nylon with DWR coating
Slim sleek design
Mesh interior and soft neck liner
Features
11 pockets | 6 front exteriors, 4 interiors, 1 back
2 exterior fly patches
Hidden port for retractable tools
Tri-ring net holder
Allen has developed the perfect fly fishing vest for a quick trip to one of your local streams. This extremely affordable vest is very lightweight and gets rid of extra materials creating a minimalist, comfortable fishing vest.
Allen has replaced the back of the vest with straps to cut down on weight and add comfort, especially during warmer fishing.
The neck strap is soft and padded with a D-ring for net attachment. There are also 2 large interior mesh pockets with several exterior pockets ranging in size.
Specifications
One size fits most with adjustable shoulder and waist straps
Polyester Material

Padded neck strap
Features
Affordable
Large front zippered pockets
Lightweight and breathable
D-ring for net attachment
Several smaller exterior pockets
2 interior mesh pockets
Loops for attaching gear
It's hard not to make a list of the best fishing gear and not include Simms.
Simms has created a durable, breathable fishing vest to suit all of your needs. Made with a nylon exterior with DWR and mesh polyester interior. This fishing vest is great for hot days and actually packs a pretty strong punch when it comes to space.
The Simms Guide vest also features a cushioned collar for added comfort. It is equipped with plenty of pockets of varying sizes to hold all of your gear (26 in total!), a rod holder, two built-in retractors for tools, and much more.
If you're looking for a vest that has it all, the Simms Guide Vest is top of the line and our number one recommended fly fishing vest.
Specification/Features
Available in S, M, L, XL, XXL
100% Nylon with DWR Finish
Simms lifetime warranty
26 pockets in total
5 D-Ring for tool attachment and fishing net
Velcro Rod holder
2 Built-in retractors
---
Other Gear Related Articles
---
Best Fly Fishing Vest For the Money
We found the best vest that matches versatility, quality, and price.
This mesh vest has combined affordability with versatility. This vest is more affordable than some of the other Fishpond vests but still carries the durability and quality you'd expect from them.
It comes in one size that fits most, which features adjustable shoulder and waist straps to accommodate different sizes depending on weather conditions and extra clothes. The Flint Hills offers 17 total pockets and 1 large back pouch for extra gear.
At under $150.00, this product takes the cake for our best vest for the money!
Specifications
One size fits most

Lightweight and breathable mesh material

Padded shoulder straps
Adjustable shoulder and torso straps
Sternum buckle closure
Features
Affordable
Mesh back for comfort and breathability
Adjustable shoulder and waist straps
17 total interior and exterior pockets
1 large back pocket for extra gear or water bottle
Hypalon tool attachment tabs.
Drop down fly bench with tacky silicone fly patch
Integrated net sleeve and D-Ring for net attachment
Best Fly Fishing Vests Under $100
We have compiled a few fly fishing vests that have a less expensive price tag. They may not have all the bells and whistles of some of the more expensive vests, but they do still offer a lot of great features and durability.
The freestone vest from Simms looks more like a traditional fly fishing vest. Perfect for those anglers wanting a more conventional pure look.
The vest is made from breathable nylon for the exterior with a comfortable mesh interior. Furthermore, the neck provides extra support through additional padding.
The vest is equipped with D-rings and other tool attachments, furthermore, the freestone vest offers intuitive pockets with ample room for fitting everything you'll need for a fishing trip.
Specifications
Available in S, M, L, XL, XXL
100% nylon shell, Polyester interior
Padded collar
Features
Affordable
Padded neckline
10 interior and exterior pockets
1 large zippered back pouch
Compression-molded fly box storage with velcro fly drying patch
"Third Hand" rod holder
D-Ring net attachment
The Maximumcatch fly fishing company is relatively new and unknown. However, we wanted to include them in our list for their great price, myriad features, and respectable reviews.
The Maxcatch offers 17 interior and exterior pockets ranging in size. A mesh back with a D-ring for a net, and a large lower back pouch.
The vest is completely decked out with every added feature an angler would need.
Specifications
One size fits most
Breathable mesh material

Adjustable shoulder and torso straps

Front Zippered closure
Features
Affordable
17 pockets in total
2 large drop down foam fly holders
Velcro rod holder
D-ring for net attachment
Hemostat keeper
Several daisy chains and loops for gear attachment
The last affordable fly fishing vest on our list is Redington's First Run. This mesh vest is straightforward and to the point. The mesh allows for comfort and won't weigh you down on those hot summer days.
The First Run has a traditional look and comes with tons of storage room with varying sizes of pockets. It also includes a rod holder providing extra convenience when changing flies or adding floatant. The First Run also fits a 1-liter water hydration system. 
Specifications
Lightweight mesh material
65 Polyester and 35% cotton
Available in S, M, XL, XXL
Features
Affordable
Lightweight mesh material
Rod holder
D-ring for net attachment
Zippered foam fly holder
Fly drying patch
Water bladder holder (up to 1 liter)
Extra loops and tabs for gear attachment
Best Women's Fly Fishing Vests
All of the fly fishing vests we've featured are unisex, and many companies don't make a vest specific to women. However, Fishpond has designed 2 with women in mind, and we felt necessary to include one of them on our list.
The Upstream Tech vest is made from durable, breathable nylon, and comfortable interior mesh.
This vest is completely decked out with all of the latest specs anyone would want. The color is attractive and suits a more feminine aesthetic.
The sizing is based on the, "one size fits most" model and features adjustable shoulder and waist straps. The vest fits higher and can be cinched down tighter to better accommodate women.
Specifications
One size fits most
Comfortable mesh lining, durable ECONYL exterior

Adjustable waist and shoulder straps

Padded shoulder and neck
Features
14 pockets in various sizes
Removable foam fly patch
Attractive color and design
Secure net slot on the back panel
Numerous gear loops and attachments
Conclusion
Overall, there are many fly fishing vests out there sure to meet your needs. We hope this article was helpful in informing your decision. Please share a comment with what you liked and found useful—or areas that we could improve.
Also, please sign up for our free email newsletter! We send out updates when a new article is published and other cool tips and tricks of fly fishing!
Related Readings: