Having a successful day on the water often comes down to being prepared for changing conditions and having everything you need on the water.
This means packing the right flies, weight, tools, leaders, tippet, and indicators. It can be cumbersome to take all your gear with you. Having the right pack helps to keep things organized and makes carrying everything much more enjoyable.
One of our favorite options for organization and efficiency when fly fishing is a chest pack.
In this guide, we'll cover
Best overall chest packs for fly fishing

Fishpond, Umpqua, Orvis and Simms chest packs!

Best chest packs for the money
Lightweight and minimalist
What is a chest pack?
Why choose a chest pack over a vest?
What to look for in a new chest pack?
Read on to see the top picks!
Best Fly Fishing Chest Pack (Overall)
We have reviewed our top 4 chest packs that we feel meet superior standards in quality, function, comfort. These are the best overall chest packs on the market today.
Fishpond is known for making durable products with well thought out designs. The Cross-Current chest pack is no different. The pack is made from Fishpond's 210 nylone CyclePond material with water resistant coating.
Band very durable, Fishpond used recycled nylon in the pack to make it more eco-friendly. The pack weighs a little over 1.5 pounds and holds 8 liters.
In terms of functionality, the Cross-Current pack is a great option for most fly fishing situations. The size hits the sweet spot for chest packs. There is enough room for a couple of fly boxes, leaders, and a few tools.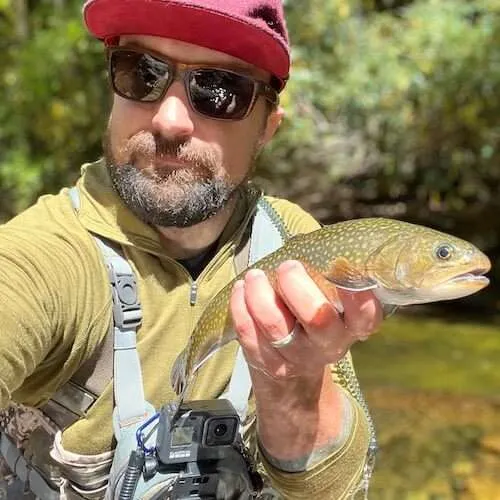 The pack comes equipped with numerous tabs and connection points that let you keep tippet, floatant, pliers, and other frequently used items easily accessible.

Features/Specs
1.7 lb
8 liters
11″ x 8.5″ x 5.5″
100% recycled Cyclepond nylon material
Waterproof zippers
Unique integrated net holder
Compatible with other Fishpond Backpacks
Drop down work station
The pack can also be used along with all other Fishpond backpacks, hip packs and accessories. The straps can be removed letting you attach the pack to a boat or raft making this one of the most versatile chest packs on the list.
One of our favorite things about the pack is the integrated net holder that lets you carry a net on your back (Fishpond also makes some pretty amazing nets (Nomad Emerger Net). Carrying the net on your back makes sure that it stays out of the way when casting or walking through brush, while still keeping it within reach when you hook into a fat trout.
The Cross-Current Chest Pack is a versatile, durable, and well thought out pack that will last many years and holds up to frequent use. We can confidently recommend the pack to both experienced anglers and beginners.
---
Free silicone fly box with every purchase
Asheville, North Carolina
---
We're excited to recommend the Umpqua Overlook ZS2 chest pack. They have developed an awesome pack using a 4-point harness system with tapered front to increase visibility and minimize tension on your neck and back.
The Overlook includes a large front storage unit with two separate compartments large enough to fit all of your gear for a day on the water.
There are also two interchangeable options for the back—either a comfortable mesh or an additional storage compartment with net holster.
There are also some great add on features, including two ZeroSweep retractor stations for tools or floatant caddy, fly drying foam patch, water bottle holder, hemostat station and exterior mesh pockets for quick storage.
Features/Specs
Two large chest compartments
Option of mesh back panel or storage compartment with net holster
Two ZeroSweep zinger retractor stations
Fly drying foam patch
Exterior mesh pockets
Water bottle holder
Hemostat station
Simms is known for making some of the best waders on the market but people forget that they also make amazing packs.
At .7 pounds and 3 liters, the pack is lighter and smaller than some of our other featured chest packs. It's a great option for anyone looking for a more compact chest pack.
The pack is smaller, but some anglers prefer using a light pack with just enough room for a fly box or two, weights, indicators, a couple of tools, and any other small items you like to have while fishing.
The listed capacity is 3 liters but the pack can hold a lot more than you would expect.
Features/Specs
.7 lbs
3 liters
9″ x 6″ x 4″
330D Nylon Ripstop Fabric
Integrated tippet holder
Drop down work station
Floatant holster
Can be integrated with other Simms waders and backpacks
There are two main pockets with zippers and a couple of interior pockets to help keep things organized.
The pack has an integrated tippet holder on the front and is conveniently located. If you use Simms waders, the pack hooks right into your waders eliminating the need for the chest strap.
---
The Orvis Chest Pack is another great option for anglers who want to carry all the essentials on the waters. The pack is shaped similarly to the Thunderhead but lighter at 14 oz with 4 liters of storage.
The trade-off is that the Orvis Chest Pack is water-resistant instead of waterproof. This may seem like a negative but can be a positive for some anglers.
Waterproof zippers are often tougher to open and close which annoys some anglers. Plus, if the inside of the pack gets damp from putting wet gear inside, it's also going to dry out much faster than a fully waterproof pack.
A couple of design features we really like on this chest pack is the integrated tippet holder on the top of the pack, the front zipper and gusset that allows you to fully open the main compartment to use as a mobile rigging station, and the comfortable neck strap.
Features/Specs
100% recycled Eco-Cordura material
14 oz
4 liters
11″ x 7.5″
Water-resistant
Integrated tippet holder
Main compartment with 3 smaller external pockets
Compatible with other Orvis backpacks and hip packs
---
Other Gear Related Articles
---
Best Fly Fishing Chest Packs For The Money
Chest packs, like all packs can be expensive and therefore we wanted to include two packs that meet quality standards, but at a more reasonable price.
The Allen Boulder Creek Fishing Pack punches much higher than its $45 price suggests. The material is water-resistant and feels very durable.
The pack weighs in at 1.3 lbs and measures 13.25'' by 11.4''.
There are three zippered compartments, interior pockets, a fly drying patch, a net attachment point that allows you to hook your net to the back, and a few tabs for attaching zingers and tools on the outside of the pack.
A great feature of this budget pack is the fold-down work station. You zip down one of the front compartments and you have a flat surface to help with changing flies or re-rigging mid-river. Using the work station makes life much easier when dealing with cold hands and small flies.
Features/Specs
Zip-down work station
Very well made for a budget pack
Water-resistant
Fly drying patch
1.3 lbs
13.25'' x 11.4'' x 2.75''
The Allen Boulder Creek Pack is the perfect option for an angler who wants a pack for infrequent use or is looking for a pack without spending a lot of money. Allen doesn't have the name recognition of some of the other brands on this list but their gear is cost-effective, functional, and a great value.
---
The Canyon Creek chest pack is new from Fishpond and has been getting a lot of positive reviews.
For starters, the pack has a slim and low profile design, making mobility extremely easy while wearing. Although this pack only holds 3 liters it features 7 different tool ports and drop down fly bench with tacky silicone fly mat.
It may looks small but inside can hold up to 4 medium sized fly boxes with room for additional accessories. There is also an integrated net slot in the back.
Lastly, the Canyon Creek chest pack is compatible with a number of other Fishpond packs and can be worn simultaneously for those needing to carry lots of gear.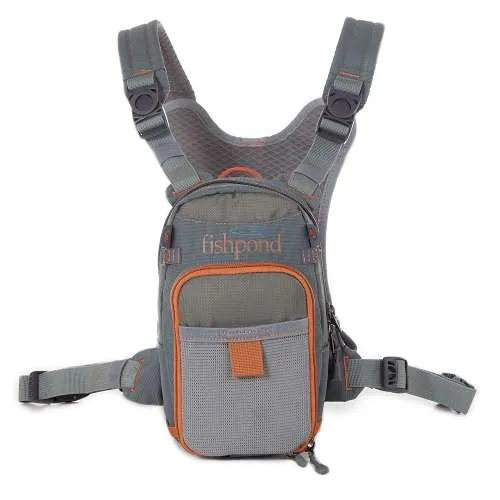 Features/Specs
1 lb.
9″ x 5″ x 4.5″
Made from 420D recycled cyclepond fabric
Granite color
7 tool ports
Holds up to 4 fly boxes
---
Best Lightweight Chest Pack
If one prefers a more minimalist design we have included two awesome chest packs that are smaller and lighter than our other featured packs.
The top pick for best lightweight chest packs is the Fishpond San Juan. This pack is a great minimalist option if you want something light that will hold a fly box and a few items for a day on the water.
The pack has one main compartment, a smaller exterior pocket, and a few points to attach zingers and tools. It holds about 3 liters worth of gear which should be the perfect size for anglers who don't like carrying too much with them while fishing.
One great thing about a lightweight pack like the Fishpond San Juan is the low profile that helps keep your pack from getting in the way. This comes in handy when walking through thick brush or avoiding catching your fly line mid-cast… Not like I'VE done that though…
Features/Specs
Low profile design

Climbing cords for attaching tools and zingers

Zip-down work station with fly patch

Mesh back for breathability

3 liters
---
The Allen Fall River chest pack shares a similar look and layout to the Allen Boulder Creek pack but is slightly smaller at .5 lbs and 8'' by 9.75''. The main differences are that the Fall River pack has fewer pockets and a smaller profile. It has a vertical design that makes the pack feel streamlined when wearing it.
The pack has a conveniently located fly drying patch on the front, a zip-down work station, and a D-ring on the padded neck strap to carry a net. You can easily fit one large fly box or a couple of small boxes in the main compartment.
Overall, this is a great option if you want something lightweight and you don't need to carry a lot of gear. Just like the Allen Boulder Creek pack, the Fall River is a great value with many of the same features as more expensive packs.
Features/Specs
Zip down workstation with integrated tippet tether

Low profile design

Fly drying patch

Mesh back for breathability

.5 lbs

8'' x 9.75'' x 3.25''
---
What is a Chest Pack?
Chest packs are a pack you wear on the front of your chest when fishing. This is similar to a small backpack worn on your front instead of your back. They typically have multiple pockets and connection points for zingers or tools to keep everything organized and within reach.
Having your flies, floatant, tippet, etc. conveniently located on your chest makes changing flies and re-rigging much easier and quicker.
Some chest packs even open forward and give you a flat surface to use as a mobile workstation. Chest packs can also be worn along with a backpack or hip pack to give you the ability to carry more stuff while still keeping the essentials easily accessible.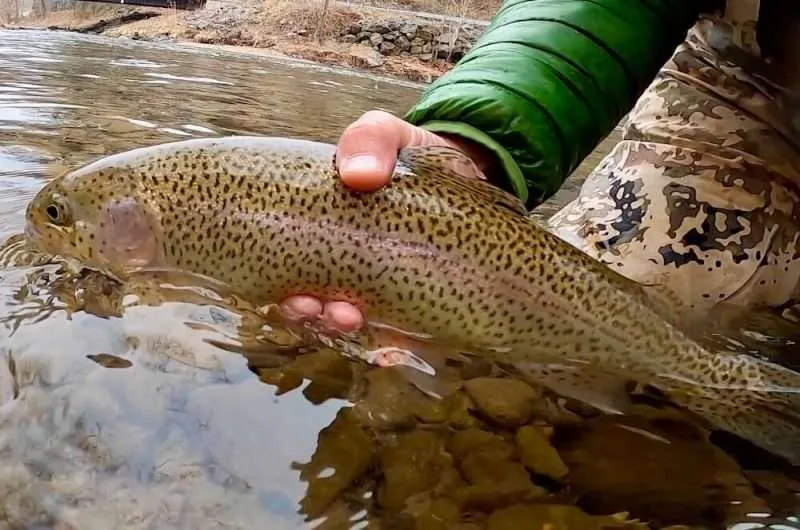 Chest Pack Vs. Vest
Chest packs and vests are two of the most common options for carrying your flies and gear. They both provide a lot of pockets and compartments to help keep your gear organized and easy to access.
They also both have the advantage over backpacks when it comes to keeping your gear within reach at a moment's notice.
A vest is definitely the more traditional option, but many anglers prefer a chest pack due to a more streamlined silhouette and compact design.


Some of the advantages of a chest pack over a vest are that the pack keeps your gear and tools centered on your torso where it's less likely to get snagged in brush or cause line tangles when casting.
This layout can also make carrying heavier items less awkward. I usually bring water and a second reel or spool when fishing. Having heavier items like this in the pocket of a vest makes it feel lopsided and often gets in the way when casting.
If interested, check out our article on: Best Fishing Vests
Things To Consider When Buying A Chest Pack
Choosing the right pack comes down to personal preference, fishing conditions, and the type of fishing you do. Here are a few things to consider before buying your next chest pack:
Storage – How much gear do you usually bring with, when fishing? You want to make sure you have enough room to pack the items you usually carry. You should also consider the pocket configuration of a pack to help you stay organized.
Comfort – The neck strap is responsible for much of the weight distribution of a chest pack so you want to make sure there is ample padding and the strap doesn't dig into the back of your neck.
A good chest pack will also work with many different body types and builds. The neck strap and chest strap should be adjustable to let you carry everything at a comfortable height on your chest without being loose or constricting.
Waterproof – Wading on slippery rocks can lead to falls and splashes. It's nice to have a pack that is waterproof or at least water-resistant when this happens. Fishing in rain and snow also makes water resistance a consideration.
Conclusion
There is a lot more than Simms chest packs on the market. Do your research and check out fishpond, Orvis, Allen and Umpqua chest packs before making your choice.
We would like to hear from you in the comments section below if you have any questions or feedback on what you look for in a chest pack. Don't forget to subscribe to the newsletter to keep up to date on new articles and gear reviews.
---
Related Readings: