Fly fishing has a number of different style bags and packs for carrying gear. One of these styles is the hip pack. Also known as lumbar or waist packs, these comfortable and convenient storage units have a lot to offer and are often overlooked for chest or sling packs.
This article outlines some of the best hip packs currently on the market, and why hip packs should be a consideration when purchasing your next fly fishing pack.
This article will feature:
Best fly fishing hip pack (overall)
Best waterproof hip packs
Best hip packs for the money
The what & why of hip packs
How to choose the right hip pack?
And much more!
Let's get started!
---
Best Fly Fishing Hip Pack (Overall)
We found one pack that we wanted to specifically highlight for its quality, versatility, and price. The Patagonia Stealth is our choice for the best fly fishing hip pack.
Our best overall fly fishing hip pack goes to the Patagonia Stealth Hip Pack. This sweet hip pack looks great, has tons of features, and is waterproof.
First off, the Stealth is made from 87% recycled nylon with a TPU coating and water-repellent finish.
At 11 liters it's large enough to hold all of your fly boxes, leaders, and other gear. There is one large main compartment with a waterproof pouch for valuables and smaller exterior pockets on the belt.
The outside also includes additional tool ports for attaching zingers and hemostats. There are extra lash straps for securing a rod tube, water bottle, or jacket.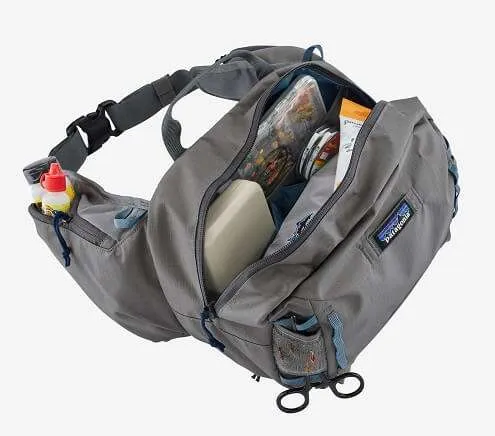 Specifications/features
1.4 lbs.

Holds 11 liters

87% recycled Nylon w/ polyurethane coating

Adjustable straps

Good storage space in the main compartment

smaller pockets on the belt

Plenty of external tool ports
Fly Fishing Hip, Waist & Lumbar Packs (Top Picks Contd.)
The Orvis guide hip pack is perfect for any fishing trip. At 9 liters it's not too small or too large as far as hip packs go. It is well designed and makes great use of its interior with several zippered pockets and compartments.
It is made from 100% recycled ECO CORDURA and has the new "Tippet Whippet" recessed docking station with a tippet bar. I like the fact that this is fixed into the pack to keep it from bouncing around.
The wide waist straps are padded and adjustable to ensure the perfect fit. It does have a water bottle holder which in my opinion is one of the reasons to go with this pack over other styles.
The exterior is fairly straightforward with a tippet bar, fly doc, and gear station.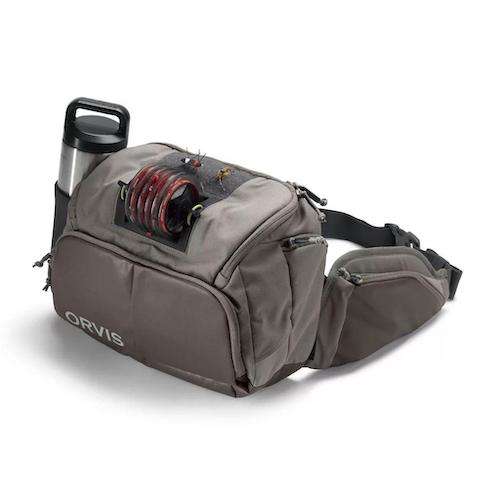 specifications/features
9 liters

Two side panel pockets with hidden net scabbard
Interchangeable neck strap and shoulder strap with docking stations

Cushioned hip straps

Interior organization

Exterior gear station

Tippet whippet

Water bottle holder
The Fishpond Waterdance Pro Guide Pack is designed with the guide in mind and has taken the best qualities of other packs and converted them into a hip pack.
There is ample storage space with tons of external features; everything you need for a fantastic day on the water.
It is made from Fishpond's signature Cyclepond material. The large exterior pocket is molded and doubles as a workbench when opened. The Waterdance features an integrated net sleeve.
There are so many external features freeing up space inside the pack for multiple fly boxes. There are a few Hypalon tabs for attaching forceps, floatant, zingers, and so much more.
The Waterdance is versatile and can also be worn as a chest pack. This is definitely a pack worth checking out.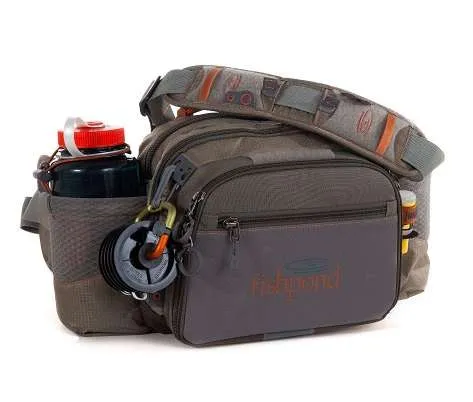 Specifications/features
2 lbs

10 liters (610 cu in)

420D Nylon Cyclepond material

Drop down workbench

Velcro fly drying patch

2 water bottle holders

Hypalon tabs

Net slot

Interior organization
If you're needing the most space from a hip pack, Simms freestone has you covered. With 5 liters of storage, it is on the smaller end of hip packs, but it is also the least cumbersome of our packs.
Besides boasting the most space, the Freestone is made from water-resistant nylon. This pack is not 100% submersible but will keep out most moisture you encounter.
There is one large main compartment with some internal zippers for organization, with two more external pockets intended to hold additional gear.
The freestone features adjustable and cushioned hip and shoulder straps that will feel like you're barely carrying a pack. The hip straps come with several cargo pockets for holding strike indicators, weights, or other small tools.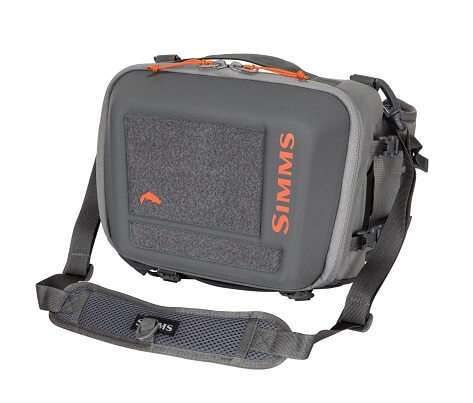 Specifications/features
1.8 lbs.

5 liters

Water-resistant 330D nylon

Adjustable and removable shoulder and hip straps

Hip strap pockets

Great internal organization

Compression straps

Tippet caddy
---
Other Gear Related Articles
---
Best Waterproof Fly Fishing Hip Pack
Sometimes it makes more sense to have a lumbar style pack that is 100% waterproof for those rainy days, wading in above your waist, or in my case, accidental falls. Here are two products that make our list of the best fully waterproof lumbar packs.
Our first pick for the best waterproof lumbar packs is the Fishpond Thunderhead. This pack is 100% waterproof from ultra tough Cyclepond nylon. By adding the airtight waterproof zipper, not a drop of water will get into your bag.
The hip straps are larger than average and are made from lightweight foam for added comfort. The back panel also features this comfortable foam with an added net slot.
The removable shoulder strap holds additional tools and gear ports for zingers and forceps. Inside the main compartment, you'll find a few smaller pockets and zippered organizers. While on the outside Hypalon cord loops and tabs for securing extra gear.
If you're needing a pack that can withstand fast currents, big waves, or heavy rains, the Fishpond Thunderhead has got you covered.
specifications/features
1.65 lbs.

10 liters (610 cu in.)

100% waterproof

Recycled Cyclepond nylon material

Foam back panel and hip straps

Shoulder strap with tools ports

Hypalon cord loops and tabs

Net slot
Best Fly Fishing Waist Packs for the money
Fishing packs are expensive! But you don't have to sacrifice quality for the price. Here are three packs perfect for anglers watching their wallet.
Our next budget lumbar pack is the Allen Eagle River Fishing Pack. The pack is surprisingly roomy for only a pound. It can hold several large fly boxes and tons more gear. The hip strap is cushioned for added support and comes with a removable shoulder strap.
Inside the main compartment is additional pockets and dividers to keep everything organized and easy to find. There is a smaller external zippered pocket that folds down into a workstation while on the water.
Outside of the pack, there is a foam fly drying patch, D-rings, side pockets, water bottle holder, and daisy chains. At around $50 this pack is hard to pass up.
specifications/features
1 lb.

Cushioned hip strap

Internal pockets and zippers

Large external pocket

Fold down workstation

Foam fly drying patch

Multiple D-rings

Side pockets

Water bottle holder

Daisy chains
This is the minimalist anglers' dream pack. It's the smallest and lightest hip pack we've featured and comes in at 12 oz, holding  3 liters. This pack looks and fits very similar to a fanny pack.
The Bandolier is made from 420D nylon with Cordura in certain spots. Despite the small size, it packs a punch when it comes to features.
The main compartment has several smaller pockets for organization and is large enough for a few fly boxes and other small accessories. Tippet, leader, and other small gear can be housed in one of the two side pockets.
Externally there is a plethora of attachments. Such as two tool sheaths, zinger ports, elastic loops, and a cord tippet holder. There is also a foam fly drying patch on top of the hip pack.
specifications/features
12 oz

3 liters (300 cu in.)

420D nylon material

Adjustable hip strap

1 main compartment

Nipper/zinger ports

Cord tippet holder

Foam fly drying patch

Tools shealth

Net loops
Vixyn fishing products is a newer company and are relatively unknown. We wanted to feature them for their affordable prices and positive reviews. They pride themselves on having a durable,  lightweight, and breathable waist pack.
Even though this waist pack is not waterproof one will still reap the advantages of a lightweight pack. This hip pack is loaded with features!
There are 10 pockets in total including the main compartment and a large zippered exterior pocket, that features a workstation when folded open. This pocket also comes equipped with two removable fly patches.
Both sides of the pack have a built-in retractable zinger for nippers or forceps.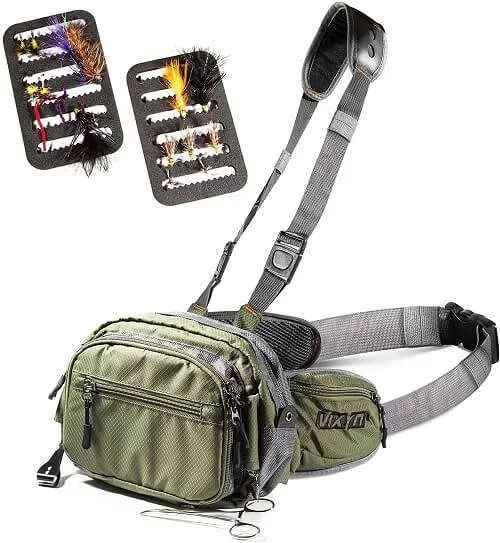 Specifications/features
10" x 7"

Durable and lightweight nylon

Comfy mesh hip straps

10 total pockets

Organization

2 Removable fly patches

2 retractable zingers

Hip strap pockets

Money back guarantee
What is a Fishing hip pack?
A hip pack (oftentimes called a waist or lumbar pack), is a style of pack that fits similarly to a fanny pack. The pack consists of a large body that will hold between 5 – 12 liters (on average). The pack has two hip straps often wide and cushioned for added comfort that secures around the angler's waist by a buckle.
Most hip packs also have a removable shoulder strap. This is to be worn around your shoulders to help stabilize the pack and keep it secure while you're wearing it.
For smaller hip packs, or when fishing with less gear the shoulder strap becomes obsolete and not necessary to have on.
Like all other fishing packs and vests, there is a multitude of external features, and comes with just about everything one would need for a satisfying day on the water.
Benefits of fishing hip packs.
Hip packs don't get as much attention from anglers, who often pursue chest or sling packs. In my opinion, hip packs are often overlooked too easily as they offer some benefits not present with other types of packs.
The first benefit of hip packs is their comfort and ease of accessibility. One of my biggest complaints about sling packs is the challenge of accessing gear. With a hip pack, the bag can be easily reached from any position you're in, and if not can be easily adjusted.
Another benefit comes from mobility. Other types of packs can sometimes be bulky and interfere with one's cast or movement through water and shorelines. Hip packs are easier to maneuver and do not interfere with casting as much.
Lastly, they can be more comfortable than other types of packs. Our hips are generally more capable of holding heavier items than our shoulders, and hip packs rely on our waist to provide the most support.
How to choose the right hip pack?
Hip packs come in a number of different sizes and styles. As seen above from our list. No two hip packs are alike. We have broken down a few key points to identify when choosing a hip pack.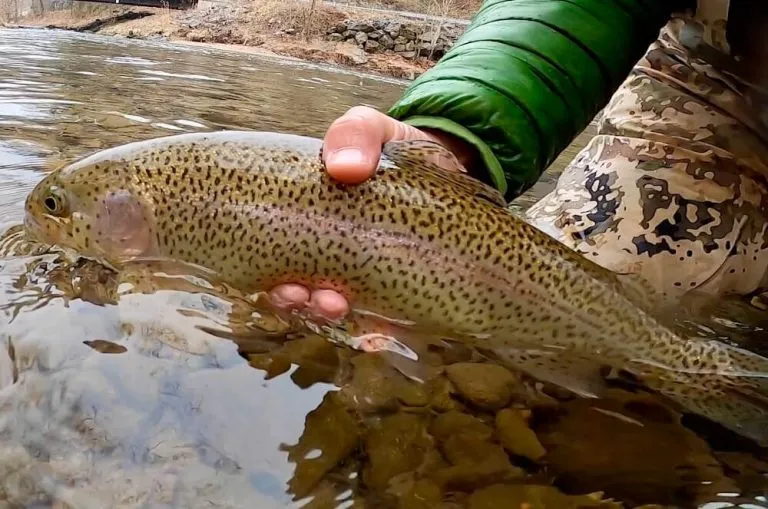 1. How much space do you need?
This is a great question. Our largest pack we have highlighted holds 12 liters, while the smallest is only 3 liters. For some general approximations, 10-12 liters will hold 5-6 fly boxes and most other gear with some room for a snack. A hip pack bigger than 12 liters may feel too bulky and hard to keep secure.
2. Waterproof or not?
Hip packs are made from a few different materials. Most of them are made with some type of nylon with water-resistant treatments. However, there are some hip packs that offer complete water protection. These packs can be fully submerged while still keeping the inside dry.
Because the majority of fly anglers are wading in rivers, an angler may find themselves up over their waist, where a fully waterproof pack is essential. However, if you're like me and rarely go above your waist a simple nylon with some water-resistant coating should suffice.
3. Extra features you may want/Style
Hip packs come with a variety of add-ons and accessories. It is merely up to the angler in choosing what extras they may want. There are a few different aesthetic options to choose from as well.
4. Price
This is the last consideration when choosing your hip pack. If you saw the list, hip packs can range anywhere between $50 to $300 dollars. With the majority falling around $100 – $150. Generally speaking, fully submersible hip packs will be more expensive than other types.
Final Thoughts
I hope this article was helpful in choosing your next fly fishing hip pack. Please feel free to leave a comment and let us know what you liked or could improve on.
For more articles like this feel free to subscribe via the form below.
Related Readings: