Get Your Zing On!
Fly anglers love tools and gadgets, which means there is no shortage of fly fishing accessories to choose from. It can be challenging to sort through the piles of accessories and pinpoint the best fly fishing tools that measure up to the hype.
Luckily, Anchor Fly is here to do the research and testing for you! Keep reading for our top 20 fishing accessories— plus 3 unique bonus accessories.
Let's get started!
---
These are tools like pliers and fly dressing that you should always have with you when fishing.
We picked these particular accessories based on usefulness, durability, value, and unique design features that set them apart and make them a must-add to this article featuring the best accessories to have on the water.
Leave that old disgusting fingernail clipper in the medicine cabinet and get something that was designed for use on the water. There are many nipper options available, but we are particular to the Nip N' Snip 2.0 from Loon Outdoors.
They have durable stainless steel blades, wide thumb pads, and come with a nice lanyard. These nippers also have an integrated bottle opener that will come in handy while having that parking lot beer after a day of fishing.
Features/Specs
Stainless steel blades
Wide thumb pads
Durable lanyard
Bottle Opener
Traditional lead fishing weights are not good for wildlife and the environment. Birds and waterfowl can get lead poisoning when they pick up discarded split shot to swallow as grit for their gizzard. Do the birds a favor and switch to non-toxic tin weights.
These ones from Loon Outdoor with a mat camo finish are the best non-toxic split shots available. A lot of other non-toxic split shots are bright and shiny which could spook selective trout. The river camo version is a much stealthier option.
Features/Specs
Eco-friendly
Mat camo finish
4 different sizes
This is an impressive spin on traditional strike indicators. The New Zealand Indicator lets you customize the size and color of your indicator and easily move it up or down your leader to target different depths. The plastic bubble-style indicators float great but are difficult to cast and often spook fish as they slap down on the water.
You won't experience these issues when using the 100% biodegradable wool that comes with the New Zealand Strike Indicator. The wool does a great job repelling water but you can also treat it with a little floatant for extra buoyancy.
Features/Specs
Customize size and color
Easily adjust your depth
Won't spook fish
100% biodegradable
---
---
There are dozens of fly floatants on the market but not many have the same proven fly floating power as Gink.
Gink has a gel-like consistency at room temperature but quickly turns into a liquid when warmed between your fingers. This makes it easy to completely treat your fly. Gink won't gunk up the hackles on your delicate dry flies like some other floatants can.
Features/Specs
Easy application
Preserves fly integrity
Do yourself a favor when buying that bottle of floatant and get this excellent bottle holder to clip on your pack or vest.
The Fishpond Bottle Holder will accommodate most fly floatant bottles and features a great fish scale pattern. The Fishpond holder lets your bottle hang upside down which makes it much easier to get your floatant out of a half-full bottle.
Features/Specs
Fits most size Floatant bottles
Fish scale pattern
Hangs upside
Forceps are definitely a must-have when fishing. Besides unhooking fish, you can use them to bend down the barb on hooks and crimp split shot to your leader.
The Rogue Quick Draw Forceps from Loon also has an integrated line cutter and short needle to clean head cement away from the eye of flies. The multiple uses, surgical stainless steel, and integrated carabiner make the Quick Draw one of the best forceps on the market.
Scissor clamps are a must-have—definitely, one of the best fly fishing accessories to carry on the water!
Features/Specs
Stainless steel
Carabiner for easy access
Line cutter
Eye hole needle
You might need something beefier than forceps if you target saltwater or larger warm-water fish.
The Booms Fishing Quick-Cut Pliers feature tungsten cutters for wire bite tippet, titanium coated stainless steel jaws, and an anodized coating. You could spend hundreds of dollars on heavy duty pliers but there is no need to with the Booms Fishing Quick-Cut pliers available for less than $30.
Features/Specs
Tungsten cutters
Titanium-coated steel jaws
Comes with a plier sheath and lanyard
Affordable
Looking for more on pliers? Check out Best Fishing Pliers
---
Other Gear Related Articles
---
I have over a dozen fly boxes but my Tacky fly boxes always get the most use. I'm a big fan of the silicone grooves that lock in your flies and don't fall apart like foam-lined boxes.
The Tacky Double Haul fly box is waterproof with breathable fabric vents that help prevent rusted hooks and mildewed flies.
This fly box is a bit bigger at 1 inch deep by 13 inches long and 10 inches wide. The box will hold 287 flies which is more than enough for most anglers.
Features/Specs
Waterproof

Silicon Grooves to securely hold flies

Breathable

100% recyclable plastic
Looking for more on boxes? Check out Best Fly Boxes
The Scientific Anglers Tip Wallet is a great way to organize sink tips if you swing flies but it's also a great accessory for anglers who don't use sink tips. The wallet is the perfect size to keep leaders and tippet in order while fishing.
The pockets are made from durable nylon mesh that dries quickly. Another unique feature is the ID tag on each pocket to help you find the right leader or tip quickly.
Features/Specs
Great for all types of leaders

Nylon mesh

Quick drying

ID tag on each pocket
Thermometers are an important and often overlooked accessory for fly fishing. They are useful for predicting hatches and getting an idea of the overall fish activity levels.
This version from Aventik has an anodized aluminum body to protect the easy-to-read thermometer. There is also a clip at the top of the thermometer that you can attach to a pack or zinger.
Features/Specs
Easy to read
Anodized Aluminum
Clip for easy attachment
The Fishpond Swivel Retractor pins nicely to a vest or pack and allows you to keep your forceps or other commonly used accessories handy. It's very durable and should last years thanks to the UV-protected coil and aluminum body.
The retractor can rotate in a complete circle and will extend to about a foot and a half. The Swivel Retractor comes in dark gunmetal gray or lichen green versions that look great with most packs, slings, or vests.
Features/Specs
UV protected Coil
Aluminum Body
360° rotation
Retracts 1.5′
---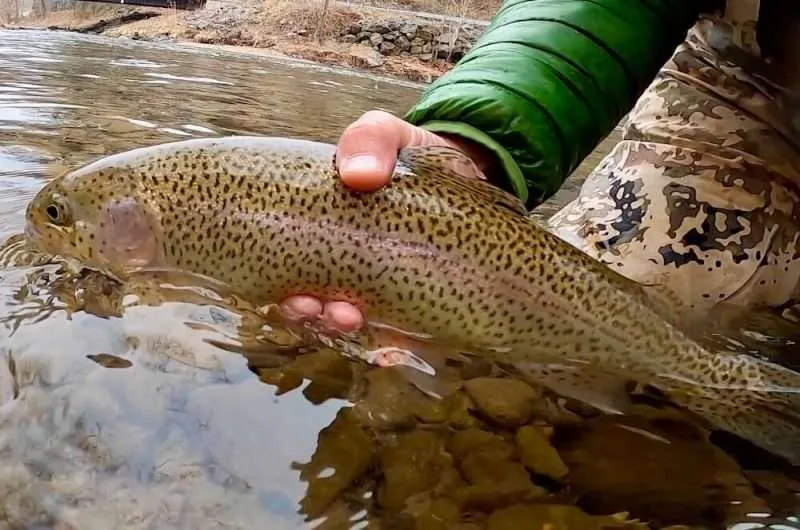 ---
This tippet holder is an amazing deal considering it comes with 5 spools of Rio Powerflex tippet. The tippet included will cover most freshwater fishing situations so it's a great option for someone just starting out or anyone who could use some backup spools.
Unlike many other tippet holders, the Head Gate positions the spools horizontally instead of vertically. This makes it much easier to unspool lengths of tippet.
Features/Specs
Horizontal position
Secure
Comes with 5 spools of Rio Powerflex tippet
It's always nice to have a few good zingers to attach tools and accessories to your pack or vest. This three-pack from SF Fly Fishing is very well made for the price.
They have a two-foot cord and a stainless steel hook to make sure things stay secure. At less than $10 for three, these will pay for themselves by making sure you don't lose gear.
Features/Specs
It comes with 3 zingers
Stainless steel clasp
2-foot cord
If you look at the back of many packs and vests you might see a small hook or loop. Manufacturers add this to attach and carry a net while fishing. You will need a net release like this one from Crazy Shark to make it work.
The release is magnetic and lets you quickly grab your net while landing a fish. It swivels 360 degrees and is made from corrosion-resistant aluminum to ensure years of use.
Making your net easily accessible is such a luxury when landing lots of fish. The magnetic release is one of the best fly fishing tools to add to your setup.
Features/Specs
360° Swivel
Durable aluminum
Fits all sizes of nets
Lanyards are a great way to keep tools and tippet easy to access at all times. Minimalist anglers love how simple it is to load up a lanyard with a few essentials and hit the water. Lanyards are also a great option if you have a pack or vest but still want to have a few tools available at a moment's notice.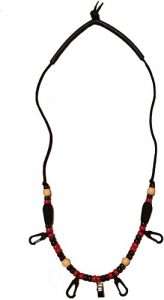 The model we like is from the company Flylanyards. It can be adjusted in length to let you customize how you carry your tools. The foam neck pad also makes it comfortable to wear all day. Just attach a few zingers and tools and you are ready to fish.
Features/Specs
Adjustable Length
Foam neck pad for added comfort
Minimalist design
Unique and Innovative Fly Fishing Accessories
These are items that you don't necessarily need to have when fishing but are great in certain situations. The five items below were selected because they are innovative and fill a unique niche.
It's extremely important and admirable to leave the river cleaner than when you got there. We should all make it a priority to pick up nests of mono, sinkers, and other small pieces of garbage while fishing.
This handy trash receptacle is great way to do that without creating a mess in your pack or pockets. The unique flaps on the lid keep line and small pieces of garbage inside while also making it easy to add new trash to the container.
Features/Specs
Flaps keep trash in
Easily attaches to vest or pack
Do you fish dry-dropper or anchor fly setups? If you do, this rig keeper from Smith Creek will save you a lot of hassle.
You can pre-rig your tandem fly setups and wrap them around the rig keeper for quick and easy fly rigging while fishing. The Rig Keeper is small and compact but holds 10+ multi-fly rigs. The Smith Creek Rig Keeper is also a useful way to conserve tippet when switching out your tandem flies.
Features/Specs
Compact
Holds 10+ flies
Easily attaches to vest or pack
Hiking into your fishing spot with a rigged rod is much easier with the Dovesun Creek Wearable Rod Holder. It attaches to a belt or packs to let you carry a rod safely out of the way. It is perfect for securing your rod while utilizing both free hands.
There is a foam slit to tightly secure the rod while the clip attaches to your vest or pack. This is also a great setup if you like to have a rigged backup rod while fishing.
Features/Specs
Attaches to belt or pack
Secure hold
Hands-free
I have tried many different sunglass retainers and Chums are the best I have found. They are soft cotton that is easy to adjust with a simple bead on the back of the strap.
My favorite thing about these is that your glasses' arms slide into the ends of the retainer. This eliminates the need for rubber grips or rings that always seem to dig in behind your ears.
Check our article on fishing sunglasses to explore the ins and outs of purchasing sunglasses for fishing.
Features/Specs
It's a challenge carrying large flies without crushing them. There are many large boxes available that work great but are bulky and take up a lot of room.
This beautiful leather wallet takes a different approach with an innovative and flexible roll. The wallet is made of durable authentic leather and wool felt Choose from several different colors.
Features/Specs
Compact and flexible

Leather and wool

It comes in several colors
---
Bonus Fly Fishing Accessories
Here are a few accessories that typically don't make it onto other best-of lists. These are useful items that are often overlooked when shopping for fishing accessories. They might not get as much use as other accessories but you will be glad you have them.
Most insect repellents rely on DEET which will melt plastic and most synthetic materials. This is bad news for your fly lines, tippets, and other gear. This insect repellent from Sawyer uses Picaridin instead of DEET as the active ingredient.
Not only will Picaridin cause no damage to your gear and equipment, but it also has much less odor than DEET products. DEET and Picaridin have the same effectiveness when it comes to mosquitos and ticks but Picaridin is much more effective in biting flies.
Features/Specs
Safe for gear
Minimal odor
Effective
A flask this nice is unheard of in this price range. It's an even better value considering that is made out of titanium which is lighter and more durable than stainless steel.
Plus, titanium won't give the contents of your flask that metallic taste that stainless steel can. Put anything you want in the flask, but remember the words of Ron Swanson: "Clear alcohols are for rich women on diets".
Features/Specs
Made from strong titanium
Round design

Holds 5 fl. oz.
Rounding out our list of best fly fishing accessories is something that you can't use when fishing but will still provide hours of entertainment. This miniature fly rod comes with a Velcro tipped yarn line and three fish targets.
I bought one last year as a game to play with my kids and was blown away when I first tried casting it myself. The rod actually loads and casts like a real fly rod but is sized for your living room or backyard. This is a fun way to keep up your casting game in the off-season.
Features/Specs
Velcro tipped yarn line
Comes with 3 fish targets
Increase your casting performance
Reeling It In!
We hope you have enjoyed our list of the best fly fishing accessories of 2022. We would also like to know about your favorite fishing accessories. Please comment below with your picks. Make sure you keep in touch by subscribing to Anchor Fly in the footer.
Additional Articles: