Includes interview with Scott Smith , Grand Teton Fly Fishing
Targeting native trout on the surface, in fast-moving mountain waters in the late summer.
It's arguably the pinnacle of fly fishing. I personally spend somewhere between 100 and 120 afternoons per year daydreaming about it. It never gets old, either – the fishing, and the daydreaming. You can find this pinnacle of the pursuit, and the daydreams that will follow, in one pure source: the Snake River.
The Snake River is a fly angler's paradise. It's full of cutthroat, as scenic as can be, and easily accessible through public lands. It's one of the finest rivers in the Western U.S.
Overview
The Snake River starts in a series of mountain streams at the Continental Divide in Wyoming, inside of Yellowstone National Park. It flows down the mountains and into the Jackson Hole valley, along the eastern side of the majestic Teton Mountain Range. It picks up steam leaving the Jackson Hole Valley, and "snakes" across the Snake River Plain of Southern Idaho.
The Snake River heads in and out of Oregon as it makes its way along the western Idaho border, before meeting up with the Columbia River in Washington.
That's 1,078 miles of river.
As you can imagine, there are a lot of places to fly fish on the Snake River. There's a lot of decisions to be made, too – which fly? Which technique? What time of the year is best? What guides can I rely on?
We intend to help. Over the course of this article, we'll cover some of the best parts of the Snake River to fly fish, the techniques to use, the times of the year to make plans, and the best flies to use on the Snake River. We'll also share some of our favorite guides in the area.
BEST PLACES TO FLY FISH ON THE SNAKE RIVER
With a lot of water covering a lot of the Western U.S., the Snake is a diverse river. We turned to Scott Smith, who has lived in Jackson, WY and guided on the Snake River since 1999, to help us know where to go. Smith is the co-owner and lead guide for Grand Teton Fly Fishing (featured in our "Fly Fishing Guides" section, below).
Without a doubt, one of the most scenic portions of the Snake River occurs as it leaves Jackson Lake in Grand Teton National Park. The first five miles of the Snake in this section is its tailwater fishery. Wildlife sightings are frequent – Smith regularly runs into elk, bison, and otters, as well as the occasional grizzly bear (don't forget your bear spray!).
The Snake River meanders through the Jackson Valley, before picking up steam as it leaves the Valley through the Snake River Canyon. The Canyon is incredibly scenic – with fast moving water against sheer mountain cliffs and undercuts that can hold large cutthroat trout.
The Snake River as it runs through the Snake River Canyon provides the widest, and perhaps most diverse, section to fish. It has nice holding water for trout as well as long, deep pools.
Some of our favorite spots to access the Snake River in these two sections include:
Just below Jackson Lake Dam
Wilson Bridge
Astoria Bridge
Moose Landing
West Table
Taco Hole
Sheep Gulch
FLY FISHING TECHNIQUES FOR THE SNAKE RIVER
Again, the Snake is a diverse river. That means you'll be able to find success with streamers, and there's always fish to be found with nymphs. However, if you time it right (more on that below!), you'd be remiss to hit the Snake River and not catch fish on dry flies.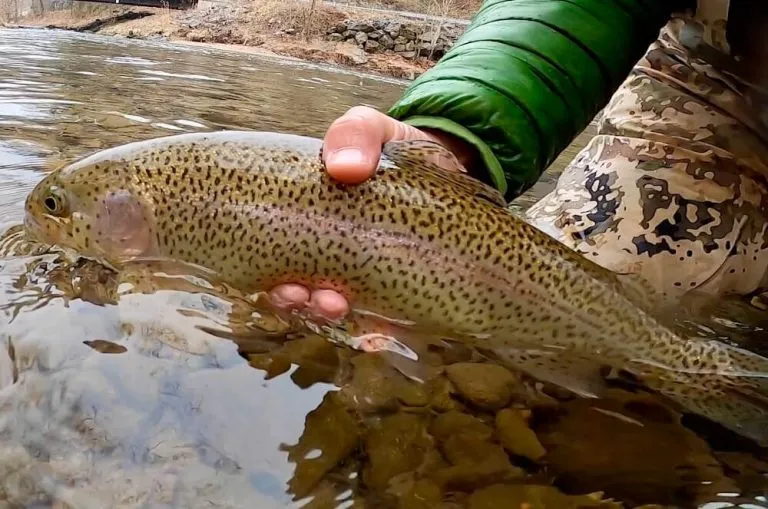 Accurate casts that can place dry flies tight to submerged wood and the banks will draw strikes from larger Snake River Cutthroat. If you don't want to test your accuracy, you're likely to still have success fishing a nymph two feet below a large attractor dry fly, in a classic hopper-dropper fashion. The Snake offers challenges and rewards to both novice and veteran anglers.
"As a beginner, you'll find fish and catch fish," Smith said. "For the expert, you'll be challenged by finding the big fish. This river is congenial and forgiving to a novice angler, but also challenging to the expert."
You'll do well with your standard, do-it-all 9 foot 5 weight rod, and could go up to a 6 weight or down to a 4 weight, depending on the flies you intend to fish.
BEST TIMES OF THE YEAR TO FLY FISH ON THE SNAKE RIVER
Early spring and late summer/early fall are the best times of the year on the Snake. Smith recommends the months of late February through April, and July through October.
"In the spring and fall, if the weather is consistent, the hatches are like clockwork," Smith said. "You can set your watch to the BWOs, mahogany duns, and midges. The summer can be good, too – and the scenery and the float is a lot of fun then."
BEST FLIES TO USE ON THE SNAKE RIVER
Just like any other river, fly selection is best determined by season. We'll break it down according to the time of year here, to give you an idea of what to pick up from the fly shop or twist up yourself.
Early Spring:
Blue Winged Olives (small, size 18-22)
Pat's Rubber Leg
Chubby Chernobyl
Streamer patterns like a Baby Gonga or a Sparkle Minnow Sculpin
Summer:
Chubby Chernobyl
Chernobyl Ants
Turck's Tarantula
Foam hoppers
Parachute PMD
PMD Cripple
Parachute Adams
Barr's Emerger
Green Drakes
Fall:
Yellow Sally
Stimulator
Mahogany Dun
Orange Elk Hair Caddis
Smaller streamer patterns like Clousers, Buggers with flash

Fish them on slow and long retrieves
Winter:
Copper Johns
Beadhead Hare's Ear
Pheasant Tail
BWOs
Griffiths Gnats
Zebra Midges
SNAKE RIVER FLY FISHING GUIDES
Scott Smith and business partner Mark Fuller run the Grand Teton Fly Fishing shop, formerly owned and operated by the famed fishing guide Jack Dennis. Located in Jackson, Grand Teton Fly Fishing boasts over 200 years of combined guiding experience. They operate mostly on float trips and know the Snake River as well as anyone. Grand Teton Fly Fishing provides rods, reels, and waders if needed, as well as transportation to and from the river and a lunch as part of their full-day float trips. Full-day floats cost $675 for two anglers during peak season.
"We like to stalk and hunt trout with dry flies," Smith says. "We'll teach you how to really fly fish and give you the full experience of the Snake River. We like to teach and help you become a better angler. We're dry fly, conservationist-minded fly anglers."
Contact Info and Address:
[email protected]
225 West Broadway
Box 12471
Jackson, WY 83002
Based in Jackson Hole, WY, Jackson Hole Anglers will take care of everything. They pick you up from your hotel, and they include gear, lunch, and drinks. They run full day, 2-person floats for $690, and also offer overnight and half day trips.
Contact Info and Address:
[email protected]
PO Box 9005
Jackson, WY 83002
Fish the Fly is another great guide service based in Jackson Hole, WY. They have an enthusiastic staff and work hard to promote stewardship and environmental responsibility. They offer float trips, and will provide pricing and availability upon request.
Contact Info:
307-690-1139
[email protected]
CONCLUSION
If you have yet to fish the Snake River, you've no longer got any viable excuses. You're armed with the info you need, and with a great selection of guides and outfitters, now's a good time to call and book a trip to this scenic part of the Western U.S. With native cutthroat and breathtaking high-altitude views, you won't regret it!
Related Reading: