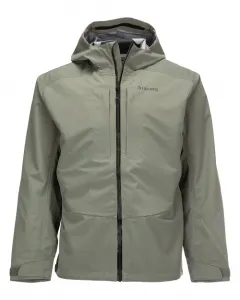 Looking for the best fly fishing wading jacket? Well, you're in the right place! The article below not only offers the best options on the market but will guide you through the buying process to help you get the best wading jacket for your needs"
Stay dry, comfortable & catch more fish
Buyers Guide | What To Look For When Choosing a Wader Jacket
Wading Jacket Factors | Important Components
The Best Fly Fishing Wading Jacket (Reviews)
Best Fly Fishing Wading Jacket Under $100 | Budget Friendly
Let's dive in!
---
The Truth in Waterproof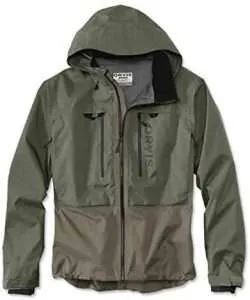 In the world of fly fishing, some of the most basic gear has been adapted to fit the unique purpose of fly fishing. One of these is the wading jacket which is becoming more popular and useful among fly anglers.
A wading jacket is a breathable and waterproof jacket that fits over your waders to keep you dry and comfortable and protect you from streams, rain, wind, and cool temperatures. Wading jackets come in handy, especially when fishing in rougher waters where splashing is more likely, and in rainy/cold environments.
Wading jackets are unique to fly fishing and different from a typical rain jacket. Wading jackets tend to be shorter to prevent becoming submerged under the water (similar to how a fly fishing vest is shorter and hangs above the waist).
Wading jackets are made from layered breathable materials like nylon or polyester, with an extra water-resistant coating and oftentimes a polyurethane membrane for added water resistance. These materials are crafted to withstand tough fishing conditions and are designed to keep the wearer dryer and warmer than a standard raincoat.
Lastly, wading jackets are fastened with extra bells and whistles, such as large pockets for ample storage of fly boxes and other equipment, sealed wrist cuffs, and warming pockets.
What To Look For When Choosing a Wading Jacket
Budget – If you're new to fly fishing or a long-time veteran you'll know how expensive fly fishing equipment can get, and like most aspects of fly fishing there are ranges in price and quality to fit every budget and need.
Breathability – This refers to the amount of moisture the jacket is able to expel from the inside while still keeping everything dry from the outside. Different materials will have better breathability. When fishing in wet damp conditions, humidity from sweat and condensation develop, and having a jacket with good breathability will help you stay dry and comfortable.
Water Resistance – Wading jackets are not necessarily designed to be submerged in water, however, they are meant to deal with harsh weather conditions along with splashing from rough water and netting/releasing fish. You will want to make sure the jacket you're looking for has strong water protection, especially around the wrists, arms, and neck. These areas are more susceptible to water.
Wind resistance – Like we just mentioned the wading jacket is designed with cold, wet, and windy conditions in mind, making wind resistance a key feature when searching for a wading jacket.
Mobility – Casting and maneuvering around rocks and other terrains can be challenging as is, but adding an insulated wading jacket can make these tasks all the more difficult. It is important to find a jacket that can still offer the desired insulation and water protection but also does not inhibit your casting motions.
Wading Jacket Factors
Materials – As mentioned above different materials offer different levels of water protection, breathability, warmth, and mobility.
It is important to find a jacket that has materials to fit your unique needs, fishing environment, and fishing style.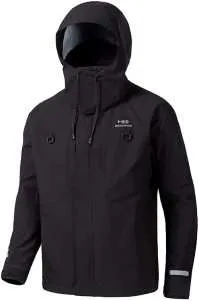 Storage Space – When wearing a wading jacket you will most likely not be able to wear your vest or pack, making the jacket's storage space a necessary component.
Sealed cuffs/neck area – Another important component in wading jackets is their ability to provide water protection in the most vulnerable areas; being around the neck and wrists.
It is very important for wading jackets to offer added protection in these areas through pull cords or velcro straps allowing the wearer to tighten these open areas as best they can
Best Fly Fishing Wading Jackets (Reviews)
Below you will find our top 7 wading jacket reviews in 2022.
When it comes to Simms it's hard to beat; they have mastered the art of waterproofing and their waders show for it. The Simms Freestone fly fishing wading jacket is definitely top-of-the-line, and has many awesome features.
This jacket is made from 3 layers of Toray fabric (a combination of nylon, polyester, and other synthetic fibers) and waterproof tape on all seams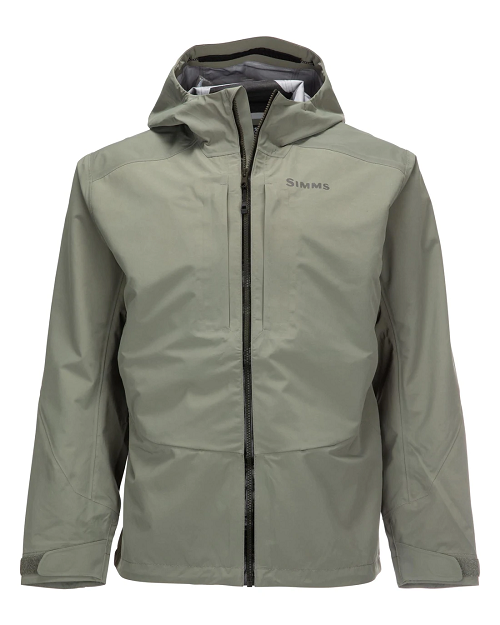 This jacket will withstand very cold temperatures and brutal rain conditions. The jacket has an adjustable waistline cord to cinch the bottom tight around your hips.

Features/Specifications
Two-color options (Black, Striker Grey)
3-layer Toray – 100% Nylon
30 oz
Storm hood and high collar
The Simms Freestone has velcro wrist cuffs that tighten to prevent water from rolling up your arm while casting. Finally, the jacket is equipped with two large exterior pockets big enough for fly boxes and other tackle, with an additional interior pocket for added protection for a phone or wallet.
Pros
High-quality breathable fabric
Very waterproof
Velcro wrist cuffs
Insulated
Lifetime warranty
Cons
This jacket is made from 3 layers of breathable yet super waterproof fabric and coating. It is warm enough to keep you comfortable through cold and rainy days.
The Riverrun wading jacket has several unique features, including 9 total pockets. There are two large pockets located on the front of the jacket with tool attachments on either side. Additionally, a hidden fly patch is located on the chest of the jacket.
All of the zippers are waterproof, plus velcro-sealed cuffs to prevent any moisture from entering your arms. If your hands get cold, two warming pockets on either side can be used.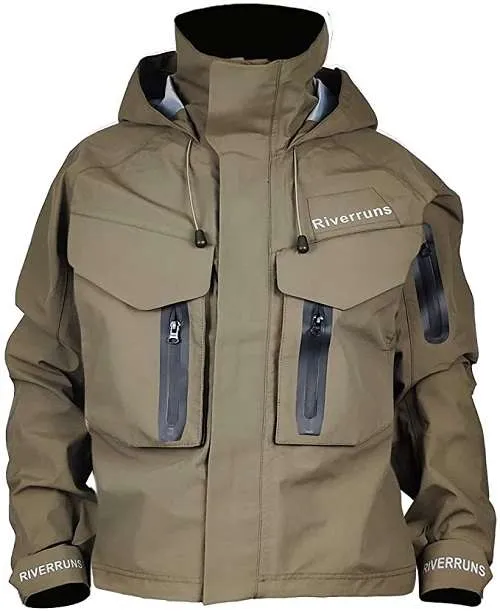 Furthermore, there is a large hard-brimmed hood that is removable to keep the rain out of your face.

Features/Specifications
Sizes Small – 3xLarge
3-layer breathable material
Lots of storage space
Hood and high collar
Pros
Tons of storage space
Breathable
Waterproof
Hand warmers
Cons
Orvis' Storm fly fishing wading jacket is a dream to wear and with its lightweight design and superior water protection, it's hard to tell you're wearing a jacket at all.
It is made from a stretch 2.5 layer waterproof breathable nylon shell and the Orvis Ultralight Storm jacket easily packs into its own hood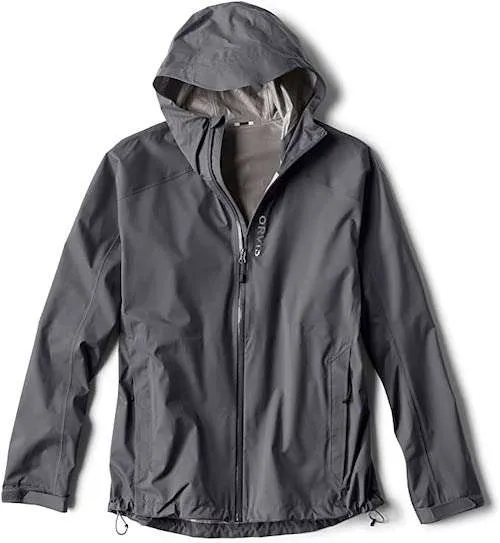 The wrist cuffs are made from synthetic materials that tightly form around your wrist and won't let water penetrate even when submerged landing a fish.
Features/Specifications
Three color options (Asphalt, Tarragon & Navy)
100% waterproof nylon (full range of motion)
Water-resistant YKK AquaGuard zipper
10.4 oz (medium)
Three-way adjustable storm hood with laminated brim
There are 2 waterproof exterior pockets —Orvis' Storm has an adjustable laminated brimmed hood.
Pros
Durable
Waterproof
Lightweight
Sealed wrist cuffs
Cons
A more affordable wading jacket from Orvis, the Clearwater still features durable wind and waterproof that's a little easier on the wallet.
It has 3 layers of nylon for consistent water protection, with waterproof tape on all of the seams and durable water-repellent coating on the exterior of the jacket.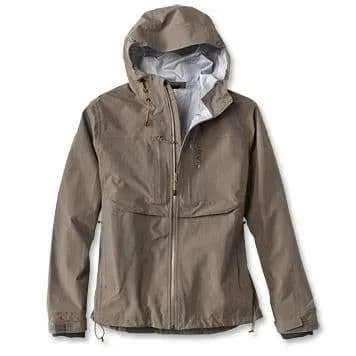 The Clearwater is lighter and packs up nicely. Because of this, it's not the best for really cold temps, however, there are two hand warmer pockets to help.

Features/Specifications
Comes in Moss Color
Nylon shell/ polyurethane membrane
YKK® AquaGuard® water-resistant front closure
Integrated Dolphin Skin cuff system
Because of the style, this jacket has better breathability and mobility. This attractive jacket has 2 large breast pockets, dolphin skin-sealed cuffs, and a rear D-ring for a net. This is a great wading jacket and better priced than some of our other recommendations.
Pros
Lightweight
Breathable
Durable
Sealed wrist cuffs
Cons
---
Other Gear Related Articles
---
The Valor wading jacket from BASSDASH is breathable, waterproof, windproof, and looks good. Made from 3 layers of quality fabrics and waterproof taped seams, this jacket will not let any moisture in.
It has a unique hat brim that allows for better peripheral vision without sacrificing water and wind protection.
Neoprene cuffs hold tightly to your wrists minimizing any water from entering your arms. The Valor is also designed with more shoulder room to increase movements while casting.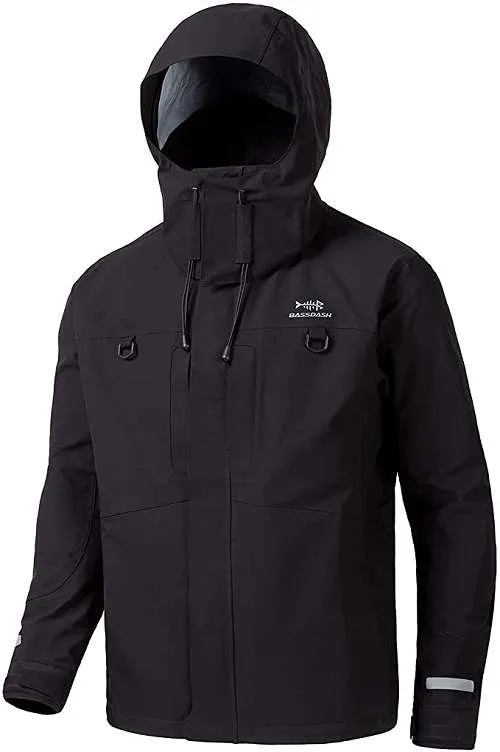 Lastly, two D-rings can be found on the chest for tool attachment, and another D-ring is located on the back for a net. This is a stylish-looking jacket that will keep you dry and warm while fishing.

Features/Specifications
Comes in three colors (black, fluorescent yellow, green/black
3-layer water protection
Fully taped seams
Neoprene cuffs
High collar with adjustable hood
Pros
Affordable
Durable
Breathable
Good mobility and range of motion
Cons
Best Fly Fishing Wading Jacket Under $100 | Budget Friendly
Caddis Men's wading jacket is the most affordable wading jacket on our list and marks up below $100!
It is made from breathable and durable polyester fabric that will keep you warm but still allows sweat and condensation to escape. There is tons of storage in the Caddis with a fleece-lined hood for added warmth.
Unfortunately, the wrist cuffs are not completely sealed, and there are no added side vents.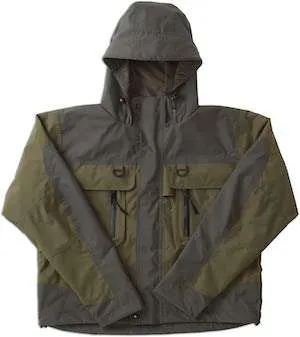 The Caddis wading jacket is simple and affordable, a good jacket for someone who is wanting something minimal and inexpensive.

Features/Specifications
Polyester outer shell using CaddisDry technology
Fleece-lined

collar w/hood

Waterproof zippers
Additional D-rings for tool attachments
Pros
Affordable
Breathable
Fleece-lined hood
Lots of storage
Cons
Lesser quality materials
Lacks exterior water repellent
No air vents or sealed cuffs
Our last featured wading jacket is the Compass 360 Point Guide. This is a tough and very affordable jacket. It is made from high-quality polyester and treated with a durable water-repellent coating.
The point guide comes with tons of storage space and has two fleece-lined hand-warming pockets.
Like some of the others, this jacket will offer superior water protection without costing an arm and a leg. A nice, durable, and straightforward wading jacket.

Features/Specifications
Waterproof and breathable materials
Neoprene wrist cuffs
Lots of pockets
Daisy chain for tool attachments
Pros
Affordable
Breathable
Hand warming pockets
Plenty of storage space
Cons
Low-quality hardware
Bulky
Conclusion
Overall, wading jackets make a nice addition to your waders and shouldn't be overlooked as a useful piece of equipment. Whatever your fly fishing needs are, we hope this article gave you insights into what to look for when choosing a wading jacket and provided some great options for shoppers.
Feel free to leave a comment and let us know what was helpful or could be improved.
Related Readings: