For many anglers, their fly box is their baby.
Having the right box for the right situation not only makes you more efficient on the water but can give you a sense of joy by merely looking at it. Whether you tie your own flies or not, there is something about seeing them all lined up and waiting to be chosen.
Just as there are many different types of flies, there are many different fly boxes, all built for different purposes.
In this article we will cover:
Best All-Around Fly Boxes
Best Fly Boxes for Streamers
Waterproof Fly Boxes
Dry Fly Boxes
Nymph/Midge Fly Boxes
Best Fly Box for the Money
Best Saltwater Fly Box
Best Streamer Wallets
Best "Miscellaneous" Options
Types of Fly Boxes (materials)
How to Choose the Right Fly Box?
Conclusion
Free silicone fly box with every purchase
Asheville, North Carolina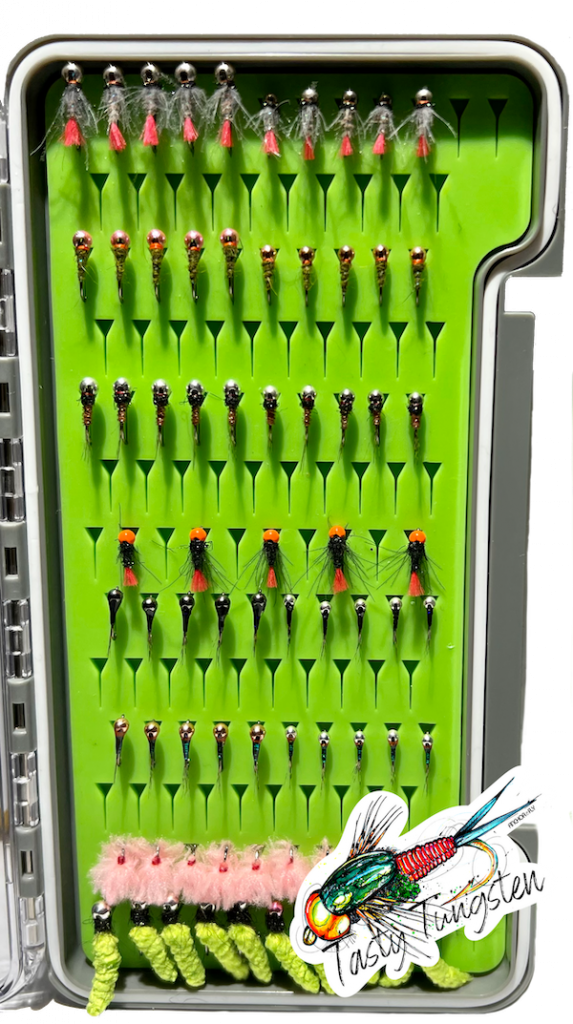 Best Fly Boxes Overall
We found 3 fly boxes that exceed standards in quality, versatility, and price.
Fishpond purchased the Tacky line a few years ago when it became clear that Tacky was keyed in on something big. These fly boxes are the industry standard because they are DURABLE.
Their patented silicone anchoring technology has replaced foam and won't degrade
There's no latch closure on the Tacky Double Haul fly box. Instead, it operates on strong magnetic closures located in the corners. The Double Haul has a capacity of 287 flies while still maintaining a fairly minimalistic 7" x 3.75" x 1" profile.
Specifications/Features
7″ x 3.75″ x 1″
Holds 287 flies!
Silicone anchoring
It's the go-everywhere, always-be-prepared box, with one side equipped for nymphs and the other equipped to hold and protect dry flies.
At $34.95, it's an incredible value, considering that Tacky fly boxes are noted for having the best durability and strength in the game.
This is a do-it-all, no-frills fly box that can carry everything from small midges to streamers to dry flies all in one box. It's compact enough to slide into your shirt pocket coming in at a size of 6" x 4" x 1 ⅝".
The Cliff Super Days Worth box has three layers: the first layer is a magnetic bottom designed to hold small midges and bead heads.
The middle foam leaf can be used for larger nymphs and streamers, and the top has foam strips designed to protect dry flies with tails and hackles.
You'll always be prepared with this box – and you won't have to carry a bunch of different boxes to do so.

Specifications/Features
6″ x 4″ x 1.5″
3 types of anchors
Carries everything
Umpqua offers a large selection of fly boxes to meet your fly storage needs. This is their best all-around box. The UPG HD Medium Day Trip box features magnetic swing leaf inserts that will securely store midges, nymphs, and dry flies.
This waterproof box has see-through lids and measures 6.25" x 4.5" x 1". It's durable and functional, and the variance in storage options in such a compact container is a very nice option to have. Umpqua made a winner with this fly box

Specifications/Features
6.25″ x 4.5″ x 1″
Magnetic Swing Leaf
See-through lids
Best Fly Boxes for Streamers
Finding the right fly box to house your streamers can be tough.
You need something with enough depth to hold bigger hooks, and enough space to carry bigger bodies, and that's all before you consider the potential complication of trying to contain articulated streamers.
The Umpqua UPG LT Large Streamer fly box answers all of these streamer challenges. It has a lightweight design that won't bog you down and magnetic closures for easy access. It measures 7.25" x 4" x 1" and features Umpqua's MegaSlit foam for holding your assortment of meaty patterns.

Specifications/Features
13″ x 10″ x 1″
Magnetic closure
MegaSlit Foam
Cliff Outdoors makes great fly boxes, and they have the branding aspect nailed with this one.
Something about calling a fly box for streamers "The Bugger Barn" makes me want to fish my flies hard and put them away wet in this box. And that would not be good for the flies, I wouldn't recommend doing that … but if you are looking at a streamer-specific fly box, I'd recommend giving this box a look.
At 8 ¾" x 4 ⅜" x 1 ⅜" it's big enough to store your streamers. It's durable and lightweight, and the foam fits snugly around streamer hooks and seems to be of a durable mold.
Specifications/Features
8.75″ x 4.75″ x 1.25″
Large Fly Box
Durable hold
---
Other Gear-Related Articles
---
Best Waterproof Fly Box
As we talked about earlier, you can't go wrong with a Tacky fly box. This may be their best one yet. It's 100% waterproof – keeping water from getting in from the outside, and breathable.
The breathable eVent Fabric material allows moisture from partially damp flies to dissipate and escape. This fly box holds up to 100 flies and features a latch-less closure system. As is the case with all Tacky boxes, it's durable and long-lasting.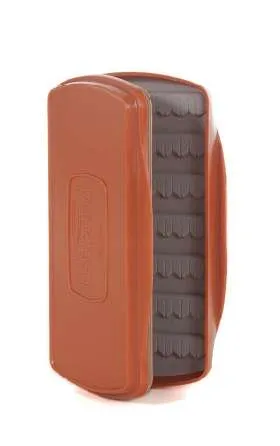 Lastly, the Pescador is made from recycled materials and features an attractive cover.

Specifications/Features
8″ x 4″ x 1″
100% waterproof
Breathable EVent Fabric
Holds 210 flies
Comes in orange or blue
Best Dry Fly Box
A key component on a dry fly box is the ability to allow your flies to sit high in the foam (or other material) so as to protect delicate dry fly tails and hackles.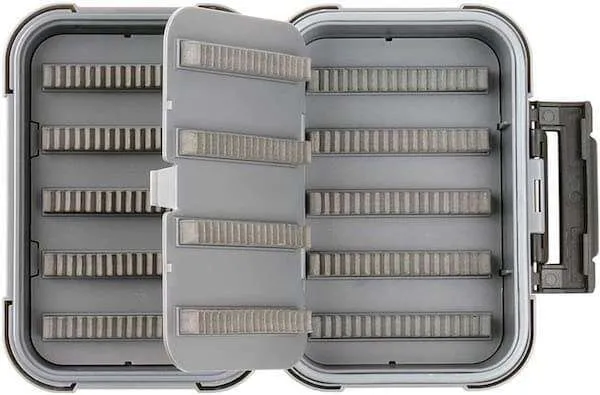 Nobody wants to store their dries, get out onto a stream to find trout rising to a hatch that you have a perfect imitation of, only to open your fly box to discover that your dry flies have flattened out and become unfishable.

Specifications/Features
5″ x 3.75″ x 1.5″
Flies sit high
Removable swing leaf
The Blue Ribbon fly box by Flambeau Outdoors features ripple foam that protects from this nightmare. It features a swing leaf and a very sturdy latch. Your dry flies are safe in this box and they'll maintain their shape. The importance of this can't be understated.
Nymph/Midge Fly Boxes
If you consistently fish tailwaters and rely on small midges to get the job done, you're probably all too familiar with the battle of threading the needle when it comes to getting your tippet through a tiny hook-eye on a size #18 pheasant tail.
The C&F Threader Midge fly box has you covered with six built-in threaders (sizes #12 through #18) inside the box that you can pre-load your flies onto. When you pop open your box, the threaders stick up.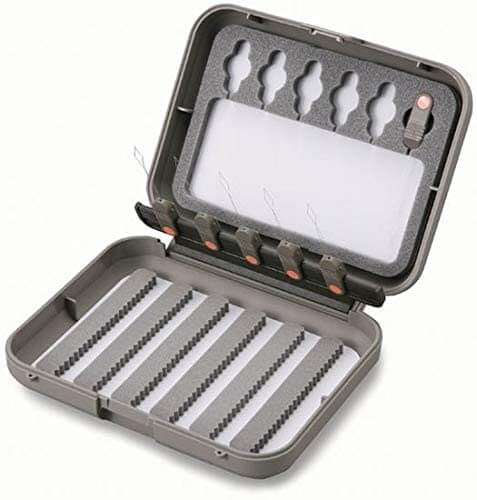 All you have to do is poke your tippet through the desired threader and your fly is threaded automatically. In addition to this sweet innovative design, this box can hold up to 138 flies and measures 13" x 10" x 1".
Specifications/Features
13″ x 10″ x 1″
Holds 138 flies
6 Built-in Fly threaders
Tacky's Original Fly Box makes for a great nymph and midge box. The teardrop-shaped, silicone anchoring technology holds small flies firmly and allows you to push your nymphs and midges down to prevent opening your box to a jumbled mess.
It comes in both a single-sided edition (holds up to 168 flies) and a double-sided box (holds up to 336 flies).
No matter how simple or deep your nymphing arsenal is, it will be anchored safely in the Tacky Original fly box.
Specifications/Features
7″ x 3.5″ x 0.65″
Holds 168 flies
Silicone anchoring technology
Best Fly Box for the Money
If you're on a budget and trying to pinch pennies to save up for a new rod or a drift boat, Aventik has a nice lower-cost option in their Silicon Super Slim fly box.
The silicone pads are comparable to some of the competitors' boxes that we've already covered.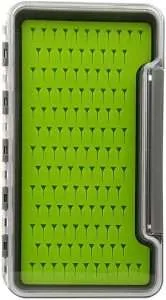 This box also features a transparent lid. It comes in two different sizes: a medium box that holds up to 77 flies and a large box that holds up to 110 flies. If you need an extra box here or there and don't want to drop the extra money, this is a good solution.
Specifications/Features
7.25″ x 4″ x 0.5″ (L)
Silicone Pads
Holds 110 flies (L)
Best Saltwater Fly Box
Keep your flies separated from the salt water with this fly box from vision. It's waterproof to protect hooks and materials from corrosive elements, with foam on both sides. It measures 9″ x 5″ x 2″
If you have a need for a larger box for bigger bass bugs or a smaller box for crab patterns, Coldwater has other saltwater fly box offerings as well.
Specifications/Features
9″ x 5″ x 2″
Holds Large Streamers
100% waterproof
Best Streamer Wallet
This is a streamer wallet that belongs in the inside pocket of a tweed sport coat or on the coffee table of a cabin in the woods next to an extinguished pipe.
The good news is that none of these are necessary requirements for owning the Orvis Classic Streamer Wallet – they're merely suggestions.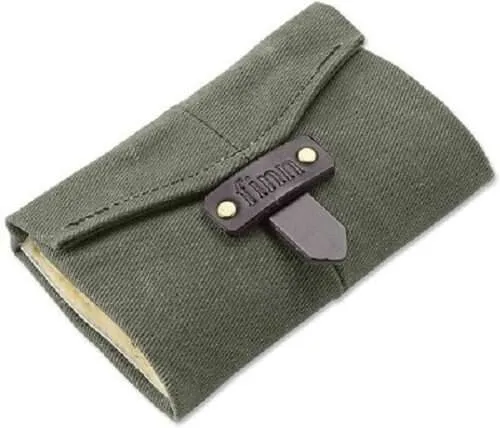 This streamer wallet features a sturdy water-resistant waxed twill canvas material and a leather fastener. Inside are matching patches of thick natural sheep's wool to hold your streamers. It also has a small pocket on the inside to tuck away extra leader materials.

Specifications/Features
Water-resistant canvas
Sheep's wool patching
Small pocket for leaders
Types of Fly Boxes
As we've covered so far, there are many different types of fly box materials.
They all provide different benefits and trade-offs, and it's worth considering this when you pick out a fly box. Here's a brief review of some of the materials found in fly boxes.
Foam
Foam has been the go-to fly box material for a long time. It makes for a soft holster for your flies, allowing for easy removal and placement on the go and in the water. As it is cheaper and easily replaced, you can usually find foam in many different fly box options and sizes.
Silicone
Silicone fly boxes are catching on lately. This material has found a home in the fly box world due to its "memory" – that is, its ability to retain its shape over time. Silicone is a longer-lasting option than other materials.
It can be a little more on the expensive end, and as such, there aren't as many silicone-based fly box options on the market just yet.
Magnetic
Magnetic fly boxes are a specialty tool that does a great job of holding small flies. Midges, other small nymphs, and even small dry flies all fit well into a magnetic fly box, which often features closable divided compartments for keeping your flies organized.
This allows you to avoid having to try and delicately slide a small fly into a foam or silicone backing without destroying the fly. Simply drop, close the compartment lid, and off you go!
Wooden
Aside from the cool "retro" factor, wooden fly boxes can serve a bit of a purpose as well. Nothing floats quite like wood.
They make a great conversation starter, allow you to personalize your box down the road, and can end up turning into legacy-type fly boxes if you invest the right money and artistic talent into a wooden fly box.
One tip for exploring wooden fly boxes: try contacting woodworkers or small furniture makers in your area. They could be willing to make you an as-specified fly box to fit your taste and personality.
How to Choose the Right Fly Box?
With all of the different materials, styles, and sizes of fly boxes out there, choosing the right fly box comes down to meeting your personal needs. There are options for every angler.
The best step to getting organized and deciding on a fly box (or boxes)? Make a prioritized list of what you need and what you'd like, and go from there. Here are some important things to consider:
Capacity
If you can't fit the flies that you need into your fly box, is it doing you much good? This doesn't necessarily mean ALL of your flies – so decide ahead of time what your intended capacity will be for a box before you set out and search.
One word of advice? Always leave some extra room for fly patterns that you discover, or flies that a friend lends you. It's always helpful to have a few open slots for flies in each of your boxes.
Profile
Your fly box needs to be able to fit where you want to put it. Whether it's a shirt pocket, your sling pack, or underneath the seat of your drift boat, know the dimensions of the intended space you want your fly box to occupy and then plan accordingly.
Material
I prefer to mix and match my fly box materials to my flies. If I'm looking to store my nymphs, I prefer silicone fly boxes. For small dry flies, I like to go with magnetic fly boxes. My larger articulated streamers work best in streamer wallets. Know the strengths and weaknesses of the different materials, and use that to your advantage.
Aesthetics
My baseball coach used to preach to us that it was important to tuck our uniforms in and wear our hats correctly because, as he put it, "If you look good, you feel good, and if you feel good, you play good."
I don't know exactly how straight-across this translates to fly fishing, but I believe that if you're going to buy something to put your flies in, you might as well like the way it looks.
Fly boxes can often be another opportunity to express your personality, be that in the form of a beautiful wooden fly box or a couple of stickers slapped on the back of a plastic fly box. Whatever works for you, works.
Conclusion
Having the right fly box can make a big difference. Organization on the water and taking good care of your flies can mean having success or not, and a fly box can aid in this endeavor. It pays to know both what materials and options exist in the market, and what your personal needs and desires are.
Before you land that fish, set that hook, or present that fly, you have to crack that box. Do yourself a favor and make sure that you're properly prepared. It will pay off!
Thank you for taking the time to read this article. Please feel free to leave a comment with your thoughts and suggestions.
Related readings: