Our Picks for best overall, budget, beginners, as well as glass. Explore below!
We have accumulated our list of best fly fishing rods based on the quality of materials, hands on experience, and user reviews.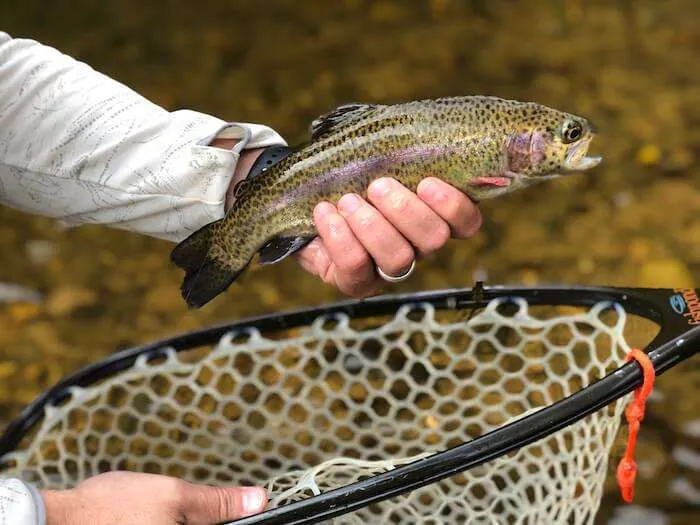 Because fly fishing is so versatile we wanted to make this list with the trout angler in mind. That doesn't mean these rods couldn't be used for bass, pike, or saltwater, but we have specifically included rod weights and lengths ideal for trout fishing.
In This Guide, We'll Cover
Introduction
Best Fly Fishing Rods (Overall)
Best Beginner Fly Fishing Rods
Best Fly Fishing Rods For the Money
Best Fiberglass Fly Rods
Specialty Vs. All-Around Fly Fishing Rods
Fly Rod Lengths
Fly Rod Actions
Fly Rod Weights
How To Choose a Fly Rod
Other Considerations When Purchasing a Fly Rod
And much more!
Let's get started!
---
Introduction
Fly rods differ from other rods in design and how they are used. Typical spin or bait casting rods are developed so the weight of the lure is the main propellant, while a fly rod uses the weight of the line to cast the fly.
Fly rods are longer than other types of rods and range anywhere between 8 – 12 feet, with the majority falling in the 9 foot category.
Best Fly Rods (Overall)
This category is dedicated to rods that outperform their competitors when it comes to ease of cast, recovery, strength, accuracy, and materials.
These rods are one of a kind!
The Helios 3D by Orvis has made a name for itself with anglers across the country.
The D in 3D stands for distance, a feature Orvis tried to highlight with this model. They also have a 3F for finesse and more appropriately, dry fly fishing.
Both of these rods are amazing, and with this new technology, Orvis claims they have been able to reduce loss of energy when casting—this generates a more central and fluid transfer of motion, resulting in superior casts.
An all-around stellar rod.
Specifications/Features
Anodized aluminum reel seat with black carbon reel inset

REC recoil snake guides

Titanium stripping guides

Attractive matte black finish

Fast action, designed for incredible distance and precision accuracy

Comes with an aluminum rod tube

The most important component of Sage's X rod is its use of KonneticHD technology. KonneticHD is a higher density (HD) fiber composite, which translates to lighter and stronger rods based on the graphite to resin ratio that make up the blanks.
One extremely valuable feature is the ability to cast more accurately and create tighter loops.
The Sage X has an incredible transfer of energy and rod recovery, allowing for more efficient casts.
Specifications/Features
Secure anodized aluminum reel seat

Black spruce blank cover on reel seat

Fast action but can be felt further down the rod

Control loops better

Fuji ceramic stripper guides

Thomas and Thomas have been another staple in the fly fishing world. For over 50 years they have been manufacturing rods with a passion.
The Avantt series is a lightweight fast-action rod with incredible accuracy. The StatoTherm resin they use in the blanks helps minimize vibrations—allowing a more accurate presentation and a quicker recovery time.
With T & T's lifetime warranty, you'll have a forever rod in the Avantt series.

Specifications/Features
Low friction finish in matte blue

Fast-action but lightweight

Titanium stripping guides

Black Ash burl up locking reel seat

Lightweight and accurate

StatoTherm graphite composite, limits casting vibrations

Our last featured rod in the overall category goes to The Sky G from Douglas. Douglas has consistently been ahead of the curve when it comes to rod design and technology.
The Sky G incorporates G tech platelets into the rod blank — a material 10 times stronger than steel, and much lighter too. The G- tech platelets are an excellent conductor of energy, providing amazing response and recovery when casting.
The Sky G, like all Douglas rods, comes with a lifetime warranty.
Specifications/Features
Moderate-fast action rod

Extremely light and strong rod with the introduction of G tech platelets

Titanium stripper guides

Skeleton aluminum reel seat with burled blackwood

Glare blocking matte finish

AAA cork

Aluminum rod tube

Best Fly Rods For Beginners
We have selected two models to be featured in our best beginner fly rod category.
These rods may not be made with the highest quality materials, but are perfect for new anglers trying to learn the art of fly fishing. These rods were selected for their ease of casting, accuracy, lightweight design, and price.
---
Other Gear Related Articles
---
Temple Fork Outfitters has been an authority in the fly fishing industry, with much of its success coming from the input and development of Lefty Kreh.
The professional series of fly rods are included in the "best fly rods for beginners," because of their ease of use and versatile applications. However, this is a go-to rod for even more experienced anglers (myself included).
TFO's professional series are medium-fast action graphite rods. This rod is sturdy enough to cast large streamers, and with the progressive taper, it's delicate enough to handle tiny dries. The design is simple, yet elegant, and features a matte black finish that comes with a soft fabric rod sock.
Specifications/Features
Medium-fast action

Sturdy yet delicate rod blank

Anodized aluminum reel seat

Aluminum stripping guides

Premium cork handle

Affordable

The Echo Carbon XL is a medium-fast action rod. This is a superb entry-level fly rod. Perfect if you're dabbling in fly fishing and don't want to spend hundreds of bucks on a high end model. (This is the first rod I got for my wife, and often find myself using it more than her).
I love echo for their warranty, they will repair or replace any rod for $30. A nice thing about the Carbon XL is its super light and clean feel.
This model is a little faster than a typical medium-fast action rod but does have a soft tip for better accuracy a characteristic favorable for beginners.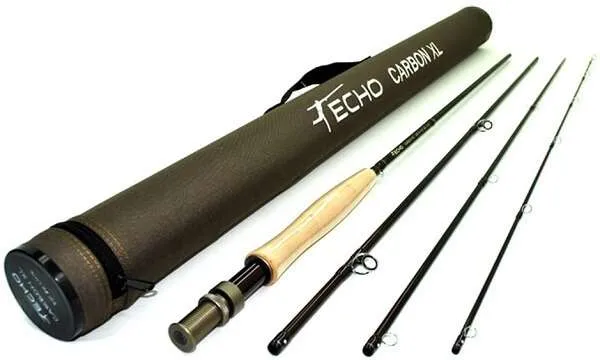 Specifications/Features
Medium-fast action rod

Lightweight ceramic stripping guides

Fabric covered rod tube with sock

Carbon fiber reel seat

Lifetime warranty

Affordable

Best Fly Rod For The Money
These are some decent rods we've found if you're needing a backup or trying to watch your wallet. These budget beauties sell at under $200 without compromising accuracy, durability, and recovery speeds.
One rod that ticks every box for anglers, the Orvis Clearwater has a big reputation and one that rivals some of Orvis's higher end models.
The clearwater is a medium-fast action rod. It does feel a bit heavier than other rods in this category, but the added weight doesn't interfere with casting. The tip is super soft and works great with light tippets.
The Clearwater is surprisingly accurate at long distances. I use a 5 wt – 10 ft for euro nymphing that can place my flies where they need to be, and the super delicate tip helps me notice strikes.
Specifications/Features
Medium-fast action

Attractive black chrome with a white finish

Chrome snake and stripping guides

Black nickel aluminum reel seat

25-year warranty

Affordable

---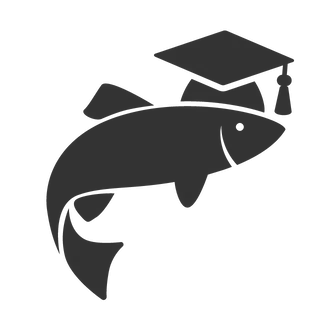 Check out our in-depth review of the Orvis Clearwater if you want to learn more.
---
Over and over, Redington's Vice rod has seen some of the highest ratings from anglers. Considering the quality of this rod, most are shocked when they find out it's currently under $200.
The vice is a forgiving fast action rod, helping novice anglers with their accuracy. It also features carbon fiber blanks, which create a quick recovery time and improved accuracy.
Specifications/Features
Fast action

Quick recovery

Black anodized aluminum snake guides

Anodized aluminum reel seat

Rod tube with built in rod dividers

Lifetime warranty

The Drifter by the Moonshine Rod Co. is one of the prettiest rods out there; resembling some of the higher end rods. The Moonshine Rod Co. is a fairly new company using quality foreign and domestic materials.
One really valuable component to their rods is the fact they all come with an extra tip piece, just in case you break the tip off during a trip.
The rod is made from quality graphite and includes a hand-turned spalted burl that has been dyed to show vibrant colors and grains of the wood. The Drifter rod has a medium action, which does wonders at mid-range and roll casts.
Specifications/Features
Medium action

AAA cork with burled ends

Anodized copper reel seat and guides

Dyed spalted burl reel seat

Comes with an extra tip piece

---
Other Fly Rod Related Articles
---
Best Fiberglass Fly Rods
Fiberglass rods were invented in the 1940s to replace metal and bamboo rods. They became the most popular and desirable rod material, but slowly disappeared in the 70s with the introduction of graphite rods.
Some rod companies have started to reproduce these wobbly wonders with maybe nostalgia in mind. Many anglers love the feel of fiberglass rods and it can be a thrill catching fish with one.
However, there are some drawbacks with fiberglass rods — they tend to be inaccurate and unable to cast far distances. With that being said, they are primarily used when fishing dries or on smaller creeks.
Orvis is one of the oldest fly rod manufacturers in the world. Their breadth of knowledge is unparalleled, and it shows with their superfine glass rod.
This fiberglass rod is unique in that it incorporates 10% graphite fibers. This isn't much, but enough to increase the stability and force of the rod, and conversely, not give up the long and slow action that glass rods are known for.
The superfine glass rod loads deep and can be felt almost to the reel seat. Like all fiberglass rods, they are relatively inaccurate at long distances, but this one does a fine job at putting your flies where you need them. The rod is a beautiful dark green color with a rich maple reel seat.
Specifications/Features
Available in 3, 4, and 6 wt models

Medium-slow action

Classic look and feel

Quality reel seat and guides

Premium cork handle

Echo's River Glass is the perfect rod for a new angler wanting to get into fly fishing, along with seasoned fishers who want to try out a fiberglass rig.
This rod is lightweight and casts smoothly. The delicate presentation is soft enough to cast tiny dries in short corners. The River glass loads well and is forgiving enough for new anglers to adjust their cast based on the rod's slow-medium action.
It comes in two striking colors that are hand-painted. Overall, the Echo River Glass is well worth a mention and with a price currently of about 250.00 dollars it's hard not to add this rod to your arsenal.
Specifications/Features
Medium action

Chrome reel seat and snake guides

Fiberglass rod tube

Premium cork handle

Hand-painted

Affordable

---
Types of Fly Rods: Specialty vs. All-Around Rods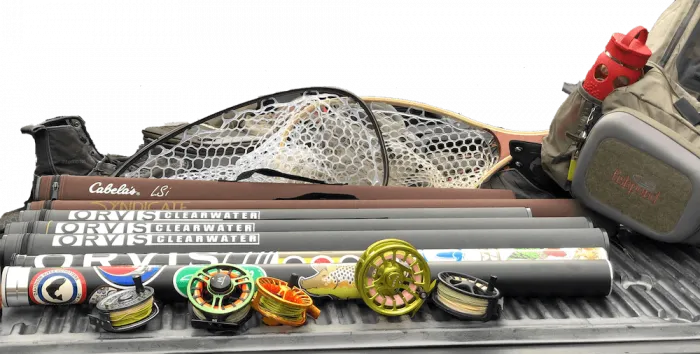 The sections below contain general info. when it comes to fly fishing rods. If you wish to explore more info. like this, you might enjoy, Fly Fishing for Beginners
There are several types of specialty rods designed for specific types of fishing styles. On the other hand, all-around rods offer versatility in their fishing applications—oftentimes making them a better choice for new anglers or anglers with diverse fishing styles.
All-Around Rods
These are rods that we have featured in our list above. An all-around rod usually consists of 5 wt – 9 foot rods. These are sturdy enough to cast heavier nymph rigs, but still delicate enough to place dries. Even smaller streamers can be used with a 5 wt 9 ft rod.
Spey/Switch Rods
Spey and switch rods are fairly unique that almost feels like a different kind of fishing altogether. The main function of spey and switch rods is the use of both hands. However, switch rods in theory can function with one hand.
The other main difference with spey and switch rods is how you cast. Traditional spey casting uses the tension of the line on the water to load the rod, as opposed to traditional back casts. Spey rods tend to be much longer than traditional fly rods measuring up to 14 feet in length! Switch rods are also longer ranging from 10-12 feet in length.
One of the biggest advantages that spey and switch rods have is their ability to cast in areas with no room for backcasts and can cast very far distances. Spey and switch rods are mostly used on bigger rivers when you're swinging streamers or nymphs for steelhead and salmon.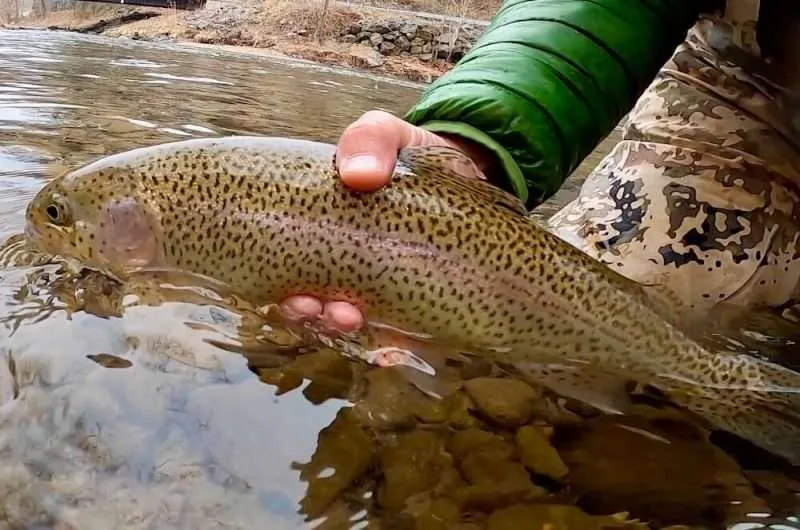 Tight line nymphing or Euro Nymphing Rods
Euro nymphing rods are going to be fairly similar to all around rods, with the exception of the length. When euro nymphing a longer rod is advantageous in it allows the angler to cover more water. Typically a 3-5 weight and at least 10 feet in length are considered optimal.
Tenkara
Tenkara fishing is a traditional style of Japanese fishing most commonly used in Japan's small mountain streams. Tenkara fishing has been gaining popularity in the United States for its simplicity and elegance.
Tenkara fishing rods are usually 10-15 feet long and do not use a reel. Instead, the line which is tapered is tied directly to the tip of the rod. The style allows the angler to cast very accurate dry flies.
Fly Rod Lengths
Fly rods come in a variety of lengths. The most common is 9 feet, and a great all around length for trout on medium sized rivers. Oftentimes, a longer rod can help cast further but hinders accuracy. A shorter rod is more useful in smaller streams while needing to cast small dries with precision.
Fly Rod Actions
A rod's action refers to its stiffness, flex patterns, and ability to recover after a cast. There are 3 rod actions; fast, medium (or moderate), and slow. Some rod companies describe their rods as medium-fast adding a 4th category.
Fast Action
Very sturdy and stiff
Only the tip bends while the majority of the rod doesn't
Usually made from graphite or graphite components
Best for bigger fish, casting long distances, and windy conditions
Can be challenging for new anglers
Medium or Moderate Action
Best all around action for beginners
The top quarter to half of the rod bends
Made from graphite or fiberglass
Good for nymphing, dries, and streamers
Casts medium distances, with decent accuracy
Slow Action Rods
Most flexible
Made from fiberglass or bamboo
The top ¾ of the rod bends
Great for short casts
Accurate placement of dry flies
Mostly used when fishing small creeks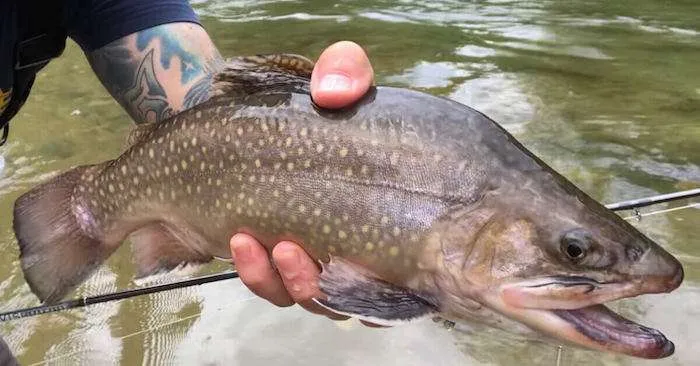 Measuring Fly Rod Weights
Rod weights can be a little confusing for new anglers. The weight of the rod does not mean their actual physical weight, but an approximate value placed on the rod to match the line weight. Conversely, the rod's weight also means a stronger and sturdier rod.
0-3 Weight – Best for small trout, panfish
4-6 Weight – Best all around size. Can be used for medium to large trout and small bass
7 – 8 Weight – Best for bass, steelhead, smaller salmon, and smaller pike
9 and above weights – Large salmon, pike
How To Choose A Fly Fishing Rod?
There are a few considerations that should go into choosing a fly rod. The first is determining what you will be fishing for and the techniques you'll be using. These two questions will help you determine what length and weight rod you should choose.
Length – choose a rod that will fit the type of water, fish, and techniques you'll be incorporating.
Weight – As mentioned above, find a fly rod weight that will match the type of fishing and fish you target.
Action – Some types of fishing techniques require different actions. If you're new and unsure, stick to medium or medium-fast action.
Materials – As far as materials go, a graphite rod or some type of graphite composite will be preferred. Bamboo and fiberglass rods can be really fun in certain situations, but graphite will be the most versatile.
Additional reference from Ubalt University on choosing a fly rod
---
Other Considerations On Buying a Fly Rod
We have come up with a few tips for new anglers on how to purchase a rod.
Outfit or fly rod combo vs. Rod Only – There are many different full rod packages out there that provide a reel, line, backing, case, tippet, etc. These can be really easy for new anglers wanting to get all the required gear in one place. The downside to this is, it doesn't allow you to find your preferred reel or line. In some instances, it can actually be cheaper to buy each component separately.
Check out Best Fly Rod Combos for more info
Price – Fly rods have a big range when it comes to price. It's important to consider your budget and what you're able to spend. There can be a lot of advantages when buying a really expensive rod such as new technologies, better materials, and more aesthetically pleasing.
However, the most important aspect of one's ability to catch fish is the angler themselves. Having the nicest rod can be fun to show off to your friends, but if your overall skill level is lacking, there's not much a super expensive rod can do.
Conclusion
Thank you for reading! We hope this article was helpful!
Feel free to leave a comment describing what you liked or think we could improve on.
If you feel confused or need additional info. on fly rods in general –please explore our Fly Rod Category, as there is a myriad of resources available to help you gain clarity.
Related Readings: