Fishing in a float tube is a fun and convenient way to fly fish, it also allows anglers to access waterways that are difficult to wade in and much larger bodies of water.
Float tubes offer several advantages over typical wade or boat fishing, which we will explore in this guide. We have gathered our top picks for float tubes based on quality, affordability, and customer reviews.
In this guide we'll cover:
Best float tubes (overall)
Best float tubes for the money
Best backpacking float tubes
Float tube accessories
Why use a float tube?
Things to look for when buying a float tube
How to inflate a float tube
Frequently asked questions about float tubes
And much more!
Let's get started!
---
Best Fishing Float Tubes (Overall)
The Cumberland Inflatable float tube by Classic Accessories is our top choice for float tubes. This durable float tube is made from waterproof nylon composite with a PVC-enforced bottom.
The convenient U shape of the tube allows for easy maneuvering and steering. The Cumberland is also great for dry fly anglers as the extra high seat allows for increased visibility.

Specifications:
56″L x 44″W x 19″H

14 lbs. (inflated)

Max capacity 350 lbs.
The mesh stripping apron keeps your fly line organized and at the same time features a ruler for quick measuring of your fish. The float tube has tons of storage space behind the seat and compartments on the side of the tube.
The tube packs down nicely with backpack straps to carry your tube into secluded waters.
Pros 
resistant bottom

Extra high seat

Plenty of storage

Stripping apron with a ruler

Rod holder

2 cup holders
Cons
Only 1-year warranty

Some people have noted the air bladders are not very durable
Our other featured float tube in the best overall category goes to the Togiak by Classic Accessories. This is a step down from the Cumberland, but still an excellent float tube at a slightly more reasonable price.
The Togiak is made from waterproof and durable nylon composite. This tube can be inflated in several minutes with a hand pump. Several pockets and extra room for additional gear ensure you'll have all your equipment ready to go.
Specifications:
55.25″L x 47″W x 19″H

15 lbs.

Max Capacity 300 lbs.
The float tube packs down and is carriable through the use of attached backpack straps.
There is also a fishing apron with a fish ruler to keep your fly line organized and track your fish sizes. The seat has an extra high backrest for added support and is cushioned for comfort. Be prepared to up your stillwater fishing game with this float tube.
Pros
Affordable

Easily carried with backpack straps

Armrest gear compartments

Rear storage area

Stripping apron with fish ruler
Cons
Seat is not very balanced

Sits high in the water, making paddling difficult
Outcast has been a big name in float tubes and pontoon-style rafts for a while. This Fish Cat 4 is an upgrade from some of their older models.
Just released in February of 2021, the Fish Cat 4 is making a name as one of the best float tubes currently on the market.
2 vinyl air cells inflate quickly and easily. The bottom is made from durable 1,000 denier PVC. 

Specifications:
54″ x 44" x 12"

16 lbs.

Max capacity 250 lbs.
The tube itself only weighs 16 lbs. but can still fit easily in a backpack and be carried.
The Outcast Fish Cat 4 features an easy-to-manage design and two armrests with large storage compartments. The seat sits higher and along with the backrest are both padded. It also comes equipped with an adjustable stripping apron.
Pros 
Extra High Seat

Comes with an adjustable fly-line apron

Large Armrest pockets

High seat for easy casting
Cons
Doesn't feel stable on the water

Limited rear storage space

More expensive than other float tubes
Best Fishing Float Tubes For the Money
We have found two great float tubes that include some great features but at a modest price.
This is such an amazing float tube and a price that is hard to beat. This float tube has a holding capacity of 350 lbs! That's the best buoyancy of any of our other float tubes. It is made from durable PVC with waterproof polyester fabric on the outside.
The Goplus float tube has a shoulder strap on the bottom of the tube so you can easily carry it when it's inflated.
Specifications:
53.5″L x 41.5″W x 21″H

12.5 lbs.

Max Capacity 350 lbs.
The design of the tube is optimal for steering and maneuvering throughout the lake. It's easy to stay comfortable in the Gopulus float tube with the slightly wider seat and cushioned backrest. Additionally, there is a seatbelt to ensure you stay safe when on the water.
There are two zippered armrest compartments and a very large mesh storage area behind the seat. The float tube also has side loop hooks and D-rings on the exterior for attaching a stringer or anchor.
Pros
Holds 350 lbs

Sits high in the water

Comes with pump

Very durable

Affordable
Cons
Some buyers have experienced poor customer service

The pump does not work well

Pushes rider forward in some instances
Caddis float tubes have been a staple among anglers over the years. The Nevada model is a perfect entry-level float tube with some sophisticated features.
The tube itself is made from thick vinyl covered in a nylon composite. In addition, the exterior has fluorescent accents to help ensure you're seen on the water in low-light scenarios.
There are two large armrest compartments with a fly-drying patch. The float tube also has a front rod holder, a mesh stripping apron with a fish ruler, and multiple D-rings scattered throughout for attaching additional gear.
The Caddis float tube also has a padded stabilizer bar in the front to minimize unwanted movement while fishing.
Specifications:
46" x 20" x 42"

10 lbs.

Max capacity 225 lbs.
Pros 
Fluorescent accents

Lightweight

Fly drying patch

Rod holder

Affordable
Cons
Hard to stay upright

Some reported issues holding air

Material is not as durable
---
Other Gear-Related Articles
---
Best Backpacking Float Tube For Fishing
Float tubes can be excellent options for those small secluded lakes that don't support boats or are too far to carry a canoe or kayak.
We wanted to highlight one float tube that is durable but lightweight to take on your next backwoods adventure.
If you're looking for a high-quality float tube to get you around the lake that won't cost a fortune, the Teton is a great buy. Made by Classic Accessories, this durable little float tube is lightweight and perfect for those backcountry trips.
Like all the Classic Accessories float tubes, the Teton comes with a fishing apron and fish ruler. The air bladders are made from strong vinyl with a nylon covering.

Specification:
42.5″L x 40″W x 18.5″H

8.5 lbs.

Max capacity 250 lbs.
There are several armrest pockets and a backrest storage compartment to hold all your equipment. The seat is built into the design of the tube but is sculpted and cushioned for comfort.
Pros 
Durable nylon composite material

Lightweight design

Easy Steering

1-year warranty
Cons
Difficult to Maneuver if waves or current

Small seat

No quick air release, deflating takes a while
Fishing Float Tube Accessories
Float tubes come with plenty of features to keep you on the water and catching fish. However, there are a few other accessories we wanted to mention to increase convenience and efficiency—helping you catch more fish!
Float Tube Pumps
Some of our featured float tubes come with a small hand or foot pump, but it's not a bad idea to have a backup just in case.
When purchasing a pump, it's worth noting to make sure the nozzle of the pump will fit the different size holes of the tube.
Simple but durable hand pump
Lightweight and efficient
Multiple nozzle sizes
Affordable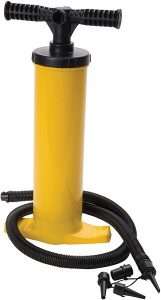 Best Float Tube Fins
Fins are one of the most important accessories when fishing from a float tube. Fins allow you to move around the water with ease but also help stabilize you in windy or wavy conditions.
Float tube fins are designed slightly differently from snorkel or scuba fins and usually consist of straps as opposed to an opening to slip your foot into. This is ideal in that you can adjust the tightness for added comfort.
Here are two pairs of float tube fins we feel are great options.
Designed specifically for the seated position
V-shaped for efficient movement
Fits men sizes 5-13
Step-in flippers with durable strap
Designed specifically for float tubes
Solid rubber material
Increased maneuverability and power
Comfortable one size fits all
Rod Holder
A rod holder is not necessary, but it can make things a little easier while on the water. Several different rod holder options include straps to wrap around the side of the tube.
Fits both fly and spin/baitcasting rods
47″ straps securely wrap around the side of the tube
Completely adjustable
Float Tube Bag
Here's another item that will help add convenience to your fishing trips. Having a bag to carry your float tube can be helpful, but also having a place to contain your wet float tube on the way home ensures the rest of your gear and vehicle stays dry.
Mesh sides for efficient drying
Duffle style handle
Large enough for a float tube, fins, and pump
Float Tube Anchor
Having an anchor, especially on windy days can be a huge help. It gives your legs a break and makes sure you stay in one place.
If you're planning on using an anchor make sure it is small enough to fit into your tube and the possibility of puncture is low. We recommend a folding anchor to save space.
Fully collapsible
Expands to 12 inches
Rust resistant
Comes with 25′ rope with steel snap hook
Why a Float Tube For Fishing?
In all fishing experiences one needs to be able to find fish or at least be in a location where fish will be. Having a float tube lets you get close to the fish, especially in places that are not accessible by wading or shore fishing.
Float tubes are also more convenient in several ways compared to a fishing kayak, boat, or other watercraft. The small profile and minimal height off of the water help anglers sneak up on fish and minimize the chances of spooking them from a high-profile watercraft.
Float tubes are also very portable and when deflated will pack down small enough to fit inside a large backpack. Furthermore, their small size allows for fun adventures in smaller alpine lakes where a raft or drift boat is impossible to reach.
What To Look For In a Float Tube
We've outlined a few of the most important features when deciding on what float tube is best for you.
Comfort
Comfort is everything. You'll be sitting in a float tube suspended halfway in the water for several hours, making sure you're comfortable is key. A few different features that will add to comfort is the seat and backrest. Having a cushioned backrest and seat could make or break your day on the water.
Size is another component that will add to comfort. It's important to have a float tube large enough to hold you but also spacious so you're able to maneuver and cast easily. Having a float tube that feels cramped may impact your ability to steer, cast, and essentially catch fish.

Safety
I feel like this one goes without saying but thought we'd still mention it. Safety is key in whatever fishing modality you're using, but especially in a float tube. Make sure you feel comfortable and secure in your seat.
If the tube has a waist or groin strap make sure to use it. If it doesn't have a strap it's not a bad idea to create your own, falling into a lake or river fully clothed with waders on is a lot harder to swim and float than it seems (speaking from personal experience).
Organization
Staying organized when you're in a stationary position is very important. In a float tube, you'll have limited access and movability to scrounging around looking for a particular item.
Most float tubes have armrest pockets with some additional storage behind the seat or in the backrest itself. You may also want to attach an anchor or secure other gear to your float tube and having numerous D rings and other hooks will make this much easier.
In addition, having a stripping apron is imperative for fly anglers. All of the products we've reviewed have this feature and for good reason. The stripping apron keeps your fly line in one place and not tangled up in your lap, waders, or around the float tube.
Portability
Float tubes come in a variety of sizes. The lightest ones are around 8 lbs. with 15-16 lbs. on the heavier end. Depending on your needs, finding the right size float tube will make a difference.
If you're looking for something to access backcountry lakes or ponds, a lighter tube is essential. You may also want a float tube that is easy to carry with backstraps or handles. As mentioned above, float tube bags are an option to help carry your float tube further distances.
How To Inflate a Fishing Float Tube
There are several ways to inflate your float tube. Foot and air pumps are the best option as they take a little more muscle but are the most convenient way of inflating. Another option is to use an electronic pump.
I will sometimes use a portable electric tire pump that connects to my car's power source. This is a quick and easy way to fill up your float tube.
Lastly, If you have the lung power, manually inflating the tube is an option. However this may take a long time, and depending on the nozzles of the tube, it may not be feasible.
Frequently Asked Questions about Float Tubes
Q. Do I need waders to use a float tube?
A. Float tubes generally require the use of chest waders to help stay dry and warm. It is possible to, "wet float" with shorts or a swimsuit in warmer waters although, having waders will increase your comfort.
If interested, check out our article on Best Fly Fishing Waders.
Q. Do I need a life jacket to use a float tube?
A. Safety is number one! If you are out on a body of water with some wind or current it may be helpful to have a lifejacket. Certain areas may require by law the use of lifejackets, so check your local regulations.
Q. How much can a float tube hold?
A. Float tubes can hold a range of sizes and weights, ranging from 200 lbs. to 350 lbs. Finding a float tube that will comfortably hold you is extremely important.
Q. Do I need flippers to use a float tube?
A. Not necessarily. You could do okay without flippers but will not move as fast or as effortlessly. If you have the option of using flippers, do so.
Conclusion
We hope this article has helped in your search for the best float tube for your fishing adventures. As always please leave a comment with what you liked or thought we could improve on.
If you haven't already done so, please sign up for our free email newsletter to be informed of new articles and other promotional offers.
Additional: