For Those Warmer Months
Waders are a crucial piece of fly fishing equipment. This article is aimed to help novice and veteran angler find their next pair of wader pants.
My goal in writing this article is to steer you, the fisherman, in the right direction so that you can make a confident and informed decision.
In this article we will cover:
Best overall wading pants
Best wading pants for the money
Difference between chest waders and wading pants
What to look for when buying wading pants
And much more!
Let's get started!
---
Waders are a truly incredible invention, Unfortunately, I didn't get the chance to appreciate their usefulness until much later in my fly fishing career than most people. I started at 7 and was the only member of my family who fished so waders were not in my parents' budget nor their scope of interest.
This left me at the mercy of my own bravery and the freezing winter water temps. I was lucky enough to get my first pair of waders from one of my mentors at 16, they were 2 sizes two big and leaked enough that if I stayed in the water all day they'd fill all the way up to my knees or higher.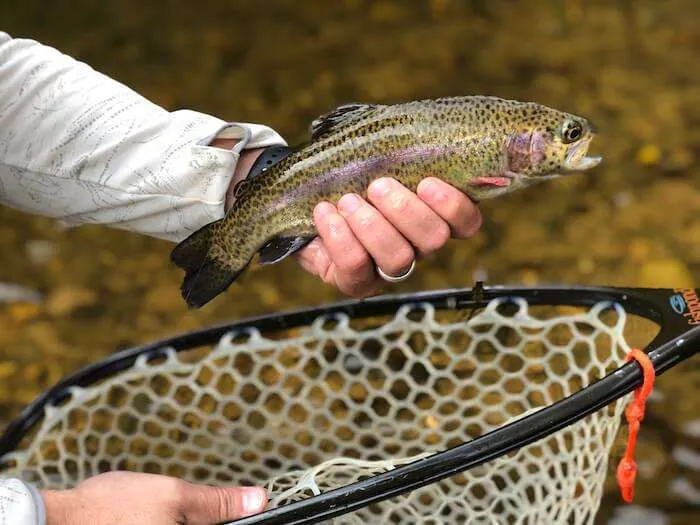 Even though they were as leaky as they were baggy they provided me with something that I had never had before, the ability to wade in the cold months. When I say wade, I mean really wade, as deep as I dare go to get that cast exactly where I wanted it or to cross the river in a spot that I had never been able to before and hit that one pocket that I had always eyed but hadn't been able to reach.
Up until the point of owning waders, I had just sucked it up and wet waded all winter, as a teenager, this wasn't really an issue, wet wading in January was just a part of fishing for me but a guy can only take so much, even at that age!
My trips were often time and tolerance limited, usually put on pause to go sit in the truck with the heat blasting and thinking that I might have legitimately suffered the nerve damage in my feet that I so often worried about actually getting.
Once I got a real pair of waders (Simms G4Z's) there was nothing that could hold me back, they opened every possible opportunity to me and gave me the ability to fish anything, anywhere at any time of the year and do it confidently and all in the dry, warm comfort of my (if you really think about it) ridiculous waterproof pants.
Best Wading Pants (overall)
If you have been in the fly fishing scene for more than a day or two you have probably heard of Simms, they are one of the largest fishing accessory and apparel companies in the industry and have been a staple outfitter for hundreds of thousands of anglers across the world.
Up until a few years ago, they were the dominant manufacturer of waders and wading accessories. Unfortunately, there have recently been some quality control issues and poor design choices that have dethroned them.
Overall Simms makes incredibly functional, good looking, and durable products but there has been a noticeable decline in quality as of late and because of that, I do find it hard to recommend them at times.

Specifications/Features
Gore-Tex Pro 3-layer upper and 4-layer lower

Great fit

Hip pockets

Adjustable belt

Amazing Warranty
Overall the Simms G3 wading pants are a truly solid platform for all anglers, they are versatile and durable and possess all the functionality and comfort that you would expect from a Simms product.
Simms also has a superior fit to the Patagonia products and are true to size so there's minimal guesswork involved when buying. They are 4 ply which means they are essentially bombproof and if you do manage to damage them they are protected by the truly amazing Simms warranty program.
If you are looking for a heavy use, comfortable and functional wader the Simms G3 pant waders should be a quick and easy buy.
For me, the answer to "which pant wader is best" is an easy one to answer, if you want a pair of pant style waders that is going to put up with everything you can throw at it and then some then you're going to want to go with the Patagonia Swiftcurrent Pant Waders.
They're 4 ply, with reinforced stitching and an armored scuff guard around the ankles.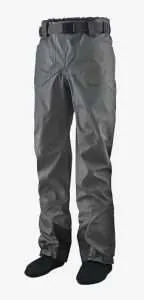 They're made from 100% recycled materials so you can feel good wearing them and they feature a breathable polyester layer combined with a super durable waterproof coating to help keep you dry during those long days.

Specifications/Features
4 breathable layers

Waterproof coating

Increased mobility

100% recycled materials
These pants fit great, they allow for full range of motion and have just enough extra material in all the areas that see the most wear during extreme use.
They feature normal pant style pockets to keep all your usual gadgets and accouterments safe while you move up to that next spot, if you plan on wading right up to the belt line though you may want to relocate your stuff as the pockets are not zippered so there is a risk of losing some stuff if you take an untimely plunge.
The one downside of these waders is the fit, Patagonia's sizes can be a bit misleading so if you have the option I'd suggest going to try them on at your local shop first before you buy. It seems that the general consensus on them is that they run small so if you can't try them on just keep that in mind.
---
---
If you're looking for an introductory level or low usage option then the Hellbender waist waders from Frogg Toggs are for you. While they don't have the overall quality of the Patagonia or Simms options, they have all the same features.
They are 4 ply, breathable and feature 4mm neoprene booties just like the more expensive Freestones or Swiftcurrents.
These are comfortable waders! With the double reinforced knee, adjustable belt with quick release buckle, and attached gravel guards, you'll stay dry and mobile on your next fishing trip.
For 120 bucks you really can't go wrong with these, while they might not last quite as long as the more expensive options under heavy use, they should be more than enough to get you started or to get you out on the water comfortably if you only find yourself out on the water a few days a year.
Specifications/Features
4 ply breathable nylon material

Gravel guards

Double reinforced knees

Comfortable fit

Affordable
Best Wading Pants For The Money
We found one pair of wading pants that are a little easier on the wallet. These are a great pair of wading pants for the new angler or the angler on a budget.
For someone looking to get into the sport or just for something they can take out with them a few times a year, I'd recommend the Compass 360 deadfall guide wading pants.
They are a budget option and as such are not made of the composite layers that the more expensive Simms or Patagonia waders but they are 4-ply nylon nonetheless which should be more than durable enough for someone just getting into the sport.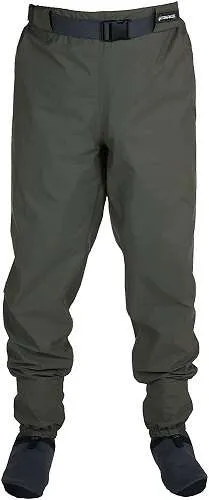 They have a 1-year defect warranty in the event that they spring a leak. Overall they're a great option. One thing to keep in mind is that these waders will eventually leak, just like all waders, these ones will probably begin to leak sooner than something in the 400-dollar range.

Specifications/Features
4 ply nylon material

Fully adjustable wading belt

Affordable

1 year warranty
That being said, I do believe that these would make a great first pair of waders and will serve their purpose as being something that allows you to be a more comfortable, capable and effective fisherman.
---
---
Best Hip Boot Waders
We wanted to highlight one pair of hip boots. Hip boots are a step down in protection from wading pants. Usually extending up to your thighs, hip boots provide a quick and easy way to hit shallow streams and creeks.
If you're a minimalist who isn't all that into the idea of getting their feet wet you may want to consider hip waders, they're a quick and easy to use alternative to chest and pant waders.
Our go to's are usually the Chota Tundra Hippers as they've proven themselves to be functional and durable under medium to heavy use when used by our clients for the exact reason stated above.
They Are tall enough for adequate protection under normal mild wading conditions and have comfortable and effective straps at the top to keep them up where they should be while you're wading.

Specifications/Features
Breathable

Adjustable design

Comfortable neoprene booties
They have a slightly thinner 3mm booty for a more comfortable fit in normal hiking boots and can be used for hunting as a result!
Overall they are a great minimalist option for people who aren't necessarily looking to do any "extreme" wading and for the price the durability and functionality can't be beaten.
Benefits of Wading Pants over Chest Waders
Wading pants are a less intense, easier to wear, and overall more casual and versatile form of wading. They're great for spring and fall when air temps are warm but water temps remain cold, there's nothing worse than hiking out of a canyon in chest waders on an 80-degree late September day.
Pant waders allow you to have the best of both worlds, breathability while still being able to wade in almost all situations and conditions.
They're great for backpacking and hiking because they pack down much smaller than chest waders and can even be worn while hiking or to the grocery store if you don't feel like changing clothes!
The only sacrifices made when wearing wading pants is storage as they don't have the large pockets that chest waders have and the inability to wade above the waist which I seldom find myself doing in chest waders anyhow
What to look for when buying Wading Pants?
How often do you fish?
First of all, I'd like to start by answering the most common question I get asked when helping a customer pick out a pair of waders.
That question is somewhere along the lines of "How much difference is there really between the expensive ones and the cheap ones"
The answer to that question is usually based on how much they plan on using them, a lot of our customers are from out of state and only get out on the water 3-4 days a year, for them it makes sense to get something in the lower price range.
Inversely, if you put 180 days a year on your waders then you may want to consider getting something in the upper price range that's going to hold up.
Durability
The biggest concern that I have with waders is durability, pretty much all modern waders have the same level of functionality and therefore I find it's best to look at their overall durability and build quality.
Cheaper waders are more likely to spring a leak under heavy use but if you only put 4 days on them a year they're likely going to last a very long time.
Functionality and Fit
Besides that, I think the only other things to consider are going to be the overall functionality of the waders and their fit.
Different companies have different fits and finding the manufacturer that fits you best is oftentimes a bit tedious and requires some trial and error. If you have the option I highly suggest trying on several different pairs from different companies to ensure that you get the best fit possible.
Conclusion/tying it all together
Overall, I think wading pants are a fantastic tool for those who don't find themselves doing much intense wading or like the freedom and breathability that pant waders allow for.
They're a great inexpensive option for new anglers who just want to get out there and reap the benefits that wading provides.
If you're the kind of person who doesn't like to get their feet wet even during the summer then pant waders are also a great way to stay cool and dry at the same time without the hassle of full-on chest waders.
I sincerely hope that no matter what route you decide to take that you truly enjoy the experience of wading as a whole and can appreciate what it allows you as an angler to do!
Additional Resources: