Looking for the best saltwater fly rod? You've come to the right place.
If you're about to go on your first saltwater fly fishing trip, or if you need a new fly rod for a specific species that you have yet to target, you might be wondering where to begin.
There are a lot of things to consider. With many different species of fish that can be pursued in saltwater, there are many different fly rod weights to choose from.
You're going to want to pick out a fly rod that has traditional saltwater characteristics: a fast-action, responsive rod with a strong backbone that will help you to land large game fish.
In This Article we'll cover:
Best all-around saltwater fly rods
Best saltwater fly rod combos
Best budget saltwater fly rods
Best saltwater fly fishing outfits for beginners
How to choose the best saltwater fly rod?

Saltwater fly rod sizes and weights

Difference between freshwater and saltwater fly rods
And much more!
Let's get started!
---
Best All-Around Saltwater Fly Rods
This is our list of the top rods for targeting your favorite big water species. These three rods are one of a kind and will meet any angler's saltwater needs.
Sage has established themselves as experts in the field of rod crafting. If there's one thing you're looking for in a saltwater fly rod, it's speed.
You need to be able to react quickly to capitalize on fleeting opportunities and this rod makes that possible. It's got a strong tip section that carries power down the rod quicker, requiring less false casts. This can mean the difference between a shot at a trophy bonefish or a tailing redfish, or missing out.
The Maverick was built as a saltwater extraordinaire. Sage offers this rod in everything from a 6 weight for smaller bonefish to a 14 weight for big billfish, and everything in-between.
Features/Specs
6 – 14 wt models
Fast action
Corrosion-resistant anodized aluminum reel seat
Extended Full Wells cork handle
Oversized Fuji ceramic stripping guides
Oversized Hard Chromed Snake Guides
Matte Black Aluminum rod tube
Tim Rajeff and the team at Echo consistently pump out great fly rods at great price points, and the Boost Blue is no exception. It's an improvement on the Boost saltwater model of years past.
The Boost Blue is one of Echo's most powerful and fastest fly rods. It has enough punch to get through windy conditions, and enough flex to make shorter casts in a moment's notice.
The Boost Blue comes with Echo's lifetime warranty. Retailing at around $250, the Boost Blue outperforms other saltwater rods that cost twice as much.
Features/Specs
6 -12 wt options
Fast Action
Titanium stripping guides
Black anodized Aluminum Reel Seat
Aggressive Casting
G Loomis pushes the envelope in terms of technology and innovation in fly rod design. The NRX+ is the best of the best. It is an improvement on the original NRX that's lighter and more castable, with more powerful. That's an impressive feat for a fly rod.
The most impressive aspect of the NRX+ is its accuracy. You'd be hard-pressed to find a more precise saltwater fly rod that will allow you to drop flies exactly where you need them, at great distance.
That's vital, and sometimes overlooked, in the world of saltwater fly fishing. How much does it matter if you can make a quick 70' cast, if it doesn't end up where you need it?
If you do your part, the NRX+ will get the absolute most accuracy possible out of your casts. It comes in sizes from a 7 wt to a 12 wt.
Features/Specs
7 – 12 wt options
Fast Action
Precision Accuracy
Ultra light titanium snake guides
Full Wells AAA cork
Aluminum Reel Seat
Aluminum rod Tube
Lifetime Warranty
---
Other Gear Related Articles
If you know you're getting an 8wt, check out our pick for best 8wt fly reel for saltwater
---
Best Saltwater Fly Rod Combos
These are our list of top saltwater fly fishing combos. Which means they come with the rod, reel, and fly line. Everything you need to hit the water, minus the flies.
Redington's Vice rod is a nice saltwater combo option, paired with the ID reel by Redington.
The Vice's saltwater-grade components (combined with Redington's lifetime warranty) make this a great combo for an angler getting into the saltwater game or as a diverse do-it-all salt rod.
It's a fast-action, responsive rod that makes fly fishing for game fish in the ocean accessible to anyone.
At $240, this setup includes the Vice rod, the ID reel, a fly line from Rio, and a combined rod/reel case. The Vice is nice!
Features/Specs
6 – 9 wt options
Fast action
Anodized machined Aluminum Reel Seat
Redington ID fly reel
Rio Mainstream Fly Line
One of the best rods for the money in the fly fishing world, the Orvis Clearwater comes in a few sweet saltwater combo offerings.
Orvis has honed in their design on the saltwater selections of the Clearwater family to produce a fast-action big game stick that can cover for any casting style and target multiple species.
If you're looking to grab a combo to cover multiple species – say you need a rod for redfish, bonefish, and stripers – grab the Clearwater combo in a 6 or 8 wt and you're set.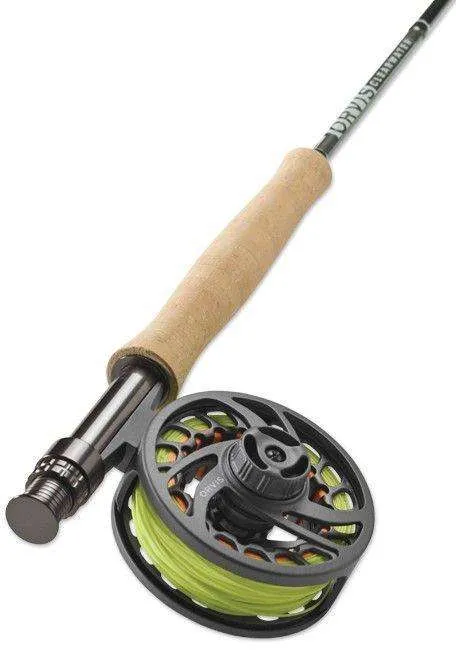 With the Clearwater IV Reel, designed to hold up over time to salt components, this combo also includes the Clearwater WF floating fly line, a cordura rod tube, backing, and a tapered leader.
Features/Specs
3 -8 wt
Medium – Fast Action
Orvis Clearwater Reel
Orvis Clearwater WF Fly Line

Full Black nickel Reel Seat

Chrome snake and Stripping guides
25 year warranty
---
If interested, Explore our full-length review on the Orvis Clearwater.
---
Best Budget Saltwater Fly Rod
As we know fly fishing gear can get expensive, so we wanted to highlight a rod that has incredible performance and reviews, but won't break the bank.
Shopping for a fly rod on a budget is a balancing act – you don't want to undershoot what you're getting in performance by trying to stay within your price limit. When done correctly, though, it can be very rewarding.
The Maxcatch Salt Pro IM10 is a good example of a budget fly rod that doesn't disappoint, and that's especially valuable in the saltwater world. This rod has a surprising amount of power at its price point, and it's strong enough to lift and fight heavy fish.
It also comes with a two-year warranty and a lifetime repairing warranty. Maxcatch has been noted for their customer service for a discount brand. This option is a great way to break into different sizes of saltwater fly rods at an affordable price, with good results.
Features/Specs
7 – 12 wt models
Fast action
Saltwater Resistant Chrome snake and stripping guides
Full AAA cork handle
Anodized Aluminum reel seat
---
Need a fly box for your saltwater flies?
---
Best Saltwater Fly Fishing Combo for Beginners
If you're new to saltwater fly fishing, and need a complete setup, check out our pick for the best saltwater fly fishing outfit for beginners.
Orvis has made one of, if not the, best entry-level fly rods in the Encounter series. They've expanded it to include selections built for saltwater species, with specific desired qualities built in.
The Encounter is surprisingly smooth and easy to handle for its price point, and it outperforms competitors entry-level rods. It's easy-to-cast, and most importantly for beginning saltwater anglers, forgiving on the stroke.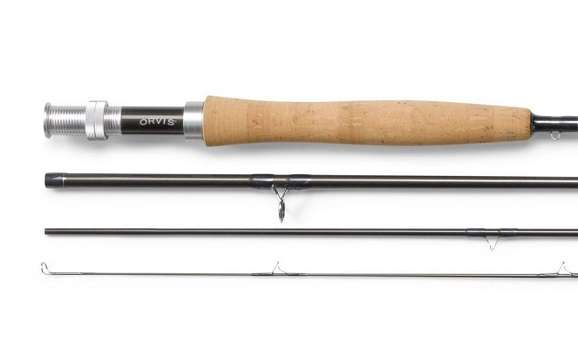 The Encounter combo comes with the Encounter rod, Encounter reel, an Orvis WF fly line, backing, a tapered leader, and a cordura rod tube, all for under $200. Don't let the affordability fool you – it will outperform other, more expensive rods and open doors for beginners.
Features/Specs
6 or 8 wt
9 ft
Encounter Fly Reel
Orvis WF Fly Line
Dacron Backing, and tapered leader
How to choose the best saltwater fly rod?
Best Weight of Saltwater Fly Rods
With all of the different options for saltwater fly rod manufacturers and models, one question that seemingly always pops up: what rod weight is best?
That, as is usually the case, depends mostly on the species and size of fish that you'll be targeting. Water type and location, and wade fishing vs. kayak fishing vs. boat fishing can all come into play as well.
Saltwater fly rods are typically offered in the 7 wt to 13 wt range. To break down such a wide range of rod sizes for such a wide variety of species, I like to try and break saltwater fly rods into two groups: smaller rods and larger rods.
Smaller saltwater rods can be used to target saltwater bass, redfish, bonefish, triggerfish, and small permit. Picking either the right 8 wt or 9 wt should land you softly in this sweet spot of being able to target a diverse range of "smaller" saltwater fish.
That leaves us with the big rods, for the big fish. If you want to go after tarpon or larger permit, or even billfish, you're going to need a bigger rod. An 11 wt or 12 wt would be a nice selection for tarpon, and anglers hunting opportunities to land a tuna or marlin would be best suited with a 13 wt (or even bigger), as fly rods in these sizes are specially made to allow for handling big game.
Difference Between Freshwater and Saltwater Fly Rods
There are two main differences between freshwater and saltwater fly rods: the ability to target and fight big fish, and the durability to withstand the corrosive elements that these big fish live in.
Saltwater fly rods must be fast action. In order to get a larger fly to a fish through the wind at distance in a moment's notice, you've got to be able to make minimal false casts and hard, tight loops.
Once you get your fly to where it needs to go, hopefully you'll be relying on it to do the next job: fighting a saltwater fish. That's another big difference between freshwater and saltwater fly rods – the amount of backbone.
A freshwater fly rod that has been made to land trout and bass is not going to get the job done on a tarpon. It would be like trying to dig a trench with a spoon; it'll take way too long, might not even be possible, and the spoon is not going to be in good shape afterwards.
Redfish are a popular saltwater target
Permits are another hard fighting saltwater favorite
You'd be better off to grab a shovel, or even an excavator. Saltwater fly rods are made to fight big fish safely and effectively.
Another difference between freshwater and saltwater fly rods are the protections that saltwater rods offer against corrosion.
Freshwater rods don't need to worry about keeping the salt out of guide wraps and reel seats, but saltwater rods have protections built in for this. Things like specially-coated guide wraps and reinforced, anodized reel seats can go a long way towards extending the life of a rod that faces the grit and grind of the salt life.
Conclusion
Saltwater fly fishing is a blast. Experiencing this adrenaline pumping pursuit with the right rod and reel is as good as it gets. Hopefully this guide has helped you to narrow your decision-making process down as you prepare to choose the correct saltwater fly rod for your budget and application.
Now, go get the right rod and get out there!
Additional Resources: