Our TFO BVK fly rod review below will walk you through the pros and cons of this very popular and proven rod.
If you are looking for a powerful yet incredibly versatile rod at a price that won't put a strain on your wallet or (given our current situation) electronic currency of your choice, you may want to keep reading.
In this new guide you'll learn:
Introduction to Temple Fork Outfitters
TFO BVK Fly Rod: Specifications/Features
Weights and Lengths of the BVK
 TFO BVK Rod: experience on the water
Top Reel pairings for the BVK
BVK: Final thoughts
Conclusion
Let's Dive In!
---
Introduction to Temple Fork Outfitters and my Experiences With Them.
Growing up in Northern New Mexico gave me unlimited access to more small creeks, streams, and rivers than I possibly could have explored in the 12 years that I've had a fly rod in my hand.
I consider myself lucky to have spent that time fishing TFO rods, I do honestly believe that without the existence of their company, I would not have been able to get into fly fishing at all, much less so at the age of 7.
My first rod
My first rod was an Eagle Claw "Walmart special" that my dad got for me on my 6th birthday, I proceeded to instantly break it, and after a long painful year of taping it together with duct tape every other cast, my parents finally caved and bought me my first real rod. This is where TFO comes into play, my first rod was a 7' 6" 3wt TFO Signature II, and I've had that rod for 12 years.
TFO is an all-American company based out of Texas which is a plus, especially for those of you in the South or Southwest because you can usually count on getting your rod back within a week of sending it in.
At the prices that they offer, I firmly believe that TFO makes the most capable and user-friendly rods on the market. It's for that exact reason that all of the rods I use when guiding are TFOs.
I can simply hand the client a BVK and with very little instruction have them cast proficiently and effectively in less than an hour. TFO makes rods that you can truly grow into and are by no means beginner-only rods, as previously mentioned I've been fishing the same 3wt for 12 years and it manages to put a smile on my face every time I go out.
As far as quality goes I've never personally experienced a defect in any of their rods and don't believe I ever will.
At the prices that they offer, I firmly believe that TFO makes the most capable and user-friendly rods on the market. It's for that exact reason that all of the rods I use when guiding are TFOs.
TFO Warranty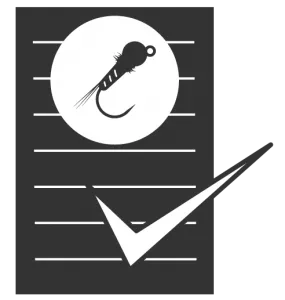 I have broken and sent that particular rod back an amazing 6 times in the time that I've owned it without a single question asked by TFO.
They have one of the best warranty programs in the industry, 4 out of the 6 times that I've sent that rod back they have simply given me a new rod. One time they even gave me the new model of the rod because the one I sent them was out of date.
I've stayed loyal to TFO since the beginning because of their warranty and have no plans to stray away now as it seems like a lot of other companies are dumping the "no questions asked warranty programs" and moving to stricter less understanding policies that come with a heavy repair cost. Did I mention that it's only 30 bucks to get your rod fixed with TFO?
TFO BVK Rod: Specifications/Features
If you're looking for a rod that is capable of performing well in every condition that could be presented to you when you're out on the water and won't break the bank I believe that the BVK is that rod. 

TFO BVK
The BVK is made from cutting-edge materials to reduce weight and increase strength. TFO has incorporated a braided carbon fiber reel seat, along with stainless steel stripping guides and snake guides.
The handle is made from flor-grade natural cork that fits comfortably in your hand. This is a fast action rod, and although challenging for new anglers, the BVK is forgiving in its cast.
TFO BVK: Weights and Lengths
TFO makes the BVK in the full spectrum of weights and lengths which allows you to choose a BVK that suits the style of fishing that you intend to do.
Everything from throwing dries to native brookies in little creeks with the 3wt—to euro nymphing with the 10ft 4wt, and even chasing big stripers and reds in the salt with the 8wt—the BVK can handle it all!
Below is a list of all specific BVK lengths and weights:

TFO BVK comes in a variety of weights and lengths
TFO BVK 3wt – 8ft
TFO BVK 4wt – 9ft
TFO BVK 4wt – 10ft
TFO BVK 5wt – 9ft
TFO BVK 5wt – 10ft
TFO BVK 6wt – 9ft
TFO BVK 6wt – 9.5ft
TFO BVK 6wt – 10ft
TFO BVK 7wt – 9.5ft
TFO BVK 7wt – 10ft
TFO BVK 8wt – 9ft
---
Other Gear Related Articles
---
TFO BVK Rod: Experience on the water
I've been fishing TFO rods for quite a while and was recently fortunate enough to add a BVK to my arsenal.
The BVK is a faster action rod than the majority of TFO's products and stays true to that throughout the weight range, this makes it ideal for powering through wind and for throwing larger rigs.
I chose the 9' 5wt model because it most suited my needs. However, TFO makes it in the full spectrum of lengths and weights that you would expect from any rod in its class.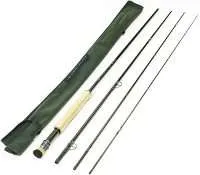 Temple Fork Outfitters 5wt – 8.6ft
We mostly fish 4 and 5 weights where I live but I specifically wanted something a bit heavier as I hoped to have a rod that would be used this winter for throwing heavier nymph rigs under bobbers.
The rod fishes like a tuned-down 6wt, it has enough backbone to pick up some really heavy rigs but still feels light enough in the hand to remind you that it's a 5wt. I was pleasantly surprised when I found that the rod was not just good at chucking bobbers but also had the brute power and a fast enough action to excel at throwing short casts with big streamers which I found myself doing a ton of this fall.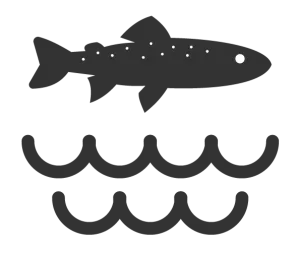 I most recently discovered that this rod is sensitive and accurate enough to fish surprisingly light dries and present them softly to the fairly spooky late winter fish that we have here.
Overall I'd say that the main feature of this rod would be its versatility, I haven't found anything that it does poorly yet.
I used it several times this fall on some local lakes and it outperformed my buddy's Winston Alpha+ 6wt (an 875 dollar rod), which he actually ended up passing to me so that he could fish my BVK.
That brings me to the next plus of the BVK, Its price, at 250 bucks I'd argue that it's the best fast action rod and overall best performing rod in its class and price range. It also stands out in the higher price ranges, as seen in its comparison to the Winston Alpha+.

The only downside to this rod and many other TFOs is the lack of a hard rod tube. Pretty much all the rods that TFO makes that are in the sub 260 dollar range do not come with hard rod tubes which is a bit of a bummer and is something I wish TFO would change.
However, I find that the rod's performance and amazing price make up for the cost of a 40 dollar rod tube to keep it safe.
---
Interested in other Rod Reviews?
---
TFO BVK: Reel Pairings
With how affordable the rod
is, I found that I had some room left in my budget, and was able to pair it with a Ross Animas Reel. This makes for a quality everyday rig that performs well, no matter what kind of fishing I do.
As far as the heavier rods go I've had great luck with the ECHO Bravo fly reel. They're relatively cheap, bulletproof, have a truly large arbor, and look great too!

Ross Animas Reel
Echo Bravo Reel
The BVK: Final Thoughts
I can only describe the TFO BVK as the dream rod, It has very few shortcomings and it truly outperforms everything else at its price point. Its ability to tackle any situation that you throw at it makes it a truly useful tool to get the most out of your time on the water.
TFO makes it in enough weights and lengths that it can be used for pretty much any style of fishing, from dries to streamers there's a model for everything.
The only downfall of the BVK, like many TFO rods, is the lack of a solid carrying case, while this isn't the biggest deal I've definitely broken my share of TFO rods simply because of the lack of a case.
If you do decide to treat yourself to a BVK I highly recommend picking up a cheap hard case for it.
Most cases like the  Redington Single Double can be had for about 40 bucks and are a great way to protect your rod!


Reeling it in!
Thanks for reading the article, and we hope it provided some useful insights into the versatile TFO BVK. Please feel free to leave a comment and let us know what you liked or thought we could improve on.
Related Readings: