Something With a Bit of Backbone
Although the 5wt seems to be the universal standard for both an introductory and all-purpose fly rod, 6wt rods give the user a bit more power, accuracy, and control without departing too far from the fly fishing norm.
If you are a devoted multi-species fly fisherman, like me, and bass, pickerel, and muskie all inhabit the same waters that the trout do, a 6wt rod can better handle bigger fish in different water conditions.
I wholeheartedly believe that this rod and line weight are super effective for those bodies of water where you're out to catch what you can, and where trout are not your only targeted species.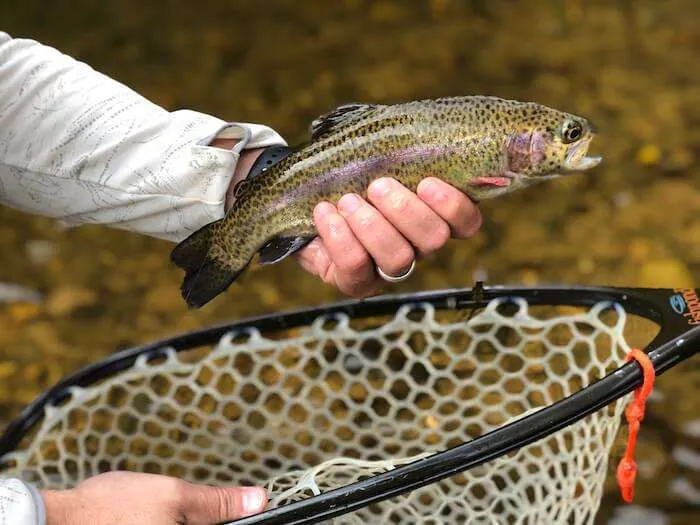 Join me as I review some quality rods with a bit more backbone than the standard 5wt here.
In this article we'll review:
Best overall 6 wt fly rods
Best 6 wt fly rods for the money
What to look for when buying a 6wt fly rod
Uses for a 6 wt fly rod
Frequently asked questions
And much more!
Let's get started!
---
Best 6 Weight Fly rods (Overall)
These are our top 4 picks for the best 6wt fly rods. These rods combine the best quality materials with unparallel performance on the water.
Specifications:
6wt 9' 4-Piece Fly Rod
Graphene Construction
Titanium Recoil Guides
Fast Action
AAAA Flor Cork Handle
This is the second Douglas brand rod that I have had the pleasure to review at Anchor Fly, and if there is one thing I've learned about this company in my time writing here, it is that Douglas takes fly fishing seriously.
Their Sky G series of rods really represent how far we have come with fishing rods, even within the last thirty years. This rod is incredibly light for a 6wt, and Douglas touts the graphene used to make this rod as, "10x stronger than steel with 5% of the density." This is a big claim from Douglas, but the reviews of this rod back up the hype.
Most reviewers were incredibly impressed with the amount of finesse these rods retain while sporting a heavier line weight.
At 9' long, this rod has some serious power for bigger fish, but it loses nothing in accuracy, even at 60 feet. I've tried hard to find anything even resembling negative feedback about this rod, and have come up empty every time.
The Sky G 6wt is a masterfully engineered and super functional rod for the discerning fly fisher that wants something special.
Pros
Super strong and durable, from the graphene blank to the titanium recoil guides
An aesthetic masterpiece
Moisture-wicking rod sock and polished aluminum tube included
Lifetime warranty from Douglas
Cons
Expensive, This was the only aspect bordering on the negative that I could find regarding this impressive rod, but in this case, it seems that you really do get what you pay for.
Specifications:
6wt 9' and 9'6" 4-Piece Fly Rod
Proprietary Carbon/Resin Construction
Hard Chrome Snake Guides
Fuji Ceramic Stripping Guide
Fast Action
Sage comes through again with a great rod at a more affordable price without sacrificing much as far as quality is concerned. The Sonic series 6wt from Sage comes in both a 9" and 9'6" model, and this rod works great whether you're in a drift boat or wet wading.
The Sonic is light and accurate, so light that you can strip those bigger streamers or bass bugs all day without worrying about a sore arm tomorrow. The fast action is great for turning over bigger flies, and the length will help you reign in fish that fight hard.
This rod is used just as effectively in the salt as it is in larger rivers, with loyal customers posting numerous pictures of big bonefish that they've brought to the net in their Amazon reviews.
This is another impressive example of how new technology and modern composite materials can add up to create a superbly balanced, precise fly rod.
Pros
Superbly light without sacrificing much in power
Fighting Butt
Powder Coated aluminum tube included
Lifetime Warranty from Sage
Cons
The price on these Sage rods is about a cool $200 cheaper than the Douglas rod above, and while this is a lot of money, you still won't touch these rods without nearly $600.
---
---
Specifications:
6wt 9'/9'6" 4-Piece Fly Rod
Graphite Construction
Silver Snake Guides and Chrome Stripping guide
Fast Action
Half-Well Cork Handle
Nylon Rod Tube
25-Year Orvis Guarantee
It wouldn't be a complete review without an Orvis product in here somewhere, and the Recon series of rods from Orvis are targeted at the "mid-range" buyer (Orvis's words, not mine).
This rod is a fast-action four-piece that Orvis paints as the answer for more demanding freshwater fishing, on bigger water. I can see this rod performing very well on the Susquehannah and other large bodies of water, and contented buyers praised its use as a bass rod in the lily pads and in algae-encrusted ponds.
As is the norm for modern 6wt rods, Orvis has done a lot to reduce the weight here, so that stripping big streamers and deer-hair bugs stays easy all day. This is a great multi-species rod and excels at combating wind, fast water, and foliage while staying precise enough to effectively get your bugs where they need to be to get eaten.
Pros
Advertised as a mid-price powerhouse, and lives up to the good reviews
A great all-around multi-species rod for those who fish bigger water
Great combination of power and precision
Cons
There were enough reviews citing less than satisfactory handles that I must mention this issue. At this price, even being marketed as "mid-price," some buyers were disappointed with the handles
At currently just under $600, this rod doesn't differ that far in price from Sage's offering above, why not guarantee the rod for life instead of 25 years?
Specifications:
6wt 9' 4-Piece Fly Rod
Powerlux 1000 Resin and High Modulus Carbon Blank
Stainless Steel Snake Guides
Medium/Fast Action
AAA Cork Handle
The GR80 from Greys is priced very reasonably for how advanced it is. At currently just under $400, this rod is accessible and more realistic for the working fly fisherman than some of the other rods in this review.
People have great things to say about this rod, and there are online reviews from anglers that used it effectively in chalk streams, rivers, and yes, even from a drift boat. While this rod may not be quite as light as some of the more advanced models in the above review, it is still light enough to be used all day and powerful enough to throw big flies.
When I think of an effective 6wt, these qualities and this price tag are what come to mind for me. Check out the Youtube link for a deeper dive into this company's rods, I might just need to pick one of these up myself…
Pros
This is what I call affordable at currently just under $400
Functional and effective without the bells and whistles that drive up the price
Powerful but precise, due in part to great engineering and materials
Cons
I wasn't able to find anything regarding a warranty on this rod
These tend to sell out quickly, especially on Amazon
---
Best 6wt Rods for the money
If you're an angler with a more modest budget then these 3 rods might be the perfect fit and cost a fraction of the price of some of our other recommendations.
The Specifications:
6wt 9' 2-Piece Fly Rod
Medium/Fast Action
Anodized Up-Locking Reel Seat
AA Grade Cork Handle
Rod Sock
I am quite familiar with Temple Fork Outfitters (TFO) and I have extensively used their Ultralight trout and panfish spinning rod. TFO makes economical alternatives to the big-name brands. They pride themselves on their warranty program and excel at customer service.
Their Signature Series II attempts to improve on their flagship rod design for improved accuracy, power, and precision, all at a modest price.
This 2-piece fly rod, the first in this review, gets the job done well, in big water or small, and is effective at a variety of different tactics, dry, nymph, or otherwise.
Pros
Very affordable
Covers all the bases necessary in a 6wt
A great introductory rod for someone who is new to throwing bigger bugs in bigger water.
Cons
The tips on these can be brittle, and you may find yourself having to use that TFO guarantee sooner than you think. Make sure your new purchase is immediately registered with TFO before you fish with it, and it's never a bad idea to buy another tip section.
The Specifications:
6wt 9' 4-Piece Fly Rod
3.6 Oz Weight
Sea Guide Snake Guides with smooth PVD Coating
Moderate/Fast Action
5 Year Warranty
St. Croix's Mojo series of rods are affordable and super durable, making them a great option for those of us who fish freshwater and salt. Their Mojo 6wt is a favorite among many down-south fly fishermen, and I see it used with great effect for both bonefish and peacock bass.
The moderate/fast action works great when there's algae or other miscellaneous plant matter coating the water, and this rod has a lot of power in the butt section for fighting all kinds of fish.
Even as powerful as this rod is, St. Croix has kept it light enough to throw all day. It's highly reviewed, and another perfect introductory rod for the money.
Pros
Affordable
Superbly powerful
Solid 5-Year Warranty
Cons
The action is so snappy on this that if a blank is particularly brittle it will snap, and will force you into using that 5-year warranty from St. Croix
The Specifications:
6wt 9' 4-Piece Rod
Moderate Action
Titanium Oxide Stripping Guide
Chrome Snake Guides
Rosewood Reel Seat
Lifetime Guarantee
I am glad that Redington made it on this list because I have grown quite fond of the company and its affordable workhorse products. This is a 6wt that was designed with trout in mind, even at this line weight.
It differs from other rods in this review because of its moderate action as opposed to the normal fast action of most 6wt rods.
This rod is the epitome of affordability at currently under $150, and right now on Amazon, it has an additional 22% off, so this may be your sign to get one of these rods and test drive it yourself.
Pros
Affordable enough to be a backup rod, handles well enough for daily use
Precise, powerful, and easy on the eyes
Lifetime warranty
Cons
Enough reports of brittle tip sections to warrant mentioning
Some problems with Redington's customer service, particularly the length of time it takes them to respond to emails.
---
What to Look for When Buying a 6wt Rod
One of the first things to consider when you're in the market for a 6wt rod is what you're going to use it for. Many of the rods in this review are quite effective for light saltwater use as well as freshwater, so if you fish in those environments, look for a rod with the backbone to wrangle in a bonefish as well as pond-bound largemouth bass.
These rods have more backbone than the standard 5wt and can handle longer casts and less prime water conditions than their lightweight counterparts. Also, keep in mind the types of flies you'll be throwing.
Streamers are spun up in a variety of different weights and sizes, so pick a rod that can turn them over, rain, wind, or shine.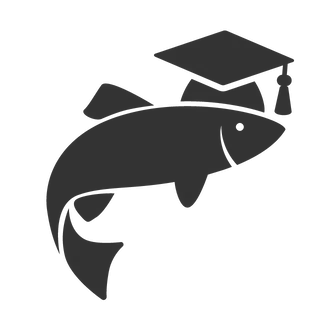 Size is another characteristic to consider when purchasing a 6wt None of these rods are under 9' and while that seems to be the norm here, a few companies in this review had even longer options, up to and including 11" spey-style type rods.
It is not easy to finagle any rod over 8' into areas with tons of overhang and brush.
6wt Fly Rod Uses
If you want to use flies that a lighter line-weight rod would struggle to deliver and turn over, a 6wt may be just what you need. Many freshwater anglers use this type of rod to pursue bass, whether that's largemouths in ponds or big smallies on fast-flowing rivers.
The power in these rods can handle the long and powerful runs and digs that aggressive bass is known for, and the length helps to tire out feisty fish faster.
If you're looking to try a different tactic to get into some fish, I can't speak highly enough of how fun it is to catch anything that swims with a streamer.
Streamer bites are extremely sudden and exciting, so get a rod that can handle flinging them far and presenting them naturally so you can see what the streamer thing is all about.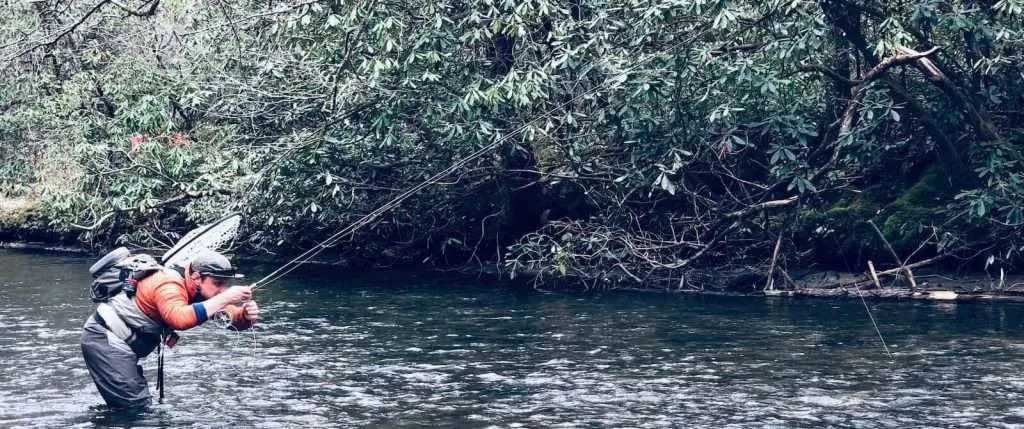 Frequently Asked Questions
Q: How much should I spend on a 6wt fly rod?
A: This is a great question that doesn't have one right answer. While the more expensive rods in this review are fantastic examples of engineering and how far we've come with the fly rod as of late, that price is often more than a little intimidating to those of us who are new to fly fishing or on a budget.
Mid-range price for me is no doubt going to be different than it is for you, so as far as price is concerned look for a good warranty and quality materials first, and don't be afraid to take a more economical rod model out for a spin before you commit to that Douglas.
Q. Is a 6wt fly rod too big for trout?
A: No, it's not too big for trout. In fact, the Redington series in this review is still a trout rod, despite the heavier line weight. 6wt rods work well for trout, particularly big browns and rainbows on bigger water. These rods are generally longer, so while I wouldn't use these in spring creeks, a 6wt is great for trying to encounter big trout, especially when using streamers.
Q. Can I use dry flies for a 6wt fly rod?
A: Without going into the philosophical ramifications of what it means to be a dry fly, if you consider bigger hopper and terrestrial patterns (the chernobyl ant and all its derivatives, skaters, deer-hair grasshoppers, etc) dry flies, then yes!
Throwing bigger dries like this can be fun on a six-weight when you're using the right tapered leader and tippet. Ditch the smaller dries and try some of the bigger patterns if you're still looking to float dry flies with your 6wt.
Q. What action is best for a 6wt fly rod?
A: There's no right answer to this question, although the majority of the rods in this review have a fast action.
Faster action can allow for a more direct presentation of your flies and can get them to punch through the wind and swim through plant material. However, I have always maintained that slowing down the action can provide more precise casting. So, in short, use what you know and are comfortable with.
---
Conclusion/Reeling it in
A 6wt rod won't just allow you to handle bigger fish, it will open the door to different tactics and techniques that are less user-friendly on a lighter-weight option. I am a self-admitted streamer junkie, I love the suddenness and excitement of that streamer bite, whether there is a trout on the other end of the line or some other aggressive fish.
To truly appreciate streamers you need a rod that can use them to their full effect, and that usually means a rod with some backbone.
A 6wt has just enough muscle to throw and retrieve bigger flies without losing sensitivity and precision, and if you haven't experimented with one, I hope that at least one of the rods in this review has piqued your interest enough to give it a chance.
As always, be safe out on the water, and tight lines!
Additional Reading: