Shining Brightly
Chances are you've heard of Moonshine Rod Co. They have an impressive social media presence, and I frequently see their home page in my 'suggested' section on more than one social media platform.
There's a lot of positive press around these rods, this company, and its business practices, and in this review, I'm going to take a deep wade into the products that have generated all this attention, online and on the water.
Moonshine Rod Co has a simple and straightforward business philosophy, and they put it front and center on their homepage in plain English. Their goal is
"…to imagine, create, and distribute unique, well-built fly fishing rods at a price point that real people can afford."
That's quite the opening statement, and it translates well to me in particular, as the price of fly fishing gear, especially rods, can get super pricey super fast.
Join me as I review some of the best products Moonshine has to offer, and examine why this company continues to grow and prosper in the fly fishing community.
In this article we'll cover:
Moonshine Rod Co. Fly rod reviews
Why Moonshine Rod Co.
Frequently asked questions
And much more!
Let's get started!
---
Moonshine Fly Rod Review
The Vesper is Moonshine's flagship rod, and it reviews consistently well with anglers across the board, regardless of line weight.
Moonshine is forthcoming with where they put their design and engineering money, and it's in the blank. The high modulus nano matrix carbon fiber used in the construction of these rods makes them remarkably light and effective.
These rods have a moderate/fast action from 3-6wt and subsequent fast action from 7-10wt.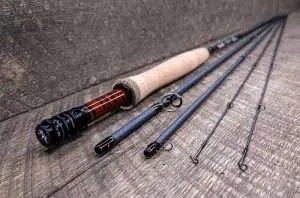 The action here is effective, and a tad more forgiving than some other super-fast streamer throwers in its class, making the Vesper series great for the newly initiated fly fisher.

Features/Specifications
High Modulus Nano Matrix Carbon Fiber Blank
4-Piece Rod
3 wt–10 wt
8'6", 9', 10', and 10'6' Lengths
Moderate/Fast Action (3-6 wt) and Fast Action (7-10 wt
AAAA Grade Cork
Rod Sock with Embroidered Cordura Tube
Extra Tip
The Vesper series balances power with accuracy, and the butt section of these rods can wrangle in larger fish than you might expect with such a low swing weight.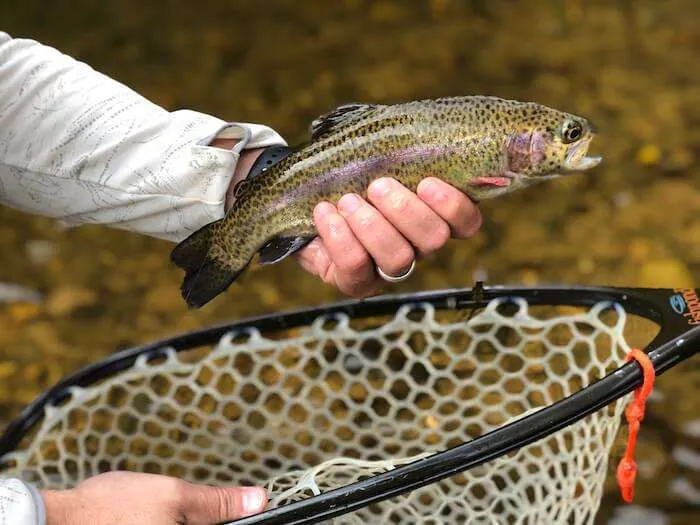 Aesthetically appealing and relentlessly functional, the Vesper series of rods is an impressive offering from Moonshine, and a fantastic choice if you're looking for a do-it-all rod.
Pros
Accurate, powerful, and feather-light for all-day use. A well-balanced rod fit for multiple conditions
Softer tip section for tippet protection, but durable enough to throw heavier flies as well
Extra tip! I'm going to harp on this with Moonshine, but every rod includes an extra tip section for when disaster strikes
Fantastic Warranty
Cons
None. This rod currently retails at $499 but competes with other rods that retail at $800 or more
The Drifter from Moonshine is a solid all-around rod at an introductory price. The graphite construction cuts weight while remaining powerful enough to control the spastic runs of big brookies, wild browns, and more.
This model of a rod from Moonshine stays true to a classic aesthetic that I find particularly appealing because I'm usually throwing vintage fiberglass in the field, and this modern rod looks and feels just like the rods I'm used to swinging.
The thing that stands out about this rod (besides the agreeable $199 price tag) is the action. The moderate action on this rod is forgiving and comfortable for anglers with any type of skill level.

Features/Specifications
Performance Graphite Construction
4-Piece Rod
3 wt– 8wt
7'6", 8', 9', 10' and 11' Lengths
Moderate Action
AAA Cork Handle
Canvas Rod Tube
Extra Tip
I like a moderate action because it allows for more line control and improved accuracy, especially on riskier casts (which I love).
This rod possesses many of the same great features that have made Moonshine's other bug sticks famous (good quality cork, rod tube, extra tip) at a price that won't make the amateur second guess buying it. Highly recommended by me.
Pros
A versatile rod in any weight or length
Supremely affordable at $199
Extra Tip
Forgiving moderate action
Moonshine offers the Drifter in an 11' Switch style and it's 15% off NOW
Cons
Graphite can be brittle, and there are some instances where customers receive particularly brittle blanks, but this is the exception, not the rule, and Moonshine's customer service is easy, fast, and sincere.
The Epiphany is Moonshine Rod Co's nymphing stick, and it is an impressive synthesis of form, function, and affordability.
Euro-style nymphing has taken the US by storm, and for good reason–it is an extremely effective way to catch fish, full stop!
The Epiphany series of rods from Moonshine was originally released in 2017 and became popular among anglers quickly because other lightweight nymphing rods that perform this well usually cost twice as much (or more!).
Serving as both a great starter rod and a competent, dependable everyday-use choice, Moonshine was on to something.

Features/Specifications
High Modulus Graphite Construction
4-Piece Rod
2, 3, and 4 wt
10', 10'4", and 10'6" Lengths
Moderate/Fast Action
AAAA Grade Cork
Cordura Rod Tube
Extra Tip
They listened to the needs and wants of their customer base and redesigned these rods to address those desires.
The current Epiphany rods are one-ounce lighter (an incredible feat of engineering in and of itself, as these rods were already incredibly sensitive), and sport 13 guides, with the stripping guide, moved closer to the butt section.
These rods were purposefully designed and then redesigned to be lethally effective for applying euro tactics on the water. Moonshine has outdone itself on these rods.
Pros
Introductory price ($299) for an intermediate-plus quality rod
Superb sensitivity to discern the slightest takes
Incredibly light
Redesigned to provide an even more advanced, quality rod
Cons
None. Outside of some repeat reports of brittle graphite, Moonshine's Epiphany series is preferred by serious euro anglers far and wide.
Out of all the Moonshine products in this review, the Revival might be my favorite. I'm more than familiar with swinging fiberglass, and the full flex, slow action of rods like this, but they're usually well used by the time I get ahold of them via an estate sale or consignment auction.
The Revival is Moonshine's attempt to showcase and replicate classic fly rod features in a modern-day rod, and they have hit a home run here.
The blank is more than capable of delicate presentations, effortless roll casts, and risky throws that can be incredibly appealing at the moment.

Features/Specifications
Fiberglass Construction
4-Piece Rod
3 wt and 5 wt
7' and 8' Lengths
Multi Burl Cork
Cordura Rod Tube
Extra Tip
The rod is extremely aesthetically pleasing, sporting a bamboo-like burnt orange/tan color with distinct, contrasting anodized copper hardware that really makes this rod look like a family heirloom.
The multi-burl cork handle is a feature that's seen on rods more than twice this price, and the whole package was designed with care and a desire to replicate the best features possessed by those rods that would be considered 'vintage' today.
Whether you miss the feel of the rods you threw when you started fly fishing, or if you're looking for a capable small water rod that's as much an art piece as it is a well-engineered tool, this rod is for you.
Pros
Looks great!
Effortless and accurate casts
Affordably priced compared to other fiberglass rods
Cons
Some felt this rod was on the heavier side
The Outcast is Moonshine's flagship saltwater rod. This company focuses primarily on freshwater rods, but make no mistake, they have produced an impressive piece of equipment here.
The Outcast is salt-ready, with a matte engraved aluminum reel seat, stainless steel chrome snake guides, and a stripping guide framed with titanium.
The inclusion of the fighting butt on this rod can come in very handy when playing big reds or heavy black drums, and there's a lot of power in this rod.
Moonshine gives their saltwater the same aesthetically pleasing treatment as their other rods, and this one sports AAAA-grade cork and burled ends.

Features/Specifications
High Modulus Graphite Construction
4-Piece Rod
7–11 wt
8'6" and 9' Lengths
Fast Action
AAAA Grade Cork Handle
Fighting Butt
Cordura Rod Tube
Extra Tip
This rod is only available in two lengths but they're both powerful and accurate enough to be deadly effective from a drift boat. If you're bound and determined for saltwater fish on the fly, Moonshine's got a rod for that.
Pros
Affordable (currently $299.99)
Very light and well balanced
Specifications are all saltwater worthy
Cons
Only comes in 8'6″ and 9′ which are on the shorter side for saltwater fishing
---
Other Fly Rod Related Articles
---
Why Moonshine Rods?
Moonshine does a few things differently than other rod companies, and that's what makes them stand out from the rest. As I briefly mentioned above, every rod comes with an extra tip section. For me, this is indeed a game-changer.
I fish a lot. I am not a fair-weather fisherman, and I like going to those places that not many other people would frequent due to distance, brush, or other obstacles. You can call this dedication or obsession, but what it means is, that I'm very hard on gear. A broken tip is always a disaster, and getting a replacement often takes weeks.
Moonshine remedies this by including an extra tip section with every rod, and including a place for it to go in every one of their included rod tubes.
This means if something disastrous happens while on the water or on the hike in or out, you're covered. This can bring a lot of peace of mind on those weekend outings or on long floats, and it deserves mentioning.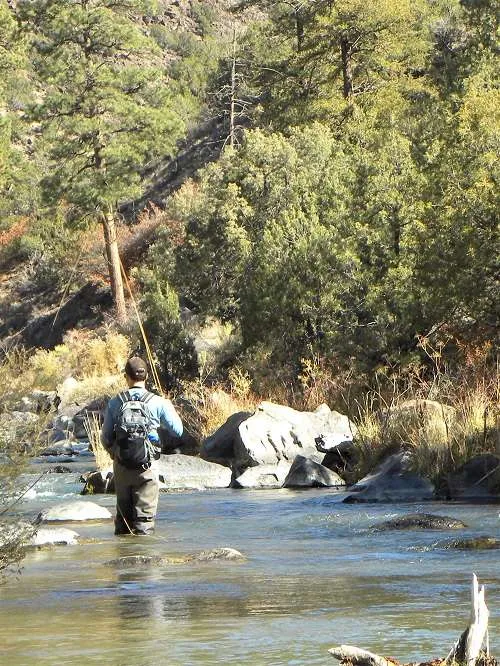 Couple this with a truly stellar no-fault lifetime warranty, and you truly can fish these rods with confidence. The service fee that Moonshine charges to replace a destroyed rod is almost negligible when considering the normal price of fly tackle.
Yes, there is a warranty fee, but Moonshine takes customer service and customer satisfaction seriously. To see for yourself, I've linked their warranty page here.
The other noteworthy characteristic of these rods is their engineering. On each and every rod, Moonshine has done its best to strip away unnecessary weight, so you can launch bugs all day with minimal effort.
These rods are made well, and they're meant to be fished. Even as relentlessly functional as they are, these rods are beautiful, and Moonshine is excellent at creating eye-catching features on their products.
Whether that's exquisite burlwood or high-grade cork, Moonshine makes pretty stuff that you'll be just as happy to show your buddies as you are swinging it.
A Bit More About Moonshine Pricing
This review would not be complete unless I talked a little bit about the price. Moonshine's mission statement is an appeal to the working class fly fishers on a budget who want to get into fly fishing without breaking the bank. Coming down on the price but maintaining a commitment to quality and function separates Moonshine from numerous other rod makers today.
All of these rods perform far above their sticker price and are comparable to other rods twice their price or more. All this means that more people can get a fly rod in their hand faster, and that's not just good for Moonshine, that's good for fly fishing.
Frequently Asked Questions
Q: Where are Moonshine rods made?
A: The rod blanks are made chiefly in South Korea, and some tip sections are made in China. While it has never really mattered to me where a rod is made, some fly fishers avoid foreign-made blanks.
Not all of us (myself included!!) can afford American-made blanks, and most rod blanks under $500 are made somewhere in Asia anyway.
Q: Where can I learn more about Moonshine Rods?
A: Moonshine runs a great blog, called, "The Moonshine Journal" that you can access, and has some pretty great info as well.
Q: I fish a Cortland outfit that I got on the cheap from Wal-Mart that's effective and affordable. Why should I consider moving on to Moonshine rods?
A: Moonshine makes rods that are in my opinion perfect for the people looking to upgrade their starter rod. The price is agreeable, and the quality is there.
You'll only understand the difference a well-engineered rod can make on your cast when you use it. Take the plunge with Moonshine and I am confident you'll be satisfied.
---
Other Gear Related Articles
---
Conclusion/Reeling it in
Moonshine rods are taking the fly fishing world by storm with their balance of quality and functionality, at a price that won't make you second guess your gut. These attributes are why this company has gained numerous brand-loyal fans all across the USA.
They love what they do, and they are making fly fishing more accessible to a wider crowd with their prices. There are not really enough good things I can say about this company, and I hope that this review has shed some light on their fantastic products.
It's hard to tell what's yet to come for Moonshine, but they definitely deserve to be recognized as one of the best modern rod companies out there today. As always, be safe out there, and tight lines!
Related Reading: