I usually mark the arrival of summer by the first time that I slide into my chest-high waders and catch myself thinking "Could I get away without these today?" as I put on my wading boots.
This hit quickly and without warning over Memorial Day Weekend, as I felt sweat bead up quickly in my waders about 10 yards into my lurch towards the river.
As the mercury rises, you don't have to simply suffer through it, however…
Wet wading is an excellent reprieve from rising temperatures and bulky gear. Without the right footwear, however, it can be a dangerous endeavor.
Whether you're hiking to and fishing in cool, clear streams in the Appalachians or Rocky Mountains, or wading through flats in the pursuit of gamefish, the right pair of wet wading shoes will allow you to stay cool, mobile, and safe. 

With this in mind, I've put together a review of wet wading shoes. Here's some options that you should consider adding to your wading wardrobe.
In this guide we'll cover:
Best overall wet wading shoes for fishing
Best wet wading shoes for the money
Why wet wading shoes
Difference wet wading shoes and wading boots
And much more
Let's JUMP in!
---
Best Overall Wet Wading Shoes
The Pro Approach Shoe by Orvis is the gold standard of wet wading footwear. Orvis has taken some new technology and made a very dynamic pair of wet wading shoes.
With a shoe-based design and an integrated Ariaprene sock, the Pro Approach is light, yet protective. You'll be able to put these on (over barefeet or socks) and hike to a remote stream or lake in full comfort.
Once you get there, no need to waste time—you can get right to wading. They're quick-drying, have superior drainage, and great ankle support.

Specification/Features
Available sizes 7-14

Great Ankle Support

Quick Drying

Superior Drainage
Orvis partnered with Michelin (that's right, the tire company) to put the Outdoor Extreme rubber outsole on these shoes.
If you'd trust your truck to take you there on Michelin tires, you can use these Michelin-aided Orvis wet wading shoes to hike and wade in comfort and safety. They're versatile, too; they'll hold up well in boats and on salt flats.
This versatility is what makes the Orvis Pro Approach the best wet wading shoes on the market.
Want to learn more about the Orvis and Michelin partnership? check out this article: Michelin Technical Soles: New Partnership in Fly-fishing with Orvis
Other Top Wet Wading Shoes
For most shoppers, the Flyweight Wet Wading Shoes by Simms look more like a high-tech hiking shoe than a piece of equipment designed for angling upon first glance.
Any angler that travels on their feet to isolated waters will recognize the value in these wet wading shoes right away, however. They're a very good marriage between trail and water specifications.
These wet wading shoes are as light as they come, yet they don't sacrifice support to their feathery design. The Flyweights have a nice web-lacing system that allows you to get a snug and comfortable fit.

Specification/Features
Available in sizes 7-14

Stud compatabel Vibram soles

Lightweight

Abrasion resistant material
 You can wear them with or without thin socks (they have no integrated neoprene sock). Their Vibram rubber soles are also stud compatible.
---
For tips on how to keep your fishing gear clean and protect the spread of invasive aquative species; Check out our article
---
If you're looking for a fishing shoe that has less body material and allows for your feet to breathe, the Newport H2 Sandals are great for wet wading.
While you may see the word "sandal" and be concerned about foot protection and durability, the Newport H2s will absolutely get the job done.
They're a hybrid, with the freedom and breathability of a sandal, and the toe protection and sole grippiness of a shoe.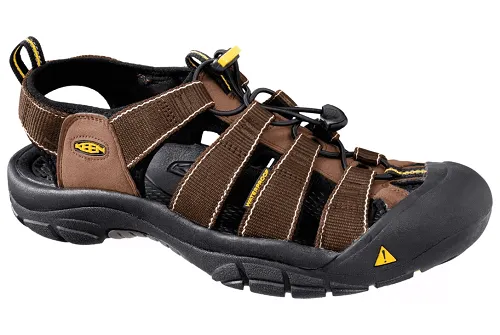 Specification/Features
Avaliable in sizes 7 – 17

Durable Vibram Sole

Complete toe protection

Easy lace system
 A large, protective toe cap will keep you from kicking rocks while hiking or wading, and their Vibram rubber soles have excellent traction.
You can count on them to hold up through hiking and wading on the hottest of summer days. If you're looking for something to throw on and hit the trails in search of small blue lines, the Newport H2s are a great hybrid sandal that can serve as wet wading shoes.
Best Fishing Shoes for the money
If you're looking for a value wet wading shoe, the Neoprene Wade Shoes by Hodgman are the best fishing shoe we know of, at their price. Coming in at under $50, these will allow anglers to save money and still be able to enjoy wet wading.
Made with 3.5mm neoprene, they fit nicely and will protect your feet in the water. A full zipper and an adjustable ankle cuff provide the custom fit you'll want, and they do a great job of keeping sand, pebbles, and debris on the outside.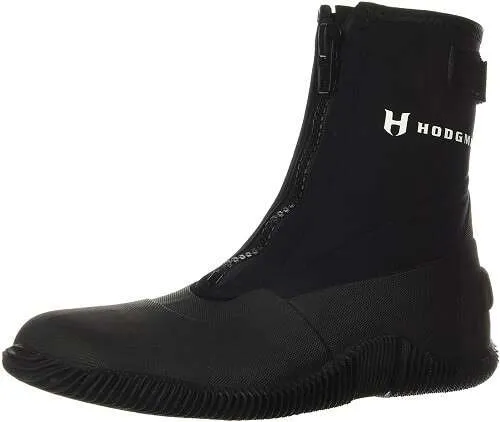 Specification/Features
available in sizes 9 – 12

Rubber outsole

3.5mm neoprene ankle

Fully front zipper
The rubber soles are well-made for a pair of budget wet wading shoes. If you want to try out a pair of wet wading shoes on the cheap, these Hodgmans are a solid option.
Our last pair of wet wading shoes is another budget friendly shoe from UBFEN. These unisex shoes come in a plethora of sizes and colors to match your needs.
The rubber sole is designed to provide great walking traction on both solid ground and through water. These water shoes are made from light elastic material which feels snug and secure around your foot.
Lastly, there are strategic holes through the soles large enough for water to drain, but small enough to keep out sand and debris.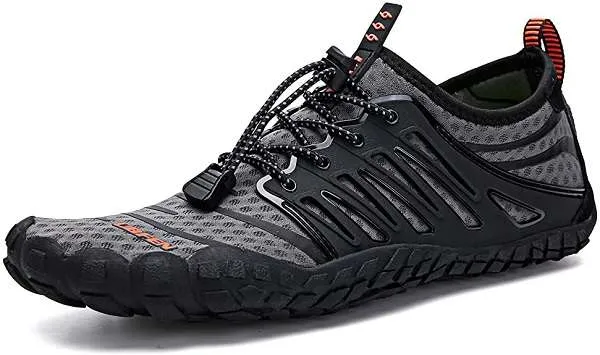 Specification/Features
Unisex style and sizes

available in sizes 6-16 (women) & 5-14(mens)

30 different color options

Rubber sole

Small holes to allow for water drainage
---
Other Wading Related Articles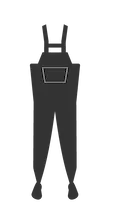 ---
Why Wet Wading Shoes?
Wet wading is an important tool to have in your bag of angling tricks.
It will make even the hottest of days enjoyable. Ninety degree days and cool water are a perfect match, especially if you're paired up with the right wet wading shoes. Here's some reasons why you should have specifically-designed wet wading shoes:
You won't be bogged down. With wet wading shoes, you'll move quickly and travel lightly.
You'll be able to fish in warm weather. Nature's best AC is water, and wet wading shoes will allow you to safely fish in cool water as you're surrounded by warm air.
You can hike further. Hiking, and then switching into shoes to wade can be miserable. Wearing wet wading shoes that allow you to hike and wade in the same footwear are game-changing in the summer months.
They provide versatility for switching between boating/kayaking and wading. Wearing waders and wading boots on a boat and then getting in and out of the water in the warm months can be too much. But if you need to hop out of your drift boat for some quick portage or wade fishing, wet wading shoes are awesome tools.
Difference between Wet Wading Shoes &  Wading Boots
The main difference between wet wading shoes and wading boots is the intended use and style of wear.
Wading boots are bigger, bulkier, and are designed to be worn over neoprene socks or waders with neoprene booties. This is great for wading in the shoulder seasons in big rivers, but not so much in the summer.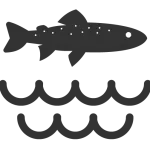 Some of the latest technological advances and styles of wet wading shoes allow you to have a best-of-both-worlds situation.
Wet wading shoes like the Orvis Pro Approach can be worn over waders or with or without neoprene socks. Paired with a nice, packable set of waders, you'll be ready to go from traditional wading to wet wading without switching footwear. This back-and-forth option is one of the main advantages of having a nice pair of wet wading shoes.
---
Other Gear Related Articles
---
Conclusion
As the temperatures rise, I find more and more people out on the waters that I fish. This natural progression usually results in taking to the trails that lead to reclusive fly fishing opportunities, and with wet wading shoes, I'm able to enjoy the entire process.
Whether you're new to wet wading or simply looking to upgrade your shoe selection, we hope this wet wading shoes review has proved useful.
Stay safe, keep your soles on the bottom of the riverbed, and enjoy fishing into the summer months!
Additional: