Keep it Covered
Wearing a hat while fishing not only helps provide warmth and protection from mosquitoes/ticks, wind, and weather, but it allows you to express your unique style… *if you're into it*
"Looking the part helps one to play the part."
Explore our best fishing hats for men and women below.
My Story
I hated wearing hats growing up. I didn't play baseball like my younger brother, and I hated the feeling of something flattening my unruly hair on top of my head. My father, however, was quite the opposite.
The only time I would see him without a ball cap on was when he was getting ready to go to sleep, or when my mother sternly demanded that we needed a proper Christmas picture.
His hat collection was and still is massive, and he keeps his favorites in a faithful rotation.
When he started taking me fishing at 15, he bought a camo hat for me right along with my Eagle Claw 7' 5 weight.

I was a bit reluctant to wear it at first, but it only took one trip through heavy brush occupied with lively ticks for me to realize how useful a simple ball cap could be, especially when chasing natives through tight brush.
I have my collection of hats now, one for every occasion it seems, and several reserved just for fishing. A hat is a piece of gear so simple I think many of us don't give it much thought, especially when we are preoccupied with waders, boots, rods, flies–the list goes on.
In this review, I'm going to examine the best fishing hats for both the summer and winter months so you can, as always, buy them with confidence.
This article will cover:
Best fishing hats for summer
Best cold weather fishing hats
Fishing gaiters and buffs
Different types of fishing hats
And more!
Let's get started!
---
Best Fishing Hats for the Summer
Simms' Cutbank Sun Hat is their take on the traditional wide-brimmed style of hat that is often seen in angling journals and outdoor magazines.
It's constructed of woven palm leaf, which provides ample protection from the summer sun while being breathable and light.
I see these hats in droves from June to July all along the banks of the Susquehanna.
The shade they provide keeps the sun off of your face and neck, and they dry off quickly should you be unlucky enough to dunk yours in the water. 

Features/Specs
100% Woven Palm Leaf

Stampede Strap for around the Neck Wear

Crushable Brim and Crown for Ease of Storage

Easy Fit Sweatband
Simms is renowned for producing quality products and this hat combines function and style effectively for summer angling use.
Fishpond is a company that I feel like I don't talk about enough in my reviews. They are a family-owned, Colorado-born company committed to producing quality gear for the modern angler.
This hat is another wide-brimmed sun hat with a lanyard to keep your face and neck protected from the sun (that's also rated UPF 50+ Equivalent).
I'm a sucker for a nice hatband, and Fishpond's graphics department has created a stylish western-inspired pattern for this hat. It just looks cool, and that, in my opinion, is a major selling point for this sun hat. 

Features/Specs
4.5" Brim

Guatemalan Palm Material

Fishpond Webbing Accent

UPF 50+ Equivalent
Patagonia is another company that, like Fishpond, has expanded into the realm of outdoor lifestyle clothing while remaining loyal to the fishermen and hikers that built up the company's base.
Their Forge hat is built for outdoor use, whether that be hiking, canoeing, or spending a day on the water. Reviews do say that the hat fits large, so consider sizing down.
Patagonia is committed to making an environmental and social impact with its products, and a big selling point for me is the fact that 82% of its line is Fair Trade Certified.

Features/Specs
Fair Trade Sewn, Sustainably Constituted

Large Fit

Rugged and Durable

Perfect for Trail and Stream
In addition to this, they use hemp, cotton, and other sustainable materials in their products, and on their website, you can see the breakdown of what these materials are and how they are sourced.
These are all great reasons to consider Patagonia's Forge hat for the coming Spring season.
Columbia's Bora Bora Booney hat is an affordable alternative to the similar style hats reviewed above.
At about half the price of the sun hats I have already reviewed, the Bora Bora is functionally similar (sporting its own UPF 50+ equivalent rating), and just as durable, making it a good choice for the angler on a budget.

Features/Specs
100% Nylon

Small/Medium and Large/X Large Sizes

Multiple Color Options

Affordable at $29.99
Stetson has produced some of the most iconic American hats for well over a hundred years.
With its roots in Philadelphia, Stetson is a name that evokes images of the American West, and high-quality hats for outdoor use.
Their straw hat is a luxuriously thick cut of woven Mexican Palm, with a pinch front crown and wide 4" brim. While it is not UV-rated like a few of the other hats in this review, owners of this hat remarked that the weave is dense and almost no light can penetrate it. 

Features/Specs
Woven Mexican Palm Straw Construction

4" Brim

Pinch front Crown

Leather Hatband and Chin Strap

Eyelet Vents
This hat is gorgeous and functional. The high-quality leather on the hatband and the chin strap is supple, and in my opinion, a nicely dressed fly on the band would make the perfect accompaniment to an already quality hat.
This workhorse of a hat from Outrip is affordable and waterproof, and the detachable face and neck panels seem to be growing in popularity, especially on the Susquehanna.
The face and neck coverings are designed for complete sun and wind protection, but I've seen local anglers here in central Pennsylvania using them for protection from ticks and mosquitoes as well.
While these hats are less than stylish, they perform well in difficult conditions and offer protection from a variety of obstacles in the field.

Features/Specs
Waterproof Nylon Fabric

Polyester Net Mesh

360-degree Sun Protection

Detachable Neck and Face Panels
With a $14.00 price tag (current Amazon price), you can't go wrong with these customizable neck and face panel hats, and they're worth a try especially if you fish in those out-of-the-way, wild places.
---
Other Gear-Related Articles
---
Best Cold Weather Fishing Hats (For Men and Women)
Simms makes products that can stand up to years of use, and here they've created a light, functional winter hat to keep your ears warm when the air temperature drops.
100gsm (that's grams per square meter) insulation combined with a high-pile Sherpa fleece interior create a hat that can withstand the coldest winter days. 

Features/Specs
100% Polyester

Waterproof, Breathable Shell

Cinch-Lock

Insulated Ear Flaps
The adjustable ear flaps and advanced materials used to create this hat are what enable this hat to stand up to snowy weather and wind. It also carries the Simms guarantee, which is iron-clad and an important selling point for the new buyer.
Patagonia can use recycled and sustainable materials to come up with very resilient fabric blends that are both comfortable and functional.
Their Brodeo beanie is a classic cuffed beanie that utilizes recycled wool and nylon to create a water resistant and cozy product for the cold weather fisherman.
There's no better way to wear your pro-sustainability mindset on your sleeve than with Patagonia products, and it's interesting to see the breakdown of the impact each product has on the Patagonia website. 

Features/Specs
Quality Blend of Recycled Materials

Classic Cuffed Beanie

Warm and Water Resistant
Plus, you get a sewn on patch with the iconic Patagonia trout on the lip. You can't go wrong here if you're looking for the best fishing hat in cold weather–the tried and true, beanie hat.
As the temperatures drop lower and lower approaching December, this is the style of hat/neck gaiter that I prefer for long hours outdoors and on the water.
Winter winds are arguably more problematic for the cold weather angler than the sun, and this style of hat provides ample protection from them.
Its adjustable design means you can lose the neck portion on days with less wind, or nix the neck portion entirely for early Autumn excursions. 

Features/Specs
Balaclava Style, Protects Face Neck, and Ears

Hat Brim for Winter Glare

Elastic Closure

Acrylic and Artificial Fleece Liner
This hat from TAGVO is super affordable and well worth the $17.00 price tag (current Amazon price). I have used a hodgepodge of scarves and beanies to achieve this same overall effect, and I wouldn't be caught without something like this when fishing in Late December/January.
Best Fishing Gaiters and Buffs
Gaiters are becoming more and more popular, particularly on those hot August days when the sun is unforgiving and the humidity is up.
Simms has created a lightweight breathable gaiter for neck and face protection from the sun, that can keep you cool when wet.
Lowering your core body temperature during summer is not solely comfort-related–heatstroke is a real and dangerous possibility when pond hopping for bass or smallmouth in July.

Features/Specs
Lightweight, Breathable Stretch-Fabric

30% Cooler Surface Temp When Wet

Laser Cut Breathing Holes

UPF 50 Sun Protection
This gaiter is a great precautionary measure against the heat when you know you'll be out in the heat for an extended amount of time.
Like other Simms products, it carries that rock-solid warranty, and it's also at a reduced price right now ($33.72, down from $44.95), so consider grabbing one for summer.
One of the main reasons gaiters are catching on in popularity is because of the numerous ways they can be worn and used while engaged in outdoor activities.
From a hair tie to a full face mask, gaiters are a low profile piece of gear that easily fits into your back pocket for sun protection.
Coolnet's Buff works well when wet to keep your core temperature down, and has a high-visibility trout print on it that can be seen from a distance.
With a low price and multiple uses on and off the water, this gaiter is worth a trial run in the summer, especially if you've never used one before.

Features/Specs
95% REPREVE Polyester Material

Multi Functional Design

Elastic Stretch MAterial

Odor Resistant Polygiene Fabric
Types of Fishing Hats
Summer weather in Pennsylvania is hot and humid and the sun can be brutal. The sun hats that I've reviewed are a  traditional answer to sunburn and the glare that the sun can cast on the water.
They have an admittedly classic feel to them with their woven palm materials and wide brim. They're not for everyone though, and if you want a more modern look, the gaiters in this review are stylish, minimalistic, and effective at protecting your face and providing you a way to cool off when damp.
A good hat is also your first line of defense against ticks, and the neck and face panel-type hats are good for keeping hungry mosquitoes at bay when fishing into the evening.
As far as winter fishing goes, insulation and comfort are key.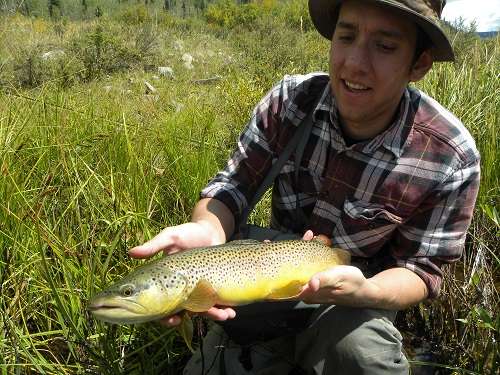 We lose 7-10% of our body heat through our heads, and our ears are very susceptible to frostbite when exposed to sub-freezing temperatures (much like our fingers and toes).
While I prefer the balaclava-style hat/scarf combo myself, beanies can allow you to layer your headgear as you see fit. Staying warm is a pertinent safety issue in the winter months, and should be treated as such.
Reeling it in
If you already have a lucky fishing hat, consider adding one of these above-reviewed lids to your collection. Getting a hat or gaiter that has a specific intended use will only increase your comfort level on the water, and may extend the duration of your fishing trip in the heat or the snow.
Keeping your head protected and free from moisture, UV rays, and the onslaught of mosquitoes and ticks that plague the banks during the summer months, as well as staying warm in the winter months, will only improve your ability to fly fish effectively in less than perfect conditions. Fish on!