Versatility is King
5 weight fly rods are generally agreed upon to be a balanced and introductory weight for the novice, as well as an effective choice for any and all species of trout. The "standard" fly rod if there is such a thing.
Many anglers, myself included, frequently refer back to the 5wt when attempting to outfit the beginner with a dependable rod that can be fished without extensive experience in fly fishing.
However, I think the 5wt rod is sometimes forgotten as we begin to specialize in our own style of fishing, and opt for the tools necessary to do it, like imperceptibly light and long 3 and 4wt's, or muscle-bound fast action 7 and 8wt's.
In this review, I'm going to explore some of the best 5wt rods on the market today and examine some of the attributes that make them such a mainstay in fly fishing. Getting fly fishers to agree on anything is a challenge, so join me as I examine the reasons why this line weight really is more than a novice's standard.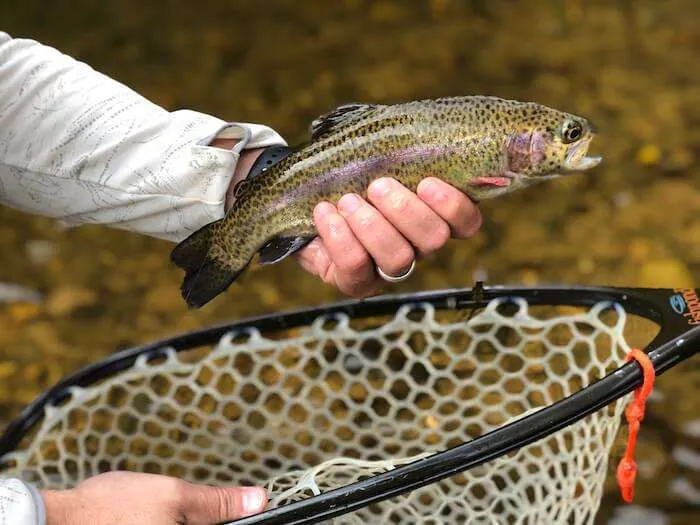 This review will cover:
Best overall 5-weight fly rods
Best 5 weight fly rods for the money
Uses for 5 weight fly rods
How to choose the right 5 weight fly rod
Frequently asked questions
And much more!
Let's get started!
---
Best Overall 5wt Fly Rods
These are the top-of-the-line when it comes to 5-weight fly rods. They offer higher quality materials, better casting with tighter loops, and are more durable.
Specifications:
4-Piece 9' Fly Rod
2.7 Oz Total Weight!
G-Tech Graphene Construction
Medium/Fast Action
REC Titanium Recoil Guides
Cerecoil Recoil Stripping guide
Polished Aluminum Rod Tube
Douglas Original Owner Lifetime Warranty
We're certainly starting this review out with a masterpiece of a rod from Douglas. This is a 4-piece 9' fly rod with a truly remarkable overall weight of 2.7 Oz. Douglas was able to achieve this incredibly lightweight by using their proprietary G-Tec blank.
These blanks are incredibly advanced, with graphene platelets added to the resin mix for startling power and accuracy and a swing weight light enough for you to fish all weekend effortlessly. The titanium recoil guides are crushproof, and can be bent back into place easily and repeatedly should you mangle them, making this rod super durable.
The Cerecoil stripping guide minimizes friction and together with the REC titanium guides, there's hardly any friction when shooting back or forward. The attention to detail and purposeful engineering that Douglas is known for truly shines with their Sky G 5wt.
Reviewers were left in awe at the accuracy of this rod's short game and subsequent ability to go the distance with bigger bugs. It is a modern engineering marvel, and incredibly versatile.
Pros
Truly a featherweight rod. Incredibly light.
The Graphene additive makes this rod durable
Impressive casting accuracy both at a distance and close up
Recoil guides are crush-proof and super durable
Cons
There's nothing bad to say about this rod. Douglas has made sure of that. The only off-putting aspect here is the high price tag.
Specifications:
4-Piece 9' Fly Rod
3.21 Oz Overall Weight
StratoTherm Resin Blank
Fast Action
Chrome Single-Foot Snake Guides
Titanium Frame Stripping Guide with Zirconium Insert
Blue Carbon Fiber Reel Seat
Aluminum Rod Tube
T&T Lifetime Warranty
Thomas and Thomas is a company that has been producing quality top-tier rods since 1969. The T&T Zone series of rods is this company's foray into "the mid-tier." It's hard to tell that the Zone series is not business as usual for T&T, because this rod exudes quality and masterful workmanship, just like their other rods.
The blank is impressive, using T&T's proprietary StratoTherm Resin, which allows for both greater durability and less weight (3.21 Oz is still super light). Chrome single-foot snake guides do their part to keep the weight off as well, and the zirconium insert in the stripping guide reduces friction to a negligible level.
This rod is versatile, as most 5wt's are, and makes an excellent everyday trout rod as well as a backup worthy of keeping in your seasonal rotation.
Pros
Fast action, but still forgiving enough for beginners
Accurate and powerful while remaining incredibly light
Priced reasonably while still dripping with T&T quality.
Cons
While the aesthetic appeal has never been a major game-changer for me, some of the reviewers thought that the color scheme of this rod was a bit off, with the blue reel seat. As far as I'm concerned this is just a simple case of fly fisher's vanity. The rod casts true and is very agreeable.
Specifications:
4-Piece 8'6", 9', and 10' Lengths
Helios 3F (Feel) Technology Blank
Fast Action
SiC/Titanium Stripping Guides
REC Recoil Snake Guides
Anodized Aluminum Reel Seat with Carbon Insert
Aluminum Rod Tube
The Orvis 25-Year Guarantee
Orvis is a company that should need no introduction. They've been in the fly fishing game a long time, and that means they are both passionate and extremely knowledgeable about all things fish and fly.
The Helios 3 series of rods from Orvis come in two different versions, the 3F (F=Feel) and the 3D (D=Distance). These rods were built to better accommodate the style that you like. I'll be reviewing the F type here, which is a boon for the committed "dry fly or die" anglers amongst us.
This rod was designed for delicate but precise presentations of even the smallest dries in the short-to-mid range, and it excels at this. Unparalleled sensitivity coupled with a medium/fast action allows you to get those bugs (or series of bugs!) where you want, every time. This revamp of an already classic series from Orvis lives up to the hype for the specialist.
Pros
A dry fly launching machine, great for smaller or midsize waters and the tiniest of surface bugs.
Precise, accurate, and capable of a delicate presentation consistently.
A specialized tool for those loyal to the dry fly method.
Cons
This is a rod designed for those of us who have become loyal practitioners of one type of fishing application. As impressive as that is, it is not a beginner/intermediate rod.
The price here reflects the above statement.
Specifications:
4-Piece 9' and 10' Fly rods
Conduit Core Blank
Fast Action
Chrome Single-Foot Snake Guides
Chrome Stripping Guide
Full-Well Handle
Double Up-Locking Reel Seat with Wood Insert
Cordura Rod Tube
Loomis Limited Lifetime Warranty
G. Loomis and co. produce some of the most durable, precise, and powerful blanks on the market. Rod wrappers and collectors alike all have incredibly positive things to say about these rods, and this is why they are renowned and respected all over the world.
The IMX Pro 5wt blank uses Conduit Core technology, which replaces brittle graphite with a substitute proprietary material. What this means is a lighter rod that is more durable while retaining considerable fish-wrangling power in the butt section.
This rod has a fast action, but it's not so fast that a beginner might find it difficult to use it out of the box. The price doesn't make me wince either, and this is a great 5wt offering from G. Loomis.
Pros
Very functional, very balanced 5wt, making this rod even more versatile
Comfortable full-wells
Reasonably priced for a rod of this quality
Cons
None. This is a great step up from your starter rod if you're looking for quality and attention to detail.
Best 5wt Fly Rod for the Money
Fly rods can get expensive and we wanted to provide a few of our top picks for 5-weight fly rods that won't break the bank.
Specifications:
4-Piece 9' Fly Rod
High-Performance Fast Action Blank
3.2 Oz Overall Weight
Reversed Half Wells
Large Diameter Gunsmoke Guides
Cloth Rod Tube
Fenwick Limited Lifetime Warranty
The Fenwick Aetos exemplifies the best attributes of a 5wt at a more than reasonable price, and that's why it's at the top of this list. This is a fast action 9' 4-Piece that excels at the 30-60' casting range, with enough muscle to go further. Many of
those desirable accouterments that are ever-present in rods that are four times this price are found here, and I could see this rod being the next logical step for someone that's outgrown the rod they started fly fishing with.
The weight here is low but the rod remains incredibly balanced and versatile, and those three aspects alone make the Fenwick Aetos an excellent example of a modern 5wt. Check this out.
Pros
Fast action for precise and user-friendly casting.
Ample power in the butt section coupled with a soft tip section
Very fair price
Cons
There are a lot of good things to say about this rod, but there were also repeated customer reports of brittle tip sections. Keep that in mind when you buy.
Specifications:
4-Piece 9' and 10' Fly Rods
3.8 and 4.2 Oz Overall Weights
Progressively Tapered Medium/Fast Action Blank
Chrome Snake Guides
Oversized Stripping Guides
Anodized Reel Seat
TFO Guarantee
Temple Fork Outfitters (TFO) have done what they do best with the Pro II series, and that's created a relentlessly functional rod that's built for the intermediate fly fisher at a reasonable price.
The Pro II 5wt was purposefully designed to be able to handle numerous different freshwater conditions and prey. 5wt rods are known to be versatile, and versatile sums up the TFO Pro II.
The progressive taper of the blank makes the casting rudimentary here while keeping the weight down. I'm a fan of TFO products and TFO's warranty. They go above and beyond with their customer service and are a pleasure to work with.
Pros
Functional, balanced, and versatile. All the best attributes of a 5wt.
Beginner friendly, but more than capable as a backup rod.
TFO has great customer service.
Affordable
Cons
No rod tube! If you're lucky enough to have a spare, then this won't matter to you one bit. TFO does sell their triangular rod tube separately.
Specifications:
4-Piece 8'6", 9', and 9'6" Fly Rods
Multi-Modulus Carbon Fiber Blank
3 and 3.1 Oz Overall Weight
Fast Action
Reversed Half Wells
Ceramic Stripping Guide
Black Anodized Snake Guides
Laser-Etched Reel Seat
Cordura Rod Tube
Lifetime Original Owner Warranty
I like Redington products, and many other trout anglers share this sentiment. They produce capable, driven products at affordable prices, and the quality is consistent. The Vice 5wt from Redington is a fast-action rod that excels in numerous freshwater scenarios.
You can bring a little bit of everything in your fly box too because this rod can throw tiny dries with the same accuracy as smaller streamers. This rod is agreeable to multiple different casting styles, making it appealing for both beginners and intermediate bug-heads.
The Vice excels in unfamiliar waters when you need that versatility that 5wt's possesses
Pros
Quality that exceeds the price tag
Versatile to the max
Capable and effective regardless of skill level
Cons
None. For the price, this is a great all-around rod.
Looking for a 5 Weight Reel?
Check out our review of the Best 5 Wt Fly Fishing Reels
Best 5wt Rod Combos
Here are two rods that will supply you with everything you need to hit the water, (minus the leader and flies). They both come highly recommended and offer the perfect combo for beginners wanting to learn how to fly fish.
Specifications:
4-Piece 8'6" or 9' Fly Outfit
Fast Action Clearwater Blank
Chrome Snake and Stripping Guides
Black Nickel-Aluminum Reel Seats
Orvis 25-Year Guarantee
Outfit Includes

Clearwater II Reel
Clearwater Fly Line
75 Yds. 20# Dacron Backing
I've reviewed the Orvis Clearwater series elsewhere on Anchor Fly, so it should come as no surprise that when bundling Clearwater gear together, you're going to get a great all-around 5wt fly outfit.
Available in 8'6" and 9' lengths, the Clearwater 5wt is a versatile, precise piece of equipment that was designed right in Vermont. The fast action blank can throw gnats or streamers with ease, allowing you a multitude of different fly options for widely varying water.
The Clearwater II reel that's included is powerful enough for almost any freshwater endeavor, and the quality of the Orvis fly line speaks for itself. This is a great outfit at a great price.
Pros
Orvis quality at an affordable price
A good, balanced outfit that's effective almost anywhere.
Cons
None. I think this is an honestly priced offering from Orvis, and it is more than capable of handling trout, and smallmouth.
Want to know more about the Orvis Clearwater?
Check out the In-depth review of the Orvis Clearwater Rod and Reel Combo.
---
Uses for a 5wt Fly Rod
There's nothing like trout on a 5wt. Whether that's big browns and 'bows in bigger water, or tenacious brookies in high mountain streams, a 5wt can excel in both situations.
The versatility of a 5wt is what makes it the usually suggested rod for the beginner. I find a 5wt particularly useful when I'm fishing new water because I can use multiple different techniques (and flies) without changing my reel or carrying a second rod.
5wt rods are also effective on warm-water fish, particularly smallmouth. Largemouth aren't excluded from the fun here either, because 5wt's are more than capable of throwing foam poppers and mouse flies to appeal to them.
Don't write a 5wt off as just a small stream trout rod. Does that mean I would actively pursue muskie with a 5wt? No, probably not (but definitely chain pickerel). Still, it's not impossible. This is what makes a 5wt so versatile and useful.
---
What to Look for in a 5wt Fly Rod
When considering a 5wt fly rod that's right for you, length is one thing to look for. Shorter lengths mean fewer encounters with obstacles (brush, overhang, etc) but limit your overall range and to some extent your accuracy.
Longer 5wt's can handle larger fish and send flies further and with more accuracy than shorter lengths, but they can become very frustrating to use, especially if you're just bank fishing. Another thing to consider in a 5wt fly rod is the action.
Medium/fast action is more forgiving of operator errors when casting, while fast action is precise and powerful, even in the face of wind and rain. As always, consider what you intend on using your 5wt for before you buy.
Frequently Asked Questions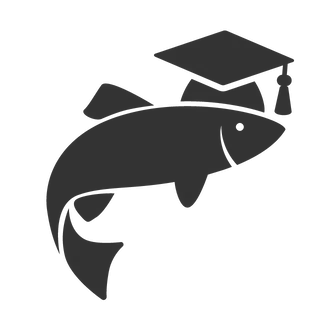 Q: Is a 5wt rod enough for bigger fish?
A: The answer here is yes. Some local anglers here on my home waters of Central PA use a 5wt for largemouth bass and largemouth bass only. If you're really concerned with bigger fish on a 5wt go long, and use a stronger tippet. This line weight can handle it.
Q: What would make you pick up a 5wt as opposed to a 7wt or 3wt?
A: While a 5wt is incredibly versatile, I would switch to a 5wt depending on what's biting. If I intended on pursuing big smallmouth, but I'm starting to see rising trout, I'd probably switch to my 5wt.
On the other hand, if my nymphing game on my 3wt is only producing small chubs, I'd switch to a 5wt after trying slightly bigger flies. The situations that are suitable for a 5wt are near endless.
Q Is it worth investing in a quality 5wt?
A: My answer here is yes. Since these rods are useful in all freshwater situations, it's worth it to me to possess one that is of the highest quality I can afford.
I hope that this review has made you rethink both the applications for and the utility of the 5wt rod. All of the rods and outfits reviewed here are stellar and perfect for fishing regardless of what waters you frequent.
5wt rods are versatile, functional tools that no angler should be without, and you've seen the best of the best here. If it's been a while, consider revisiting your 5wt and putting it through its paces on the water.
If you're new to fly fishing in general, a 5wt is a great place to start. Don't write these rods off as simply a beginner's tool, they have way more function and purpose than that. As always, tight lines my friends!
Related Readings: