Light as a Feather
When I first switched to a 5wt fly rod from my ultralight spinning combo, I was amazed at how light and responsive the tip was. Panfishing on my ultralight spinning rod was always fun, and I still enjoy harassing bluegill and yellow perch on tiny spinners and jigs.
But, on a 7'6" 5wt, diminutive perch and crappie seemed to me to have the comparable strength of the big hook-jawed browns I drooled over in the pages of Outdoor Life. These initial battles with panfish were what got me to keep the fly rod in my hand, and seek out bigger fish.
2wt rods are much lighter and more sensitive than the standard "introductory" 5wt and provide an even more thrilling and longer fight. Rods in this light are extremely useful when nymphing (Euro and otherwise).
The superb sensitivity of these rods not only allows you to discern small, gentle takes from wary trout, but also to feel where said trout runs, and thus, how to keep them out of debris, weed patches, and etc. They are capable of throwing dry flies as well and allow for the most delicate of presentations, making them useful when fishing shallow, still water.
After you've honed your skills and general technique with a heavier line and rod, sizing down can breathe new life into your fly fishing endeavors.
Join me as I look at some of the best 2wt rods on the market here, so you can start your featherlight journey with some know-how, and as always, buy with confidence.
This article will cover:
Best overall 2wt fly rods
Best value 2wt fly rods
Uses of a 2wt fly rod
What to look for when buying a 2wt fly rod
And much more!
Let's get started!
---
Best Overall 2wt Fly Rods
We selected 3 rods that fit the bill for best all around 2wt fly rods. These rods are going to coat more but will make up for in quality materials, strength, and function.
The Orvis name means quality, and the fact that I can scarcely write a review without making mention of one of their products should reflect that.
Their 10' 2wt Clearwater was designed specifically for euro nymphing, and it holds its own against other name-brand nymphing rods while remaining affordable.
The Clearwater 2wt is extremely sensitive and responsive to hesitant takes from fickle trout. Its length helps to combat line sag and keep your nymphs in close, consistent contact with the creek bed. 

Features/Specs
10' 2wt Rod

Durable Composite Tip

Black Chrome Blank, White Accents

Gray Rod Tube Included
This length also allows a longer reach to remain back away from the water you're nymphing. This rod is slick and easy on the eyes in black chrome with white accents. Chromed-out snake-style guides and black nickel reel seats come together to give this rod the class and aesthetic appeal deserving of the Orvis name.
Click here for our Orvis Clearwater-specific review
Like the other Clearwater rods in this series, this 2wt is a workhorse and more affordable than other rods in this weight class. The included gray rod tube will keep your Clearwater safe on your way to and from the water, but to further put your mind at ease, this product carries the rock-solid Orvis 25 year guarantee.
Whether you're just getting into euro nymphing or you're looking for a dependable backup rod that's not going to break the bank, the Orvis Clearwater 2wt is a competitively built and reliable rod for the money.
Pros
Affordable (Currently 249.00)

Aesthetically pleasing

Great all around rod

25 Year Orvis Guarantee
Cons
The Echo Shadow 2 is the flagship nymphing rod from the Echo company and Tom Rajeff, an extremely successful American competition fisherman and guide.
It's a fast action 10' 2wt with near unparalleled sensitivity and pop. While it was designed for competition euro nymphing, the Shadow 2 is also advertised as being able to throw a dry as well when the bugs start hatching.

Features/Specs
10' 2wt Rod

Extremely Innovative Design

Four Piece Construction

Fast Action

SIC Chrome Guides
The rod itself is an advanced graphite four piece with super smooth SIC chrome guides and anodized black reel seats. It can stand alone as a super effective nymphing rod for the novice and seasoned veteran alike. However, for the nominal fee of about $75, you get the Competition Kit, and with this addition, I think the rod really begins to stand out from the rest.
The CompetitionKit includes two 6" extensions with eyelets, an attachable fighting butt to allow you to wield it more easily two-handed, and a selection of counterweights to maintain perfect balance regardless of the reel you're using.
These adaptable counterweights, extensions, and the removable fighting butt piece make this rod a sort of 'Swiss army knife,' capable of throwing nymphs of nearly any weight with deadly accuracy.
Echo has made a name for itself with this advanced and purpose-driven rod, and it has gained popularity on the competition circuit and off.
You don't need to be a pro to use this rod, but if you're familiar with the nuanced euro nymphing style, it's basically built for you.
Pros
Rod Case and Sock Included

Optional Competition Kit Includes Extensions, Fighting Butt and Counterweights

Extremely sensitive
Cons
2 wt only comes in 10′

The tip has been known to break
I have already reviewed the Upstream line of rods from Douglas here at Anchor Fly in my article titled, "Best Travel Fly Rods." However, quality 2wt rods are unsurprisingly few and far between, so I had to include the Douglas' 8' 2wt here.
In the spirit of good faith, I must admit, The Douglas Upstream line of rods is sort of a 'holy grail' for me, and I adore them for their seamless synthesis of minimalism and attention to traditional details.

Features/Specs
8' 2wt Rod

Four Piece Construction

Classic Slow Action

Luxurious Cork Handle

Traditional Brushed Aluminum Rod Tube and Sock Included
The Upstream line of rods was designed for blue-lining, upcountry fishing in high mountain streams and spring creeks.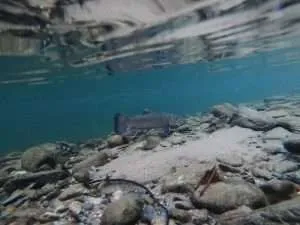 Douglas has done an exceptional job of staying true to the old-style cane rods, and as such, the action on these rods is slower than some of the other nymph sticks I've reviewed here.
It is just as capable of throwing lightweight and unweighted nymphs as it is a gang of dry flies, making it a great dual-purpose rod. It's two feet shorter than the other outfits I have reviewed, but this is due to the environments that the Upstream was designed for– thick brush and wild unclassed water, where trying to navigate a ten-foot pole would be a nightmare.
This rod is a dependable, passionately made piece of equipment that emulates the best parts of classic cane pole fishing. The price tag is a bit higher, but you truly get what you pay for here.
The 8' 2wt is more than worthy of a mention in this review due to the Douglas commitment to quality and expert craftsmanship. It holds its well against many other rods in the 2wt category and looks good doing it.
Pros
Great for small bushy creeks

Perfect for delicate dry placement
Cons
Slide locking reel seat (keeps weight low, but not as secure fit on the reel)

Expensive
---
Other Fly Rod Related Articles
Best Value 2wt Fly Rods
These next three recommendations are 2wt rods that are more affordable and great for the beginner wanting to get into the sport of fly fishing.
Redington is a company that is making waves in the fly fishing world by producing durable, reliable products that are less economically intimidating than other name brands.
The newly initiated fly fisher can be scared off by expensive setups and combos (I know I was!). If you're hesitating about buying that high-end rod, Redington probably has what you need at a more reasonable price.

Features/Specs
7'6" 2wt Rod
Four Piece Construction
Moderate Action
Ballistic Nylon Rod Tube
Their offering to the 2wt category is a 7'6" 2wt, the shortest yet in this review. The dark clay-brown blank is suited with a matching rosewood reel seat and attractive titanium oxide stripping guides.
This rod has a moderate action, making it perfect for nymphing, and for throwing dry flies. It can produce a tighter loop than some of the longer rods here, meaning you can be just as deadly accurate when short casting dry flies as you are swinging nymphs.
At just over $100, this rod is perfect for the novice ultralight fly fisher, and I can only imagine the fun I would have had chasing panfish with this rod after learning the ropes on a 5wt. Give it a try, and consider it for a working backup rod if you don't have one.
Pros
Very Affordable

Works well for both drys and nymphs

Redington Lifetime Guarantee
Cons
Some customers report the rod feels flimsy

Has been prone to breakage
Maximumcatch is a name that comes up a lot when I'm perusing eBay. This Korean company makes numerous pieces of fly fishing gear, from chest packs and flies to rod and reel combos.
Their 6'6" 2wt was designed with small stream fishing, and the medium/fast action allows for accurate dry fly placement in tight quarters with overhang and brush.
The price is more than reasonable (currently at $69.99), so reasonable that it only makes sense to upgrade to the rod and reel combo for approx. $40 more.

Features/Specs
6'6" 2wt

Four Piece Construction

Medium Fast Action

Very Affordable

Solid Warranty Policy

Combo Sets Available
The combo package is packed with additional gear to get you directly out to the water. This includes a preloaded reel, nippers, and knot tool, a zinger, rod tube, reel case, and even a fly box with flies.
One person who reviewed the Maximumcatch combo packages said that they were the most affordable and reliable way to get his whole family outfitted to be able to fish at his ranch in New Mexico.
Whether you're new to fly fishing or in need of an economical and well built backup rod for your far-flung adventures, Maximumcatch probably has what you're looking for. Their gear selection is impressive, so take a look at what they have to offer.
Pros
Very Affordable

Good "action" for beginners

Option for combo package which includes all the gear you need to get started
Cons
Reel seat is big for some reels

Has been prone to breakage
They just keep getting shorter! St. Croix's Mojo trout rod is a deadly accurate 2wt that comes in two pieces and measures up to a mere six feet.
That being said, the action is fast on this rod, meaning tight loops more accurate casting, and subtle presentation of smaller dry flies.
The rod is made up of an extremely durable carbon composite material, meaning it can handle getting caught up in thorns, twigs, and the occasional underwater snag.
This rod takes a slim profile seriously, with narrow snake guides and Master Hand 3D Stripping guides.

Features/Specs
6' 2wt Rod

Two Piece Construction

SCI Carbon Material for Unparalleled Strength and Durability

Fast Action

Cloth Rod Sock Included

5 Year Warranty
St. Croix makes quality products, and I am more than familiar with their ultralight spinning setups. That being said, they've devoted time and energy to making this stout little fly rod something special, focusing on durability and pop.
St. Croix's warranty covers this rod for five years, but with how tough and rugged the carbon is, you might not need to use it. This rod is perfect for drifting nymphs in short controlled swings and has enough power to launch a micro-leech or unweighted bugger right into the strike zone. You get a whole lot of rods in a compact package with the St. Croix Mojo.
Pros
Great presentation of smaller flies

Quality materials

Durable and rugged
Cons
Shorter Rod can be challenging to cast accurately
---
Other Gear-Related Articles
Uses of a 2wt Fly Rod?
A 2wt rod allows for an unparalleled amount of sensitivity and feel, and at the length of 10 or 11 feet this is of particular importance when you're euronymphing. This technique, a type of contact nymphing, involves throwing heavy tungsten-laden nymphs and allowing them to 'tick' slowly over the creek bed, at eye level with trout.
This is a gross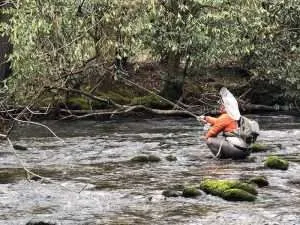 oversimplification of a very nuanced and complicated method of fishing, but that is the general idea.
Some of these 2wt rods in this review were made specifically to fish this way because the technique requires a super sensitive tip, and a long length to combat line sag and make broad swings out and away from you.
This sensitive tip is also incredibly useful when trying to discern small takes on your nymph when not using a sighter.
However, not all of these rods are centered just around nymphing. The shorter rods like the Douglas Upstream and the Maximumcatch Ultralight are adequate bug chuckers and perfect for smaller, wild water.
Most of these were designed for fishing pocket water and rough country streams, where casts of over twenty feet are usually a no-go, and where a ten inch fish is considered a monster. In these places, fishing with a ten foot rod would be an arduous and frustrating task, to say the least.
Outside of a technique-specific use, some anglers, myself included, are just interested in seeing how light we can go. Trout are fighting fish, and these rods allow you to appreciate their tenacity and power much more than using heavy tackle. Even small fish in the 7-10 inch range will put a parabolic bend in these rods. The challenge of using one can make successfully landing a fish an even more rewarding affair than usual.
What to Look for in a 2wt Fly Rod?
Finding a 2wt that's right for you depends on how you fish. Nymphing of all kinds has become popular and relevant in the fly fishing community, and if you're already a dedicated practitioner, then look for a long and sensitive rod that best accommodates that technique.
If you want an ultralight dry fly setup for fishing small streams, make sure the length is appropriate for those conditions.
Something that I think is important to consider when choosing a 2wt rod is durability.
These rods are incredibly light, and they simply cannot stand up to repeated abuse like rods of a larger weight.
Ripping rod tips through brush and thorns should be avoided. A bad fall can far more easily result in a broken rod. Even swinging your tungsten-laden flies wrong and clicking them to the tip of these rods while casting can be disastrous, so take a moment to assess the composition material of your 2wt, and pick something tough, especially if you're new to the ultralight game.
Something else to keep in mind is the warranty of your prospective 2wt. Mistakes are often made while fly fishing, and those mistakes can be even more hazardous to your gear when it is super light.
Conclusion/Reeling it in
Theodore Gordon, that esteemed and groundbreaking innovator of American dry fly fishing, had already predicted the modern angler's preoccupation with light tackle in 1902. He wrote, in the Fishing Gazette,
We will probably go to the other extreme now. Nothing but midges will do. We will have to take fish on the three-ounce rods and infinitesimal or imperceptible flies if we wish to be honored. It is certainly an exploit worthy of emulation to take large fish with the finest tackle and smallest flies, but there is reason in all things. We know of nothing more absurd than a fine large man being played by a fish…
I wonder what Mr. Gordon would think if he could see how light and advanced our tackle has become today. 2wt rods are not just effective tools for specific fishing techniques. The ultralight nature of these rods makes using them a challenge, and to continually challenge ourselves as fly fishers is a noble and worthy endeavor.
These rods aren't for everyone, but if you're considering sizing down, give these products a look. Tight lines!
*Quote taken from American Trout Fishing by Theodore Gordon & a Company of Anglers, Copyright 1965 by Theodore Gordon Flyfishers