Access = Opportunity
The idea of fishing from a boat is usually attractive to the bank-fisherman or chronic wader. I cannot count the number of times when the water swelled high in my hometown, and made wading a dangerous and near impossible endeavor, forcing me to the bank.
I would look at the kayak and raft fishermen with a mix of admiration and maybe a little jealousy, while I navigated frustrating casts in shoulder-high brush.
Here, I'm going to review several inflatable fishing boats to get you to those spots that waders can't.
In this review we'll cover:
Best inflatable fishing boats (overall)
Best inflatable fishing boats for the money
What to look for in an inflatable fishing boat
Inflatable fishing boat care
Benefits of using an inflatable fishing boat
Let's dive in!
---
Best Inflatable Fishing Boats
The Classic Accessories Colorado pontoon boat is an impressive example of how far inflatable fishing boats have come in the last thirty years.
This boat has it all, and owners of the Colorado model have nothing but good things to say about it. The boat can pack down to fit inside your truck or SUV alongside your other camping gear, and is relatively light for how large it is (71.5 lbs, 9' Pontoon length.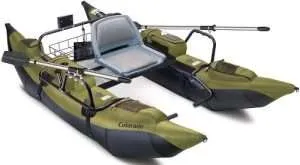 The valves are compatible with numerous air pumps, and although the oars and oar mounts are rugged and functional, the boat will support an electric motor and deep cycle battery.

Features/Specification
9' Pontoon length

Steel Frame

Assembled Length and Weight: 108″L 56″W 26″H, 71.5 LBS

400 lb Max Carrying Capacity

Wire Basket Rear Platform

Left or Right Motor Mount Option

Anchor System With Pulley, Mesh Bag, etc.

7' Two-Piece Aluminum Oars

2 Drink Holders and Fish Ruler
Modification
An interesting note about the Colorado is that it's easy to modify. The only real complaints I could find about it were that the oar mounts were stiff and a bit difficult to use, and that the seat doesn't swivel. These problems were relatively easy to fix with a few parts, an electric drill, and Youtube University.
The only other possible drawback to the stock design is that you will get your feet wet! The space between the pontoons is open, so it is possible to lose that can of beer or grasshopper fly if you're not paying attention and drop them between your legs.
Storage & Durability
The amount of storage options that the Colorado provides should prevent this though. The boat sports an array of pockets and mesh storage bags to organize and simplify the gear loadout, which can support an impressive 400 lbs.
Nearly every owner of the Colorado praised its durability. The heavy duty pontoon material can withstand significant abuse and is super tough. Some owners boast about taking the boat over Class 3 rapids every season, and to me this speaks volumes to the durability of this boat.
The Colorado can bounce around submerged logs and rocks, making easy floats down larger waterways a breeze (and safe!). It is definitely worth considering if you're interested in fishing from a portable, rugged watercraft.
Newport Vessels has created a proven winner with their inflatable sport boat. It sports an impressive max load of over a thousand pounds, with three separate internal chambers that inflate quickly with the included air pump.
The standout qualities of this dinghy are its motor compatible stern and inflatable keel. The inflatable keel creates a 'V' shaped hull that makes steering and maneuvering this boat responsive and easy.
The hull is made of an advanced PVC polymer that can stand up to rocks, logs and other obstacles, and here again, owners of this Newport watercraft frequently take it over Class 3 rapids and choppy water with ease.

Features/Specification
8'10" Inflatable Dinghy

1067 ;b Max Load

Electric Trolling Motor Compatible

.9MM/1100 D UV Treated Hull Material, Puncture Resistant and Tough

Air Pump, Oars, and Storage Bag Included

Inflatable Keel

Very Portable and Easy to Assemble
Durability, Flexibility & Price
The inflatable tail tubes and aluminum framed marine grade plywood provide an exceptionally sturdy and even surface for sitting, standing and casting.
Although it can be used without a motor and comes with its own set of oars, you're missing out on some of the most notable features this boat has to offer without one.
It carries a higher price tag than the above-mentioned Colorado pontoon boat, but with over double the max carrying capacity of the Colorado and the ability to support a 10 horsepower motor, this workhorse of a boat provides a stable, reliable, and portable ride through many different types of water.
If you're familiar with watercraft at all, Sea Eagle should be a familiar name to you. They create high-quality products that range from fishing vessels to pontoon boats, kayaks and everything in between.
The Sea Eagle 285 is a one-person pontoon outfit that sports an impressive 450 lb max load. Its ability to be pack light is a standout feature, and can be used without the floorboard and motor mount, shaving the weight of the craft down to a mere 30 lb.
Most users do use the motor mount and floor board option, which ups the total weight and increases the assembly and inflation time slightly, but does allow for small electric trolling motors to make moving around waterways easier on the arms.

Features/Specification
Exterior: 9′ x 4′ / Interior: 6'2″x1'4″ / Deflated: 24″x14″x12″ / Tube Diameter: 16″

30 lb Hull Only, 42 lb with Floorboard and Motor Mount

3 Hp (55 lb Thrust) Engine Capacity (Minimum 30" Thrust)

Material: 1000 Denier Reinforced / Seam: Quadruple Overlapping Superior Glued Seams / Material: 1000 Denier 36 mil / Chambers: 3

5 Minute Assembly/Inflate

450 lb Max Load
Design
The short assembly and inflation time is a major selling point of this vessel, and its small size and ability to be thrown in your trunk instead of having to rent or buy a trailer minimizes the inevitable headaches that can be caused from trying to get your boat in the water from the shore.
Intuitive design and internal bladders make the whole ordeal less intimidating, especially when working alone.
The Sea Eagle rides high in the water, even when approaching the vessel's max load. One observation about the vehicle's performance on the water, however, is that wind can set the boat to spinning, but that is to be expected on lighter boats.
Paddling without the motor seems to be sufficient for use on non-windy days, and overall, Sea Eagle has created a simplistic but durable watercraft for use in small lakes and large ponds.
Best Inflatable Fishing Boats For The Money
The Intex Excursion is a kayak-style inflatable watercraft that can seat two. With a price that is less than half of some of the inflatables I have already reviewed, initially this boat seemed like a good first-time buy for freshwater fishermen looking to get off the bank.
The laminate PVC material is touted as being very abrasion-resistant and tough, and the high air pressure within the boat is also said to give more durability overall to the hull.
Laminate PVC with Polyester Core Hull and Body Material

High Pressure Inflation Valves

Removable/Adjustable Mount for GPS/Fish Finder

86" Aluminum Oars

Storage Space In Bow and Stern

400 lb Weight Capacity
Mixed Reviews Worth Noting
There are very mixed reviews on the Intex Excursion, and they must be mentioned in my review. There are multiple instances of buyers receiving this boat damaged in the box, presumably from being packed too tight from the manufacturer.
There are also reports of seam damage and broken pressure gauges and cracked valves right out of the package. This being said, go over the warranty/return policy CAREFULLY.
As far as use goes, the reviews are mixed as well. There are some people that have been happy with the Intex, using it moderately over several seasons.
However, I was also alarmed to read reviews about seam-splitting and floatation issues after the first use of this boat. So, in conclusion, while the cheaper price tag and ease of assembly are enticing, read that return policy and be mindful of this information on your first outing with this boat. Safety first!
Sea Eagle comes through with another reliable and durable watercraft again with their PF7K Packfish inflatable. This boat is the smallest but also the most versatile boat in this review.
The included backpack stores the boat uninflated, but can also be rigged to carry the inflated craft on your back as well, meaning that you can carry it up and out of water that could have been impassable or dangerous otherwise.
This feature is of particular interest to me because I have a tendency to try to fish places that are laden with obstacles, in the water and out.

Features/Specification
Inflated exterior: 7′ x 3'3″, inflated interior: 4'6″ x13″, deflated: 5″ x 20″ x 20″

300 lb Max Load Capacity

Deluxe Package Includes Backpack, Oars, Repair Kit and Foot Pump

2-chamber bladder of 30 mil Polykrylar, 840D Nylon Protective Cover

Most Portable and Versatile Boat Reviewed
The ability to attach my boat to a backpack and just carry it out of an area too thick with submerged wood or stone to float through is a big plus.
Best Bang for Your Buck
For its small size, the PF7K sports a decent max load at 300 lbs. While I can't endorse it, I have read reviews where owners of the PF7K have found no issue exceeding the max capacity by up to 50 pounds.
Some owners have even modified the boat with light trolling motors, but without a motor mount, this type of engineering should only be attempted by someone who knows what they're doing on the water.
The consensus on the stock oars and oar mounts are mixed, but these too are easily modified at the owner's discretion.
For the money, this boat seems to be the best choice, especially for first time buyers. Sea Eagle has a great warranty and a stellar customer service reputation, so you can buy with confidence.
This boat seems like it would be just the thing for those of us that fly fish bigger creeks that can run shallow in some areas.
---
Other Gear Related Articles
---
What to Look For in an Inflatable Boat
When assessing what kind of inflatable boat to buy, there are a few things you should consider about the specific design.
Kayak
This style of inflatable is usually small and narrow, mimicking the hard-body kayaks that I'm sure most of you are familiar with already.
They are maneuverable, usually light, and pack small, so small in fact that some models enable you to carry them to the water on your back or in a modest duffle bag. The max load of this style of inflatable is usually light, so plan your gear loadout accordingly.
This probably means no cooler, no motor and battery, etc. This type of boat shines when used in bigger creeks or on stretches of smaller rivers where agility and a low profile are needed.
Pontoon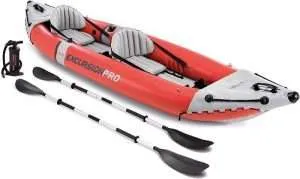 This style of inflatable seems to be a good middle ground between the kayak-style and dinghy, and is well designed for fly fishing. The pontoon style inflatable boats usually don't have a metal frame, cutting weight and making them easier to transport than plastic or metal hard-body boats.
Using a series of air-bladders to float means a bigger max-load and a wider and more stable platform to fish from. Some models don't have a floor, so you'll still be fishing from a sitting position.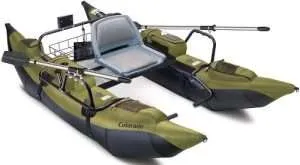 However, other models do have a floor, and while this adds weight, it means you can stand up and fish, and I think this is a big draw for most of us, since finesse casting is very challenging while seated.
Dinghy
This style of inflatable is the largest and arguably the largest out of the boats in this review. While dinghies are sometimes used solely to taxi people off of a larger boat and on to land, they are versatile and stable boats on their own, and perfect for larger lakes and deeper parts of bigger rivers.
While motors can be affixed to the pontoon style inflatables, dinghies can support larger, more powerful motors, meaning trolling is easier and the user has more control over where the boat is going and how fast.
Rowing these is no small task, but possible, since the dinghy style inflatables can more easily support multiple passengers and more gear.
Inflatable Boat Care
There have been major advancements in polymer technology in the last two decades, and this means that the inflatable boats of today can take much more abuse than previous rubber tube-type inflatables of the past. Still, to get multiple seasons out of your boat, proper maintenance and care is a must,.
UV damage is caused by the sun, and can cause the glue-welds and seams of your inflatable to weaken over time. Some of the boats I reviewed use UV resistant material, but occasionally applying a marine-grade UV protectant spray will only prolong the life of your boat. Don't store them in the sun!
Modifying your inflatable seems to be very trendy and many people that own these boats tweak them to make them more durable. There are marine-grade anti scuff paints available that you can coat your hull and the underside of your boat with to grant you further protection from sharp rocks, submerged wood and even the occasional fishing hook.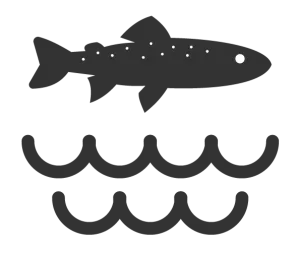 Properly storing your boat will also protect it from the damage. Just like waders, putting away your boat wet and packed will eventually damage it.
Get it dry and keep it somewhere that isn't prone to rapid temperature changes. This means that it will usually fare better in a mildly heated/cooled basement than out in the shed, baking in the summer and freezing in the winter.
I also must point out that with the laundry list of invasive species of aquatic flora and fauna about, PLEASE spray off your boat after every use, and allow time for the boat to dry before using it in different bodies of water.
Benefits of Using an Inflatable Boat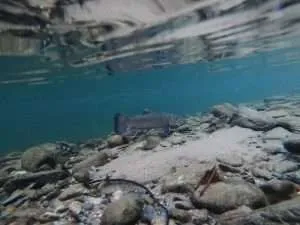 Inflatable boats are easy to transport. When packed, they can fit into the trunk of your car or the toolbox on your truck. This means no trailer, no roof rack, just toss it in and get to where the water is. Some models even pack light enough to carry to the water if you can't access somewhere to park that's close.
These advantages make inflatables much more manageable than heavy kayaks or aluminum jon boats. Also, modern inflatables and their advanced polymer construction mean that they are more apt to survive collision with obstacles and stand up to scraping and dragging than rigid kayaks, etc.
Whether an inflatable boat or a hard-sided one is right for you will depend on how you're going to use it and in what waters you'll be fishing, but consider how far inflatables have come in the last few years.
They are well on their way to replacing the fleets of standard old Wal-Mart 'Yaks I see floating on my local waterways in force every summer.
Conclusion/Reeling it in
When I first got into fishing, I heard someone at an outdoors auction say that the two happiest moments in a boat owner's life are when they buy their first boat, and when they inevitably sell it.
The old tropes about owning a watercraft and it becoming a money pit are valid, considering that frequent use of any boat means money and time spent on repair, maintenance, possible modifications, plus the initial cost.
Gear breaks and can be unreliable, and this applies to everything related to fishing, from rods and reels to waders and boots. But even still, the thought of using an inflatable to reach the parts of the river or creek that even those in waders can't access is tantalizing and appealing.
Buying a boat can be intimidating, but it doesn't have to be a daydream. Modern inflatables seem to be the way to go for serious fly fishers that want access to the parts of waterways that they can't wade to.
With some thought and research, the right inflatable can expand your fishing horizons for the entire season, and can get you to where the big ones hold.
I hope this review can help you make the right decision, and float you into those big rises that you'd otherwise only be able to view from afar.
Additional Readings: