Bass Fishers Unite!
Bass produce breathtaking strikes and are heavy, powerful fish. When you have the right equipment, namely the correct rod to throw a heavier line and a reel that can handle the thicker capacity with stronger drag, they are tons of fun to pursue on the fly.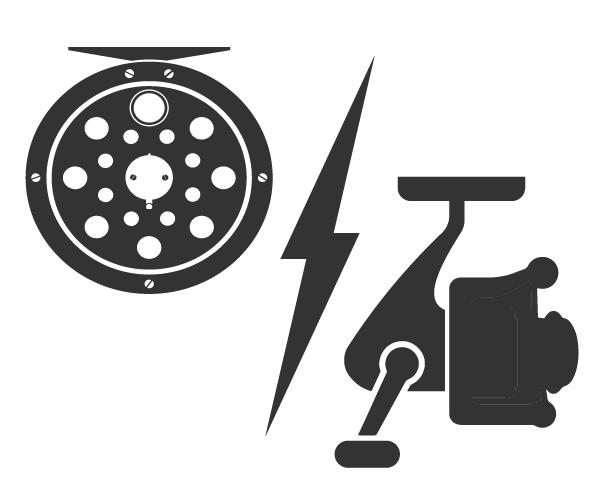 That's not how I started fishing for bass, though.
I loved to go after them with a spinning rod long before I even knew how to cast a fly rod. In this article, I'm going to be looking at some of the best combos on the market intended for bass fishing, and I'm going to cover both fly combos and spinning rod setups as well.
Conditions vary, and there are distinct benefits to using one rod over another situationally, so join me as we take a look at the combo outfits that can get you fishing right out of the box.
In this article you'll learn:
Best Bass Fishing Fly Combos
Best Bass Fly Rod Outfits on a Budget
Spinning vs Fly Fishing
Best Bass Fishing Spinning Combos
Best Spinning Rod Combos for Bass on a Budget
Frequently Asked Questions
---
Best Bass Fishing Fly Combos
Features/Specs
9' 8wt 4-Piece Rod
Fast Action
Chrome Snake and Stripping Guides
Full Black Nickel-Aluminum Reel Seats
Rod Identifier and Alignment Dots

Size IV Clearwater Reel
Spooled with Backing, Clearwater WF Line, and 9' Leader
Large Arbor
Positive Click Drag Knob
Stacked Disc Drag

Rod and Reel Case
Orvis knows fly fishing, and that means they know what it takes to make a product that can bring fish other than trout to the net. The Clearwater series of rods have always been well-reviewed, but this 8wt combo is the perfect outfit to get out there and get after different fish when the weather gets hot or when you're visiting saltwater. This combo consists of a 9' 8wt Clearwater rod, with fast action and plenty of power in the butt section for bass or whatever else you're trying to lift on the end of your line. Chrome snake and stripping guides work just as smoothly in the surf as they do in freshwater, and the inclusion of alignment dots makes this four-piece easy to set up and break down.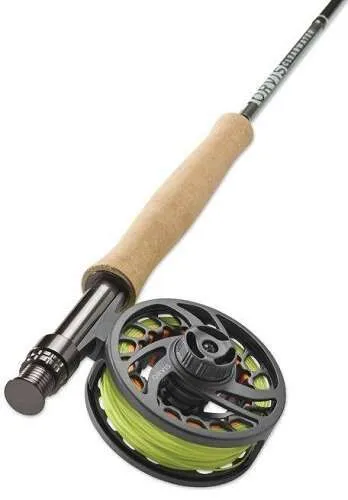 The size IV Clearwater reel is a large arbor masterpiece, able to pick up lots of line each turn, and relatively light despite its large capacity. The reel comes filled with backing, Clearwater brand WF floating line, and a 9' leader. Just tie on a fly and start throwing. The positive click drag knob lets you know by touch when you've engaged another level of drag, and the stacked disc drag is reliable and able to tire out even large fish when they start fighting hard. Despite the fast action, there's still enough play here to protect your tippet. This product is covered by the Orvis 25-Year warranty, and the added rod and reel case will keep it safe on your way to or from the water. What more could you want out of a mid-priced Orvis product? Check this out.
Pros
Affordable, but spares nothing in the way of quality.
Dependable and sufficient for use as a main rod and a backup
Fast action and disc drag combine to create a powerful, versatile rod for the traveling fly fisher
Cons
None. This is a product more than deserving of your consideration.
Features/Specs
9' 8wt Path II Rod
Medium/Fast Action
Anodized Aluminum Reel Seat
Full Wells Grip
Saltwater Rated Chrome Guides

Crosswater Reel
Spooled With RIO Mainstream WF Fly Line
9' 10 lbs Test Leader
Large Arbor
Powerful Disc-Drag
Convertible

Tippet Included
Flies Included
I am no stranger to Redington products. They are a great synthesis of quality and value, and their 8wt combo, intended for bass and other larger predator fish, is a perfect example of this company's devotion to products that just work. The 9' Path II rod is Redington's new and improved Path rod, and it excels at long, smooth casts, even with heavy and less-than aerodynamic streamers. The full wells grip allows for added control and power, two things you need when targeting big bucketmouths or toothier fish. This rod is saltwater rated, and the ability to go from the surf back to your favorite pond with the same setup is very convenient. The medium/fast action is functional but also user-friendly, and a lot of power can be generated from this tall rod's parabolic bend.
This combo is paired with Redington's Crosswater reel, which sports a large arbor for quick line pickup, and a surprisingly powerful disc-drag system. This comes in handy for bass and saltwater and brackish-water fish. The reel comes spooled with backing, Rio Mainstream fly line, and a 9' 10 lbs test leader, as well as the appropriate tippet for heavier fish. The reel is convertible for left and right-handed users, and it even comes with a selection of streamers, so you really can take this combo right out of the box and down to the lake. Well reviewed and well liked, even if the Redington Path II combo isn't your main rod for bass fishing use, it makes a more than capable backup and outperforms some rods nearly twice as expensive. This is a great combo from a great company.
Pros
Quality componentry and affordability rolled into on
Saltwater rated
RIO fly line and 9' leader included
Lifetime Warranty
Comes with flies
Cons
Occasional reports of brittle tip sections, but these rods are guaranteed for life, and Redington is easy to work with.
Features/Specs
9' Four-Piece Fly Rod
Medium/Fast Action
Anodized Aluminum Reel Seat
Chromed Snake Guides
Cork Handle

RUN Reel
Spooled with Rio Warmwater Quickshooter Fly Line
9' 10 lbs Bass Leader
Reliable Carbon Fiber Drag System
Large Ported Arbor

Cordura Case
Lifetime Guarantee
This outfit from Redington is aimed at the novice warm water fly fisher, but the quality componentry and durability of this combo are worthy of a place in the 'Best Of; category here. Featuring a 9' four-piece fly rod that combines precision and power well, this medium-fast action rod is approachable and forgiving for someone new to throwing this line weight, or new to fly fishing in general. The rod features an anodized aluminum reel seat and chromed snake guides, and reviewers were pleased at the control and power in the butt section, not to mention a quality cork handle that's easy on the eyes.
This combo includes a Redington RUN reel, and a non-machinable die-cast aluminum fly reel with a large, intricately ported arbor to cut down on weight. The carbon fiber drag system is reliable in many different environments, wet or dry, all the time, and is a big selling point to this model of Redington reel. The reel comes spooled with Rio Warmwater Quickshooter fly line, able to not only withstand high temperatures but with a generous taper to turn over even heavy bass flies. Throw in a Cordura case and Redington's lifetime guarantee and this rod combo have a lot of beneficial factors to it. Makes a great backup outfit, or a great starter rod for anyone new to fishing in the heat of Summer
Pros
Intuitive, powerful 9' rod with a forgiving medium/fast action
Quality Rio fly line
Cons
The included leader was the only feature that garnered negative reports from reviewers. If it didn't come twisted beyond usability it was often brittle, so keep an eye out for those problems.
---
---
Best Bass Fly Rod Outfits on a Budget
Features/Specs
11' Four-Piece 7 wt Switch Rod
Graphite Construction
Stainless Steel Stripping Guide
Single Foot Snake Guides
Uplocking Reel Seat
5 ¼" Extension Butt

Wild Water Reel
Die-Cast Aluminum
112 mm
Spooled with 30# Backing to Dual Color 400 Grain Switch Line
12' 0X Mono Leader

Wild Water Fly Box
Extra Leader
Nipper with Knot Tool and Eye Cleaner
Flies Included
Hard Case
If you want everything you need to start targeting bass or other big predators, and I mean just about everything, Wild Water has got you covered with their 11' 7 wt Switch outfit. This graphite rod performs well under a variety of conditions and is lightweight for its size due to the graphite construction. Stainless Steel hardware and an uplocking reel seat are both good inclusions here, and you can generate a startling amount of power using the 5 ¼" extension butt, making long casts and hard-fighting fish easy work in freshwater or salt.
The reel here is a 112 mm die-cast aluminum offering from Wild Water, and it comes spooled with 30# backing to a two-tone 400-grain fly line capable of being thrown far. The 0x mono leader is an added bonus–just tie on one of the included flies and get to whippin'.
The extra accessories included in this package are where the value is because not only do you get the rod and reel necessary for longer casts and bigger fish, you get just about everything else you need for a long stay out on the water. A fly box, flies, nipper multi-tool, and extra leader combined with a neat slim case for it all to fit into make this offering from Wild Water worthy of the top spot in the 'Best Value' section.
Pros
Powerful but lightweight rod and reel combo
Tons of extras included
Cons
11' is a lot of rod to handle
Some complaints regarding the longevity of Wild Water's included reel
Features/Specs
9' 7/8 wt Fly Rod
Graphite Construction
Double Locking Aluminum Reel Seat
SIC Snake Guides
Cork Handle

Goture 7/8 Reel
Spooled with 30 # Backing to WF7W Floating Line
9' Leader
Disc Drag
Large Arbor

Fly Box
Flies Included
Nipper Multi Tool
Zinger
Rod Bag
Goture is a tackle company with numerous products available at more than affordable prices. I used to take advantage of their economical spinning reels and use them on most of the rods I would find and restore from yard sales and auctions, and they were dependable and served their purpose, and I think that that is what Goture does best–offer up products that work for those of us on a budget. This bass outfit does exactly that, with a 9' four-piece rod with sufficient power and an intuitive medium/fast action. Graphite, as we all know, is lightweight and responsive, but sometimes brittle, so be careful trying to horse in those football-sized bass. There's ample power here for bass and other predators, though.
The reel features a dis drag for those extra feisty fish, and it has been reviewed well, even when used in saltwater. 30# backing to WF7W floating line with welded loops is what I started with when I tried fishing for bass on the fly, and I think it's a great place for anyone new to this methodology to begin at. The reel sports a large arbor and can pick up line fast, and the 9' pre-installed leader is an added bonus. Like the above-mentioned combo, the value is not just in the rod and reel combo, but the extras you get with the package. A fly box with flies, zinger, a useful nipper multi-tool as well as the carrying bag make this outfit a fantastic choice, and super easy on the pockets. Great for outfitting a few newbies, or stowing away for when you find yourself somewhere you might need it, check this combo out from Goture.
Pros
Affordable price point
Lightweight
Everything you need
Cons
Where there were reports of brittle tip-sections or mid-sections, the biggest con here is Goture's customer service. They can at times be hard to contact and work with, so be aware of that.
---
---
Spinning vs Fly Fishing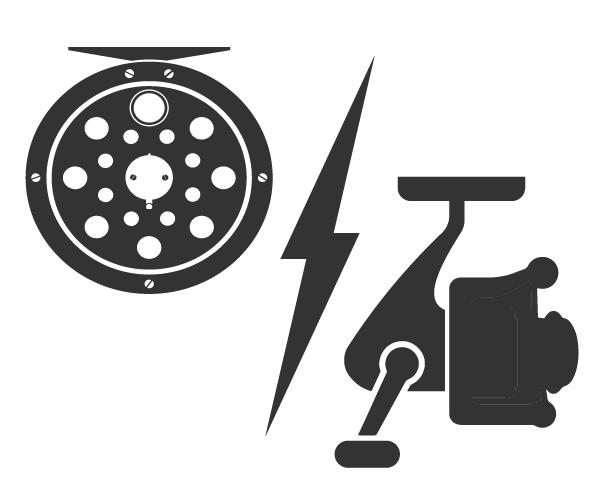 A small note before we get right into the spinning combo section of this review– I am a die-hard fly fisher, but there are places and conditions where a fly rod will have you spending more time replacing leader and cutting fly line than you are fishing, and this is never great.
There are ordinance ponds that I fish close to every year, and at the beginning of the season, when Spring has only been sprung for a few weeks, it's a great spot to fly fish for bass. The plants and thorns have not had a chance to get started growing yet, meaning that there are not many obstacles preventing you from those fifty-foot casts, and there's far less overhang to get caught up in. Fast-forward to late July, and attempting to fly fish these ponds become near-impossible. The overgrown state of the plant life surrounding the water makes casting incredibly difficult to execute, and the old spinning rod becomes the perfect choice if you still want to get into some fish. Spinning rods can be cast with a flick of the wrist (depending on lure weight and size), making it much easier to pull off accurate pitching casts with little room to wind up and throw. They also tend to be generally more user-friendly, and I often recommend those who have no fishing experience, but are interested in fly fishing, to start with these rods.
I'm sure many of us graduated to the fly rod from the spinning rod, but even I must admit, my quiver of spinning rods and reels often only sees use a few times of year now that I fell head-first into fly fishing. Just don't limit yourself away from a good day on the water because the conditions don't make for the best day of fly fishing. There's no bad day to go fishing, regardless of the rod and reel setup you use.
---
Best Bass Fishing Spinning Combos
Features/Specs
6'6 Abu Garcia Spinning Rod
Medium Power
2-Piece

Max Pro Spinning Reel
Graphite Body and Rotor
Mono Capacity Yd/Lb
5:8:1 Gear Ratio
29" Retrieval Rate
Abu Garcia's Pro Max combo is a further improvement upon their last setup, and the improvements are evident. Abu Garcia rod and reel combos give the user a bit more quality componentry and design benefits than other off-brand combos you're likely to find in the Outdoors section of your favorite big box store. The rod here is a medium power two-piece 6'6, perfect for a bass boat or if you're fishing from the bank all day. Durable and aesthetically pleasing with a white/grey color scheme, this rod can handle big pond bass but can also be used effectively with lighter line and lures as well.
The Max Pro spinning reel that comes with this combo sports a generous capacity (225/6 175/8 140/10) on its machined aluminum spool, and is able of super fast, super smooth line retrieval. Combined with a drag system powerful enough for those startling topwater bass takes, and this is a great combo for the more discerning angler that desires a bit of class and the reliability of the Abu Garcia brand. Highly recommended spinning setup.
Pros
Quality components
Great reel
Cons
None. This is a great first setup but is also a handy backup for the more serious bass fisher.
Features/Specs
6'6 Two-Piece Spinning Rod
Graphite and Fiberglass Construction
Medium Power
Target Fish Size 6-15 lbs
Responsive Clear Tip
EVA Foam Grips

Shakespeare Spinning Reel
Mono Capacity Yd/Lb
3 Ball Bearings
Instant Anti-Reverse Bearing
Double Anodized Aluminum Spool
Oversized Bail Wire
Compression Bail Springs for Longevity
It's almost impossible to talk about spinning for bass without mentioning Ugly Stik. This brand of rod has been renowned for its durability, power, action, and more for a long time, and I still know anglers to this day that won't fish any other brand, for bass or any other hard-fighting fish. These rods can be used season after season reliably and dependably, even when subjected to hot Summers in the garage, or freezing winters out in the tool shed. Graphite and fiberglass combine to produce the GX2, a model of Ugly Stik I've been acquainted with (and still use) for a while. A GX2 was my first Muskie rod, although it was a lot longer and quite more powerful. This medium action combo is all you need to go after big bass with a variety of different baits, and it works well as catfishing rod too.
The Shakespeare reel included in this combo is nothing super special, but even this brand's combo reels are functional, easy to use and more or less reliable. I say this because it seems like true reliability with a cheaper spinning reel only really comes from taking care of it and making sure it's oiled and cleaned after every outing. Still, this three-bearing reel with a double anodized aluminum spool and compression bail springs is all you need to get out there and get after some bass, and you can't go wrong with any Ugly Stik, so check this out, and at the low price point these are selling at, give the GX2 a shake and see if you like it.
Pros
Ugly Stik is still synonymous with durability and dependability
Functional bass combo, but also doubles as a decent multi-species rod
Cons
Researching these combos it was easy to see that in the overwhelming majority of cases, the Shakespeare reels failed long before the GX2 rods.
Features/Specs
6'6 Spinning Rod
Graphite/Composite Construction
Medium Power
Stainless Steel Guides and Inserts
High-Modulus Blank

Graphite Reel
7+1 Bearing System
145 Yds/10 lbs Capacity
Oversized Disc-Drag
Skeletal Aesthetic Design
I often see Lew's baitcasting setups all over my local waters come the bass season, but rarely do I see their spinning combos, either in-store or advertised. This is a shame because Lew's Mach Smash spinning combo is a great offering from this veteran fishing company. The combo consists of a 6'6 spinning rod that utilizes a high-modulus graphite/composite blank to assist in long, responsive casts with both braid and mono. Stainless steel hardware makes this medium power rod capable of taming predator fish with ease, and the EVA padded foam butt-section aids in this as well.
The skeletal graphite reel included in this package is reliable even in extreme weather conditions, and it sports impressive 8 ball bearings and powerful oversized disc drag. While its capacity is not huge, this spinning setup is great to have on hand, in the boat for when you just don't have the motivation to untangle that bird's nest in your baitcaster yet. Pair it with a specific fishing application (topwater spooks, Jitterbugs, etc) and leave it at the ready so that you can throw what the fish want when you need to. Great set up.
Pros
Lightweight but with ample power
Skeletal design of reel cuts down on weight and looks impressive
Capable of long casts with smooth retrieval

Cons
Lew's rods are known to be a bit brittle, so watch your tip.
---
Best Spinning Rod Combos for Bass on a Budget
Features/Specs
6'6" Orange Fiberglass Spinning Rod
Moderate-Fast Action
Medium Power
Stainless Steel Guides and Hardware

Graphite/Aluminum Reel
170 Yd/10 Lb Capacity
5:2:1 Gear Ratio
Anti-Reverse
Convertible Handle
Zebco is often regarded as a beginner brand or the Wal-Mart clearance rod in my neck of the woods, but I've used them to catch numerous fish, some of which were far heavier and feistier than what the rods were rated for. The Roam spinning combo is a 6'6" fiberglass rod paired with a 5:2:1 spinning reel with a 170 Yd capacity at 10 lbs test. These rods can hold an ample of amount of braid as well, but both types of line can be retrieved smoothly with the included reel, making this a no-nonsense budget rod that can still bring a bronzeback to the net as easily as your $250 outfit.
Pros
Affordable price point
Functional, all-purpose spinning combo
Pre-Spooled
Cons
The capacity could be a bit larger
Features/Specs
6'6" Two-Piece Spinning Rod
Graphite/Composite Blank
Cork Handles
Stainless Hardware

Sougayilang 500 Size Reel
2:1 Gear Ratio
29" Retrieval Rate
Anodized Aluminum Spool
Sougayilang (Soo-Guy-I-Lang) makes affordable fishing tackle tailored to those of us on a budget. It's hard to beat combos at their prices, and they do it all. From baitcasters to ultralight spinning rods and fly tackle, this company has made a name for itself on the internet with its low prices and a high-volume internet presence (I see its ads everywhere). While the quality control is sometimes a little lax, these combos get you fishing on the cheap, and they do work.
The real sports a modest 2:1 gear ratio, but with a decent retrieval rate and pretty standard features. The graphite/composite rod is lightweight and this setup is capable of pitching baits as well as throwing small spoons far distances. If your wallet is as thin as mine, Sougayilang products are there to get you what you need to get back to fishing, and functional enough to be worthy of your consideration.
Pros
Super affordable
Functional
Cons
There are reports of manufacturer's errors and quality control issues with some products
---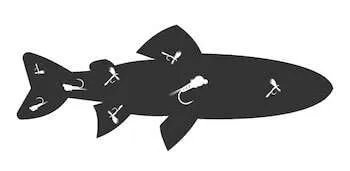 Frequently Asked Questions
Q: What purpose do combos like these serve if I already have a few rods and reels?
A: There are many reasons that you might need to purchase a paired rod and reel combo (whether you're fly fishing or spin fishing). During tournaments, for example, time is money, so it always pays to have a few rods at the ready to throw different baits as the conditions around you change. Sometimes, disaster strikes and you lose or damage the setup that you intended using on your fishing trip, and you need a backup immediately, or you'll face the grim situation where you're stuck not fishing while traveling. For those of us that keep a rod in the car and compulsively pull off the road to throw "a few casts" into a new stream or tailwater, a budget combo is extremely useful, because it's always at the ready and there's less guilt associated with exposing it to the extreme temperatures of your backseat. Whatever you're reasoning is, combos are an easy way to be able to fish anywhere, any time.
Q: Braid or no braid on my bass fishing combo?
A: I think that answer depends on the lures that you're going to use and your familiarity with braided line. I would not recommend braided line to a beginner that is just starting out spin fishing for bass. However, once you're familiar with braid and tying leaders, I would recommend braid as the mainline on most of the reviewed combos above, even if they're pre-spooled. Braid can help you cast further and is strong enough for predators that are much toothier (and sometimes much larger) than bass, like pike and muskie.
Q: What length is best for bass?
A: While many of the spinning combos I have reviewed here are 6'6" long, more length equals more power and longer casts. Just be aware of your conditions, because the more rod there is the more often you can get it entangled in brush and overgrowth. While fly rods tend to be much larger when fishing for bass, take advantage of the relatively short length of your spinning rod combo, and give those technical casts a shot.
Reeling it in

Whether you're looking for Christmas gifts for a beginner or a devoted veteran angler, consider a good spinning rod or fly rod combo. The novice can use it to build the skills necessary to warrant the construction of their own rod and reel combo, and I have never met an angler that couldn't use a brand new combo on some endeavor, whether traveling or just caught without the gear needed to go fish for a few hours. Consider the above-reviewed products this holiday season, because all of them have a use in the wide range of modern fishing applications there are today. I hope this article has enabled you to buy with confidence and has shed light on some really great fly rod and spinning rod combos.
Fish on!
Related: