The Tools at Hand
A fly fishing lanyard hangs around your neck and allows you quick and direct access to the tools you need and use most. It is a minimalist approach to fly fishing and is most popular in the summer months, when wet wading or for quick day trips.

Having the right tools at the right time
The task of attempting to reapply tippet to the leader and reattach a tandem fly rig to said tippet, all the while in waist-deep rushing water, is enough to make some of us head directly back to the bank and quit for the day.
Having the right tools can help simplify the more technical aspects of fly fishing (like line management), but having them isn't quite enough. Having these tools ready and at hand when the need for them arises is oftentimes just as important.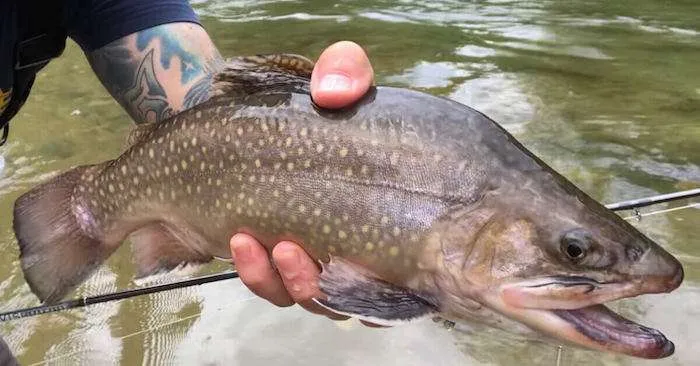 How we organize the tools we need to spend less time trimming line and tying knots and more time fishing can be crucial, especially when disaster strikes in the form of bad snags or treed flies.
A fly fishing lanyard can help keep your most-used pieces of gear at the ready and accessible at all times when fly fishing.
Lanyards are worn around the neck (sometimes called a fishing neck lanyard) and usually contain several 'docks' upon which you can attach those pieces of gear that you know you use frequently, or that you need to be able to access quickly. As per usual with fly fishing gear, there are numerous variations of this idea available on the market, and I'm going to take a look at some of them in this review.
Join me as I give this organizational tool an honest assessment.
In this guide we'll cover:
Best fully loaded fly fishing neck lanyards
Best fishing lanyards (not loaded)
Best fly fishing lanyards for the money
Best simple fishing lanyards
Why a fishing lanyard?
Fly fishing lanyard setup
And much more!
Let's get started!
---
Best Fully Loaded Lanyards
We reviewed the best fly fishing lanyards that come fully loaded with everything and angler needs for a successful day on the water.
This product is absolutely loaded with some of the most used gear needed to address a multitude of different situations while fly fishing.
The molle-style webbing used here prevents the lanyard from twisting and becoming tangled around your neck when on the move.
It lays flat and is extremely durable. Six paracord docking loops give you easy points of attachment for your own gear, while keeping the included gear organized and accessible.
The lower fly dock allows you to dry used flies and keep a couple confidence patterns at the ready and out of your fly box.
The forceps dock is expertly designed to eliminate clumsy swinging of pliers while casting or moving about, and the whole lanyard has a professional and functional feel to it, something you should expect with an Orvis product.
The forceps and nippers included here are easy to hold on to, even when wet, and laser sharp.

Features/Specification
Molle-style Webbing Lays Flat to Reduce Twisting

Six Paracord Docking Loops

Upper Forceps Dock Prevents Swinging

Lower Fly Dock for Easy Access and Drying
Loaded Lanyards Include:
Comfy Grip Forceps

Comfy Grip Nippers

Hyflote Gel

Floatant Holder

Tippet Bar

3 Spools of 30m SuperStrong Plus Ti[[et (3x, 4x and 5x)
The floatant holder comes with Orvis Hyflote Gel to keep those dries floating like corks even when soaked, and the tippet bar allows you to keep your spools organized and managed.
Orvis has even gone so far as to provide you with a tippet assortment of their SuperStrong Plus tippet, in commonly used sizes and strengths. This product can be used right out of the box and has been glowingly reviewed by satisfied customers.
This is a functional, quality piece of gear that I could not recommend more, especially for the price.
I know Dr. Slick because I tie flies, and their gear has a reputation for being ergonomic, super sharp and functional.
This lanyard goes to show that this company knows fly fishing, and they have produced a quality product replete with the gear needed to streamline your endeavors on the water.
The lanyard itself is made of an adjustable elastic shock cord that's tough as nails and impervious to hook points.
The lower portion holds an effective tippet caddy, and the attachment points are simplistic D-Rings here.
There is an included shirt clamp to keep the fully encumbered lanyard from swinging around, and is another point of contact for you to keep it out of the water.

Features/Specification
Adjustable Elastic Shock Cord with Padded Collar

Tippet Caddy

Floatant Holder

Two RPD Retractors (Zingers)

D-Ring Gear Attachment Points

Shirt Clamp
Loaded Lanyards Include:
Bug Jelly Fly Floatant

5" Forceps in Gold

Offset Nippers

Waterproof Fly Box

HFG4 Hook File
The fully loaded lanyard includes Dr. Slick's brand of fly floatant (Bug Jelly) and a floatant holder, as well as 5" forceps and their super sharp offset nippers.
In the provided photos, these two items are seen attached to the two RPD retractors, and I must say, that is how I would personally use them as well. Having your nippers and forceps attached to retractors makes it near impossible for them to get dropped in the creek, a regrettable and extremely frustrating occurrence that I think is far more common than any of us would like to admit…
There's even a hook honer and file included here, which is particularly useful when you're in pursuit of more toothy and predatory fish and a needle-sharp fly is a must.
This lanyard has it all and is a great answer to Orvis' loaded lanyard.The multiple D-Ring attachments allow for additional gear to be applied, but I struggle to think of what else you might need.
Dr. Slick has even included an attachable waterproof fly box suitable for both dries and nymphs. This product was masterfully designed and is more than worthy of your consideration.
This is an affordable alternative to the above reviewed products that is simplistic but just as functional.
The lanyard is constructed of braided 550 paracord with attachment points that should be recognizable to any fisherman worth their salt.
These six swivel-type attachment points are reliable and heavy duty, but they do take a little effort to open and close. Thankfully, that can be done at home and usually not on the water.
My first thought about this lanyard was that it was a shame that it didn't have a tippet bar, but people who reviewed this product were quick to point out that the wire retractor attachment can easily double as a tippet caddy when attached lower on the lanyard.
Fully loaded, this lanyard includes a fly patch for drying your flies and keeping some at hand, forceps and super sharp line nippers.

Features/Specification
550 Braided Paracord Necklace

Plastic Breakaway Clip for Safety

Wire Retractor to Tighten/Position Tools

Swivel-Type Attachment Points

Shirt Clip
Loaded Lanyards Include:
Fly Patch

Forceps

Hook Sharpener

Line Nippers

Line Straightener

Floatant Bottle Holder with Carabiner
There is a line straightener to combat pesky memory in a new leader, forceps, and a floatant holder with a carabiner (but no included floatant here).
This lanyard is easily customizable, and a great initial buy if you've never used one before at a less intimidating price point.
Best Fly Fishing Lanyards
These are some great picks for someone who wants a simple and reliable lanyard, but without all the bells and whistles from a fully loaded lanyard.
Mountain River has created a stylish and functional beaded lanyard that is a perfect blank slate to customize to your needs.
There are four included attachment points, but since this lanyard is beaded, you can easily attach your own D-Rings, O-Rings or carabiners in between the beads to hold more gear.
There is a safety breakaway built in and a padded neck piece.
The sky's the limit with this lanyard, and if you already have an idea of what you want and where you want it, this product is a great design to build from.

Features/Specification
Handmade Beaded Lanyard

Four Included Attachment Points

Very Customizable

Shirt Clamp

Tippet Bar

Included Brown Trout Chamois
Not all of us need floatant and an amadou fly drying patch at the ready when we fish. If you know what you want out of your lanyard, consider the Mountain River's offering as a starting point to building something right for you.
There's a lot of function in this lanyard from Scientific Anglers, a company that's renowned for smart and purposeful design in their products.
The foam neck strap is comfortable and very adjustable, and it has a breakaway feature included for safety should disaster occur while in the wild.
There are four swivel-type attachment clips, as well as a floatant holder and a shirt clip to keep the lanyard close to your chest and away from your fly line when casting.
Two tube-shaped fly docks made of self-healing foam are positioned above the tippet holder, one for drying off used flies so they can return to the box, and one to keep those new patterns ready for quick and easy use on the water.

Features/Specification
Adjustable Foam Neck Strap

Breakaway Feature for Safety

Four Attachment Clips

Horizontal Tippet Holder

Floatant Holder

Shirt Clip

Two Tubular Foam Fly Docks

Fly Drying Chamois
There's also an adjustable velcro floatant holder to accommodate nearly any brand of floatant that you like, and a fly drying chamois (I would personally ditch this and replace it with something I'll actually use, but to each his own).
You can't go wrong with a Scientific Anglers product, so check this one out.
---
Other Gear Related Articles
---
Best Lanyards for the Money
If you're looking for a high quality fishing lanyard with a more affordable price, we've featured two of these products.
This lanyard is Morric's PRO design, and while it is just the lanyard, they have taken care to make the four attachment points more user-friendly and more durable.
Instead of narrow, hard to open swivel-type clips, Morric has designed a larger, easier to open carabiner-style clip to get to your preferred tools faster, and replace them easier.
Cold fingers are the cause of many mistakes while fly fishing, whether that is a lost fly box or a dropped pair of forceps doomed to the bottom of the creek bed. These can be opened easily one handed and lock tight.

Features/Specification
Customizable Beadwork Lanyard

Simplistic Design

Four Attachment Points

Heavy Duty and Easy-Open Carabiner Clips

2 Integrated Foam Fly Docks

Shirt Clip
There's no included tippet bar here, but the beadwork on the lower part of this lanyard allows for easy installation if you want one. The shirt clip keeps the lanyard away from your line and out of the water if you need to bend over to net a fish.
Morric has integrated two tubular foam fly holders into the lanyard itself, and I find these very useful for drying off used flies as well as allowing you to ditch the fly box at basecamp and only take what you need out to the water.
The tagline of this product on Morric's website is 'Replace the vest!' and I think, if built to your needs, you really could use this lanyard to manage your gear as well or better than most traditional fishing vests.
Loon, like Dr. Slick, was known by me for their fly tying products, and not so much for their actual outdoor products. That being said, they make a quality UV Resin and other fly tying material, and are known for quality.
Loon's Neckvest Lanyard has no product information on their website, so I'm going to do my best to describe it to you, here.
The foam neck piece seems adjustable, and the bottom half of the lanyard is braided cord, allowing for you to customize it to your liking with your preferred clip. 

Features/Specification
Foam Neck Piece

Adjustable Tippet Holder

2 Integrated Fly Docks

Four Carabiner-Style Attachment Points

Shirt Clip
There are four included attachment clips in the carabiner-style, and they seem large and easy to operate. Here again, like with the Morric lanyard, there are two foam fly docks built into the lanyard itself.
This time there is a tippet bar included, a feature I think is very useful in a lanyard. While I can't readily discern exactly what material is used to construct this lanyard, it looks durable and neat in a flat black color.
Loon has always impressed me on the fly tying side of fly fishing, so their lanyard is probably worth checking out.
Best Basic Fly Fishing Neck Lanyard
We wanted to feature a couple fly fishing lanyards that were for the true minimalist. These two lanyards feature limited gear storage, but work great at keeping nippers or forceps handy.
Simms has created a quality lanyard using a very basic, but customizable design.
Dyneema cording is used to make this lanyard, and it's fully adjustable by using the machined slides on either side.
It's long at 127cm, but that length can be put to use by attaching your own clips and slides to hold your preferred gear.
The only point of attachment included on this lanyard is a stainless steel split ring, perfect for that expensive pair of nippers and forceps.

Features/Specifications
Dyneema Cord Construction

Adjustable Fit

Machined Aluminum and Anodized Hardware

127 cm in Length

Stainless Steel Split Ring
There's not much to say about this lanyard other than it's rugged and simplistic.
The main point of attachment is a larger carabiner on the end of a woven cord, and this larger design means that it's easy to operate. I can see where the addition of several split rings onto this carabiner could do well to keep your gear organized on this lanyard, but they're not included.
This lanyard is not adjustable and fits large, so keep that in mind when purchasing.

Features/Specifications
Large Lanyard

Functional Carabiner on Attachment Point

Simplistic, Rugged

Affordable at under $20.00
Why Use a fishing Lanyard?
I am fortunate enough to spend a lot of my time fly fishing my local waters, and I never fish alone. This being the case, I've had the chance to watch newcomers and veterans alike struggle with things like management, fly selection, kinked leader and a host of other problems, on the water.
Having the right tool is the first step to being able to deal with these problems, but being able to easily access that tool is the next step, and it is a step that I see many anglers forget or avoid often.
Having nippers is great, but having to slap your vest pockets to remember where they are and then retrieving them while wielding a rod with files attached can be a fiasco.
Lanyards are designed to alleviate having to locate, use, and then safely replace said gear. With a lanyard, the most frequently needed gear you'll need is not just at hand, it's clipped around your neck.
Ease of use is the goal here, but also keeping your gear attached to yourself and not lost to the creek would be a close second. I've lost my fair share of fingernail clippers, forceps, and yes, even flies to the creek for no other reason than not having it organized and easily replaceable to its specific spot.
Fly Fishing Lanyard Setup?
The lanyard you choose, as well as how you setup your lanyard should reflect the way you fish. Part of deciding how to setup your new lanyard will involve an honest and measured assessment of what gear you use frequently while fly fishing, as well as what type of fly fishing you're doing.
I've never used a hook sharpener, but I do use dry flies, and floatant is a must for keeping them above water and floating like they should. Nippers and forceps are pretty universal–we all lose flies and have to reattach them, and this involves knots and a subsequent trim of the tag ends to keep our leader neat and straight.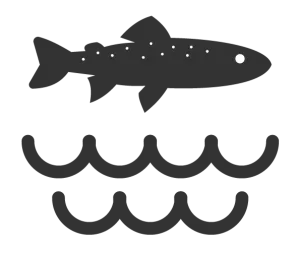 Forceps, to remove hooks are hopefully not necessary in a given day, however, fish do get hooked badly at times, and with small hooks come the inevitable problem of trying to grab them with clumsy fingers. Forceps can really help remove hooks when needed.
Tip: Scissor clamps can serve as both nippers and forceps. If you do not have your forceps yet, you might consider scissor clamps as they typically do not cost more than a pair of forceps without scissors…
Something else that I view as helpful is a tippet bar or other organizational tool to help you keep your tippet organized and on the spool.
At the beginning of my fly fishing journey I wondered why you would need anything more than one spool of tippet in a vest pocket, but as I continued to fish it became clear that these spools of tippet, each different and specific in use, could easily become tangled together, kinked or otherwise damaged. Worst of all, tippet spools are easily dropped and lost either to the stream or trail, so a way to keep them organized as well as safe is worth its weight in gold.
I personally view a tippet bar as an essential part of a useful lanyard for my own style of fishing now.
Again, only you will know what you need on your lanyard and what you don't. Ease of customization and thus, personalization is important when choosing a fly fishing lanyard.
Popular Lanyard Accessories to Consider
Loon Outdoors Rogue Quick Draw Forcep



Gink Fly Floatant



Loon Outdoors Nip n Sip XL


The next time you go out for a fly fishing session, pay careful attention to how many times you reach for dry fly floatant or your folding knife, and plan out the design of your lanyard ahead of buying it to make this organizing tool really work for you.
With the right design and correct fit, lanyards can take a lot of the frustration out of fly fishing.
Conclusion/Reeling it in
That's a lot of words about a piece of gear that on the surface seems so simple. There is a slight tendency in fly fishing to make problems (and then solutions to these problems) where there aren't any sometimes.
That being said, I think lanyards and their growing popularity are due mostly to their practicality and use on the water.
I don't categorize them in the same bracket as I do other "fads" that so often pop up in fly fishing because they're timeless and have only gotten more useful as time goes on.
Hopefully this review has at least made you consider using one, even a simplistic one, on your next outing. Whether you are a loyal devotee to the classic 'fingernail clippers on a shoelace' method, or a calculating gear-head with all the bells-and-whistle attachments of the next best lanyard, consider these well made and reliable products.
As always, tight lines, and keep the tools out of the creek if you can!
Related Reading: