Fishing with a fiberglass fly rod is an experience unto itself.
Before graphite came along as the material of choice in fly rod construction, fiberglass was the answer. Learning to fish with a fiberglass rod, and enjoying the many types of glass tapers out there, is a great way to sharpen your skills as a fly angler.
Fishing with a fiberglass fly rod is a great homage to the "throwback" days. It will force you to slow things down and enjoy the process, and when you do land a fish, it'll feel and fight bigger than its actual size on a fiberglass rod.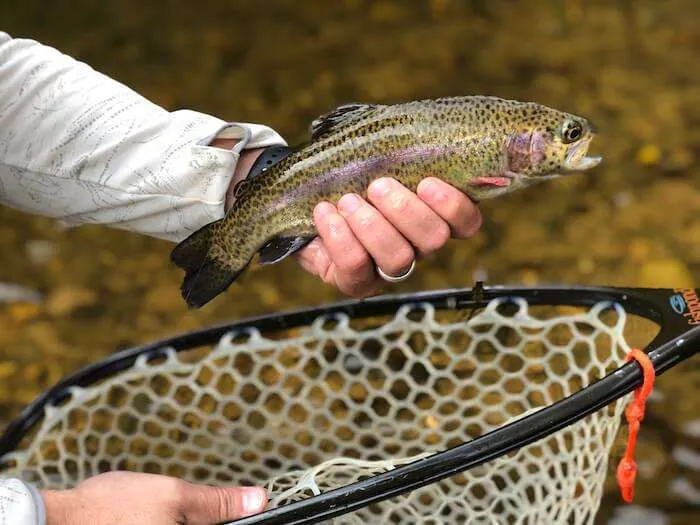 In this guide we'll cover:
Best fiberglass fly rods (overall)
Best beginner fiberglass fly rods
Best fiberglass fly rods for the money
Why fiberglass rods?
Pros and cons of fiberglass rods
Fiberglass vs. Graphite
Much more!
Here we go!
Fighting and landing a fish on a fiberglass fly rod is a good way to remind myself of the whole reason I got hooked on fly fishing in the first place.
---
Best Overall Fiberglass Fly Rods
The Lotic by Thomas and Thomas is a beauty of a fiberglass rod. T&T's slogan of "the rod you'll eventually own" applies to the Lotic without a doubt.
It's crisp, resulting in better line speed than you might typically find in a fiberglass stick. The medium action is a nice feel for a fiberglass rod, making it a slight step up from the medium-slow to slow actions you'll find elsewhere in the fiberglass world. 

Features/Specs
Medium action
2.5 oz
3 wt – 5wt models
Aluminum up-locking reel seat
Quick, smooth line speed
The Lotic's best feature is its incredible accuracy – you'll be able to drop dry flies gently with precision. It's light (2.5 oz) and attractive (the dark blue blank is an eye-grabber), and you'll become a better dry fly angler with a Lotic in your arsenal.
Once again, Echo provides a great option at an even better price point.
The River Glass fishes just as you'd hope for a fiberglass rod: slow, smooth, and fairly delicate. The S-Glass is slow and smooth, allowing you to feel your cast load and unload.
The River Glass also grants some grace – it's got some forgiveness to go with the slow and smooth action, which will allow first-time fiberglass casters to work through the new feel and timing that comes with transitioning from graphite. In addition, the River Glass only weighs 2.4 oz in total.

Features/Specs
Handcrafted
2.4 oz
Med-fast action
Slow accurate presentation
While the River Glass by Echo isn't the most accurate fiberglass fly rod, it well exceeds expectations. It feels natural, and that's one of the biggest appeals of fishing fiberglass.
---
---
Marketing doesn't catch fish. But something about fishing a fiberglass rod named the "Butter Stick", with its retro looks and 70's colors, just feels right.
Redington nailed it with their fiberglass rod. The Butter Stick is responsive and casts well. It might take a bit to find your stroke with this rod – that's probably going to especially be true for any rod when transitioning into fiberglass – but it will be well worth it.

Features/Specs
Retro Design
Slow action
1 wt – 8wt models
Cork handle with aluminum slide rings
Lifetime warranty
The Butter Stick makes fighting fish fun, with its bendiness and lightweight design.
It's got some of the same shortcomings as the River Glass – in that a higher-priced option like the Thomas and Thomas Lotic will be more accurate – but it more than makes up for it with the ability to delicately present bushy dry flies.
The Butter Stick is especially fun to fish in the 7' 3WT and 7'6" 4 WT editions.
Best Fiberglass Fly Rods For Beginners
Temple Fork Outfitters' Finesse Fiberglass Fly Rod is a pretty powerful glass option.
This rod has the most power in the butt section of the rods on the list, which will give you confidence when fighting fish. 

Features/Specs
Medium Action
Only comes in 4 wt model
Locking slide rings
Half-wells cork grip
It's got the sought-after touch and slowness you'll want in a fiberglass rod, and its action is a little more forgiving than other rods on this list. This means that you'll be able to pick up your cast quicker and more consistently as a beginner, which is enormous.
The Finesse by TFO is a great bridge from graphite to fiberglass.
The Revival is everything a fiberglass rod should be. It's aptly named and beautiful (the wood grain in the reel seat is a treat for the eyes).
The Revival flexes well into the handle, providing a traditional fiberglass rod feel. It's right in the sweet spot of forgiving enough to be inviting to beginners while still maintaining that delicacy and touch that brought them there in the first place.
Moonshine Rod Company provides a lifetime warranty (as does our other "Best Beginner Fiberglass Rod, TFO's Finesse) as well as an additional tip included in your purchase.
It's touches like this that make the Revival one of the best fiberglass fly rods for beginners.

Features/Specs
Beautiful wood grain
slow action
Available in 3 and 5 wt models
Aluminum locking reel seat
comes with an extra tip section
Lifetime manufacturer's warranty
Best Fiberglass Fly Rods For the Money
Getting into fiberglass fly rods can be a little bit pricey, as there are not as many offerings compared to graphite. Maximum Catch's Fiberglass Fly Rod is a clear exception.
At only $89 or less, this fiberglass fly rod is a great choice for anglers who are either looking to test fiberglass out or add to their rod arsenal without breaking the bank.
It provides some nice features at this price point as well, including a rod sock and Cordura tube. 

Features/Specs
Medium fast action
3 wt – 8wt models
5 different colors
Lifetime warranty
Affordable
The rod itself is a medium-fast action, which makes for a great entry point into the world of fiberglass fly casting.
It comes in a few different colors, too. This rod is a great value, something that's even more enjoyable than usual in fiberglass form.
If you want to buy a fiberglass fly rod and hardly even notice the money depart from your wallet, this rod by Aventik is the way to go. Priced at a meager $72(!), this fiberglass rod is an awesome buy.
It's made with a traditional S-Glass taper, which will give you the fiberglass benefits of a more delicate and softer approach.
For a bargain fiberglass fly rod, the Z looks the part of a more expensive stick with touches of the aluminum reel seat and cork handle. It handles and casts well. Buy one of these rods and hit a small stream nearby – you will not be disappointed.

Features/Specs
Medium fast action
available in 4 different colors
Aluminum channel lock and reel seat
Comes with a durable carrying case and rod sock
25-year warranty
---
Other Fly Rod Related Articles
---
Why Fiberglass Rods?
Smoothness and delicacy. That's the goal.
Finding the right balance of both smoothness and delicacy in your dry fly presentation is a fun and worthwhile pursuit as a fly angler. It's easier said than done, and that's half of the fun.
Finding the right point in your casting stroke to make dries cut through the air and settle naturally onto glassy water is a moment of nirvana.
Why not give yourself the right rod to specialize in this type of presentation? That's where the throwback nature of fiberglass fly rods shines. The slower action of glass forces you to slow down and feel your cast, resulting in an improved presentation when done correctly. It's fun, too.
Fighting and landing a fish on a fiberglass fly rod is a good way to remind myself of the whole reason I got hooked on fly fishing in the first place.
Pros and Cons of Fiberglass Rods
There are a few situations where fiberglass shines. Sometimes these situations are present at the same time, which makes fiberglass even more of a clear-cut choice.
For one, I love to use a fiberglass rod when I know I'll be presenting primarily dry flies. As mentioned earlier, though, a fiberglass rod causes you to slow your casting stroke down and this results in a softer, more delicate dry fly presentation. That's why it's my rod of choice when I know fish will be rising.
Another condition that I like to use a fiberglass rod is on smaller waters. If I'm going to be on a smaller river, a stream, or making short stillwater presentations in a high-alpine pond, you'll find me reaching for the fiberglass rod.
It lends itself well to casts in the 30-foot and under range, due to the softer tip compared to graphite.
With that being said, there's no rulebook on when to use fiberglass. There's no law that you have to use fiberglass to fish dries well, or that you can only use fiberglass on small streams.
You can absolutely run nymph rigs or streamers with a fiberglass rod, and you can still find a place for the glass on bigger water (granted, you'll still be making shorter casts).
Fiberglass vs. Graphite
To me, fiberglass and graphite are kind of apples and oranges. Each provides its own advantages, and I'll fish both. Sometimes, I even use fiberglass and graphite on the same day in the same water.
Graphite and its faster action lend itself better to launching bigger bugs (think streamers, large multi-nymph rigs, and huge dry flies) through windier conditions.
If I think I might be switching back and forth throughout the day between using dries, nymphs, and streamers, and I only want to take one rod with me, graphite is the go-to.
On the other hand, if the water is glassy and I want to catch fish off of the top, I go with fiberglass. I'll also lean fiberglass if I know that I'll be targeting smaller fish.
Fiberglass rods flex all the way down to the butt of the rod (known as a parabolic flex), whereas graphite usually only flexes in the top 1/3rd of the rod.
This makes smaller fish feel like more of a fight on a fiberglass rod. Catching small sunfish or wary brook trout on a fiberglass fly rod is a one-of-a-kind joy.
---
Other Gear Related Articles
---
Fiberglass Fly Rod Techniques
If you're making your first foray into casting a fiberglass rod, the best advice you can follow is to bring your patience with you.
Slow down. Relax. Feel the cast. Don't try to power through.
That's the name of the game when casting a glass rod. It's significantly slower, requiring you to wait on your backcast and feel the rod load. This can be a bit tough when first picking up a fiberglass fly rod. That's okay.
Be patient with yourself and give yourself time to really find the right timing. It might even be helpful to turn your head over your casting shoulder and watch your line unfurl behind you in your backcast. That visual aid will help you get your timing down.
As you hit the point of slowing your cast down enough, you'll find that the rod is doing the work instead of your arm. There's a nice bit of satisfaction in feeling your fiberglass casting stroke hit that sweet spot where "a little slower" and "there it is" resides.
Conclusion/Reeling It In
Fishing with a fiberglass fly rod is a great way to find new (or old) satisfaction in fly fishing.
It's a great way to become a better, more well-rounded fly angler. You'll gain a better feel for your casting stroke and how your rod works in tandem with your line, your arm, and gravity to unfurl your leader and deliver a fly.
Hopefully, this guide to fiberglass fly rods has provided you with some insights into what makes fishing with a fiberglass fly rod so fun, and what rod might be the best fit for you.
Additional Reading: