A New Look at the Old Standard
I started fishing with a 5wt rod and a 5wt Martin reel, and it seems that the general consensus on that line weight is that it is introductory. While there is no right or wrong way to start fly fishing, the 5wt rod and reel combo does indeed seem to be the old standard for those new to the game.
But, just because it's how most of us got started doesn't mean that this line weight is just for beginners.
I know plenty of anglers who won't fly fish with anything else, and this speaks volumes about this line weight's versatility.
In this review, I'm going to take a look at some of the best and some of the most affordable 5wt reels on the market, and you're going to get all the specs and details so that you can buy with confidence.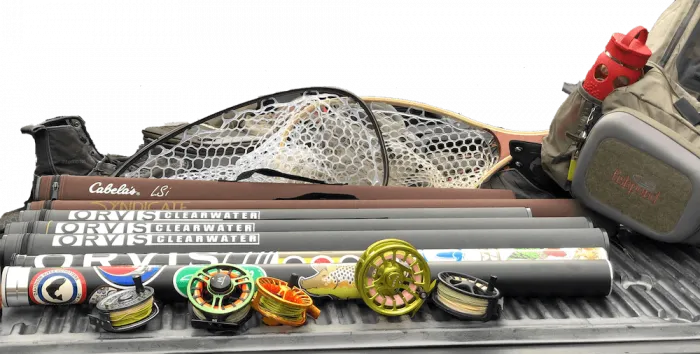 Come get reacquainted with 5wt reels again!
In this guide we'll cover:
Best 5wt fly reels (overall)
Best 5 wt fly reels for the money
Uses for 5 weight fly reels
How to choose a 5 weight fly reel
Frequently asked questions about 5 weight fly reels
Let's get started!
---
Best 5wt Fly Reels
Specifications:
3 ⅝" Diameter
4 ⅞ Oz Weight
Lightweight Aluminum Die-Cast Construction with Machined Finish
Large Vented and Concave Arbor
Proprietary 'One Revolution' Drag Knob
Convertible Left/Right Orientation
Black, Grey or Copper Colors
If you aren't familiar with Sage, here's your sign to go sniff around their website. I have reviewed multiple Sage products here with Anchor Fly, all of which demonstrate their commitment to quality while remaining relentlessly functional and affordable.
The Spectrum C fly reel is demonstrative of Sage's attention to detail. Powder-coated die-cast aluminum construction makes these reels light, but they still sport a large, vented arbor. The sealed carbon drag system is topped off with the proprietary 'One Revolution' drag knob with detented setting.
It's easy to read, easier to tune, and an impressive feature. This reel is a fantastic piece of work and at a great price. Sage is definitely living up to all the hype here with the Spectrum C.
Pros
A fair price for the workmanship
Advanced sealed drag system
Light and functional
Cons
It's hard to find any cons about Sage products, and while there were some manufacturer's errors, particularly with shipping, Sage is easy to work with and efficient at solving problems.
Specifications:
.84" Width
3.2 Oz Weight
WF5F + 80 Yds of 20# Backing
Anodized Aluminum Construction
Original Owner Lifetime Warranty
Galvan has succeeded in creating a small water reel that is aesthetically simplistic and incredibly light. This reel is one of the lightest in its class and is constructed of high-grade 6061 bar-stock aluminum.
It also features Galvan's Click-Ball tension system, allowing you to customize your drag and nix all the moving parts of a traditional click-pawl drag.
This reel is a blueliner's dream and was designed for high mountain trout and other native freshwater fish that rarely need a complex drag.
Pros
Incredibly light, one of the lightest American made reels on the market
The drag system is simplistic but very functional for the type of fishing this piece of gear was made for
Very solid warranty, buyers were impressed with what it covered.
Cons
The price tag is a bit high, but if you're familiar with the pricing of fly reels, you'll know that the numbers start adding up fast and can get much higher.
Specifications:
1.02" Width
3.50" Diameter
4.43 Oz Weight
WF5 + 100 Yds of 20# Backing
Bell Shaped Ultra Large Arbor
Composite-Disc Drag with Stainless Steel Interface
Intricately Machined Parts
Ross has created a reel that not only makes a statement aesthetically but also shaves the weight off and is imperceptibly light with the Animas.
This 5wt fly reel is like a Swiss watch, expertly machined for intricate details and a super light total weight while remaining super functional. The Colorado mountains serve as the aesthetic focal point of this reel, and it truly is easy on the eyes.
The bell-shaped arbor is kept large for quick line retrieval, and the composite disc drag is engineered well, allowing this 5wt reel the muscle to handle bigger fish, while still retaining that lightweight. If you're looking for something special, the Animas is a great blend of functionality and looks.
Pros
Feather light
Detailed, well engineered and beautiful
A statement piece just as much as it is a well built reel
Cons
This reel looks heavier than it is, and it's so light that it doesn't balance well on heavier rods.
Price is steep, but this reel is equal parts art and utility.
Specifications:
1.03" Width
3.75" Diameter
4.9 Oz Total Weight
WF5F/ 200 Yds of 20# Backing
Super Large Arbor
Fully Sealed Delrin and Stainless Drag System
Machined Anodized Aluminum Construction
TFO Warranty
If you're familiar with my reviews, you may know that I am a content TFO customer and I like both their products and their customer service, and I am happy to see their stuff making the rounds on my current reviews.
TFO has created a fantastic reel with their BVK SD. The BVK series of reels from TFO already had rave reviews, but they've added a sophisticated sealed drag system to maintain durability even in the dirtiest of conditions.
The sealed Delrin and stainless steel drag system allow for a much broader range of settings to fine-tune it for the type of fish you're after. The BVK SD also sports a super large arbor that can hold twice as much backing as the standard 5wt reel, and this allows for big long runs by larger fish and a better chance of getting them to the night.
TFO has a reputation for great products at reasonable prices, make sure you check out what they have to offer.
Pros
The drag system is extremely advanced and customizable
TFO has taken its popular BVK reels and just made them better!
Quality parts and quality customer service/warranty from TFO
Cons
This is a high price from TFO, but reasonable when you consider how much fine engineering went into this reel.
---
Best 5wt Fly Reels for the Money
Specifications:
WF5F + 100 Yds 20# Backing Capacity
3 Oz Total Weight
Click-Pawl Drag
'Unmachinable' Die-Cast Construction
Quick Change Spool
L/R Convertible
I like Redington. Much like TFO, they have designed products that run the gamut from introductory to intermediate, and all at a great price. I first got acquainted with them through their waders (and you should check them out as well!), but this reel is a solid offering at a great price.
The drag system on this reel is a classic click-pawl, which means there's no adjustable drag, and palming of the spool will need to be utilized to wrangle in particularly ornery trout. I'll be honest, when I first started fly fishing, I knew nothing about adjustable drag systems and I thought palming was the only way to apply more drag to your line!
This reel is the lightest in this review, and that is a fact that's garnered Redington some major attention (not to mention the price). This reel is great, affordable, and classic.
Pros
3 Oz weight is incredibly light
$109.99 Price!!
Intuitive design, quick change spool for different line weights and applications while out on the water
Gets the job done with a classic feel
Redington has a solid warranty and great customer service.
Cons
Some of the customers who reviewed this reel did not like how loud the click was. This is never something that's bothered me about a click-pawl reel, but I had to mention it.
Some buyers were turned off by the fact that this reel is made in South Korea, but here again, that's never been something that has bothered me, and if you must buy America, please refer to the above reviewed products.
Specifications:
Die-Cast Aluminum Construction with Powder Coating
WF4/5F + 100 Yards 203 Backing
Stainless Steel/Rulon Stacked Drag System
5.5 Oz Total Weight
Textured Drag Knob
Orvis 25 Year Warranty
I have reviewed other Clearwater products from Orvis, and there is a reason that these reels are beloved by the newly initiated fly angler and the seasoned veteran alike–they work great and are very affordable.
The die-cast aluminum construction is outfitted with a generous powder coat for protection from nicks scratches and the elements, and the stainless steel and Rulon stacked drag system is smooth and surprisingly strong for how light this reel is (about 5lbs max drag, +/-).
Orvis products need no real introduction, everyone knows the name, and most everyone knows their warranty is great too.
Whether you're upgrading from your initial reel to something better or grabbing up spare spools on the cheap to be ready for various fishing conditions (spools are $49), the Clearwater Zero series from Orvis is a proven winner at a great price.
Pros
Affordable price tag
Cheap to get extra spools
Impressive drag system for the price
Light and functional
Cons
Some customers who purchased Zero reels have said they are a bit fragile, with one reviewer specifically saying that you can't throw your reel to the ground… But I would advise against throwing any of these reels onto the ground.
Specifications:
.8" Width
3.38 Outer Diameter
4.62 Oz Total Weight
Stacked Teflon and Stainless Drag System
L/R Convertible
One Year No Hassle Warranty
Pre Loaded!
Maxcatch is a fly fishing outfitter from South Korea, and their products are all over Amazon and other market websites, with a ton of reviews. The Tail 5wt reel is your standard introductory fly reel, but don't let the economical price fool you–this reel fishes well.
There are so many reviews of Maxcatch products online that it's easy to see that these products are a great first for newbies, with more intermediate anglers using them as backups on guided trips, out-of-state excursions, and more.
The reel is waterproofed, the drag is solid, and it comes pre-loaded! For this price tag, I don't know what more you could want in a fly reel.
Pros
The epitome of affordable
Solid all around reel
The warranty is only a year long but covers quite a bit, although the turnaround time on returns is long
Cons
Some customers have said that these reels can be brittle and although it's advertised as highly impact resistant, sudden sharp blows on rocks or metal can snap the frame.
There are issues with the pre-loaded line. Some reviewers said it was spooled incorrectly, others found that it was prone to cracking, so test it out, and dispose of it if it's not up to snuff.
---
Uses for a 5wt Reel
Most commonly, 5wt reels are produced with trout in mind. These reels excel at wrangling in brookies and browns in small streams where drag isn't really needed, and are the go-to for many crappie and panfish enthusiasts.
That being said, I have used 5wt click-pawl reels on the Susquehanna for smallmouth bass with no issues, and those little guys can put up quite the fight. While these reels aren't rated for monsters, proper technique and experience will allow you to wrangle bigger fish.
Don't pigeonhole 5wts for just small trout, these reels can do more. Advanced drag systems can expand the species list of fish that you can go after with a 5wt reel.
How to Choose the Right 5wt Reel
With reels, it's best, to be honest with yourself about what you plan on using them for to determine which is best for you. Many of the anglers I entangle myself with only pursue natives in small streams, meaning drag is not really necessary, and paying more for a sealed drag system constructed of rare earth metals would be laughably absurd.
I am not solely a mountain fisherman, and I do enjoy outings to bigger water with a chance of encountering bigger fish, so I like to have a bit better drag system present to do proper combat with the occasional largemouth and smallmouth bass or chain pickerel.
What reel is right for you will depend on what you use it for. Be sure to find out what the max drag is of the reel you're interested in, and be realistic when you match your chosen reel to your chosen rod so you can get the maximum use out of it.
Frequently Asked Questions
---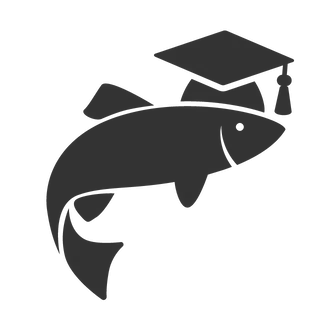 Q: Can I load a heavier line on my 5wt Reel?
A: The answer to this is yes, but do so within reason. Sometimes when I know that there's bass I will use a spool with a 6wt line on my 5wt reel, and it performs more or less the same while being able to take more abuse.
However, I would recommend against overloading it with another line weight. You will begin to face casting problems and accuracy will fade.
Q: Is a 5wt reel just for beginners?
A: The answer to this is a resounding NO. Even though 5wt reels are often classified as introductory, they have numerous uses and functions.
Q: Do I need a sealed drag system?
A: No, you don't need a sealed drag system, but they are useful if you do rough fishing and wading in water that is rife with particulate matter, algae, etc. Sealed drag systems add to the rods' durability and longevity, and while they usually up the price they are generally worth it, but they are not necessary to get the full use out of your 5wt.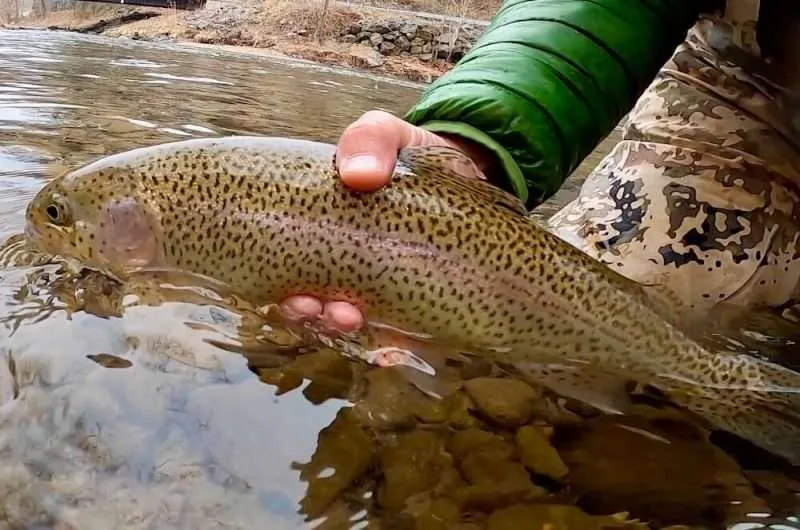 That's a whole lot about 5wt reels, a line weight that I feel a lot of intermediate fishermen write off as a novice's standard. These reels have a multitude of uses and are favored by anglers the world over, not just beginners.
If you have moved on to different line weights, whether heavier or feather-light, consider dusting off the 5wt and giving it a go again.
The versatility and precision afforded by these reels are impressive, and that's why they are so often recommended as the beginner's choice. As always, stay safe out on the water, and tight lines!
Related Readings: