There is nothing that makes a fly fisherman more excited than the sound of their drag screaming as a large fish take a big run downstream. As one of the most historic products made by Orvis, the Battenkill fly reel maintains its popularity among fly fishermen young and old.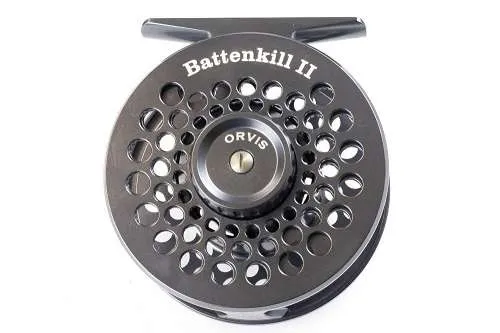 Our Orvis Battenkill Fly Reel Review Breaks Down the Following:
Orvis Battenkill function and price
Specific components
Strengths and weaknesses
Rod Combinations (good pairings)
Conclusion/Reeling it in
Let's get started!
Orvis Battenkill | Click & Pawl AND Disc Drag
The Orvis Battenkill comes in two different types of drag systems, the click and pawl and disc drag. Each reel has different functions, depending on your style of fishing and the size of fish you're after.
1. Click and Pawl
The click and pawl reel is ideal for fishermen who use their fly reels simply for holding line.
Click and Pawl reels are the most realistic choice for anglers fishing for smaller quarry like small wild trout or any other fish that is not likely to make long runs downstream. However, these reels will pull their weight if put up against larger fish with a passion to run.
The drag system on the click & pawl reels are built for simplicity, most click drag systems consist of a ratchet mechanism that applies a small amount of resistance when line is being pulled out.
While the Orvis Battenkill Click and Pawl comes with four different drag settings, the resistance is still relatively minimal, which is essentially the purpose.
2. Disc Drag
For the angler looking to have a stronger drag system while keeping the same simple and durable design, the Battenkill disc is the powerful, technologically advanced big brother of the Battenkill Click and Pawl.
This reel is offered in line weights 1-9wt, with a superior seal drag system based on Orvis' Hydros line, the disc version of the Battenkill wears the same classic design while providing excellent stopping power.

Orvis Battenkill Disc Drag Fly Reel
Function and Price Point
The Orvis Battenkill is the perfect reel for fishermen spending much of their time fishing for smaller trout or even species like bluegill and bass. The simple design and convenient maintenance make it the right reel for folks feeling overwhelmed by the complexities of most high dollar reels.
Fortunately, the standard Battenkill can be bought for $120 and the disc drag version runs between $150-$180. To make the deal sweeter, Orvis has designed these reels to stand up against years of wear and tear on the water.
The reel comes with an unconditional guarantee on any defects or workmanship flaws, which should make anyone thinking about purchasing one of these reels sit back in their seat a bit.
The slim, simplified design coupled with its durability and price are the key characteristics that make this a top choice for most anglers in search of their new small-stream reel.
What makes the Battenkill so functional is the simplicity and durability of its design. Made from heavy-duty bar-stock aluminum, it is both strong and lightweight. Its weight is crucial when finding a balanced set up for shorter rod lengths.
A very classic design that has hardly changed for over 100 years and Orvis shows no signs of changing that trend. With classic designs comes classic engineering. The Battenkill I-III models are made with a small number of parts, twenty-four components to be exact.
Again, compared to other reels in its class, the Battenkill reigns supreme in the department of simplicity.
If you want more information on fishing reels in general, please check out our article on Types of Fishing Reels Explained
Orvis Battenkill Fly Reel Review | Specifications and Components
The Battenkill Click and Disc models come in multiple sizes, below are the specifications for both varieties:
Battenkill Disc I for line weights 1-3, 4.4 oz., 2¾" diameter
Battenkill Disc II for line weights 3-5, 4.6 oz., 3″ diameter
Battenkill Disc III for line weights 5-7, 4.9 oz., 3¼" diameter
Battenkill Disc IV for line weights 7-9, 5.9 oz., 3½" diameter
Battenkill I for line weights 1-3, 2.8 oz., 2¾" diameter
Battenkill II for line weights 3-5, 2.9 oz., 3″ diameter
Battenkill III for line weights 5-7, 3.2 oz., 3¼" diameter
With the wide range of sizes, the Battenkill reel is such a versatile choice. Whether you are fishing for small brook trout in high elevation streams, or just love the feeling of a screaming click and pawl drag when fishing for larger fish this reel can be a great fit for a wide range of outfits.
Orvis Battenkill Disc Drag Reel
Orvis Battenkill Disc Drag Reel
For those anglers looking to pair the Battenkill with their saltwater fly rod, the Disc Drag version of this reel is a necessity for putting the brakes on an angry redfish.  Considering the sturdy build of the reel, it is still considerably light in weight. Most reels used for a 1-3wt rod should be within the 4-5oz weight bracket, putting the Battenkill I right in the sweet spot for those smaller set ups.
Orvis Battenkill Click and Pawl
While the Battenkill Click and Pawl is certainly the minimalists dream reel, it still comes with some added technology. For the fishermen who look for an adjustable left- or right-handed retrieve ability, the Battenkill can be easily adjusted to fit any retrieval preferences.
Most notable is the four position drag system that can be adjusted within the reel. While this adjustment option provides a level of adaptability, the true point of the click and pawl drag system includes the use of your hand to slow down the fish on an intense run. 

Orvis Battenkill Click and Pawl Reel
The slim width of this reel helps minimize line crossing when picking up line, a surprisingly efficient attribute that is often overlooked. In addition, Orvis offers an extra spool for $70 which allows anglers to quickly change line setups according to certain situations.
---
Other Gear Related Articles
---
Strengths and Weaknesses | Battenkill Reviewed
With its classic style, minimal design, and spot-on functionality the Orvis Battenkill boasts several reasons to be on the top of any fishermen's list of choices. The economic price of this reel ($120) makes it financially accessible for most anglers looking to get a more serious rod/reel setup.
Its long-lasting construction ensures peak performance season after season regardless of wear and tear. The simplicity and timeless aesthetic of its design makes it a functionally attractive choice.

Battenkill Click and Pawl
---


Battenkill Disc Drag
While the sound of a clicking drag is attractive, this drag system may not be for everyone, and certainly for fishermen who search for big game this reel may feel under-powered. If you are looking to let a powerful fish go straight to the reel on a run, a disc drag system may be a better fit.
The Battenkill is a mid-sized arbor reel, which picks up line at a reasonable rate. For situations where fast and efficient line pick-up is a necessity, a large arbor reel will be better suited for the job. Regardless, Orvis has made a reel that covers more bases than most.
---
Fly Rod Combinations (Good Pairings w/ This Reel)
Fly rods and reels are meant to be chosen to match each other's weight distribution, size, functionality, and general appearance if aesthetics is of great importance to the fishermen.
With the lightweight and slim design, an angler looking to purchase the Orvis Battenkill reel ought to be looking for the right rod to match its style.
It is important to consider the locations in which the Battenkill will be most used, for most this may be on small streams with tight cover searching for wild trout.
If this is the case, a rod that is short with a slower action will be an ideal choice for those conditions.
A popular choice to pair with the Battenkill is The Drifter by Moonshine Rod Co. This rod provides the ability to make accurate casts while maintaining a slow medium action.
For the fishermen looking for a more responsive actions rod to pair with their new Battenkill reel, the Temple Fork Outfitters Lefty Kreh 3wt is also an ideal choice.
These rods are also great at solid price points, like The Drifter by Moonshine Rod Co. making them an easy choice for anyone looking to create their small stream set up on a tighter budget.
One of the more affordable rods to pair with the Battenkill that still provides strong performance is the Aventik Z Series.
This rod is lightweight, has a fast action with a sensitive tip section and of course is a good rod for someone not looking to commit to buying an expensive new rod knowing they might put it through some wear and tear in the backcountry.
Last but certainly not least is the Orvis Clearwater. These rods are perfectly well rounded for just about any form of fly fishing but are great at making shorter casts and being able to mend easily on smaller water.
The Clearwater is on the heavier side, however with the right line and leader choice this medium action rod can become the ideal choice for any angler that wants perfect performance on the water.
Let's Reel it in…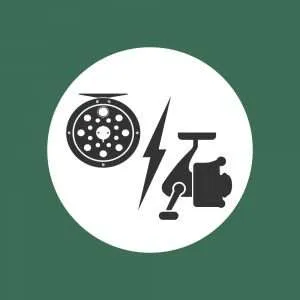 Considering all its attributes, the Orvis Battenkill Click and Pawl reel is ideal for minimalist fly fishing. The classic design is truly timeless and certainly pleasing to the eye. For the fly fisherman who is looking for a sleek, functional reel that impressive fishing buddies without breaking the bank—the Battenkill is a prime choice.
Capable of handling its own in many fishing situations, this reel should give any fly fishermen confidence in performance and longevity. With multiple size options, alternative retrieve options and the option to have a disc drag, this reel is extremely adaptable.
If you are looking for an affordable, functional, and minimal reel that will last for ages then the Orvis Battenkill Click and Pawl reel ought to be your next important gear investment.
Orvis Battenkill Fly Reel Review [Vid 17 min]