Reliable. Smooth. Durable. Cost Effective
Those are desired qualities in a fly fishing reel. Desired qualities usually come with an associated price tag, and entry-level fly fishing gear's best feature is often listed as something along the lines of "it won't cost you an arm and a leg."
But how often does a fly fishing reel not only deliver long-lasting and enjoyable performance but does so at a stellar price? The Lamson Liquid is a perfect example of this feat.
In this article we'll review:
Introduction to the Waterworks Lamson Liquid
Lamson Liquid | Specification/Features
Lamson Liquid Models & Sizes
On the water with the Lamson Liquid
Trouble Shoot8ing and Preventing a Common Mishap With This Reel
Conclusion
Let's get started!
---
In this review, I'll go over some of the things that set the Lamson Liquid apart from other fly reels in the same price range. We'll take a look at the features that the Lamson Liquid presents, and I'll share why I think it's one of the best values in fly fishing.
The Lamson Liquid is one of the best entry-level fly reels in the game. It's packed with features that don't come at the expense of bogged-down additional weight, over-engineering, or an inflated price tag.
It comes in four different sizes, serving fly rods ranging from 3 weights to 10 weights. The Lamson Liquid is valued at $109.00 – $159.00. It's a great reel to pair with any freshwater fly rod, from small water dry fly rods to large-game streamer sticks.
Made in Boise, Idaho by Waterworks-Lamson, the Lamson Liquid is a truly reliable reel.
The Lamson Liquid is a die-cast, large arbor fly reel. Packed compactly and smoothly into that reel are more specifications than meets the eye.
Waterworks-Lamson makes the Lamson Liquid with a pressure-cast aluminum that is liquefied and cast into a mold. It's then coated in a polyurethane finish that provides an extra touch of durability.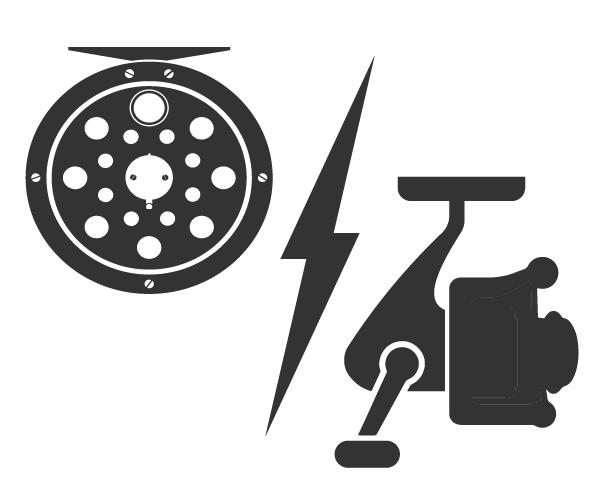 The Lamson Liquid's drag system (more to come on this topic later on!) is sealed, which keeps dirt, debris, and the like from eroding the inner workings of the reel.
Half of the Lamson Liquid's components are manufactured in the United States with the other half coming from overseas before the Liquid is assembled at Waterwork-Lamson's factory.
Waterwork-Lamson backs their reels with a lifetime warranty. They are so invested in their products and their performance that they don't even require registration for their warranty. Simply send them an email if you run into any issues with your Lamson Liquid (or any of their reels) and they'll take care of it for you. That's top-of-the-line customer service.
Lamson Liquid Fly Reel Review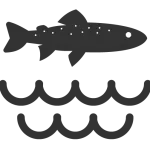 The Lamson Liquid is a large arbor fly fishing reel. This allows for a faster retrieve rate when reeling in a fish and is also easier on lines and leaders as they don't coil up due to being wound less tightly.
One of Waterwork-Lamson's core philosophies as a company is fluid simplicity. This truly becomes tangible through the lightweight yet durable feel of the Liquid. With many fly reels, especially in the sub-$150 range, any sacrifices in the name of shedding weight can often come at the cost of durability. The Lamson Liquid doesn't cut corners in this regard.
---
Other Gear-Related Articles
---
The lightweight nature of the Lamson Liquid holds up throughout all four models. The perfect reel to fit your angling needs. The specifications of those models are, as follows:
Lamson Liquid comes in a variety of sizes
Lamson Liquid 1.5
3/4 WT rods
3.34 in. diameter
4.29 oz
Lamson Liquid 2
5/6 WT rods
3.61 in. diameter
4.54 oz
Lamson Liquid 3.5
7/8 WT rods
3.85 in. diameter
5.49 oz
Lamson Liquid 4
9/10 WT rods
4.65 in. diameter
7.07 oz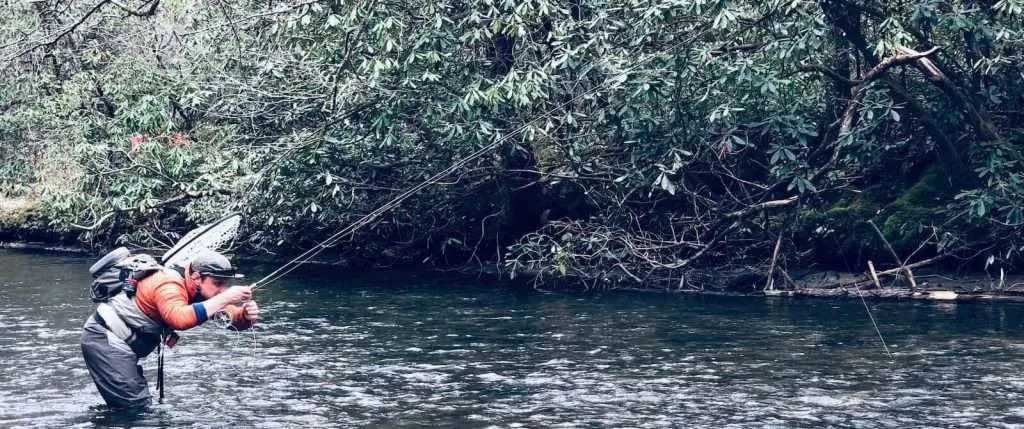 The first and perhaps most important test that the Lamson Liquid excels at is the "feels great with a fish on" experiment. You know… super scientific!
But seriously, a large part of this should be credited to Lamson Liquid's drag system.
Two Types of Drag
There are traditionally two types of drag systems typically featured on fly reels: click and pawl drags and disc drags. The Lamson Liquid Bucks convention uses a conical drag system that has a compact design.
This conical drag system takes off quickly – there's no lag time waiting for the drag to kick in as fish heads downstream on a screaming run. Lamson uses this same innovative conical drag in their higher-end reels – which sit in the $500+ price range.
The Lamson Liquid 3 Pack is an incredible deal as well- it includes a reel, two additional spools, and a carrying case for a great price. This would allow you to pick up a Liquid for your most versatile rod, and pair lines with spools for quick switchability.
A floating line, a nymph-dedicated line, and a sink tip, all ready to go in the same carrying case? That's essentially three reels for the price of one.
Lamson Liquid 3-pack
---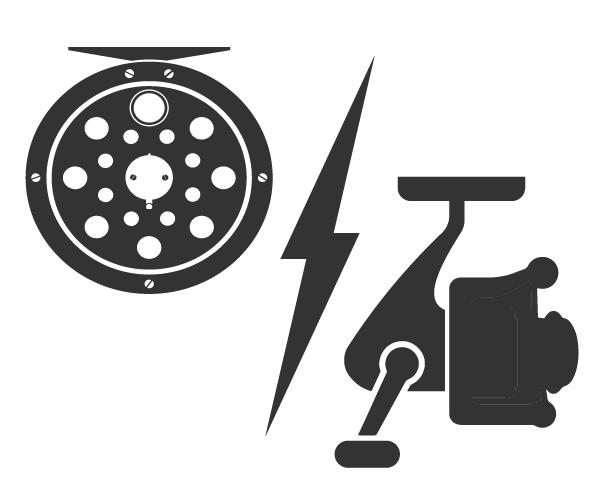 If you want more information on fishing reels; please check out our article: Types of Fishing Reels Explained
---
I took the Lamson Liquid 2 out for a spin on one of my 9' 5 WT rods in search of brown trout on nymphs and streamers.
I'm not typically one to get incredibly excited about a reel. In my mind, it sits somewhere just beyond serving a purpose and getting the job done. That's probably an overly simplistic attitude – I'm sure someone who targets pike or musky places a lot more value in their reels than I do.
Fishing with the Lamson Liquid helped to open my eyes toward just how fun and exciting the right fly reel can be, though.
I got to feel the drag system in action immediately, and it was a blast! A reel with a quick-acting, smooth drag like the Lamson Liquid is like having seat warmers in your car. It's one of those things that you didn't realize you were missing from your life until you first experienced it. Now, there's going to be no turning back.
Another joy of fishing the Lamson Liquid is how well it balances its fish-stopping ability while still providing awesome tippet protection. I was able to halt fish with the drag and fight them to the net on a 6X tippet.
The Lamson Liquid picks up the line quickly and easily. It has an ergonomic feel in my hand and is balanced nicely on my rod. Again, the lightweight nature of the Lamson Liquid made it feel right at home on my trusty 5 WT. It didn't affect my cast in the slightest, which is all you can ask for when it comes to using a new reel on a familiar rod.
All-in-all, the Lamson Liquid was fun and natural. I enjoyed feeling it with the butt of my palm as it whizzed during deep runs made by angry trout taking off downstream.
I even found myself putting fish onto the reel that I might normally play by hand just to enjoy the Liquid and its performance.
One slight issue worth pointing out with the Lamson Liquid is the quality of the polyurethane finish. It's not incredibly thick, and nicks, dings, and scratches will show on the Liquid.
Ultimately, this is one of the trade-offs of getting a reel at this price point, and for the performance you get out of the Lamson Liquid, this minor settling point is certainly worth it in my opinion.
Trouble Shooting & Preventing The Gland Cap Mishap
Over time the clicker on the spool will loosen the gland cap. If this goes unchecked–eventually, the spool will pop off. And, most likely it will be when you have a fish on.
This can be confusing if you're not prepared, but it is easy to fix and easy to prevent. Hit play below to explore the gland cap mishap.
---
Interested in more fly reel reviews? Check out our other reel-related article.
---
Conclusion
I've heard great things about Waterworks-Lamson and their products for a while. I looked forward to testing out the Lamson Liquid fly reel and seeing if the hype on this reel was real.
It didn't take more than one fish for me to realize that it was. The smooth and quick drag felt great, it brought fish to the net and stopped some sizable trout in their tracks. I had no issues with added weight in my casting stroke.
The Lamson Liquid felt right at home on my rod and I can tell that it's a solid, quality product. I'd be happy to make this my go-to base reel on any of my rods.
If you're in the market for a fly reel, you need to take a long look at the Lamson Liquid. It's built to last and fun to fight fish on.
Thanks for reading, please leave us a comment and let us know what you liked or thought we could improve on.
Related Readings: