This is a comprehensive guide explaining everything you need to know about the different types of fishing reels out there, plus the downfalls of each, if applicable.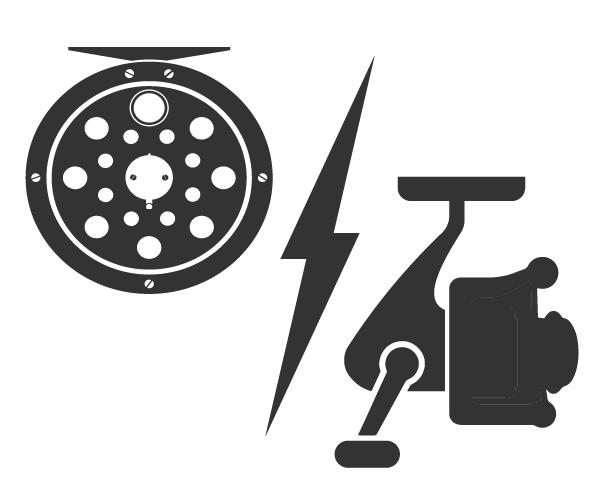 The resource below will unveil:
Basic reel anatomy
Vocabulary
The 5 most common reel types

Their respective applications
How to cast them
Their differences
Downfalls if applicable

Conclusion
Let's Dive in!
---
Introduction | Types of fishing reels
There are a lot of variations when it comes to fishing reels and sometimes telling the differences between them can be a bit of a chore. This article will cover the many types of reels, as well as their main differences and common applications.
This guide will simplify the process for anyone who needs to know the differences.
Whether you're looking to buy a new reel and want to know what to look for or if you're just plain curious—this is going to be your one-stop-shop for all the REEL info you're going to need.
Basic vocabulary | Anatomy of a fishing reel
Anatomy of a spinning reel:
Pick up or bail
Reel seat
Reel foot
Handle
Support arm
Anti-reverse lever
Skirted spool
Fishing line
Drag adjustment knob
5 Main Components of a fishing reel
1) Spool
The universal term for the part of the reel that the line is wrapped around and controlled with.
2) Backlash
When the spool spins faster than the line can leave it, resulting in a large and usually annoying tangle of line around the reel, often called a birds nest.
3) Drag
The internal mechanism in the reel, which is in charge of controlling the amount of "pull" required for the line to be taken off the spool. The drag is often made from several compressed carbon-fiber discs and relies on the friction created between them to create resistance.
On most reels, the drag feature is used for fighting fish, but can also prevent things like backlash on a few models. Its pressure is controlled with the drag knob.
4) Bail
The mechanism that rotates around the spool of a spinning reel when reeling, it wraps the line around the spool and allows the line to come off the spool evenly when drag is being taken.
5) Line Roller
Part of the bail mechanism on a spinning reel. Guides the line onto the spool as the bail arm rotates and ensures an even wind.
Types of fishing reels, their differences, and their respective applications
Let's Go! We'll start with the least complicated reels and work our way up.
---
1) Centerpin Reels
Centerpin reels are, in terms of simplicity of design, the most basic. The spool spins freely on a set of bearings and is controlled entirely with hand pressure. They fit the same concept as fly reels but do not possess a mechanical drag.
Application: What is a centerpin reel for?
Centerpin reels are designed for drift fishing. This style of fishing allows the angler to achieve a natural downstream drift using a bait or lure under a float, cork or bobber (depending on where you are from).
Drift fishing is usually used to target anadromous fish like steelhead and salmon and usually performs better than spinning tackle in most situations, especially when using the drifting method described above.
How to cast a centerpin reel?
To cast a centerpin reel, the angler releases any pressure they may have been putting on the spool with their hand, allowing it to spin freely. This allows the line to leave the spool with almost no resistance once the cast is made—the rate at which the line leaves the spool is controlled with gentle pressure from the fingers. This is also how the distance of the cast is controlled.
Once the bait has reached the target the reel is then taken control of again and the slack in the line is managed by turning the handle on the spool and taking in line as the bait drifts downstream towards the angler.
Once a fish is hooked pressure is applied to the reel with the hand, this increases the resistance and acts like the drag on any other reel but allows for allot more control over the amount of pressure exerted on the fish at any given time.
our picks for the best centerpin reels in 2022
---
What makes the OKUMA stand out is its construction. This reel is crafted from a single piece of aluminum, which significantly increases its strength, durability and longevity.
This reel is a beauty.
It is the higher-end center pin reel from OKUMA and is crafted with a corrosion-resistant coating a stainless steel spool shaft and an anodized frame/spool.
Like the OKUMA the Aventik also boasts CNC construction, however, it comes at a much lower price point. The price difference is likely due to the finish on the reel and the quality of the bearings.
This is a good entry-level reel for any anglers looking to get started with this fishing tactic.
Fly Fishing Reels are second to only to centerpin reels as far as complexity is concerned. They possess minimal internal mechanisms, usually only a clicker and/or a drag. Depending on the reel's size and intended purpose they may not even have a drag system.
Fly reels without a drag are often intended for smaller fish, who don't put up a strong fight and will likely not put the drag system on your reel to use very often.
These reels rely on a click and pawl mechanism mainly to provide the mechanical resistance needed to prevent the line from backlashing but also to apply pressure to the fish should you find yourself needing it.
Large Arbor reels
Larger reels designed for bigger, harder fighting fish will usually have a carbon disc drag system, these act sort of like the brakes in your car. The more pressure you apply to the discs with the drag knob the harder it is to turn them. This stopping force is transferred to the spool and thus to the fish through the line—allowing the angler to apply pressure when fighting the fish.
Fly reel sizes
Fly reels come in sizes corresponding to the line weight that they hold. Reel sizes range from 1-13 weight, with 13 being the heaviest weight line and largest reel and 1 being the lightest line and smallest reel.
The weight of your line and the size of your reel will be determined by the desired fish species and the required casting distance along with some other variables.
This fly reel is a guide favorite and what we are calling "the beautiful beast."
The new and improved Ross Animas has greater strength and is lighter in weight than its predecessors and comes with a lifetime warranty.
This is a beautiful reel and is one of the best fly reels on the market for its price.
It is not CNC, but does have CNC drag system components. It is crafted in the USA.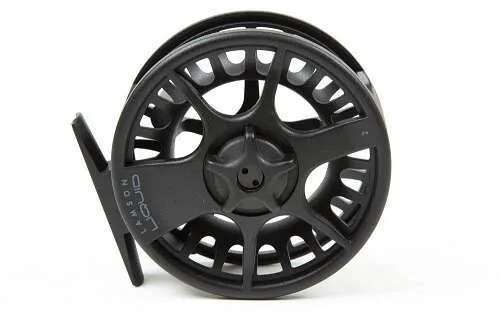 CNC construction significantly increases strength and durability and is what typically separates a high-end from a low-end fly reel.
Orvis quite simply makes some of the best gear out there.
This reel has a great click-and-pawl drag system and can easily be adjusted for right or left hand retrieve.
This fly reel by Piscifun boasts CNC construction (meaning it is crafted out of one solid piece of aluminum).
---
Are you a fly fisher or aspiring to be? You might find our beginner resources helpful.
---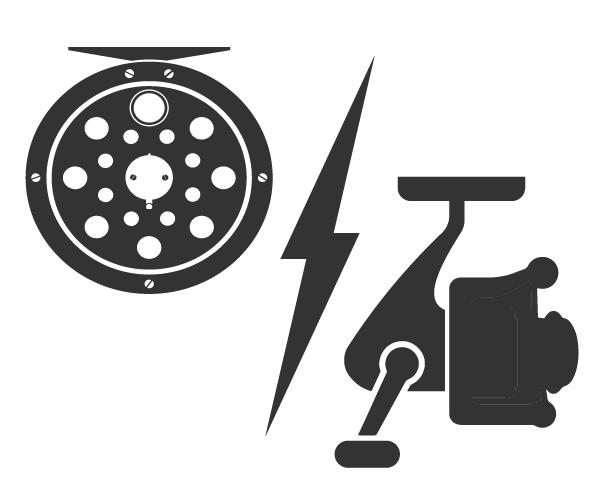 Other Fly Fishing Reel Related Articles
---
3) Spincasting Reels
Spincasting reels are the next step up as far as complexity goes. This type of reel features the internal mechanisms that the fly and centerpin reels lack along with an adjustable drag and push-button casting mechanism.
The spool on a spincasting reel is stationary and open-faced. This means that it is only covered on one side—unlike those on the previously mentioned reels. Instead of the spool spinning, the line just coils off through the hole in the housing of the reel.
Casting a spincasting reel
To cast you simply push down the button and then release it to make the cast. These reels are generally the easiest to use and are a great place for beginner anglers to start. If you have been fishing for your whole life then this is probably the reel you started out with as a kid.
These reels do it all, AND at a good price
Spincasting reels are one of the most commonly sold reels and also usually the cheapest. They are present on the majority of pre-made rod reel combos and are a great low-risk option if you are looking to get into fishing.
Spincasting reels are not exactly specialized for any one kind of fishing but are good at almost any type. Whether it be fishing on the bottom for catfish or throwing a worm under a bobber for bluegill and trout. These reels do it all and are a great choice if you are just starting out.
The downfall
Spincasting reels do have one downfall though, that being their inability to cast long distances using light tackle. This is because of the nature of their design. Spincasting reels limit your casting range when using light lures and tackle. If whatever you are casting doesn't weigh enough to generate the required amount of tension your distance will be limited.
The resulting slack in the line will cause the line to coil off the spool faster than it is leaving—causing a sort of backlash; except worse, because it is contained inside of the housing. This event often means that the angler must then take apart the reel and remove the housing to sort out the mess.
With this flaw aside, spincasting reels are a great option for anyone looking to get into fishing or anyone who just enjoys an easy time on the water.
Our favorite spincasting reels for 2022
Zebco has been in the fishing game for a long time.
Their bullet seen here is aptly named. The reel has a 5.1:1 gear ratio and retrieves the line at a rate of 29.6 inches per handle turn.
This little beasty is as trustworthy as they come. It is a closed-cast with a 19-inch retrieval rate. It comes locked and loaded with 10lb Zebco fishing line.
The Pfleuger President is another great spincast reel. It is inexpensive and reliable to help keep you on the water for years to come.
---
4) Spinning Reels
Spinning reels are the next step up as far as complexity goes, and depending on your model they have several more features than any of the reels discussed so far. Spinning reels take a bit more technique and skill to operate than their cousin the Spincasting reel.
Spinning reel vs spincasting reel
Spinning reels have a few main differences, the main one being its casting mechanism.
The casting mechanism is composed of 3 main parts:
The bail
The line roller
The spool
Just like the Spincaster, the spool on a spinning reel is fixed, it does not spin to let line out when casting, the only time it moves is when a fish is taking drag.
Casting a spinning reel
To cast a spinning reel the line is first held against the handle of the rod with the pointer or middle finger. The bail is then opened, which frees the line from the roller and allows it to come off the spool unhindered.
Once these steps are complete the angler can then make the cast by releasing the line from their fingers at the desired point in the casting stroke, sending the tackle towards its target.
Once the lure or bait has hit the water the spool is then re-engaged and the line can be retrieved.
The drag on a spinning reel
The drag on a spinning reel is adjusted on the front of the spool with the drag knob. Tightening it applies pressure to the drag discs, increasing the friction and in turn making the fish work harder to pull the line off the spool.
Here you can see a disassembled 2000 size spinning reel.
Spinning reels come in allot of shapes and sizes
Spinning reels come in a lot of shapes and sizes and each model has different features. Spinning reel sizes are commonly measured in sizes ranging from 500-to 30,000, with 500 being the smallest and 30,000 being the largest.
The smaller reels are ideal for slow and small fresh or sometimes saltwater situations targeting smaller fish while the larger reels are designed for targeting large fish in big or fast water.
Choosing a spinning reel
The size you choose will be determined by what you plan on fishing for, and how and where you will be fishing.
If you plan on fishing small neighborhood ponds for bass and bluegill then you likely will not need a reel any larger than 5500.
If you are fishing for trout in a creek or small river than a reel no larger than a 3300 will be just fine.
If you plan on beach fishing for tarpon, sharks or other large game fish then you are going to want something in the 8500-30,000 size range.
The exact size will be decided depending on what kind of fish you are targeting and how you will be targeting them.
Spinning reels are capable of almost any kind of fishing and do well in practically every situation. If you are looking for versatility then spinning reels are the way to go. They can cast light tackle long distances but also do great with heavy bottom fishing rigs as well. You can customize your retrieval rate to best suit the lures you are fishing with—as you can usually get the same model with different retrieval rates for each situation.
Downfalls
Spinning reels only have two downfalls.
The first downfall is line twist. This is caused when the line twists as it leaves the spool and when it is retrieved the twists stack upon each other and eventually get sucked into the reel and spool. This ends up keeping the reel from operating smoothly and usually limits casting range or keeps you from casting altogether.
To fix this, you have to open the bail and pull line off the spool until you reach the twist, untwist it and then reel the line back in, using your fingers to create tension on the line.
The other downfall with spinning reels is that they are slightly complicated to operate. This makes them a less suitable option for beginners, as getting the hang of using a spinning reel can be somewhat challenging.
---
Other Gear Related Articles
---
Here are the best spinning reels for 2022
The Penn Battle II is slightly higher in price, but it will fit the bill even for salt water applications. If you are ready to purchase a reel you will have for life, this is it!
We mentioned the Pfleuger President in our spincast section—well this is the spinning reel version. This reel offers a sweet combination of quality for price.
There are so many spinning reels on the market that we kept our selection to just the reels above. If you want to explore a whole world of spinning reels, see here.
5) Baitcasting Reels
Finally, At the end of the line we have baitcasting reels. These are definitely the most complicated in both features and mechanisms. This, along with their fairly complicated operation and finicky nature, makes them the most complicated reel on this list.
Styles
Baitcasting reels come in several styles, each with their own distinctions and features.
The low-profile baitcaster
One style is the low-profile baitcaster, this is the most commonly used reel by bass fisherman and those who fish in heavy cover. It's a smaller, compact version of a full-size baitcaster. It has a smaller spool and is much flatter as far as profile goes, hence the name.
The low-profile baitcaster is preferred for situations like bass fishing where heavy cover is present and the angler is throwing large baits and lures. This is because its design allows it to hold a heavier test line and cast heavier tackle than spinning reels. This does come at a cost though—because of the free-spinning spool, a significant weight is needed to get the spool moving and cast the line and tackle far enough. This fact rules out light tackle on a compact baitcaster because using light lures will essentially make the casting process almost impossible.
Full-size and offshore
The other style of baitcaster is the full-size and offshore style. These are the large reels that probably come to mind when you think about deep-sea fishing. Their main use is for big fish—from salmon and sturgeon—to sharks and tuna. The smaller models are used for big inshore and freshwater fish.
The really big sizes are good for pretty much anything you can throw at them. They are primarily used in situations in which you are casting or trolling big baits short distances or dropping it straight down. Their design is such that they can hold a large amount of heavy pound test line, ideal for the large fish they are used to catch.
Most baitcasting reels usually feature heavy drag systems allowing the user to gain the upper hand on the fish when pulling them out of cover or when engaged in a fight with a big fish of any kind.
Casting
Casting a baitcasting reel can be pretty difficult for beginners. This is because of the free-spinning spool mentioned above. In order to negotiate the rate which line leaves the reel, the angler uses their thumb to apply pressure to the spool and keep it from backlashing and creating a bird's nest.
As a beginner, managing the spools speed can be really tricky to get the hang of. However, once the right technique is found—fishing with a baitcasting reel can be a very satisfying and rewarding experience.
Most modern reels feature anti-backlash mechanisms but thumb pressure is still required to ensure that you don't end up with a massive mess. Baitcasting reels are a great option if you plan on targeting big fish species like sturgeon, sharks, tuna and other ocean-going fish. Or, if you plan on hauling heavy-hitting predators like bass and pike out of thick cover.
If it's your first time using a baitcasting reel be prepared to do some untangling. However, once you get the hang of it baitcasting can be a really rewarding and effective method of catching fish.
---
Here are the best baitcasting reels as of 2022
This reels compact design renders it like a ferrari.
It is fast, light, strong and it's cross-fire braking system helps to avoid backlash.
This is another compact profile baitcasting reel. The Abu Garcia comes in at a good price and is a one-piece graphite reel with a power disk system.
Shimano's promise for this reel is, "versatility, dependability, and long-term value." AND at the price point, it does need to achieve that.
This reel is for the hard-core angler that wants nothing but the best.
---
Conclusion
There is a lot of fishing gear out there, telling it apart can get over-complicated and overwhelming faster than one would think. It gets worse when you are trying to zero in on something like a reel, as there are thousands of models, all with their own features.
If you're looking for a new reel or just getting into fishing and are looking for a place to start, we hope you have gotten what you came for.
Hopefully, this article made the task of making the decision to buy that new reel a little easier or cleared up any confusion you may have had about the different types of fishing reels on the market—along with identifying what reel best suits your needs or fishing style.
Additional Resources: