A Matter of Function and Taste
Nymphing (euro and otherwise) has continued to grow in popularity for fly fishers worldwide in the past decades, and for good reason.
Simply put, it's deadly effective and can better your chances of an encounter with a fish when other methods aren't working.
This review is about 4wt fly reels, the lightweight cousin to the all-purpose and 'standard' 5wt. These reels perform particularly well when using nymphs, and excel at providing a delicate presentation and accuracy, even when using tiny flies.
I'm going to do a deep dive here on some stellar products so you can buy with confidence if you're looking for a lighter reel designed to improve your nymphing game.
In this article we will cover:
Best overall 4 wt fly reels
Best 4wt fly reels for the money
Uses of a 4 wt fly reel
What to look for in a 4 wt fly reel
Types of 4 wt fly reels
4 wt fly reel frequently asked questions
And much more!
Let's get started!
---
4wt Fly Reel Reviews ( Best Overall)
Hailing from Alnwick, England, and in business since 1872, this company knows fly fishing. They have a storied reputation for producing quality gear designed for the most devoted and fickle fly anglers the world over.
Their Ultralight MTX reel is a fantastic example of this brand's commitment to its craft. Hardy's proprietary alloy that the reel is constructed with is super light but sacrifices nothing in power or durability with a 5 lbs max drag.
This expertly engineered reel has a fully customizable 340-degree drag system with a color-coded easy-to-read display that is both aesthetically pleasing and super useful when nymphing.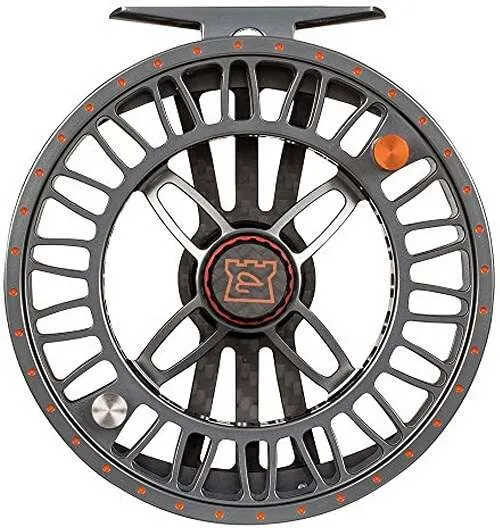 Hardy is a big name in the fly fishing world and their products reflect their dedication to creating fine-tuned and functional masterpieces for the discerning angler.

Features/Specs
5 Oz Weight
Proprietary Carbon Fiber/Aluminum Alloy Construction
1.0:1 Gear Ratio
Sealed Disc Drag
Ambidextrous Hand Orientation
Titanium/Orange Color
Pros:
Fantastically well-engineered and aesthetically pleasing
The color-coded drag system is user-friendly and allows for precise tuning
Large arbor and line capacity while remaining incredibly light
Built to last
Cons:
I have extensively researched reviews of this reel and have found nothing that comes close to a negative report. The only thing off-putting about this reel is its $429.00 price tag, but with Hardy, you truly do get what you pay for
This is the flagship reel from Galvan, and it has brought the company international praise and attention from fly fishers the world over.
Numerous fly fishing publications hailed the reel as a modern marvel as far back as 2004 due to its meticulous construction and performance on the water.
Like the above offering from Hardy, this reel is simplistic, functional, and extremely aesthetically pleasing. Despite its lightweight, it is powerful and holds the standard amount of line and backing necessary for effective fishing applications.
The quality of this reel has been espoused by many other writers in many other publications, and the proof is in the print.

Features/Specs
0.85" Spool Width
4.5 Oz Weight
⅘ Line Weight Capacity
100 Yard 20# Micron Backing
Available in Green, Clear, Black, Blue, and Burnt-Orange Colors
Pros:
Rigorously tested for extreme conditions
Super light and balanced
Published in various magazines and used in competitions
Cons:
Much like the above reviewed Hardy reel, it was basically impossible for me to find negative reviews of this fly reel. The high price tag is the only drawback to this expertly engineered piece of equipment
Sage is a newer company that provides quality products at affordable prices for newly initiated and seasoned anglers alike.
At my last virtual meeting, I even spied on one of my bosses wearing a Sage t-shirt. The Spectrum C fly reel from Sage is an all-purpose reel that works great whether you're euro-nymphing or throwing dry bugs, with a large arbor for quick line retrieval, and Sage's proprietary drag system with the detented surface.
The drag system is sealed to keep out sand and grime, and the whole reel is powder-coated to deter rust and damage. This is a workhorse of a reel that is still light and suitable for delicate presentations that hold its own against reels twice the price.
Features/Specs
3 5/16" Diameter
4 5/8 Oz Weight
1 5/16" Width
3-4 Line Weight
WF4 With 100 yards of 20# Backing
Available in Grey, Black, and Copper Colors
Pros:
Affordable $165.00 price tag
Quality workmanship and super functional
Vented concave arbor for greater capacity and strength
Precise and intuitive drag system
Neoprene and ballistic nylon case included
Cons:
There were a few manufacturing problems with an unknown number of these reels last year, but Sage has gone above and beyond to correct this, so make sure the inner spool isn't bent and retrieves the line without wobble
The quality vs price point makes this one of the best reels on the market.
Whether you're committed to nymphing or not, Lamson makes excellent reels at an affordable price.
Our main voice for the Liquid from Lamson Waterworks is that these reels perform just as well as other reels that cost twice as much.
Note: The liquid -3+ model is the one you would pair with a 4wt rod, which seems to be the standard rod size and weight for nymphing applications.
The liquid is light and reliable, with a US assembled drag system and a pressure cast design.
One consistent fact that stands out is that it performs well in freezing cold water, a condition that dedicated nymph fishers are often faced with.
Features/Specs
3.34" Diameter
.99" Width
4.2 Oz Weight
Pressure Cast Aluminum Case and Spool
Can Hold 100 yards of 20# Backing Material
Polyurethane Finish
Available in Smoke or Vapor finish
Pros:
$129.99 Current Price Tag
Ambidextrous Hand Orientation
Large Arbor
Lightweight and Functional
Cons:
Some manufacturer's problems are reported with the drag, check out the video below to solve this
The pressure-cast aluminum case and spool are often more fragile than machined parts, so try to avoid overt abuse and hard falls on rocks and etc.
View the Liquid on Trident Fly Fishing →
---
Other Gear Related Articles
---
Best 4wt Fly Reels for the Money
I've reviewed Redington products before, and they excel at producing affordable gear at reasonable prices, which draws in both the beginner and the guys that need backup equipment they can rely on.
This reel is incredibly light, and Redington boasts that this is the lightest reel in its line weight class. It pairs well with light long rods and has all the standard 4wt reel characteristics that other more expensive reels have at a fraction of the cost.
Instead of an advanced closed-seal disc drag system, Redington has opted for a traditional click-drag.
There are simply too many good reviews of this real, ranging from the beginner to the expert, and it performs just as well throwing dry bugs as it does small nymphs, making it a fantastic first reel for people new to the hobby.

Features/Specs
3" Diameter
Incredibly Light at 2.7 Oz
Click Drag
Large Arbor
100 yards of 20# backing capacity
Pros:
Super affordable without sacrificing quality
Incredibly lightweight and balanced
Simplistic and functional
Cons:
This reel clicks loudly–may not be a drawback for all anglers
The finish used on this reel is prone to scrapes, scratches, and abrasion when used heavily and dropped, loaded, etc.
Echo is another company that has consistently good reviews and solid products at an affordable price.
Their Ion fly reel is a lightweight and slim product that sports a disc drag system on a large arbor, with a satisfying click on both the delivery and retrieve.
For those of you who are debating a lighter reel geared towards nymphing but capable of throwing the other bugs in your box, the Ion is a good choice that you can try out without breaking the bank.

Features/Specs
2.9" Diameter
.9" Width
4.8 Oz weight
WF3 Line with 75 Yards of 20# Backing Capacity
Large Arbor
Disc Drag
Incoming/Outgoing Click
Pros:
Affordable
Lightweight but powerful
12-Month Limited Warranty
Cons:
Every other reel reviewed here can hold the standard 100 yards of fly-line backing except this one. I personally don't see this as a deal-breaker but it should be noted before you buy
Patience is a virtue, but I must admit, I am sometimes not so virtuous. If you feel the same, this might be the reel for you.
This reel from Cheeky comes preloaded with backing, fly line, a loop-to-loop leader, and tippet. They are proud to tout this reel as ready to fish directly out of the box.
The line supplied is Cheeky's proprietary floating type and it is coated in an anti-abrasion finish. It features a welded loop, plus a leader and tippet. All you have to do is get it through your guides and tie a fly on.
It has a silent retrieve and supports Cheeky's S-Power disc drag, which packs a lot of punch for this price.

Features/Specs
3.9 Oz Weight
WF3F Line with 100 yards of 20# backing
Die-cast frame and body
Large Arbor
S-Power disc drag
Silent retrieve
Pros:
Powerful drag system
Affordable at $99.00
Ready to fish out of the box
Cons:
The only negative thing that I could find about this reel is in relation to the pre-loaded line. There were a few customers who received the reel with the fly line improperly spooled onto the reel
The fly line itself seems to be hit or miss, sometimes with structural issues like cracking, fraying or brittle leader.

Uses of a 4wt Fly Reel
As mentioned, 4wt fly reels are often paired with long, sensitive rods for nymphing. With contact nymphing, sensitivity is key to discerning gentle strikes from trout when your nymph is on the bottom, and 4wt reels work well with lighter lines or even straight mono setups.
However, don't forget about other bugs! Many trout anglers that are partial to blue-lining and fishing small streams for native brookies pair these reels with shorter rods for mountain stream use.
What to look for in a 4wt fly reel
There are many characteristics that the above-reviewed reels have in common. It should come as no surprise that many of these similar characteristics lean more towards using nymphs than other flies.
A large arbor is important for fast line retrieval, and advanced drag systems that are precise and able to be fine-tuned can make all the difference when trying to hook up with heavy tungsten nymphs (especially if you're using barbless hooks!)
Other things to consider are the capacity of the reel, because how much and what type of line you have is critical to understanding how to get those smooth drifts that bring trout out of hiding.
Price is another major factor to consider. Some of these reels are downright pricey, even though they are marvelously well-engineered and super light. If you're new to the nymphing game or you just wanna size down your favorite small-water fly setup, price is something you will need to consider.
Types of 4wt Fly Reels
Many 4wt reels possess a large arbor, and many fly anglers that have used large arbor reels simply don't switch back to narrow ones. A large arbor fly reel has a much thicker and more solid center spool, meaning that you can get that line back quickly for more drifts, or successfully get a big trout to the net without overplaying them.
Even guys not into the nymph game are gravitating more and more towards large arbor reels and away from the old narrow ones.
The drag systems in the reels above vary as well, falling either into the disc drag type or the classic click-pawl. I personally am a sucker for the satisfying click of the classic drag system, I think at this point my brain just associates that noise with fishing.
However, some of the more expensive reels in this review have very advanced mechanical disc drags, where the drag is produced from a sealed assembly of washers, and the drag is adjusted by how tightly they are positioned against each other.
Being able to fine-tune your drag can be important when concerning the hook set and while playing a big fish, but I can honestly say that I have yet to encounter a situation where my knockoff Japanese Pflueger Medalist has failed me with its click-pawl drag.
Frequently Asked Questions
Q: Does my 4wt fly reel need to be paired with a 4wt fly rod?
A: The answer here is no! The most common accompanying rod to a 4wt reel that I've found is 9-10ft 3wt rods for euro nymphing, but much like other fly combos, no you do not have to pair your 4wt reel with a 4wt rod.
Q: Can a 4wt fly reel handle larger fish?
A: Yes, it can. While it may take some getting used to, these reels are more than capable of handling bigger fish. It has more to do with how you play them than the capabilities of a reel's drag system.
Q: How to set up my 4wt fly reel?
A: A 4wt can be set up the same way as your normal 5wt, meaning backing, to fly line, to the leader.
While I do know a few anglers that swear by straight mono running line when engaged in euro-nymphing, most of the reels in this review were set up the traditional way.
Only the Echo Ion reel does not hold the standard 100 yards of 20# backing, all the others do.
Q: What are the differences between a 4wt fly reel and a 5 or 3 wt?
A: Some differences are the size of the arbor, line weight, capacity, and overall weight.
---
Other Fly Reel Related Articles
---
Conclusion/Reeling it in
There is so much information available about the next best, lightest, or most cutting-edge reel that being in the market for one can be slightly intimidating.
This, combined with some large price tags on the big brand name might make some just forgo purchasing one altogether.
But they do have their uses and are gaining serious popularity as of late, so if you're on the fence consider one of the more affordable models in this review and give them a try whether you're nymphing or not. As always, good luck and tight lines.
Related Reading: