Straight Up Giant!
When I began replacing my ultralight spinning rod with a fiberglass two-piece fly rod, I was (and still often am) astounded at the quality and duration of the fight that even small fish provided. Fish that were at best a distraction from the aggressive, heavy brown trout I target, and at worst, a slight annoyance, felt like lions on the end of my line, not housecats. Picking up the fly rod made fishing new for me again, and gave me a deeper appreciation for all fish, regardless of size.
Still, as anglers, I think we all have a fascination and desire to encounter "the big one." This article is about the world record brown trout, where it was caught, how, and why fish that tip the scales are important to both the angler and the scientist.
This Article I Will Cover:
An overview of the brown trout species
The World record brown trout
The biggest brown trout caught in the United States
Runners up for both the USA and world
Join me as I examine a truly jaw-dropping trout!
Brown trout have a wide native range and can be found from South America to Eastern Europe. Their amazing adaptability is just one of the reasons these fish hold a special place in the hearts of fly fishers all over the world. When introduced to climates outside their native range, they effectively establish self-sustaining wild populations. They prefer clean, cold, well-oxygenated water, and while native to Europe, they can be found wherever the water is good and the forage is plentiful. From high mountain streams in Africa to deep channels in Afghanistan, these fish are resourceful survivors and efficient, prolific breeders.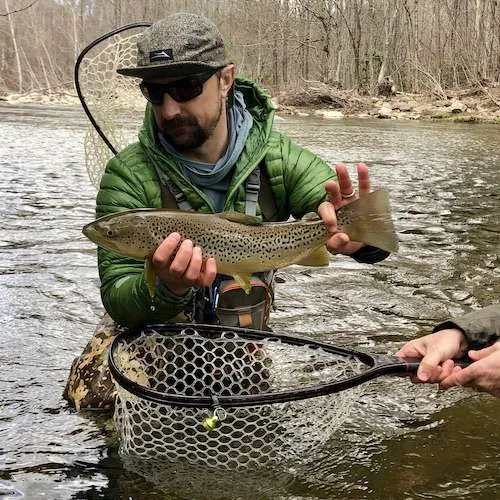 Brown trout are medium-sized fish, but they can grow to jaw-dropping sizes in the right conditions. They possess beautiful black stippling on their back and head, which is superb camouflage in streams and shallower waterways, and their color ranges from golden brown to nearly yellow. These fish can live for 20 years, but many don't survive their first spawn. When the males reach a certain age, their jaw develops into a formidable tool for fighting other fish during their spawning runs, and they do resemble their cousins, the salmon.
Young fingerling brown trout feed on macroinvertebrates, but as they grow, so does their diet. Minnows, flies, nymphs, and eggs are on the menu for young brown trout. Larger specimens are notorious for attacking mice and lemmings and larger baitfish. They are aggressive fighters, and capable of fantastic acrobatics when on the hook. These attributes are probably why they have been introduced to numerous continents as prime gamefish.
The World Record Brown Trout (New Zealand)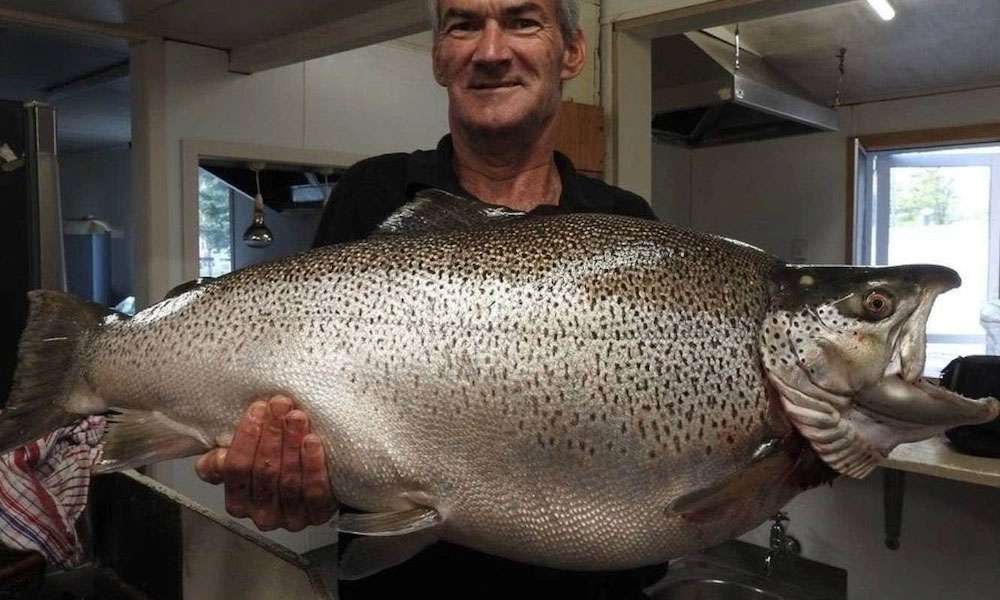 In October of 2020, the IGFA certified a new world record brown trout, which came in at 44 lbs 5 oz!
New Zealand is one of those places that has it all when it comes to topics of trout and fly fishing. High mountain streams, wide-water lochs, and one particular hydroelectric dam outside of a salmon farming operation. Whatever way you fish, there are ample opportunities for fly fishers to enjoy this beautiful place and the trout that call these waterways home.
The world record brown trout was caught in the Ohau Canal, where a previous world record had been caught just a few years earlier. New Zealand's large network of canals and hydroelectric dams create truly fantastic fisheries, and prime environments for trout to access clean, well-oxygenated water and plenty of food. Anyone who fishes spillways here in America knows how these facilities can not just attract, but also sustain large numbers of big fish.
The Ohau Canal is just downstream of a salmon-farming operation. New Zealand has a few of these commercial installations, and they produce well due to the laundry list of conditions conducive to growing big fish. But why is this particular canal the location of two world records? There are numerous reasons, the most important being access to pristine waters. However, the close proximity to an industrial salmon farm means that the brown trout in these areas have been eating excess pellets since they were fingerlings. Besides the other ample forage found in these waters, the fish here have access to an unnaturally plentiful amount of food, designed to grow salmon commercially. This is why the brown trout here achieve such monstrous size, and leads me to believe there are other browns, possibly even larger, lurking in the Ohau Canal.
The record was taken by a man in his 70s. While the name given to the papers and to the record keepers were Seumas Petrie, this is an alias. I can fully understand not wanting the excess local (or international) attention that catching a fish like this might bring. "Seumas" caught this brown on conventional spinning tackle, using a humble jig, and on a near unbelievable 6-pound test monofilament line. The fight lasted in excess of 20 minutes, and I can only imagine the emotional rollercoaster that fight must have been. The superb conditions and close proximity to salmon farms make for legendary trout, and conventional anglers, as well as fly fishers alike, are flocking to this area for a chance at a monster of their own.
Free silicone fly box with every purchase
Asheville, North Carolina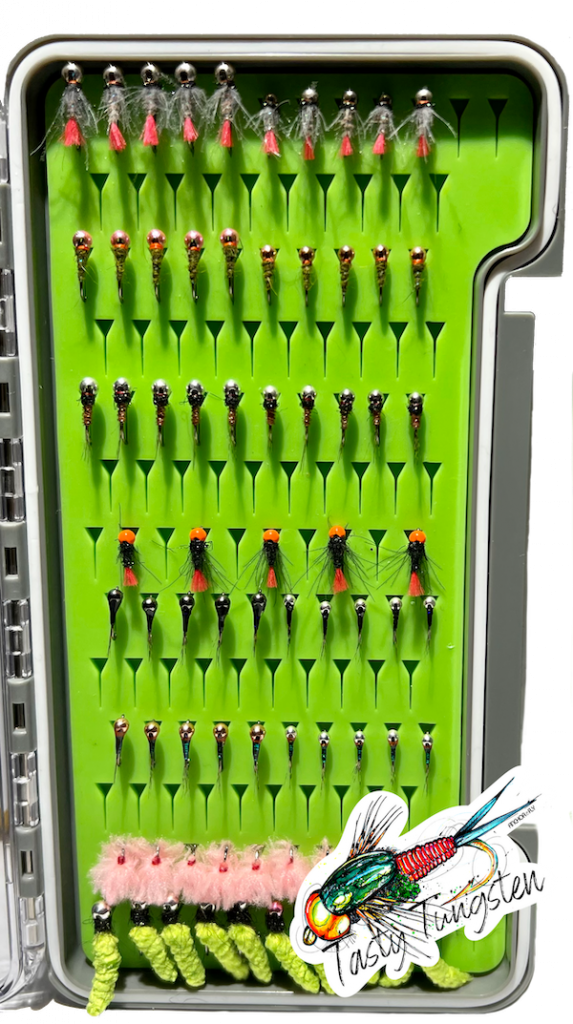 ---
United States Record Brown Trout
Size: 41 lbs, 7.25 oz
Location: Manistee River, Michigan, United States
Tackle: Conventional Spinning Rod, 30 lb Braided Line, Black/Silver Rapala Shad Rap
Angler: Tom Healy
Many anglers still think the United States World Record Brown Trout is in Arkansas, however the country's biggest brown comes from the Manistee river in Michigan.
This river is a world-class trout fishery that also holds massive salmon and other game fish. The Manistee and places like it are things of wonder to eastern anglers like myself. Miles of prime water, deep and with lots of structure, all add up to big fish if you can find them. This is the river more than capable of hiding giants, and in 2009, Tom Healy found one.
Mr. Healy, a construction worker that regularly fished the Manistee in search of chinook salmon, was on a charter with his friend Bob Woodhouse, operated by Tim Roller when something amazing happened. Using a rod that was more equipped for bigger fish than Mr. Petrie was using in New Zealand, but still light tackle as far as I'm concerned, something attacked his Rapala Shad Rap mid retrieve. Healy knew it was a heavy fish immediately. The initial first run was incredible, and Healy fought the fish for 15 minutes before he and his companions could see what it was. This was no chinook–this was a potential world record brown trout.
The best part of Mr. Healy's fish story is how warmly he was received when he got back to town, with biologists and IGFA patiently waiting for him. The people that live along this river have fishing in their blood, and his potential world record brown made major waves throughout the small town that bears the same name as the river. He was a hero that day, and probably still is.
---
Missouri State Record (40.4lbs)
This brown trout is not a world, nor USA record but is embedded to give you a glimpse at how massive these fish are!
---
The Runners-Up
World | New Zealand… AGAIN!
As mentioned above, the previous world record brown trout was caught in the same New Zealand canal that the current record-holder was lurking in, and not long ago either. In 2013, a man named Otwin Kandolf caught the former IGFA world record brown after he observed it feeding on pellets drifting away from the same nearby salmon farm. He was using a conventional spinning setup with 12 lb monofilament, and a 17-gram "Silver Slice," a lure that is to the best of my understanding a KastMaster type bait.
The brown trout weighed in at 42 pounds, 1 oz, proving again that these canals and the waterways around them are home to the big ones.
USA | World Record Brown Trout, Arkansas
Stateside, the previous record brown trout was caught in Arkansas, on the Little Red River in 1992, and at one point this fish wasn't just a US record–it was a world record fish as well. Because of this a lot of people still think the US World Record is in Arkansas.
Howard (Rip) Collins caught a 40-pound, 4 oz brown trout on a 4 ½' spinning rod and four-pound test, using a 1/32 oz jig. With light tackle used yet again to great effect here, I can only imagine the 18-minute fight that occurred. Collins was a die-hard fly fisher, but on this occasion, that little spin rod was all he had along for the day. While this record has been surpassed both here and abroad, Collins' record is further proof that you don't need a passport and travel funds to get into big brown trout–there are monsters that live here, too.
Reeling it in!
The difference in size between the world record brown trout and the US record is a mere 4 pounds. Both places can support massive, predatory brown trout, so you don't need to start budgeting now to afford a flight to have a chance at the brown trout of a lifetime. There are giants that are still out there, and the possibility of encountering one does still add a certain amount of wonder to fishing for me, and I'm sure many others. And while fly fishing has given me a broader and more measured appreciation for fish of all sizes, the thought of negotiating a massive, wizened old brown trout to hand like the two anglers in this article is still a very real possibility. It can make me stay on the water a little longer, and can make me cast a bit further. Just in case "the big one" is languishing in that last deep pool in my favorite spot. You never know, and the only way to find out is to get out there and fish. Tight lines my friends.