Fly fishing is a great activity for kids of all ages. It gets them outside and helps them develop an appreciation of nature and the outdoors. It also teaches important skills like patience, persistence, and finesse.
We at Anchor Fly are huge supporters of getting kids involved in fly fishing and are here to help.
Having the right gear and equipment for your child is an important consideration when they show an interest in fly fishing. In this article we will be looking at waders sized for your junior angler.
Keep reading for an overview and our top picks followed by some helpful tips on choosing the right waders.
We have grouped our wader picks into 5 categories:
Best overall kids waders
Best breathable chest waders
Best insulated waders // kids hunting waders
Best kids hip waders
Best for budget
Let's dive in!
---
Best Waders For Kids Overall
This is our top pick for best overall waders for kids.
These breathable chest waders from Caddis have the same features as quality adult sized waders.
They have attached gravel guards, quality neoprene booties, durable but breathable fabric, and a large front pocket.
They are the perfect option if your child is serious about fly fishing and you want something with great functionality that will last multiple years.
These waders are a great value but keep in mind that you will also need to buy separate wading boots like the excellent Redington Crosswater Youth Boots with Sticky Rubber (linked below).

Features/specs
Youth sizes small through XL

Durable breathable polyester

Stitched and taped seams

Currently around $110.00
The need for separate wading boots is one of the reasons the Caddis Youth waders won our top pick. Having separate boots makes it much easier to navigate the bottom of the river and makes the hike in much more comfortable.
Pros
Attached gravel guards

Removable suspender system

Affordable
Cons
Requires separate wading boots
Best Breathable Kids Waders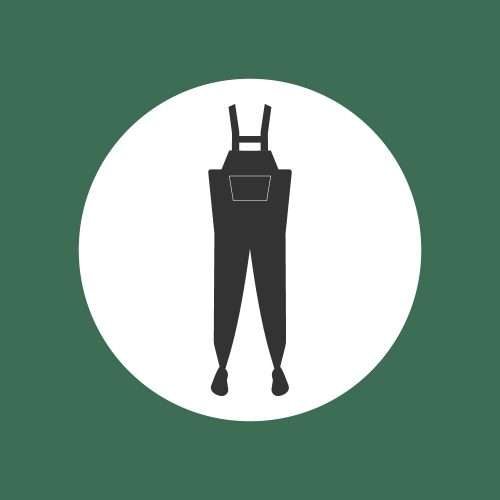 Breathable waders are made of nylon or polyester with microscopic pores in the fabric that are small enough to let evaporated moisture escape without letting water through from outside.
Breathable chest waders are going to be the best option for kids that spend a lot of time fishing. They are lighter and easier to move in than neoprene waders. They have the added benefit of being much more comfortable in warm temperatures. Breathable waders are also very capable in cooler temperatures with an extra layer or two.
Besides the Caddis Youth Waders listed above, we have two additional picks for best breathable kids waders. You will need separate wading boots with all the breathable waders on our list. As mentioned previously, separate wading boots are more stable, comfortable, and durable than most attached rubber boots.
---
---
The Frogg Toggs Hellbender chest waders came in as a close second to Caddis Youth Waders. These waders are a great pick and will provide years of use for any child.
They feature a burley 4-layer nylon upper, multiple chest pockets, gravel guards, and neoprene booties.
One standout feature of the Frogg Toggs Hellbender is the double reinforced knees. If you have kids, you know that they have a knack for blowing the knees out of pants. This also applies to waders.
The additional protection on the Frogg Toggs Hellbender will extend the life of the waders and help avoid leaks while they are out fishing.
Features/specs
Youth sizes small, medium, and large

Breathable 4-layer nylon material

Requires separate wading boots
Pros
Chest pocket with hand warmer

Gravel guards

Double reinforced knee
Cons
Requires separate wading boots

Sized smaller
Redington has been making quality adult waders for many years so it's no surprise that their Crosswater Youth Waders made the list.
The Crosswaters are made from a 3-layer DWR treated fabric that is durable and has excellent breathability.
They have attached gravel guards and high-density neoprene booties to keep your young angler's feet warm. They also have a nice flip out chest pocket for carrying a small fly box and a couple of accessories.
A great feature on these is the easy conversion from chest high to waist high waders using the opposing suspender buckles.
Your child can pull the waders down to the waist and wrap the suspenders around their midsection like a belt. This feature makes the Redington Crosswater a top pick if your child will be fishing in hot weather.
Features/specs
Two size options: youth 8-10 and 12-14

Breathable 3-layer DWR treated upper

High density neoprene booties for comfort and warmth

Requires separate wading boots
Pros
Inside chest pocket

Attached gravel guards

Durable material
Cons
Requires separate wading boots

Limited sizes
Best Insulated Waders // Kids Hunting Waders
Insulated waders are a great choice if your young angler will spend most of their time fishing in the fall, winter, or spring. The insulation makes a big difference when the air or water temperature is on the cooler side. Insulated waders may not be as light as other options, but when you are dealing with cool temperatures, there is no substitute for a good pair of warm insulated waders. The waders in this section below also serve as our top selections for kids hunting waders
These waders from HISEA are made from a thick neoprene with a soft nylon jersey and stretch liner for warmth and comfort. The insulated boots are heat welded and seam sealed to prevent leaks. They also have an aggressive tread pattern on the boots to make wading easier.
Camo doesn't always get a lot of love from the fly fishing community but it should. Blending in better with streamside vegetation means a stealthier approach and fewer spooked fish.
The camo pattern on these neoprene waders also make them a great choice if your child has an interest in duck hunting.
Features/specs
Great range of sizes (2T through 12/13)

4.5mm neoprene

Rubber lugged boots

Camo pattern with brown, green, or pink trim
Pros
Many different sizes

Added liner for warmth and durability

Insulated boots
Cons
Thick neoprene can feel bulky
---
Other Gear Related Articles
If you want to get a pair of waders with bomb proof durability, excellent breathability, and a removable insulated liner, then check out these waders from Frogg Toggs. They have a 4-ply breathable polyester upper and a nylon reinforced seat, shin, and knees.
The waders feature a subtle a camo pattern adding an advantage when searching for wily trout or hunting duck.
A unique feature of these breathable waders is the 120 gram insulated liner that can be removed for use in warmer conditions. They are a versatile option that can serve for fishing or hunting.
Features/specs
Youth shoe sizes 4 through 10

Breathable 4-layer polyester

Nylon reinforcement at high wear areas

Bottomlands camo pattern
Pros
Many different sizes

Removable Insulated liner

Breathable nylon
Cons
If camo isn't your thing, check out these neoprene waders from Gator. They are 1mm thinner than the HISEA which means they will not be quite as warm but will be a little lighter and easier to move around in.
When it comes to mobility the Gator Waders feature a slightly longer inseam, increases the movement of even the most energetic youngster.
They have an aggressive tread pattern on the boots, padded shoulder straps, and a hand warmer pocket on the chest.
Features/specs
Sizes from 3T through 6/7

3.5mm neoprene

Heavy duty insulated boots

Slightly longer inseams for mobility
Pros
Many different sizes

Insulated boots

Durable material
Cons
Best Hip Waders for Kids
Hip waders are a nice compromise between full chest waders and rubber boots. If your young child is just learning to wade, you probably do not want them out much deeper than their knees anyways.
A good pair of hip waders are easy to get on and off, they take up less space when packing, and they dry quickly. Check out our top pick below.
The Compass 360 hip waders are similar to the Frogg Toggs Cascades but have a slightly lighter weight. They are made from two layers of 420 denier nylon coated with PVC for waterproofing.
These hip waders are a great balance between lightweight and durability.
To use these hip waders, simply put them on and attach the adjustable leashes to your child's belt. The hip waders will stay on without sliding down or falling off.
Features/specs
Youth shoe sizes 3 through 6

420 denier PVC coated nylon

Durable PVC boots
Pros
Very durable

Lightweight

Affordable
Cons
---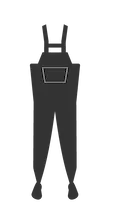 Other Wader Related Articles:
---
Best Budget Kids Waders
If your child is just starting to show an interest in fly fishing, you may not want to spend a lot of money on waders that only get used a few times. Luckily, there are some great budget waders available. Check out two of the best below.
You won't find a better value in youth waders than these from Magreel starting at $30. They are made from a lightweight and durable PVC treated 70 denier nylon.
They have heat welded seams and heavy duty attached PVC boots. One disadvantage to the Magreel waders is they are not breathable.
However, because of this they are lighter than our top picks listed above, but should still be plenty durable for young anglers.
The adjustable shoulder straps and waist belt ensure your child has a secure and comfortable fit.
Features/specs
Sizes based on child's age (2 through 13)

70 denier PVC treated nylon

Heat welded seams for leak protection

Durable PVC boots
Pros
Lightweight

Affordable

Many sizes
Cons
Limited sizes

Not breathable
The Ouzong chest waders are another top pick for youth waders on a budget. Ouzong uses a nylon and polyester blend that is very lightweight without sacrificing durability.
These waders come with a drawstring around the top to keep a tight fit, along with adjustable waist and shoulder straps.
They come with a bonus hanger to use for storing these waders upside down between outings.
Easy to get in and out with removable waist belt and quick release buckles. These waders come in either camo or green colors.
Features/specs
Sizes based on child's age (2 through 13)

Polyester and Nylon material

Comes in Camo or green colors

Not breathable but they are very light weight
Pros
Lightweight

Comes with Hanger to dry and store waders

Affordable
Cons
Boot Size runs small

Not breathable
Best Wading Boots For Kids
Most of our featured kids' waders are bootfoot and don't require separate wading boots. However, we have have included one pair of wading boots for the young angler if that is necessary.
The Crosswater wading boots by Redington meet all the needs and are perfect for the young angler.
They are made from lightweight mesh that won't hold water and dries easily. The soles are made from extra sticky rubber to add extra stability on those slippery rocks.
If you're wanting a little more extra traction, the boots are compatible with studs.
Features/Specs
Lightweight Mess material

Durable rubber sole

Stud compatible
Pros
Lightweight

Fits well and true to size
Cons
Expensive compared to other youth boots
Which Kids Waders Should You Choose?
There are many options available for youth waders. Which features should you consider when shopping? The main consideration is the type of weather and temperatures your young angler will be fishing in.
Insulated waders are the ideal choice for cold water and winter fishing. Unfortunately, the trade off is they are heavier and can get hot in summer temperatures.
Breathable waders are the most popular option and can be used year round.
You generally also need some wading boots with breathable waders which will add cost but provides much more stable wading and comfortable hiking.
Hip waders are an excellent choice for shallow water wading. Light and durable non-breathable chest waders can also be found at a great price.
Notes on Safe Wading
Fly fishing is a perfect activity for young kids and can turn into a lifelong passion. However, fly fishing is not without its risks and dangers. Please be safe when spending time around water.
Teach kids safe wading practices, have them wear a wading belt, and keep a close eye on them. Having young children wear a life preserver around water is also a great idea.
Conclusion/Reeling It In
We hope you have found this review helpful. Please subscribe to the Anchor Fly newsletter for more great articles and gear picks.
We would also love to hear your tips on getting young anglers interested in the sport. Leave your comments below.
Related Readings: