Old Reliable!
Frogg Togg waders are the most reliable waders out there for the money, period! This company has done a better job than any to make a quality product that is affordable.
I've worn plenty of different waders during my fly fishing endeavors, and I'm hard on them. Typically I'm the first one through the brush if I think I can get to the water faster that way, and I usually volunteer myself to see just how far we can safely wade a tailwater at a certain rate of flow.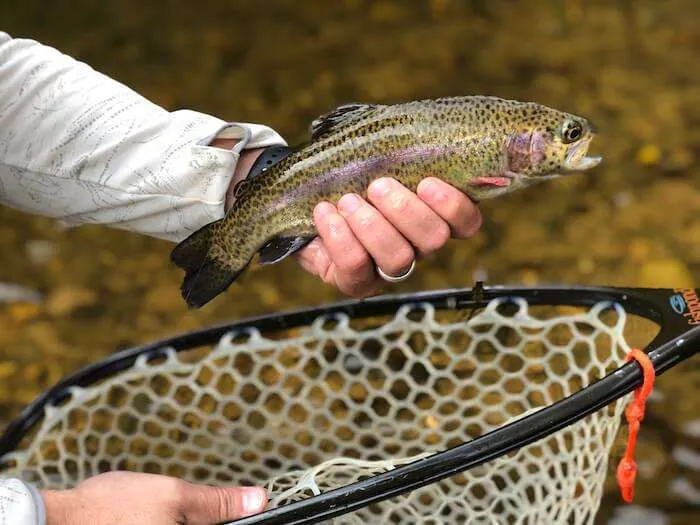 Frogg Toggs is a brand that I, and other anglers I know and fish with in Central PA, associate with one word, and that's reliability.
During COVID, it seemed to take a while for some of the bait and tackle shops in my area to be able to restock on some key items near the end of summer, and besides hooks and lures, one of those items were waders.
This meant that I had to take yet another look back at Frogg Toggs, a brand that I am more than familiar with, but had not used in at least two years.
Join me as I take a closer look at this company and review some of their most popular products so that you can see what they're all about, and as always, so you can buy with confidence.

Join me in this Frogg Togg Wader Review as I'll cover:
Frogg Toggs as a company
Top Frogg Toggs waders
More affordable Frogg Toggs waders
Frogg Toggs Sizing
Frogg Toggs Vs. other brands
And more…
Let's get started!
---
Reviewing Frogg Toggs as a Company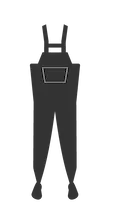 Frogg Toggs was started in 1996, with a simple mission and a lofty goal–to make you more comfortable and dry while pursuing the outdoor pastime that you like.
Initially, they cut their teeth in the outdoors market with just one item, a waterproof jacket consisting of one proprietary fiber blend. Fast-forward a little more than two decades and they now have over fifty products that use numerous fabric blends and have numerous outdoor applications.
Fifty different styles of rain gear, footwear, and of course, a complete and advanced line of 11 different kinds of waders, round out the current products this company has to offer.
The growth Frogg Toggs has undergone since 1996 is written all throughout their products list, and in the reach the company has gained since its inception, and they could not have grown like this without scores of satisfied customers.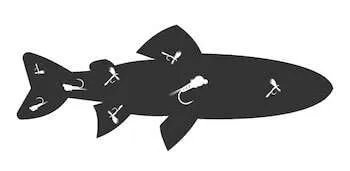 Frogg Toggs Wader Reviews
Here we will take a look at some of Frogg Toggs most popular waders currently on the market.
The Hellbender Pro model from Frogg Toggs improves on their original breathable waders with more durability and some extra features that I think are of particular importance for the fly fisher.
4-ply nylon and double-reinforced knees mean more abrasion and puncture resistance, and for anyone else who fishes in places where a simple trail to the water is a luxury, this is a major improvement alone.
The suspenders are also more easily adjustable and more comfortable than on the regular Hellbender waders. Frogg Toggs has improved and leveled-up their proprietary Dri2Pore construction material here, and this stuff is just as water-tight and breathable as the original while providing more durability overall.
You get storage options, with a thicker flip-out, waterproof chest pocket, as well as an oversized fleece hand warmer for the colder Spring days we all look forward to over the Winter months. 

Features/Specification
4-Ply Nylon Upper

Double-Reinforced Knees

Adjustable X-Back Suspenders

DriPore Gen 2 Proprietary Fiber

Oversized Fleece Hand Warmer

Waterproof Zippered Storage Pocket

4MM Double Taped Neoprene Booties

Attached Gravel Guards With Lace Hook

Fly Patch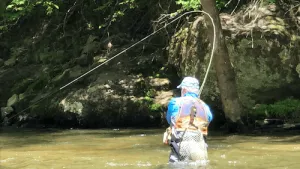 One major feature that these stockingfoot waders possess is gravel guards, to protect your neoprene booties as well as those expensive wading boots from the constant assault of underwater rocks and pebbles that can wear a hole in them quicker than big brown hitting a streamer.
This is a major improvement, and one that further makes the Hellbender design perfect for those of us who move around when we fish, in and out of the water.
An added fly patch is always useful, and currently only a $50.00 add-on. Consider these if you want a quality pair of waders that can last season after season.
Pros:
Lightweight and durable

Added features: such as hand warmers, reinforced knees and gravel guards

Seem to fit more comfortably and are easier to adjust compared to other models
Cons:
More expensive than other Frogg Toggs Models
I'm more than familiar with this model of Frogg Toggs waders because I've owned two, and most likely I'll own another pair by Spring.
The Hellbender model of Frogg Toggs is super lightweight and breathable, making it great for places where the temperature stays high all year round, and great for those of us who have to walk a considerable distance to get to the water.
The superb breathable characteristic of these waders and the multi-layered Dri2Pore technology used in their construction allows heat and moisture to escape while blocking water from getting in. This allows for more comfort while out on the water, and more comfort usually translates to more time spent fishing.

Features/Specification
100% Nylon

Double-Reinforced Knees

4MM Neoprene Booties

Made With Proprietary Dri2Pore Technology

Oversized Multifunction Chest Pocket

Breathable

Hand Warmer and Horizontal Storage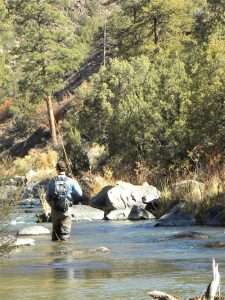 The Hellbender waders are 100% nylon, with double-reinforced knees so that you can crawl around and get into the right position to fish that trout lie that's under a mess of cover.
The 4MM neoprene booties fit well with name-brand wading boots, but early on when I couldn't afford such things, they worked reliably with an old pair of sneakers too. There's also a hand warmer and a deep horizontal storage pocket, as well as a waterproof chest pocket on the inside of the waders for your phone.
Sad to say, the waterproofing ability of this pocket was one of the first things to go, so my phone had to go in a waterproof case first and then into this chest pocket for adequate protection.
As far as the durability of these waders is concerned, they are durable, but in the same breath I'll say that they are not meant for bushwhacking, trailblazing, or many of the other 'ya-hoo' activities I still haven't quite stopped participating in. What I mean is, they don't fare well with thorns and even worse with lazer-sharp fly hooks.
They lack the sort of self-healing ability that is present in neoprene, and can and do tear. Caution needs to be exercised to avoid encounters with blackberries, sharp sticks, and submerged lures and jig heads dredged up from last season's snarls.
They are a lightweight, breathable material and need to be treated as such. $129.99 is a price point that I think is fair and realistic for what these waders provide, and I was impressed enough to keep buying them year after year, and I think you will be impressed as well.
Pros:
Common report is that these waders are extremely comfortable

Easy to move in and breathable
Cons:
Chest pocket is not completely waterproof

Some customers reported leaking after a few months of use
Frogg Toggs Hellbender vs. Hellbender Pro Waders
I have owned two pairs of the standard Hellbender model waders from Frogg Toggs. I have not, however, owned the Pro model. The major upgrades present in the Pro model are definitely the gravel guard to protect the neoprene booties and the added construction material added to the waders for durability's sake.
These waders are breathable, and necessarily that means they are lighter and more flexible than neoprene. The caveat with this is that thorns and sharp brush can more easily pierce these waders, even though Frogg Toggs has done their best to create an outer nylon shell that is abrasion resistant.

Again, this is coming from someone who has had to put down  the fly rod and take up the machete in the hopes that maybe on the fourth outing to a previously unknown body of water there will be some semblance of a functioning trail and significantly less briars to prick your waders on.
If you exercise caution and fish as I suppose normal, well adjusted people do, I'm sure that the standard Hellbenders would stand up well to consistent use.
The Pro model does pique my interest with its added features, and is more than deserving of consideration if you fish the deeper, wilder places that few others would bother to go.
The Steelheader model of waders from Frogg Toggs immediately sparked my interest for two reasons. One being I had never seen them locally for sale in my area, and the second being that Frogg Toggs touts this model as being more durable, more abrasion resistant, and in general, more suited to the kind of fishing I seem to inevitably gravitate towards.
These waders are constructed of a 4-ply nylon upper, with reinforced knees, shins and seat! This may seem trivial to some, but not to me whatsoever.
It is regrettable (and always embarrassing) but, your chance of falling while wading around in deeper water is high. My first instinct when I slip while wading is taking the brunt of the fall on my back end so that I still stand a chance of not soaking the insides of my waders. 

Features/Specification
Multi-Climate, Breathable and Insulated Chest Waders

120 Gram Zip-In/Zip-Out Liner

Reinforced Knees, Shin AND Seat!

Touchscreen Friendly Security Pocket

Ample Storage, Multiple Zippered Pockets

Dual Fleece Hand Warmer

Wading Belt and Barrel-Loop Cinch for Chest Fit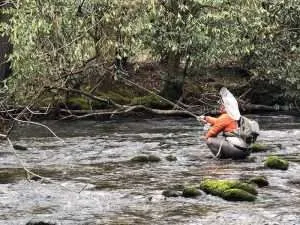 The reinforced backside of these waders is a major selling point, because that's often where the first hole will develop through frequent use.  The inclusion of a removable liner makes these waders suitable for all seasons and all temperatures, and they stay warm when the water gets cold.
There are multiple storage options, with multiple zippered pockets along the sides, as well as a dry pocket with a clear panel that's touchscreen friendly.
A wading belt is included, and you can cinch these waders up around the chest with an elastic barrel-loop to fit. Reviews of these waders are quick to mention they fit big, so consider sizing down when purchasing.
All that means to me is that there's plenty of breathing room inside and thus, the space to layer up if the 120 gram liner isn't enough to combat low temperatures. These waders are a more durable breathable counterpart to Frogg Toggs other products, and they are glowingly reviewed by many.
Pros:
Removable insulated liner for extra warmth

Reinforced knees, shins, and backside

Lots of pockets
Cons:
Sizing runs larger, order a size down is recommended

Some concerns over the longevity of these waders compared to other models (such as the hellbender)
Frogg Toggs Pilot River Guide waders are meant for frequent use and multiple different fishing conditions. Making these waders more durable and longer lasting was the goal, and Frogg Toggs has produced an adequate answer to the big brand name 'Guide Series' type waders.
These have an ergonomic Y-Back mesh for added comfort and freedom of movement. The nylon accessory loops on the chest pocket are perfect for those pieces of gear you need at the ready, like a tippet caddy, nippers or forceps.
The RipStop fabric used to make these waders boasts of further durability and resistance to abrasion and friction, and said fabric just shows how far Frogg Toggs has advanced its material since its founding. 

Features/Specification
Constructed with RipStop Fabric and External Seam Tape

Y-Back Mesh Design With Adjustable Suspenders

2 Zippered Chest Pockets

Pass-Through Hand Warmer

Elastic Nylon Wading Belt

Nylon Accessory Loops

Attached Gravel Guard and Lace Hook

Form Fitting Booties
The inclusion of internal and external seam tape is another way that Frogg Toggs is addressing common problems with waders. If you are careful and manage to avoid puncturing or scraping your waders while fishing, seam separation is a common problem that can ruin them just as fast as fish hooks and sharp glass.
These waders have a form-fitting neoprene foot, and this is critical for comfort as well as durability. Ill-fitting booties jammed inside of wading boots can create friction and friction means eventual holes.
A better fit means longer lasting waders. It is great to see a company take common problems and attempt to create a product that honestly addresses these issues and attempts to fix them. Frogg Toggs does just that with their River Guide waders.
Pros:
Very comfortable especially in warm weather

Wider waders for increased comfort
Cons:
Some customers have experienced leaking only after a few months of use

Limited sizes
The Pilot River II from Frogg Toggs sport another ingenious design that was built to address a common problem with waders, and that problem is in the crotch seam. Frogg Toggs asked, and their customers answered.
The seams of waders loosen and separate over time and consistent use, particularly the crotch seams. These seams are arguably the hardest to make waterproof, and oftentimes the first to loosen, detach or otherwise fail.
These waders remedy that with their Swing Leg design, allowing for less contact when trudging through fast moving water and less chance of failure when in use.
The quad chest pocket is perfect for storing a lot of gear, so you can remain organized and prepared when you wear them. 

Features/Specification
4-Ply Upper, and 4-Ply Reinforced Knees, Seat and Shins

Custom Quad Chest Pocket

Oversized Front Pocket

Trademarked Single-Seam Crotch

Swing Leg Design to Eliminate Crossed Crotch Seam Failure

Y-Back Design

Gravel Guards
The Y-Back design is the same as the River Guide waders and owners of both say that it is a significant improvement on traditional suspenders.
The gravel guards work effectively to combat that particular headache, and these waders show Frogg Toggs continued commitment to make a better product.
Pros:
Reinforced knees, back, and shins

Y-Back suspender design is more effective and comfortable

Plenty of pockets
Cons:
Some people receive these waders and the pockets are "glued shut." However, they can be pulled open

Gravel guard hooks are not sewn on very well
Frogg Toggs Pilot River Vs. Pilot River II Waders
How you fish should determine what type of waders you buy. For me, between the Pilot River II's and the River Guide models, I would lean more towards the Pilot River II's, simply because of the reinforced 4-ply used throughout, and the ability to safely store a larger amount of gear with the Quad chest pocket.
A pair of waders has never lasted me long enough to worry about seam separation, but this is due solely to how hard I am on them. For those of you capable of using your waders until the seams separate, I would tentatively point you to the River Guide's.
Only you will know what is right for the environments and the conditions you fish, but keep in mind that Frogg Toggs is very conscious of common design flaws, and they do their best to continually improve their products as time marches on.
---
Other Wader Related Articles
---
More Affordable Options
Frogg Toggs run more affordable in general compared to some of the other big names in Waders. However, we wanted to showcase a couple other highly recommended Frogg Toggs waders with an even more modest price tag.
The Sierran model of waders from Frogg Toggs are an affordable, breathable option for those of us who fish on a budget.
Many of the features here have been discussed in the above reviewed products, like the flip-out waterproof interior pocket, and the zippered chest-pocket and fleece hand warmers. The 'No Sand' gravel guards are different from the hook-type in that they rely on rubber coated elastic.
There were some complaints that these gravel guards were stiff and had a tendency to come loose when wading, but we are reviewing a more economical pair of waders here so some flaws are to be expected. 

Features/Specification
Waterproof and Breathable Chest Waders

Polyester Upper

6-Ply Reinforced Knee and Shin

Dura-Span 'No Sand' Gravel Guards

Flip-Out Chest Pocket

Affordable at $90.99
All in all, these are an affordable offering from Frogg Togg, with many of the same design features that the pricier waders have at less of a cost to you.
I can see these being a great introductory pair of chest waders for the novice, as well as an effective option for those of us who just can't get out to fish as much as we'd like.
Pros:
For the affordable price, these waders hold up fairly well!

Customers report these waders are very comfortable
Cons:
Gravel guards are difficult to snap on to the wading boot

Neoprene sock runs small
The Canyon II waders from Frogg Toggs share many of the same design features as the Hellbenders, even down to the color scheme. These are the epitome of affordability at $65.97, and that is the biggest draw for me.
They're breathable, and made up of Frogg toggs proprietary 4-ply, with Y-back suspenders and gravel guards that use lace hooks that are built into the legs. The reviews vary on this one, and I think that comes from people using them hard and putting them away wet.
For those of us that view waders as a regrettable consumable instead of a long term investment, these waders make sense as both a light-use alternative to neoprenes, and an effective backup should disaster strike and ruin your new Simms. 

Features/Specification
4-Ply Nylon Upper

Breathable Stockingfoot Waders

Splashproof Zippered Chest Pocket

Y-Back Suspenders

Gravel Guards With Integral Lace Hooks

Nylon Wading Belt Included

$65.97
If you're fishing easy access waters with few natural obstacles, I'm sure these would be a great choice.
I myself would most likely avoid these as my first choice due mostly to the way I fish. However, I could also see myself grabbing a pair of these if I was fishing away from my home waters and needed something ASAP.
Pros:
Most affordable pair of Frogg Toggs Stockingfoot waders

Great for beginners wanting to acclimated to fishing but not drop lots of money on waders
Cons:
With the low price tag, these waders do not hold up as long as other models

has a "baggy" that some find uncomfortable
Sizing Your Frogg Toggs
Before I get to the sizing charts that Frogg Toggs provide for their waders, I'd like to say a few words about sizing. Waders that don't fit right will wear out far more quickly than waders that do.
If they are too big, you'll end up catching them on every twig and branch you have to cast around, and you run the risk of getting your fly line caught on them when you're throwing loops.
Too small, and you can easily wear out the neoprene foot or rip the seams. The fit is important!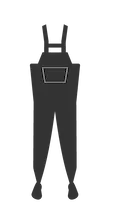 For some of us, a brick and mortar fly shop is not an option, and buying online is necessary to get what you're looking for. If this is the case, check out the reviews of the model you're after. There are plenty of answered questions on Amazon and elsewhere of people asking what size would best fit people of various heights, weights and shoe sizes.
All of the waders I have reviewed here are stockingfoot, and require wading boots, so shoe size is often not mentioned but it is important, because neoprene booties that are too large or small will wear out quickly.
Again, the fit is integral to finding a pair of waders that will work for you, so do a little research and see what other people have to say about them.
Remember, most people experience Frogg Toggs waders as fitting big.
---
Other Gear Related Articles
---
Frogg Toggs vs. Other Brands
Frogg Toggs are an affordable and durable answer to the other big name brands. I'm talking about Orvis, Redington, and Simms.
I have reviewed and seen the flagship products from these brands and they are fantastic, but not all of us (myself included) can afford the price tag that comes with them. Frogg Toggs provide the waders needed for those of us that need a dependable product at an affordable price.
The proof is in the reviews, and you'll only really be able to sort out the major strengths and weaknesses of Frogg Toggs when you own a pair.
That said, I know many fly fishermen in my area that swear by them and will only use this brand as opposed to the others.
Frogg Toggs commitment to listening to their customers and actively improving their design features is what can create this kind of brand loyalty, and it is refreshing to see this in fly fishing.
Conclusion/Reeling it in
This review is based around one company and the products they produce. There are numerous options for the fly fisherman who wants a new pair of waders.
So why choose Frogg Toggs? The fact that this company started out with a waterproof jacket and now has a long list of products that are the brand of choice for anglers, duck hunters, utility workers and more is very impressive.
This would not be the case if their products were not dependable and affordable. I think Frogg Toggs has done a great job of designing a product for everyone, from the amateur up to the guides and 'professionals.' If you've never heard of them or if you've never tried out a pair of their waders, consider them the next time you inevitably need to upgrade.
They stand by their products and their customer service is always up to snuff. You heard it here first, check this company out. Tight lines!
Additional Readings: