A Little Insight
Fly tying is delicate, intricate work, whether you're tying streamers or midges. For those flies that are true to life, and of similar size to the bugs they are imitating, tying them can be a migraine-inducing endeavor.
Using some type of magnifying glass can greatly reduce the inevitable strain on your eyes that tying #24s can cause. In this review, I'm going to look at some of the best tabletop and wearable magnifying glasses on the market.
Using a device like this can make tying tiny bugs less of a challenge, and will likely make you more productive at the vise. Let's get into it!
This Article Will Cover:
Best Fly tying Magnifying Glasses (Overall)
Best Wearable Magnifying Glasses
Best Affordable Fly Tying Magnifiers With Lights
Frequently Asked Questions About Magnifyers
And much more!
Let's get started!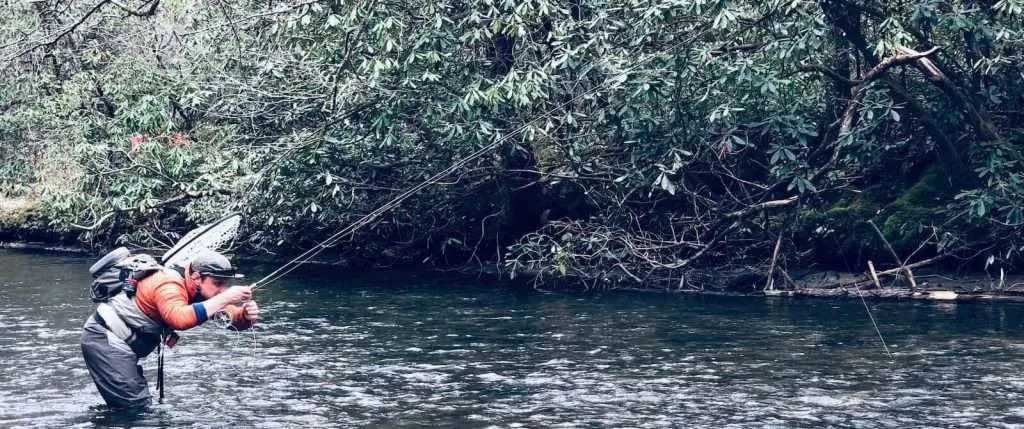 Best Fly Tying Magnifying Glasses
Features/Specifications:
2X Magnifying Glass
Suction Cup Base
350 mm Flexible Arm
165 gr. Weight
Stonfo is a name I know well because they make quality fly-tying tools for the discerning fly dresser. This 2x magnifying lens on a flexible, 350 mm long arm can be used even in cramped quarters due to the powerful suction cup base.
The base can be removed, and the flexible arm can fit other Stonfo products, specifically their ToolBar attachment, and also into a few models of Stonfo vises. This is a no-frills, functional tool from Stonfo that can fit just about anywhere, even on a full tying desk.
Pros
A powerful suction cup base means you can put this anywhere, even on the wall
Fits into other Stonfo products and their ToolBar attachment
Functional and flexible
Cons
A bit expensive for a 2x lens at currently $55, but Stonfo makes quality products and they know the needs of the fly-tying crowd. Effective.
Free silicone fly box with every purchase
Asheville, North Carolina
Features/Specifications:
9 Watt 800 Lumen LED Light
1.75X Magnifying Lens
Adjustable Gooseneck
3-Year Warranty
This extendable magnifying glass and LED light from Brightech checks two boxes that are necessary for success at the vise–light, and magnification.
This light can be used as a desktop light but extends out to a floor lamp. 800 lumens is a lot of light, and this product is well reviewed by cross stitchers, embroidered, and other crafters, and this is usually a good sign that the said product has ample fly tying applications.
The light can also be dimmed for the perfect, no-glare background light needed for small work. It also works well for photographing finished flies and getting that quality close-up for social media.
Pros
Bright light
Adjustable lens
Great for photos
Cons
This light was reviewed as being unbalanced, especially when used at the desk-top size.
The price point is higher than comparable options
Features/Specifications:
2.25X Magnifying Glass
Super Bright 2200 Lumen Light
Dimmer Switch on Power Cord, 10%-100% Adjustable
72 cm Arm
360 Degree Rotating Head
This magnifying glass and LED light combo are perfect for your tying desk. This is the highest-rated magnifier yet in this review (2.25X) and it sports a very powerful LED strip capable of a 2200 Lumen output.
The adjustable dimmer switch on this combo allows you to dial in the amount of light you need to tie with and then adjust the output for a perfect picture. The head rotates 360 degrees and the 72 cm arm has a smooth point of articulation to get this tool where you need it and where it will be most useful with ease.
The clamp that affixes this to your table or desk was instantly recognizable to me, as it should be to you because it resembles those starter vises available in every beginner fly tying kit.
Pros
Best magnification rate and lumen output yet in this review.
The dimmer switch and rotating head make this endlessly positionable
Affordable
Cons
This is a solid magnifier for the price, with multiple good features. Some reviewers said the light was too bright at the higher settings, so be warned!
Features/Specifications:
2X Magnifier with a 3.5X Bifocal Spot Lens
3 Super Bright LED's
Flexible Gooseneck
Fits Most C-Clamp Fly Tying Vises
C-Clamp Base
This magnifier from Carson has FLY right in the name, and it is a great all-around light and magnifying glass. The lens is 2X but the bifocal spotlight within said lens magnifies your work by 3.5X.
Three LEDs light up your work, and the flexible gooseneck can be positioned wherever you need it to get the right angle on your work.
This combo is advertised as being able to fit the normal C-Clamp style vises for fly tying, but if it won't fit or you're using a pedestal style vise, it can be affixed to your table via the same style clamp.
Pros
Two different magnification strengths for extra fine work
The ability of this combo to fit on your vise is useful, especially at a full desk
Made with fly tying in mind
Good price point
Cons
None. This is a great magnifier/light combo
Best Wearable Magnifying Glasses
Features/Specifications:
1.6X Wearable Magnifying Glasses
Two LED Lights on the Frames
Lightweight and Hands-Free
Rechargeable via USB
These wearable magnifying glasses from Ontel serve two purposes–additional magnification for fine work, with built-in LED lights.
The fact that these are rechargeable via USB-style chords is a plus. They are advertised to fit right over your prescription glasses, and they take up no room on your desk.
Cons
I have seen reports of this product not performing as advertised, specifically concerning the ability to be worn over your prescription glasses.
Features/Specifications:
Wearable Magnifying Kit With LEDs
5 Lens Options (1X, 1.5X, 2X, 2.5X, and 3.5X)
LED lights are USB Rechargeable
Elastic Headband and Removable Arms
Protective Storage Kit/Travel Case
This wearable offering from Vision Aid is an all-around great tool that is just as effective on a shelf next to your desk as it is if you're tying away from home.
The frames, where the lights are built-in, can hold any one of the five included lenses for a wide range of desired magnification strengths. The LED light is rechargeable, and these can be worn with the included arms or just the elastic headband for comfort.
On top of all these features, this thing packs small in an included carrying case.
Pros
A lot of value here for a small investment
Very customizable to fit your needs
One Size Fits All
Cons
This product does have some reports of brittle magnifying lenses and somewhat short battery life on the rechargeable light, but it is much more well-reviewed than the Ontel wearables at about the same price

Features/Specifications:
Clip-On 3X Magnifying Glass
Locking Feature
Rotates 90 degrees vertically, and 360 degrees Horizontally
Two Neodymium Fly Magnets on Either Side of the Clip
This product from Magnifly is small, portable, and can be clipped to waders, pack straps, or your desk. Designed for use in the field or at home, this is a no-frills, bare-bones 3X magnifier with a strong clip and locking feature that makes it suitable to use just about anywhere.
The fly magnets on the sides hold finished flies (or hooks), and for a very affordable price, this is a great solution if you only break out a magnifying glass to tie the small bugs.
Pros
Affordable price
Powerful magnification and surprisingly positionable for its small size
Best Affordable Fly Tying Magnifiers With Lights
Features/Specifications:
3X Magnifier With LED Ring Light
Adjustable Brightness
Clip-Style Base
Flexible Gooseneck (11.4")
USB Power Options
This ring light/magnifier combo from Raweao is a well-reviewed bargain if you're looking for a starter light and magnifier for your tying room.
The Raweao sports a 3X magnifying lens and 28 LED lights around the rim of said lens.
It's got the flexible gooseneck to get it into the correct position and is USB powered meaning, you can plug this into the wall, your laptop, external batteries, etc. This has some of the same features that more expensive lights do at a good price point.
Pros
Competitively priced for the number of features here
Cons
The gooseneck is a bit small and the clip-style base could be a little more stable, but this is a solid lens and light at this price.
Free silicone fly box with every purchase
Asheville, North Carolina
Features/Specifications:
Wide 110 mm 5X Magnifying Lens
Adjustable LED Ring Light Around Lens
Built-in Dimmer
11.8" Flexible Gooseneck
Heavy Pedestal Base
This desk-top ring light has the highest magnification rate of any lens in this review at 5X. It is definitely meant for the table or desk, and the pedestal base is heavy enough to keep it in position well.
It sports the traditional flexible gooseneck, and the LEDs around the lens work well to light up your work area and the surrounding area as well (dropping beads and hooks becomes a little less of a nightmare when you have a bright light available).
Pros
A great all-around desk light and magnifier
Adjustable Light
Competitively priced
Cons
Since this lens and light combo have a pedestal base, it will take up a bit of room in your tying area.
What to Look for With Magnifying Glasses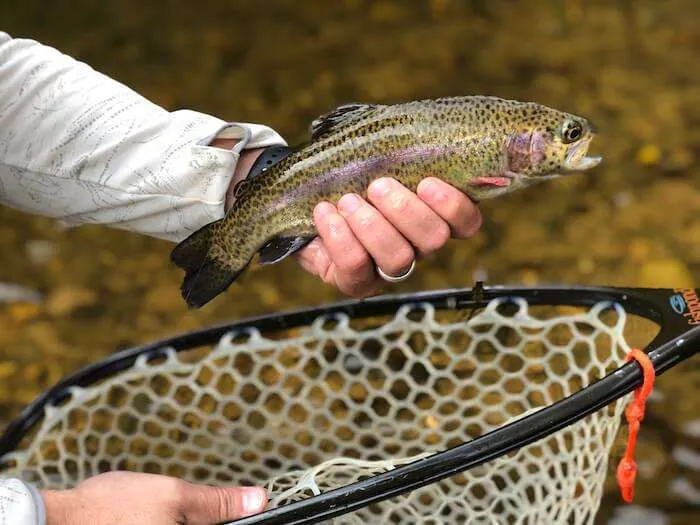 When choosing a magnifying glass that's right for the kind of tying you like, finding the correct magnification is the first step. All of our eyes are different, and where you might benefit from a 2X lens, I might need a 3.5X to see those midges and gnats effectively. A good first step to seeing how powerful of a lens you need is by using reading glasses. You can gauge what kind of lens would be beneficial to you by what strength readers work for tying small flies. This can be beneficial so that you can buy with confidence knowing what magnification strength will work for you.
Another thing to look for is the glass's ability to be positioned correctly. Rotating heads and a flexible gooseneck that can stay put while tying is very important. Having an included light can mean the difference between a magnifier that you use rarely or all the time, so if you need to shed some light on your tying space, definitely opt for an included LED light.
Frequently Asked Questions
Q: Do I need a magnifying glass to tie flies?
A: No. I have tied countless flies, in numerous sizes up to #24's without one. But, I tie a lot, so sitting down to do 40 size #20 Griffith's Gnats can cause a lot of stress on your eyes, up to the point of inducing some pretty nasty headaches. A magnifier is great for doing up a lot of small bugs, and it helps immensely with consistency.
Q: Why should I opt in for a light?
A: I have found that proper lighting effectively makes me more efficient at the vise. Even without the use of a magnifier, a good light at the desk just makes things easier. Having both a light and a lens in one tool checks two boxes off in one tool.
Reeling it in
I am active in the fly tying community on social media and beyond, and there is one repeatable piece of advice I've been given by bug heads more than twice my age–" Tie small while you're young and have the eyes because it won't always be possible." I've taken this advice to heart and tied a lot of small bugs. However, doing this for extended periods of time really does take a toll on the old eyeballs.
There was one occasion after spinning up two dozen WD-40s that I laid on the couch with a cold washcloth over my eyes, down for the count with a growling headache. Don't let this happen to you!
Even if you only break out the magnifier twice a year to replenish your smalls, you'll be doing yourself a favor in the long run. Don't take your vision for granted, and protect it at all costs, especially at the vise. I hope this review has "shed some light" on magnifiers, and that you find something within this review that's right for you. As always, tight lines!