Into the Cold
Christmas music is already incessantly blaring from the local department stores in my small hometown, and has been since the day after Halloween.
The water temperature of my local creeks and streams has been on a steady decline, and daylight is in short supply since the changing of the clocks.
For most, the fishing season has been over, with other hobbies and indoor activities taking the place of the countless Spring and Summer hours spent on the water.
Whether we are too stubborn or too obsessed to hang up the rod in the face of gale-force winds and single digit temperatures, I cannot say.
However, the old saying that, "There is no bad time of year for fly fishing," will undoubtedly be proven correct by some of us again this Winter.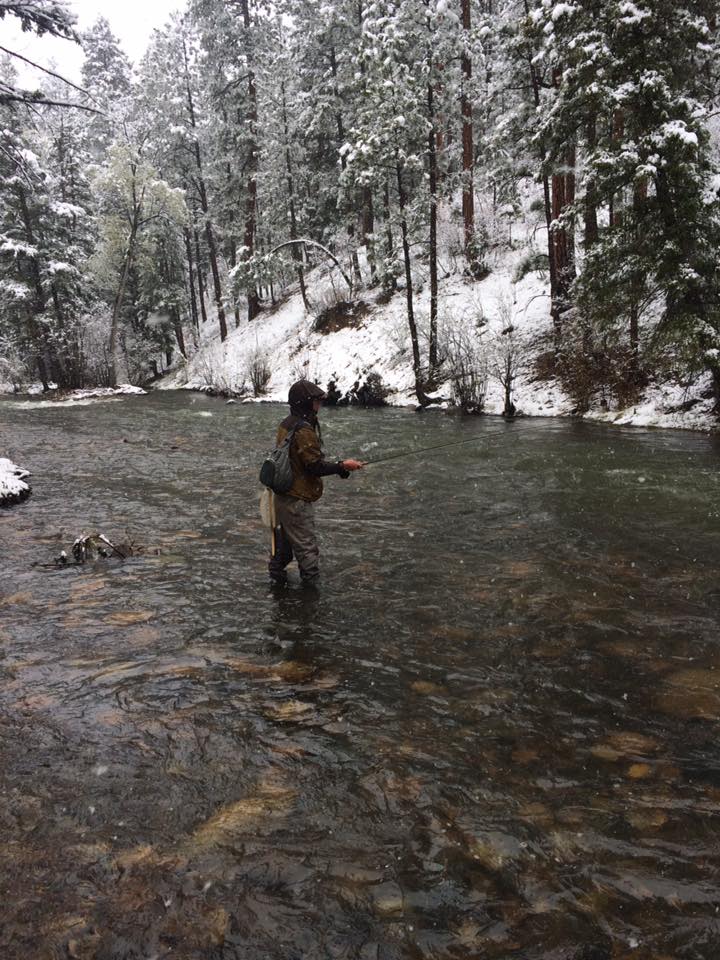 But into the cold we will go, maybe in search of a brown trout we might have missed during the Spring thaw, or maybe to enjoy that particular sort of solitude that comes with fishing during this time of the year, when few else would be caught dead wading a stream for hours to shake hands with a fish.
I will try to examine fly fishing in the winter for those of us, like myself, who either can't or won't stop fishing when the snow starts falling.
This article will cover: 
Winter trout behaviors
Proper winter trout handling
Winter food sources
Winter trout fishing techniques
Best winter trout flies
And much more!
Winter Trout Behavior
Trout are cold-blooded, and their body temperature is dependent on the waters that they call home. Despite being a cold-water fish, as the water temperature recedes, so does a trout's metabolism and their willingness to feed.
While trout remain much more active during the Winter than warm-water fish, colder water means that they are more reluctant to chase down prey or hold in fast moving water.
Current is normally strongest in shallow water or on the top of the water column, so the shift to Winter often means that trout will find a suitable deep hole to hold in, where they can still forage on nymphs without having to burn calories to maintain their position.
Trout are cunning, and inherently know how to get by through the colder months when hatches are few and far between. Their appetite is less voracious than in the Spring, and much of the pre-spawn aggression has been spent by November.
Still, they will seldom pass up an easy meal. The thing that is most important to remember is that they are less likely to expend extra energy on chasing a mouthful of food.
While this means that you will most likely see no rises or outward activity on the water's surface, do not despair. Much more takes place under the water than on top of it in Winter.
Proper Winter Trout Handling
I am a firm believer that we, as fly fishers, need to do our best to protect the trout we pursue from improper handling and unnecessary stress and strife as we chase them into the Winter months.
Many of the same rules apply in the Winter as in the Spring, although they may be a little more difficult and a lot more uncomfortable to adhere to when the mercury is low in the thermometer.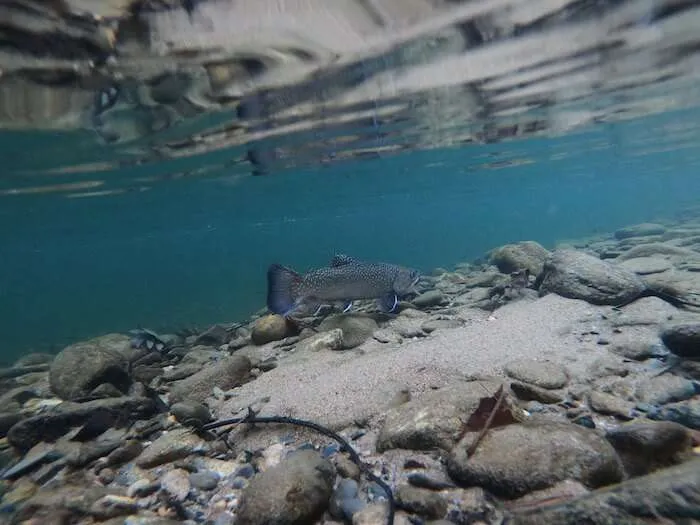 Handling Trout in Winter (5 Tips)

Use a net and keep the fish wet when handling with your hand. REMOVE gloves and do everything you can to protect the slime-coating that prevents infection. Yes, this will mean getting your hand wet and cold. If the temperature is a preventative factor in proper handling of the trout, consider waiting till Spring to resume the chase.
Do not lay trout on rocks or snow/ice. This can very quickly burn the trout's skin and cause lesions and sores.
Try not to overplay the trout. The odds are high that you won't need to anyway, cold water usually means fewer long runs and less drag pulling. Release trout into the calmest water possible.
Do your best to make your Winter meetup with our friends quick, painless, and calculated. I'm sure that you or I would find it hard to swim in frigid water, especially after we've already done some resistance laps (and with a free lip piercing).
If there was ever a time for barbless hooks and a post-hookset gameplan, it would be now.
Changing Food Sources
In the Summer my home waters are filled with blankets of different fluttering, spinning and whistling insects. It is a sight to behold, and indicative of an incredible amount of life on and off the water's surface.
But, by late fall, their numbers dwindle until it seems that the mosquitoes and gnats that pestered me all Summer have vanished completely.
While I don't miss the constant assault of the more carnivorous bugs on my neck and forearms, I do miss the variety and volume of insects present while Spring and Summer fishing.
As always, there is much more going on under the water than we can ever see, and when it gets colder, trout revert back to the easiest meal they can get–tiny nymphs and midges.
This is a time when throwing tiny flies pays off well, for many reasons.
Colder water usually means clearer water, and trout possess advanced eyesight to begin with. The odds of them being able to effectively track and gulp a small subsurface fly are at an all time high.
Baitfish are always on the menu for hungry trout, but as mentioned, trout are less likely to chase them. Drifting insects become the main entree on the menu during winter, so much so that sometimes, multiple trout will share the same deep pool if it can consistently bring food to them.
---
Want more fly fishing tips and strategies?
Check out our other educational articles:
---
Winter Trout Fishing Techniques
There is a lot of wisdom in the old phrases trout fishermen repeat decade after decade, and for cold temperatures, low and slow is the consensus. Nymphing is by and large the best way to produce a strike in the Winter.
Where a dry fly can convince a trout to rise and attack the surface, nymphing takes place under the water, adding a sense of mystery to just how and why a trout will accept one nymph and refuse others.
Instead of covering riffles and current, nymphing in the winter will be more effective if you have already assessed your water, and picked out the deeper, calmer pools.
Take more time to fish these holes thoroughly, and deeply.
Remember, coaxing a strike is harder now, and getting your nymph as close as possible to where you think the trout are holding is your best bet of landing a finicky fish.
In the Spring and Summer, I wade all over, covering as much water as possible, but in the Winter, it is not uncommon to see me standing in the same spot, changing flies in the water, until I produce a fish or the wind batters me to an angry retreat.
Consider throwing multiple nymphs at once, because although it takes practice, I have found it has greatly increased my productivity in deeper water. Two nymphs sink faster, drift longer, and give picky trout options.
All this can add up to more takes at the end of the day. An attractor nymph (soft-hackle pheasant tail, lightning bug, the list is endless) combined with another, smaller nymph tied on to 14-20 inches of tippet has produced fish on the coldest days for me.
Size matters here. If you're not used to fishing this way, use a fly at least one size smaller than you think necessary.
Euro-nymphing must be mentioned here, because while it is an extremely effective way of fishing for trout at any time of year, I find that it really shines in Winter.
Tungsten beadheads and heavy jig-flies bounced off the bottom are a great way of enticing Winter trout to attack, and in short, this method of fishing for trout is consistently productive.
For the uninitiated, Orvis has a fantastic beginner course on this type of fishing.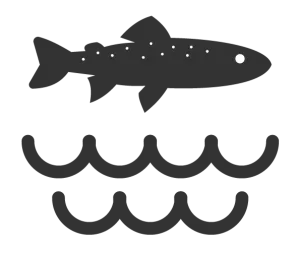 Best Winter Trout Flies (Top 4)
I'm going to highlight some Winter flies that work well for me every year, and include links to how to tie them in this section. The flies here are all tied in the euro-style, with jig hooks and barbless hooks.
You can fish them like regular nymphs, or tie them onto traditional hooks, the patterns work either way and I always have a few varieties of each in my box at all times.
1. Woolly Bugger Euro Jig — This is a classic pattern tied in the Euro style, and it is an incredibly effective fly on the "point." Often I will start fishing with some variation of this fly  and another smaller midge attached to it with a long section of tippet.
If it's not broke, don't fix it. This pattern truly stands the test of time regardless of how it's tied.
2. Get it Down Pat's— I started tying this fly specifically for Winter use, and it has made its way into every box that I have, regardless of season.
The rubber legs add lifelike action, and it sinks deep and fast. The impressionistic nature of this fly lets it imitate a number of wiggling insects. Do yourself a favor and spin up at least a dozen.
3. Perdigon Fly Tying Pattern — This is the fly that gets the goods, whether that's in a competition or on a wild piece of water seldom fished in the cold.
Perdigons plummet to the bottom quickly and can imitate several different aquatic insects. I like to tie them small and attach them to a Bugger Jig. However you decide to fish them, they are essential winter weapons.
4. Walt's Worm and the Sexy Walt's — If you're looking for an effective little nymph that is intuitive and easy to tie, this is it.
I tie these as small as I can, and I mix up the body dubbing from white to black and everything in between. This one is essential for the winter box.
---
Conclusion/Reeling it in
Winter fishing is no small feat. It takes dedication, patience, different gear, and different tactics. Outside of all this, Winter fishing can be dangerous.
Being in the water in cold temperatures can be disastrous if an accident does occur, so please, If you are going to pursue trout at this time of year, take the necessary precautions to protect yourself from the cold and the water.
Frostbite and hypothermia are both very real and ever present dangers when fishing in the Winter. Now is not the time to trailblaze a new body of water alone. I always fish with at least one other person, sometimes two. This tends to work out nicely because the waterways I fish are all but abandoned by November, and we have the whole stream to ourselves.
But I have had my own brushes with catastrophe on the water at this time of year, and things can become dire quickly when dealing with the cold. Have multiple contingency plans if someone gets soaked, carry in extra dry clothes, and always be prepared to start a fire if necessary. It really can save your life.
Fishing at this time of the year is not for everyone, but it can be extremely rewarding when done right.
For those of us that are convinced that there really is no bad time of year to go fly fishing, Winter provides an exciting chance to test your mastery of the craft. Be safe, stay warm, and tight lines!
Related Reading: