Are you starting to fly fish in Arkansas or planning your next trip? In this article we will go over EVERYTHING you need to know about fly fishing the natural state.
This is the most complete and comprehensive article we have seen on fly fishing in Arkansas. If you like this article you might also like "fly fishing for beginners."
In this guide we'll cover:
Fish species
Fishing styles
Hatches

Popular flies (trout, bass & crappie)

AR Fishing Regulations
Arkansas Fly Fishing Shops
Fishing License

Resident and non-resident fishing
Lifetime license
Cost

Best Arkansas fly fishing guides
Top northern Arkansas fly fishing waters
Top southern Arkansas fly fishing waters
Let's dive in!
---

Quick Note on Navigation
This is a 12,000 word resource. Please use the "Page Contents" tab below, for an entire list of all headings. The "Contents Overview" section below to help will help with quick navigation for over-arching categories.
Moreover, there are "back to top" links that will appear throughout the article to help you get back here.
Contents Overview—Click and Go
---
Arkansas Fly Fishing Map (Interactive)
Introduction
The south-central state of Arkansas is known for hot springs, diamonds, fiddles, and the beautiful Ozark and Ouachita Mountains. Among other things, this diverse state holds miles of beautiful streams and rivers with thousands of acres of lakes. The seemingly endless supply of water makes way for tons of fishing opportunities and hosts some world-famous trout waters that rival some of the best western streams. Besides trout, Arkansas is known for its healthy populations of smallmouth, largemouth, and striped bass along with, crappies and other panfish. 
The 26th state has over 100 public, state-owned wildlife management areas which helps boast a very robust outdoor scene in general. Besides fly fishing, camping, hiking, rock climbing, and hunting are supreme. Arkansas is also known for its caverns and is the only state with active Diamond mines.
Arkansas has a unique and diverse climate. It is oftentimes broken into three regions; Ozark Mountains in the northwest, the Ouachita Mountains in the south-central portion of the state, and Mississippi river lowlands in the east and southeast. With its close proximity to the Gulf of Mexico, it experiences hot and humid summers with mild winters. This combination makes for year-round fishing for either trout in the cooler Ozark region or bass and panfish in the warmer southern portions of the state.
(Video) Ozarks On the Fly
---
Fish species of Arkansas
Brown Trout

These European Salmanoids were introduced to Arkansas in 19?? And since then have flourished in several rivers. Brown trout are distinct from other trout as they have a light tan to almost bright golden color with blue, black, and maroon spots. Brown trout are known for reaching record sizes in Arkansas rivers, in fact the world record was held for several years by a brown pulled out of the White river in the 90's. Since then the record has been broken but Arkansas consistently produces large browns. The average size for Arkansas is between 10 – 18 inches. 

Rainbow Trout 

Another non-native fish that has flourished in Arkansas. They are silver with a pink streak horizontally down their side with a greenish back and black spots throughout. Rainbows were introduced in 19?? And although they do not reach the sizes the Browns do, they can be found in the 10-16 inch range with the Arkansas state record set at 19 pounds.

Cutthroat Trout

 The rarest trout species in Arkansas, Cutthroats are stocked in a couple of rivers in the Ozarks. They differ from browns and Rainbows by their reddish orange slash under their gills. They also have fewer dark spots on their body where most are near the tail. 

Brook Trout

Brookies can be found in the coldest streams and sections of rivers; like below dams. Brook trout in Arkansas are usually stocked with some biologists believing they do reproduce in very small numbers. These beautiful fish have green bodies with an orangish belly with yellow and blue spots throughout their body. Arkansas brook trout average between 6 and 12 inches with the record caught at 5 pounds.

Smallmouth Bass

Between all 4 bass species, smallmouth are best equipped to flourish in Arkansas' cold clear streams. Smallmouths are generally brown or dark green with dark vertical bands. They will have either red or brown eyes as their name posits their upper jaw extends to their eyes. Arkansas average smallmouths are between 1-3 pounds.

Largemouth Bass 

These species of black bass are native to Arkansas, although larger subspecies have been introduced. They differ from smallmouth like their name suggests, their upper jaw extends past their eyes unlike smallies. They tend to grow faster and larger than their small mouthed cousins and tend to thrive in warmer waters. The Arkansas state record largemouth is over 16 pounds. 

Spotted "Kentucky" Bass

 The last black bass species we will discuss for this article are spotted or Kentucky bass. They are native to the Mississippi river basin and very similar to largemouths. The defining difference is the size of their mouth. They look very similar to largemouths but their jaws will extend up to the eye and not beyond. Spotted bass will also have a dark horizontal line and small consecutive black spots. They grow about the same size as smallmouths between 2-4 pounds. 

Striped Bass

These anadromous bass species are native to the Atlantic coast and down through the gulf of Mexico. Stripers are oftentimes considered an invasive species depending on who you talk to, but are gaining popularity among the fly fishing community. Striped Bass are known for their size and strength and can exceed 60 pounds! Their bodies are silver with dark vertical lines across their body. 

Crappie  

These little fish are technically a type of Pan fish and consist of 2 separate species, white and black crappies. We have decided to separate them from other pan fish as they tend to grow much larger than other panfish species. The Arkansas record for black and white crappies is 5 and 4 pounds respectively. They grow wide and circular but generally fairly thin. Like their names suggest, the black crappies have darker coloration while white crappies are lighter. Crappie fishing is most often achieved through ice fishing, but more and more fly anglers are starting to target these fun little fish. 

Other Panfish/sunfish   

These little fish can be really fun on a fly rod, and we thought they were worth mentioning. Panfish consist of several species of fish that are small and often brightly colored. A few of these are bluegills, pumpkinseed, rock bass, green sunfish. They are usually fished for using small flies and 2-3 weight rods. 
---
Read more about bass and trout species / techniques:
---
Arkansas Fly Fishing Seasons
The great thing about fishing in Arkansas is that at any given time you can find and catch fish. We have compiled a general list of the best fishing times for trout, bass, and panfish. Because this is just a general list it will be important to check with the local fly shops for more up-to-date information.
Arkansas Trout Season
Because of Arkansas' mild climate, there are consistent hatches throughout the entire year. Generally, when targeting trout in Arkansas April, May and June provide great trout fishing. As the waters warm in mid-summer trout fishing can slow down with the bigger and wiser fish hiding out in deeper waters out of reach from sunlight and predators. Fishing in mid-summer can still be spectacular, but timing will be key. Very early mornings and evenings or cloudy/rainy days will be the most productive. 
As fall rolls in by September and October trout fishing can get exciting. The rivers tend to cool down providing ample temps for fish activity. The water levels also drop allowing for more condensed and easy-to-find fish. This time Brown trout are getting ready to spawn and can get aggressive as they're trying to put on as much weight and calories as possible. 
November and December also offer excellent fishing opportunities. The rivers are cool to more agreeable temperatures and the tailwaters are usually the lowest they'll be all year, making for easier wading. Many anglers feel this is the best time to catch a trophy brown as they are spawning. There are differing views on fishing to spawning trout with ethics and conservation playing a big role. During fall, spawning browns become very aggressive and will attack anything that gets near their redds. Many of these spawning browns will die after a long battle with an angler and forfeit the possibility of passing on their genes. If you do decide to fish during the spawning season, don't cast to trout on their reds.
January through March is also a very popular time to fish for trout, and besides the fall, this is the best time to catch big trout. The tail-waters of the white, Norfork and Little Red Rivers are higher, making bigger trout more comfortable and more easily approachable. Streamers, eggs, midges, and various mayfly nymphs will work well in these deeper waters.
Arkansas Bass Season
Springtime reigns supreme when fishing for bass. By the end of February and early March, the bass are starting to pre-spawn, usually a little later for smallmouths. When water temps start to near 60 degrees, they will usually move out of their deeper winter lies into shallower waters to gorge on food before spawning starts. Once spawning starts near the end of March it can extend into May depending on the lake or stream. Smallmouth bass is usually the main targeted species for fly fishing; sometimes referred to as green trout for their acrobatic feats and predilection to similar habitats trout desire.
June through August will often push the largemouths, striped, and spotted bass into deeper holding water, which can be challenging for fly anglers to find these hiding fish. A sinking line or sink tip line will be the ticket here. However, most often better action can be found hunting for smallies on one of the hundreds of little streams and rivers in the Ozarks and throughout the Ouachita mountains. Summertime fishing for smallmouth bass can be really thrilling! The lower water pushes fish to congregate in deeper pools making finding them much easier. Crayfish patterns, minnows, and poppers, along with many common nymph patterns used for trout will entice these feisty fish to feed. 
From September through November bass will start to migrate to different waters again. Smallmouths move closer to their winter lies consisting of slow deep pools that offer potential food sources with expelling little energy-fighting currents. They will be feeding aggressively getting ready for winter. Primarily lake species like largemouths and stripers will return to shallower waters to fatten up before returning to deeper water in the winter.
Winter fly fishing for bass can be fairly slow, but not impossible. As mentioned above smallmouths in streams will move into deeper slower moving pools and eddies. Similar to trout they will look for places that offer adequate protection from predators and slower water where they will be able to find food but not waste tons of energy. Bass still eat during the winter but definitely not as much. Lakes species will also move into deeper waters, usually around 15-20 feet, and can be challenging to fish. 
Arkansas Crappie and Panfish Season
For most of us, panfish were the first species of fish we caught. These feisty little creatures are still a top target for many anglers of all ages and are growing in popularity amongst fly anglers. For me trout are key, but it's important to have other fishing options during run-off or slower hatches. Crappies and other sunfish, often called Bream are abundant and offer anglers a fun break from chasing trout or bass. These fish tend to school together in groups of 3 or more and upwards of 30 fish depending on the location. 
Crappies and other panfish have similar behaviors to other warm-water species. Most of the time fishing for panfish will be done in lakes and ponds, but they can be found in slower-moving creeks and rivers. In lakes, they tend to find shallower waters for spring spawning and before retreating to deeper waters in the winter. Once the waters reach a range in the high 50s to low 60s panfish will start to spawn in shallow waters. 
Later in spring and early summer, they will still stay congregated in shallow water usually around weed beds, rocks, logs, and other structures. This is a good time to try some small poppers, cricket, beetles, and other floating flies. Bream will generally stay close to weed beds, and drop-offs throughout the summer. Once fall rolls in and their vegetation protection start to die they move into deeper water but are still accessible for the fly angler with a sink tip line and a wooly bugger. Once winter hits, crappies and other panfish fishing tend to slow down in Arkansas. They can be a big thrill for ice fishermen further north that will primarily target these fish. 
Arkansas Fly Fishing Styles, Techniques, and Patterns
Arkansas Fly Fishing Rod/Reel Sizes
2-4 weight – crappie and other sunfish
4-6 weight – trout
6-7 weight – smallmouth
7-8 weight – largemouth, kentucky Bass
8-9 weight – striped bass
Arkansas Insect Hatches
Like all fly fishing for trout, matching the hatch is important, and in Arkansas, we have described a few main hatches throughout the year. This again is merely a general guide and more accurate hatch information can be found at one of the local fly shops.
Throughout January and February, there is not a lot of insect activity besides midges. Blue Winged Olives can be common if the conditions are right. There are also plenty of scuds, sculpins, and sowbugs around making good meals for trout. 
Once March and April roll around Grannom Caddis are the main insect with some rare winter stoneflies popping off occasionally. There are also consistent hatches of march brown and sulfur mayflies lasting into May. Further into spring and early summer will produce more variations of mayflies and some small caddis lasting through the summer. Terrestrials such as grasshoppers, spiders, and ants hit the menu in June and stay through September. Crayfish are prevalent during the summer and fall and can be used for targeting bass but also big trout. 
Fall hatches tend to slow down, with mainly midges, blue-winged olives, and some caddis left. At this time and early winter, streamers are key as they mimic the plentiful sculpins and small baitfish in the waters. This is also a great time to use egg patterns, leeches, and san juan worms. 
Popular Arkansas Trout Flies and Techniques
Most often fishing for trout will be done using light tippets between 4 and 5X with floating lines. During the winter targeting trout with streamers requires a sink-tip line with long leaders. There are many different patterns for flies that will be effective and here are a few of the most popular.
Pheasant tail nymph
Pat's rubber legs
San Juan Worm
Elk Hair Caddis
Stimulator
Parachute Adams
Egg Patterns
Zonkers
Blue Winged Olive (BWO)
Micro-mays
Zebra midge
Scuds
Copper Johns
Wooly Buggers
Muddler Minnow
Maribou Streamers
Popular Arkansas Bass Flies and Techniques
Clouser Minnow
Dahlberg Diver Frog
Wooly Bugger
Poppers
Crayfish patterns
Squirmy worm
Popular Arkansas Crappie and Panfish Flies and techniques
Very good vision especially in cooler shady waters. Very small tippet and leaders
Virtually any beadhead nymph pattern
Crickets/grasshoppers
Bitch Creek Nymph
Small poppers
Clouser Minnows
Jig Bugger
Squirmy Worm
Mop Fly
Wooly Worm
Arkansas Fishing License and Regulations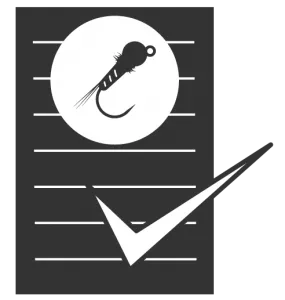 It is important to understand each state's rules and regulations and feel it is so important to stay current with each state's licensing requirements. The proceeds from fishing licenses support many positive functions such as, fish and habitat restoration and protection, research and education, and improving public land access. Arkansas fishing licenses can be purchased online at the Arkansas Game and Fish Commission, any of the AGFC regional offices, most fly shops, and some gas stations.
How Much Does an Arkansas Fishing License Cost?
There are several different types of fishing licenses for Arkansas. One main difference is a regular fishing license and a trout permit. An angler hoping to fish for any species in Arkansas will need to purchase a regular fishing license. Additionally, if targeting trout or fishing in trout waters the angler will need to also purchase a trout permit.
We have broken down the different types of licenses and what each license entails.
Resident Combination Sportsman License (CS)
Allows holders to fish with both sportsman and conservation requirements. (Arkansas does not sell just the sportsman license).
Most common license for residents of Arkansas
Valid for one year from date of purchase
entitles the holder to fish and keep the highest limit of fish.
$35.00
Resident Fisheries Conservation License
Allows angler to fish throughout the state using regular sport fishing tackle (lures, live bait, flies).
possess fewer fish than the sportsman license (dependent on waterway, but generally half the limit in sportsman license).
Valid for one year from date of purchase
$10.50
Resident 3-Day Fishing License
License holders can fish with sport tackle for a 3 day period.
License can start later than the day of purchase but must be 3 consecutive days.
$6.50
Nonresident Annual Fishing License
Exactly the same as the Combination Sportsman License, only for nonresidents.
Valid for one year from date of purchase.
$50.00
Nonresident 7-Day Fishing License
Entitles nonresident of Arkansas to fish for a 7 day period
7 days must be consecutive but the holder can specify when those days start.
$25.00
Nonresident 3-Day Fishing License
Nonresident can fish in Arkansas's lakes and rivers for a 3 day period
3 days must be consecutive, but license holders can specify when those days start.
$16.00
Resident Trout Permit
Must be purchased when fishing in certain waterways or targeting trout.
Is added in addition to one of the other Arkansas resident licenses (combination, conservation, 3-day).
$10.00
Nonresident Trout Permit
For non Arkansas residents wanting to fish in certain waters or target trout.
Must be accompanied by one of the non resident licenses (nonresident annual, 7-day, 3-day).
$20.00
Other Arkansas Fishing Licenses
Resident 3-Year Disability License
Allows an emotionally or physically disabled Arkansas resident to fish for 3 years.
Must be purchased at the Arkansas Game and Fish Commission in Little Rock, accompanied by an application.
Allows individual to fish at specific family-friendly and community fishing locations
$10.50
65 Plus Lifetime Fishing License
Grants anyone over 65 a license for the rest of their life.
Must prove residency and age prior to furnishing license.
$10.50
65 Plus Lifetime Trout Permit
Allows individual to fish in trout waters and target trout for the rest of their life
Must prove residency and age prior to furnishing license
Must accompany a regular fishing license (65 plus lifetime, resident combination, conservation).
$10.00
White River Border Lakes License
Allows Arkansas residents to fish in the Missouri boundaries of Bull Shoals, Norfork, and Table Rock Lakes without a Missouri License.
Must still accompany resident fishing license (Combination, Conservation, 3-day license)
$10.00
Arkansas fishing licenses can be purchased online at the Arkansas Game and Fish Commission, any of the AGFC regional offices, most fly shops, and some gas stations.
Arkansas Fly Fishing Shops and Guide Services
Two rivers is a nice laid back fly shop and guide service. They charter clients on the White, Norfork, and Little Red Rivers. Along with tons of knowledge, great gear, and expert guides; Two Rivers Fly Shop has a rentable cottage close to the White and Norfork Rivers.
Nestled in northwestern Arkansas this great fly shop and guide services carries all the gear and clothing you'll need to catch trout, bass, and panfish. These guys know everything about fishing in Arkansas, but can also provide useful information for more exotic fishing locations and species.
Situated near both the White and Norfork Rivers; Natural State Fly Shop has expert staff and guides to help with your fishing needs.
Just minutes away from the Spring River Mark's Fly Shop and Spring River guide service is your one stop shop. The shop is completely off the grid and hand built by Mark and his family. Whether you're looking for a new rod or reel, fly tying materials, or helpful and competent fly fishing guides these guys have you covered.
Dally's Ozark Fly Fisher is a great shop close to both the White and Norfork Rivers. These folks know their stuff and enlist some great Arkansas fly fishing guides.
Offers a full or half day float for 1-2 people at an affordable price.
Established in 1989 the ozark angler has been servicing fly anglers in central Arkansas for over 30 years. They have two locations, one in Little Rock, with the other just minutes away from the Little Red River in Heber Springs Arkansas. The Ozark Angler can provide you with all of your fishing needs and offers guide services to the Little Red River, White, and Norfork Rivers.
Offer full day trips for 1 or 2 people, and a half day trip for just the Little Red River.
Arkansas Fly Fishing Guides and Charters
Friday Fly Fishing is solely an Arkansas fly fishing guide company offering guided float trips on the Little Red, White, and Norfork Rivers. Affordable prices for full or half day trips.
Fly fishing guide for those wanting to find trophy trout on the White River.
Full or half day float trips. Everything included except Arkansas fishing license.
---
Northern Arkansas is composed of rolling hills, rocky bluffs, and beautiful Ozark rivers and streams. We have outlined and described a few of the most popular fly fishing waters for trout, bass, and panfish.
This list is composed to help the new angler get accustomed to waterways in Northern Arkansas, but we have just scratched the surface of all the fishing opportunities here.
White River
The White River in northern Arkansas is the premier fishery in all of Arkansas. Dams were created in the 1950s and subsequently brown, rainbow, brook, and cutthroat trout were introduced. All of these species can reproduce in the White River tailwaters but brown trout have flourished the most. It consistently produces large brown trout. The White River has also been surveyed and is revered as a top 20 river in the entire country by Trout Unlimited. 
The river starts in the Boston Mountains in northwest Arkansas. It travels north into southern Missouri before returning south into Arkansas and eventually flowing into the Mississippi River. The river can be broken up into three distinct tailwaters, Beaver Lake, Table Rock Lake (in Missouri), and finally Bull Shoals. For our Arkansas article, we will focus on just Beaver Lake and Bull Shoals tailwaters. 
Beaver Lake Tailwater
There is 8 miles of awesome trout fishing from the Beaver dam to the Missouri border, and this section is heavily stocked with brown and rainbow trout. The dominant species in this section are rainbow trout, but an angler can catch browns, brookies, and cutthroat trout as well. Like the rest of the tailwaters, there is no fishing within 100 yards of the dam, and there is a 1 mile stretch of protected waters; where only artificial tackle and barbless hooks can be used. There is easy access to the river through a parallel road that features 3 boat ramps.
The beaver tailwater can be fished year-round, but flows can change due to the amount of water discharging from the dam. Usually, spring and summer will have heavier flows but if the water levels are right can be an extremely rewarding time to fish. Various caddis, mayflies, and terrestrials will fish well into fall. Winter fishing can also be very productive, with consistent midge hatches, an angler can hook into nice fish with tiny flies. Besides midges, scuds and sowbugs are plentiful and often a good pattern for most Arkansas streams. 
Bull Shoals Tailwater
This section is the most famous, and usually what people are referring to when they talk about the White River. Bull Shoals is the largest of the reservoirs and offers 100 miles of superb trout fishing below the dam. Watercraft is the easiest way to navigate this section of water and has tons of boat ramps. If you don't own a boat or want to hire a guide it is feasible to wade fish.
This section of the White River is much larger than its upper reaches and offers some diverse fishing opportunities. There are different types of water— from pockets, long riffles, and deep pools, and long sections of flat water. Bull Shoals is also the best place to hook into a potential world record brown. Further downstream bass becomes plentiful and slowly start to replace the trout. 
Just like the Beaver tailwater the water levels will fluctuate based on discharge from the dam. Generally, during the winter season, the water levels are higher and will decrease into summer and fall. This time of year lends well to sink tip lines and big streamers, but midges will hatch frequently throughout the winter and will entice fish. Blue Winged Olives will also hatch in January and February. 
As the water levels decrease in the summer opportunities for dry fly fishing become more accessible. Caddis, terrestrials, mayflies, and the occasional cranefly will be the main patterns to use. Fall fishing can be spectacular for large browns, however, we highly encourage against intentionally targeting spawning browns on their redds. 
Norfork River
Also called the North Fork River, this excellent fishery is the shortest trout stream in Arkansas at about 5 miles. The river itself flows from Norfork Lake and empties into the White River about 40 miles downstream from Bulls Shoal. The Norfork, although small, still holds a formidable reputation for its large rainbows and browns. Every year anglers will catch trophy size trout that rival the records from the White. Because of its cooler waters discharging from Norfork Lake, many of the giant trout from the White retreat here for cooler and more comfortable water temps. Along with the large browns and rainbows, brook trout and cutthroats can be found. 
There are not many hatches on the Norfork and the majority of fishing will be subsurface. It is still possible to hook into fish on dries and shouldn't be overlooked if you see fish rising. Midges are plentiful year-round and a Griffiths gnat may get some fish looking up. There are some other sparse hatches of caddis and various mayflies; using an elk hair caddis, and parachute adams could be the ticket.  There will be terrestrials in the summer through fall, ants, beetles, and grasshoppers can provide some exciting dry fly fishing. 
The water flowing out of Norfork dam is cold and clear, and when the water is low enough, can lend itself well to sight fishing. Some of the best sight fishing can be performed by nymphing or throwing a streamer past a fish. The river is full of scuds and sowbugs, but many common bead-head nymphs and midge larvae will work just fine.  
Spring River
Starting at Mammoth Springs, Spring River is another top trout and bass river in Arkansas. It flows for 57 miles before emptying in the Black River; a tributary of the White River. Spring River is renowned for being one of the only non-tailwater trout streams in Arkansas and holds crystal clear water, white water, pockets, and long pools. This is the ideal environment for all 4 trout species, with rainbows being the most abundant. Besides trout, walleye, smallmouth and largemouth bass, panfish, and the rare musky can be found here. 
There are two dams within the Spring River, but are currently out of commission and do not cause fluctuations in water levels. The river is a hotspot for local canoers, kayakers, and tubers, and can be a troublesome sight for anglers. Usually, the upper sections are more secluded from floaters and hold better numbers of trout. Wading is possible but The spring River is known for its slippery rocks, and heavy currents, extreme caution is necessary when wading this river. 
Spring River is known for any prolific hatches, and fishing subsurface will be key. Midges, hares ear nymphs, pheasant tails, caddis pupae, and San Juan worms will be your best bet. Streamers such as bunny leeches or wooly buggers can also be effective for trout, bass, and panfish. Later in the summer terrestrials can be useful, and having a hopper with a small nymph dropper will produce fish.
Little Red River
This quaint little stream has a reputation for its fantastic trout fishing, and for almost 20 years held the world record brown trout at slightly over 40 pounds! There are still massive fish that are caught every year, although it'd be rare to catch another 40 pounder. The Little Red River starts in the Ozarks of northern Arkansas. The separate forks converge into the Greers Ferry Lake. A dam was put in that expels cold clean water; perfect for trout. Although the first 30 miles after the dam will hold fish, the remainder of the river holds smallmouth, walleyes, Cappies, and other panfish before its confluence with the White River.
The river is a mix of boulder-strewn rapids, gentle ripples, and long pools. There is a little bit of everything here, and although often fished by a drift boat or raft there is still plenty of water to be fished on foot. Most people think of the Little Red River as a primarily brown trout river, but it has significant numbers of rainbows, along with brook and cutthroat trout. 
Fly fishing can occur year long on the Little Red River, with March through October being the most popular times. Springtime fishing can get tough with high flows and is best done by watercraft. Most of the fishing will be subsurface with nymphs and streamers. Midges will hatch in the winter but larvae will be present all year long. 
There are decent hatches of blue-winged olives in the spring and fall, and fish may take a well-presented blue-winged olive emerger or dry fly. Like the other trout tailwaters in Arkansas, scuds and sowbugs are abundant and can be an easy fly selection. Streamers to imitate leeches, crayfish, and small baitfish will also move fish.
Crooked Creek
The Crooked Creek starts in the Ozark National Forest in Northcentral Arkansas and flows east for approximately 80 miles until it meets the White River. Crooked Creek is known as one of the best Smallmouth bass streams in the whole state. Along with smallies, largemouth bass, an occasional trout, and assorted Panfish call this stream home.
Crooked Creek is a popular river for floaters, but caution must be taken as there are lots of logjams and boulders to navigate. Crooked creek can be fished year-round, but usually by March/April is when the bass fishing starts to take off. Fishing will stay productive through the summer and fall. Poppers and streamers will be effective here, and there is a good deal of fishing pressure so trying out some unique patterns can be a fun experience. Crayfish are also plentiful and are necessary to keep a few of these patterns in your box.
This is the first nationally recognized river in the United States. It flows for 153 miles from the Boston Mountains in northwestern Arkansas to its confluence with the White River. The national river designation allows for proactive measures against industrial and other obstructions that change the natural habitat. The Buffalo National River has some beautiful whitewater rapids underneath picturesque limestone bluffs. This is a popular spot for camping, hiking, canoers and kayakers, and of course fly fishing. 
The upper sections of the river will hold mostly smallmouth bass, and further down largemouth, and Kentucky bass will start to show up. Closer to the White River confluence it is possible to find brown trout, especially in the spring and fall. There is plenty of wading access but to experience the true beautification of this river should be experienced by float. Streamers and poppers will do the trick, but if you're closer to the confluence try some small bead head nymphs, scuds, and sowbugs. If you can't entice a trout, the many bass presents will still hit these flies. 
King's River
Like many streams in northern Arkansas, King's River starts in the Boston Mountains and travels north before draining into Table Rock Lake in Missouri (White River). The roughly 85 mile Arkansas section is undammed and pristine, great for fly fishing!
The primary fish here are smallmouth bass, spotted bass (Kentucky), and various panfish. This river is absolutely breathtaking! And best experienced through a kayak or canoe. The water is a mixture of whitewater rapids, cascading pools, and long deep runs. Crayfish are the main food source on the King, along with small baitfish imitated by poppers and streamers will be effective.
Strawberry River
The strawberry River starts in northern Arkansas and flows southeastern to the Black River. The river features many sections of rapids making it an ideal river for the paddler. Fly fishing on the Strawberry River will mostly consist of smallmouth bass and some sunfish.
Mirror Lake and North Sylamore Creek
Mirror Lake is a tiny 3-acre lake in northern Arkansas stocked with rainbow trout. The lake is formed from water from Blanchard springs; a popular hiking spot for its beautiful waterfall. Most streamers will do the trick of catching one of the rainbows, but also midges, and cranefly larvae suspended can get a strike. Flowing out of Mirror Lake is North Sylamore Creek. A small tributary of the white river that holds smallmouth bass and some trout closer to the White River.
---
Moving away from the top trout fisheries in the state, southern Arkansas is primarily a bass, crappie, and panfish game. The landscape flattens as the Mississippi River drainage flattens much of the southeastern portion of the state, making for warm, murky, and slow-moving waters. Further to the southwestern part of the state lies the Ouachita mountains and forest, which provide cold, clean waters, and prime habitat for bass and panfish. It is this section that we will focus on for Southern Arkansas.
Ouachita River
The Ouachita River is a 600-mile long river flowing from south-central Arkansas and eventually emptying into the Tensas River in Louisiana. The river is mostly free-flowing with the exception of Ouachita Lake which takes in both the south and north forks of the Ouachita. There are two other man-made reservoirs; lake Hamilton and Lake Catherine all relatively close to each other. Trout fishing is not quite as impressive as some of the northern tailwaters, but below each dam, you will find rainbow trout. These fish are all stocked yearly by the Arkansas game and fish, but don't expect to find any record breakers. 
Here you will find typical Arkansas tailwater hatches. A lot of midges, a few mayflies, and caddis later in the spring and summer. Most of the trout fishing will be done subsurface with midges, small nymphs, scuds, sowbugs, and streamers. 
The main prize in the Ouachita River is the smallmouth bass, however other bass species exist, and smallies are the most common. Smallmouth bass will be found throughout the entire river system from the rocky riffles of the upper reaches and the slower big long runs of the lower sections. Largemouth and spotted bass will be found more likely in the lower sections. 
Little Missouri River/Antoine River
The Little Missouri is a lovely little stream in western Arkansas. It starts in the Ouachita Mountains and flows for 140 miles before meeting the Ouachita River. The upper section above Narrows Dam and Lake Greeson is perfect whitewater, with cascading waterfalls and deep pools. This picturesque section of the stream has some great fly fishing for Smallmouths and Panfish, with a few stocked rainbows as well.
For about 6 miles below Lake Greeson, Little Missouri is known for trout fishing, with some crappies and other panfish, as well as, small, large, and spotted bass also calling this tailwater home. Fly fishing here can be fun for small rainbows, although you won't find any giants. 10-12 inches is the norm but a 16-18 inch fish isn't uncommon. 
There are some similar hatches to the northern tailwaters, and some argue that Little Missouri has some of the best dry fly fishing in the state. During the spring and early summer, varying mayflies will start popping off the water, along with caddis and terrestrials in early summer. through October. Lasting through October. Small streamers like a wooly bugger will be effective for trout, bass, and panfish. 
A small tributary on Little Missouri is the Antoine River. At only 50 miles long this stream has some great fly fishing for smallmouth bass, crappies, and other panfish.
Caddo River and De Gray Lake
The Caddo River starts in the Ouachita Mountains of Western Arkansas it flows for over 40 miles before reaching De Gray Lake. After the dam on the eastern side of De Gray Lake, the river flows for several more miles before depositing in the Ouachita River. Most of the fishing will be done above De Gray Lake, with some access below the dam, however, this section can get crowded at times. In the headwaters of the Caddo River, there is decent fishing for smallmouth and spotted bass, with some sunfish scattered throughout. 
Closer to De Gray Lake an angler could find largemouth bass, and potentially walleyes, although rare to catch walleyes on a fly rod, many anglers are starting to become proficient in chasing these big-eyed fish. 
Saline River
One of the longer tributaries of the Ouachita is the Saline River. At over 200 miles long this river starts in the foothills of the Ouachita mountains making its way south. The Saline River is also one of the few free-flowing rivers in Arkansas; meaning they have not been dammed for industrial or commercial reasons.
The headwaters consist of fast-moving rapids and pools of cold, clear water; prime habitat for smallies. Further down, the river starts to warm and darken as it makes its way to Ouachita. This section is better suited for spotted and largemouth bass. There are also crappies, sunfish, and walleyes throughout the river. The river is best tackled by canoe or kayak, but wading is possible throughout much of the river. 
Cassatot River and Gillham Lake
A kayaker's dream, the Cassatot is well known for its white water rapids and boasts some impressive grades of II-IV. The stream starts in the western Ouachita Mountains and travels southern for 90 miles to meet the Little River, a tributary of the Red River. On its path, the Cassatot flows through Gillham Lake and Gillham Dam.
The upper section of the river is where some of the more advanced rapids are and floating should only be endured if you're an experienced rafter. However, there is ample opportunity for wading in the summer months when the water levels are lower. There will be easy-to-find smallmouth bass dispersed throughout the many pools and pockets. Subsurface fishing will be the main approach when fishing smaller pools, but a topwater such as a popper can be effective in longer runs 
Gillham Lake is popular for campers, hikers, swimmers, and everything in between. There is some good fishing for bass and panfish along the shore. Casting a wooly bugger or popper on the edge of weed beds or rocky drop-offs should find fish.
Conclusion
Overall, Arkansas has much to offer in terms of fly fishing, and with it, its growing reputation is starting to become a well-deserved fly fishing destination. We hope you enjoyed our article and maybe encouraged you to plan your next fishing trip to Arkansas!
Please feel free to leave a comment with what you liked and found helpful, or areas that we could improve on.
Additional: