Nothing But Net!
The right fly fishing net makes a big impact on the water, and can be the difference between landing a monster trout… or not.
There are several benefits to using a landing net, which makes it an essential piece of your fly fishing equipment. This article will go over some of those key features, as well as, detail a list of the best landing nets on the market and tips on how to choose the perfect net.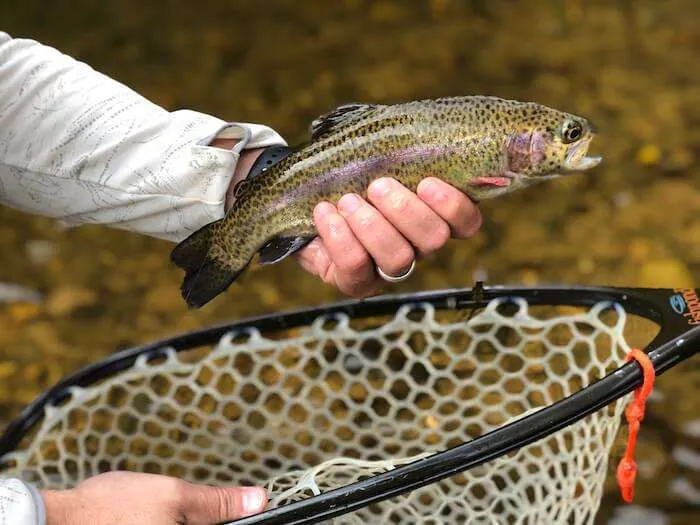 In this fishing net guide, we'll cover
Best fly fishing net overall
Best fly fishing net for the money
Best long handle fishing net
Best boat net for fishing
Fishing net accessories
How to choose the right fishing net
Much more!
Because our site favors the fly angler all of the nets suggested below have rubber netting, which is easiest on the fish and essential for catch and release.
Let's jump in!
---
Best Fly Fishing Net Overall (Top Pick)
The Nomad by Fishpond is the best fly fishing net on the market today. It's made of carbon fiber and fiberglass composite. This net offers the perfect combination of durability with a lightweight design.
The Mid-Length Nomad fly fishing net offers the best overall net for your on the water adventures.

Waterproof/Weatherproof design

Buoyant

Made of Carbon Fiber and Fiberglass composite

Provides a RiverKoat finish for better grip when wet

Comes with a clear rubber net
Best Fly Fishing Net for the Money
If your budget is a bit tighter, but still looking for incredible value, these three nets are great options.
One of the best choices for those seeking a floating fishing net. This floating net has abandoned the traditional style of oval shaped nets and replaced it with an orange metal frame with circular hood shape.
It's designed to become your no worries fishing net. Because of its price, lightweight design and hoop share it is definitely one of the best fly fishing nets for the money.
The ForEverlast Non-Snag floating fishing net even won the 2013 ICAST Best of Show Fishing Accessories category award!
Note: This net comes with a lanyard style adapter on the handle. This modification, compliments of Devin Olsen, would be a perfect fit for helping you to set up this landing net for ease of access on the water.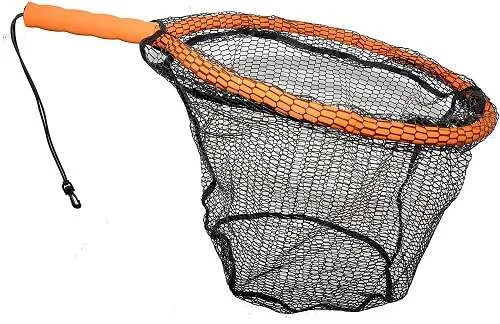 Floating capabilities make it easy to keep track of

A larger opening for bigger fish

The lightweight design makes it easy to use and transport

Rubber netting to ensure fish are safe
The Sunshine offers a great price-point with some spectacular reviews. Made of laminated bamboo and hardwood, not only does the SF Fly Fishing landing net offer great functionality, but also looks amazing. The soft rubber design of the net helps to ensure any fish you catch won't be injured during the struggle.
The multiple designs of the SF Fly Fishing Landing Net allow you the ability to find the right net to fit your needs. Later on we'll discuss the differences between net designs.
This net comes magnets and a coil retractor. If your fly fishing pack does not have a net sleeve, this is needed to properly set up your landing net on the water and will save you money on purchasing these essential net accessories separately.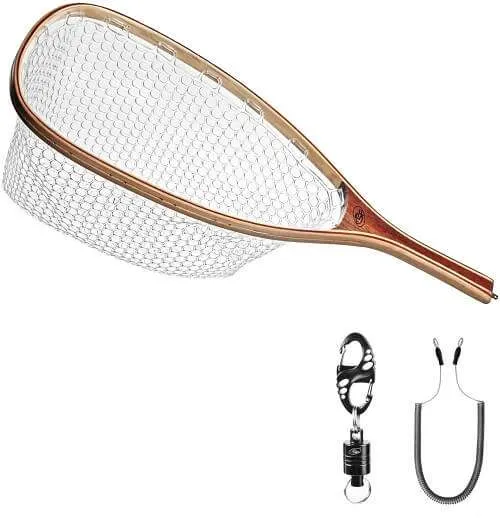 16″ x 9″ basket

Comes in 4 different designs

Magnetic net release

Waterproof coating

A soft rubber mesh bag
This beautiful, wood net, comes from Burl Wood. It's a great option for the price—but don't let the low price fool you, this net is durable and built to last.
While the Trademark Innovations doesn't have nearly as many reviews as the SF Fly Fishing Landing Net, it still has earned a high rating.
We love the long handle and slick design of this net! Price combined with functionality make this one of our top picks for "best fly fishing net for the money." This net is simple, but effective.
If you're planning to land large trout, the Trademark Innovations Fly Fishing Fish-Safe Net is the perfect choice.
20″ x 10″ basket with a 15″ handle

A measuring stick on the handle with marks for 5″ and 10″

Rubber net material to protect the fish

Marble wooden finish

Lightweight and durable construction

Can handle larger fish over 20 inches
Frabill has been trusted by anglers for almost 100 years, and their tangle-free net was made with fly fishers in mind.
The net handle is made from comfortable rubber and measures in at 7.5 inches. There are several options for hoop size depending on your needs. The Frabill net has a lanyard with a clip to attach to your watercraft or vest/pack.
The net material is made from micromesh, intended to protect the fish and keep your flies from getting snagged in the net. The net is affordable and able to meet the budget for almost all anglers!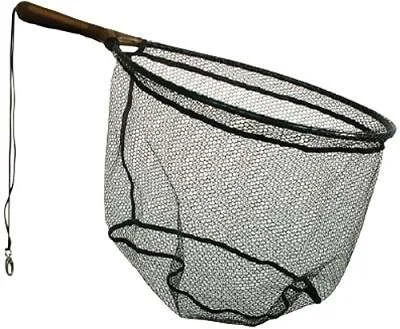 Tangle-free and fish-friendly

Comes in 4 different sizes

Lanyard with clip

Comfortable rubber handle

Soft micromesh basket
---
Other Gear Related Articles
---
Best Long Handle Fly Fishing Net
Traditional fly fishing nets incorporate a shorter handle, for convenience of carrying, but longer nets have been becoming more popular over recent years.
Sometimes it makes more sense to have a longer net, and here are two of the best long handle fly fishing nets on the market today.
The Coldwater is a beautiful wood net with at an amazing price.  The net is made from hardwood and bamboo with a special waterproof coating to ensure your net doesn't deteriorate.
The features of the Coldwater Fly Fishing Net are bulleted out below.
If you're looking for a solid long handle net, the Coldwater Fly Fishing Landing Net offers an excellent choice.
The complete length of 40.5 inches with an 11-inch width

Soft rubber net to minimize damage to fish

Made from laminated hardwood for a comfortable grip

Special coating makes the frame waterproof and abrasion-resistant

USA Business
The Aventilk carbon fiber landing net offers a medium-long handle with a super durable design. It's a sturdy yet light net perfect for fly fishing in any type of water, but especially useful when you need some extra length to bring in a fish.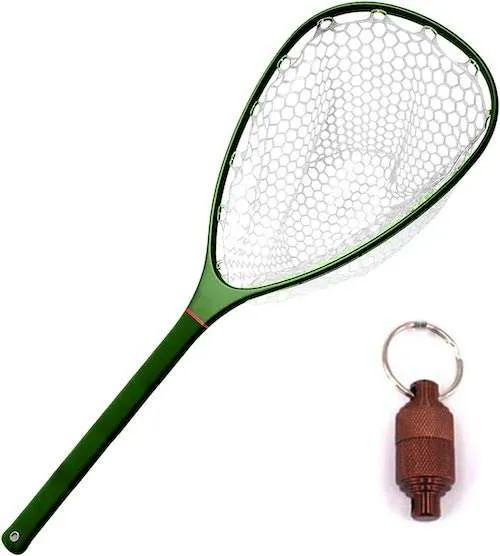 The net features:
37.6" long
Basket 18.4'' X 13.2'' X 11''
Comes with a magnetic release
Made from polypropolene
Best Boat Net for Fishing
When fly fishing from a boat or raft it's even more necessary to have a solid fishing net, preferably with a longer handle.
Trying to corral a fish to your hand as you're leaning over a boat is not can be super clunky. You'll need a long handled net with a larger opening to ensure you can reach, and won't miss the fish.
Here are two of the best boat and raft nets for fishing.
We love Fishpond's Nomad series of nets so much, we had to include their boat net in our list.
This is the largest net in the Nomad line measuring in at 55″ including basket and handle. The Nomad boat net is made from carbon fiber and fiberglass. The net is designed to float and offers a waterproof coating with UV protection.
Some important features of the Fishpond Nomad Boat Net are listed on the right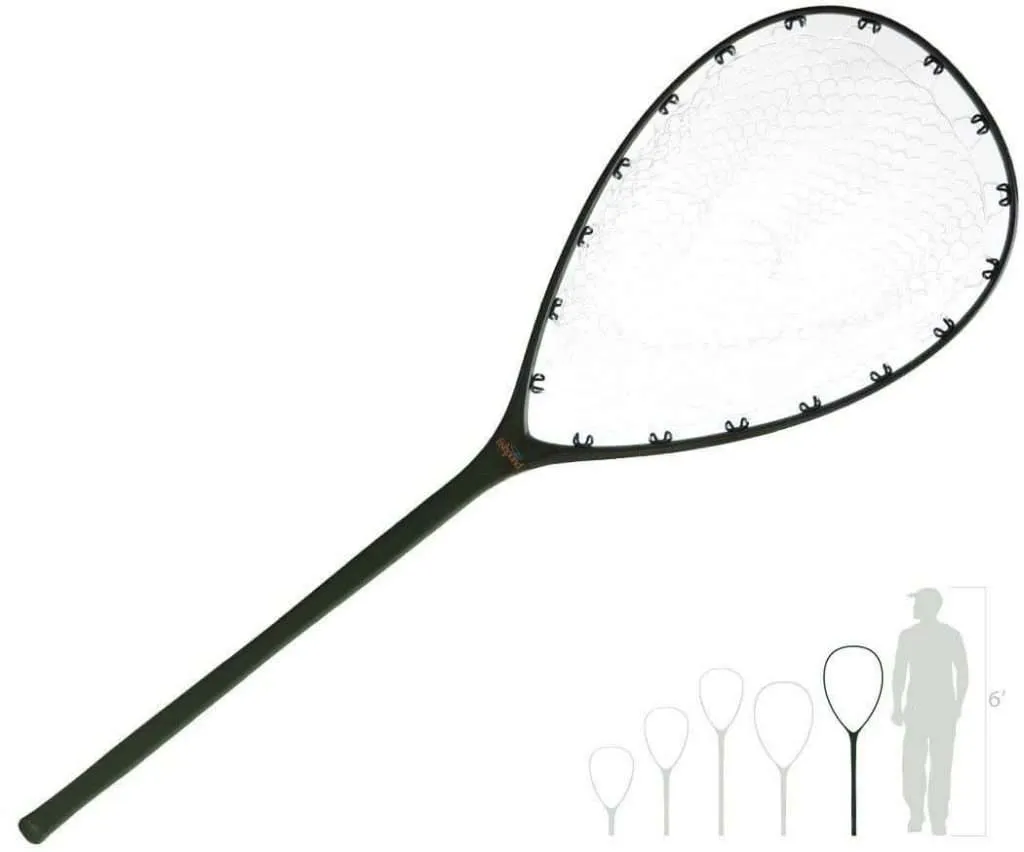 55″ total length 16″ x 25″ basket

Lightweight and durable carbon fiber and fiberglass material

Waterproof coating with UV protection

Clear rubber net to minimize damage to fish
The kingfisher long handle net is great for boats, rafts, and kayaks.
This net is made from laminated hardwood and features a clear rubber netting material. It's also one of the most affordable long handled boat nets on the market today.
Note: This net comes with a brass swivel on the handle. If you use this with a zinger or net leash often this modification, compliments of Devin Olsen, is suggested at some point if the swivel starts to weaken.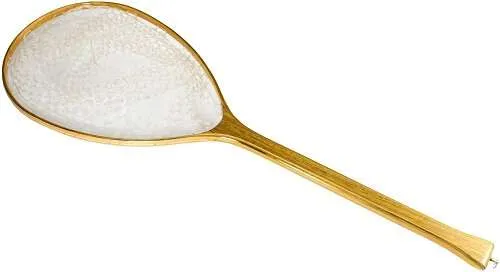 The basket measures 13" X 19" with a depth of 13"

The handle measures 40.5 inches for an extra long reach

Clear rubber mesh net that prevents

harm to fish and won't tangle flies

Brass swivel to connect a zinger or net leash
How to Set Up Your Landing Net
Carrying your net isn't as easy as it might sound. You need it to be accessible to land fish, yet out of the way.
There are several options for how you can set up your fly fishing landing net. The most common way is to use a coil or retractor and magnetic release. The net will stay secured to your pack through magnets allowing for quick and easy access.
This style also uses a backup coil that attaches between the net and pack. This ensures you won't lose your net if the magnets pull lose or you drop the net while landing a fish.
Devin Olsen details how to set up your landing net with a retractor and magnets in the video below.
---
Another option is to use a net sleeve. Many sling packs, chest packs, and even vests utilize a net sleeve in their design.
These are nice because you can slide the handle into the secure sleeve and avoid any swinging that might occur through a magnetic release or net leash. Although, one disadvantage to this method is, the net can be difficult to remove, especially if your battling a large fish.
The last option is to use a net leash. This is a piece of cord or fabric that attaches to an eye hole in the handle of the net, which then connects to a zinger or strap on your pack. This option is simple, but can be difficult to remove, and the net may swing around as you're walking.
Fly Fishing Net Accessories
We've included a few different accessories that are incredibly useful as you're setting up to hit the water.
Top fly fishing net accessories include:
With this retractor, you'll have a safe and secure way to carry your net.
33" retractor cord
147 lb. breaking strength
Braided nylon cord
Built in carabiner clip
An affordable way to set up your landing net, this magnetic net release makes it easy to carry and use.
Lightweight aluminum material
Powerful magnets to keep the net attached
The coil unravels to 96"
8-pound magnetic pull force
The rubber strip attaches to the net
The coil unravels to 96"
If you want a holster for your net, this wading belt is a great option. Besides being able to carry your net this belt features a few straps for attaching other accessories and has a small compartment for carrying additional gear.
Soft foam material creates a comfortable fit
Built-in net holster
Belt designed to hold other useful accessories
---
What To Look For When Choosing Net for Fishing
There are a few important features to look for when choosing your fly fishing net.
Material (Frame)
The material used in nets varies depending on the quality and manufacture and each has pros and cons. The two main types of net frames are either wood or metal composite. Wood nets are great for their traditional and rustic look.
If you're in store for a wooden net make sure the wood is made from high quality hardwood and has been treated and sealed to prevent damage from water and sun. Metal nets are great for their durability and lightweight design. These nets usually cost more than wooden nets but won't damage as easily.
Material (Netting)
When choosing a net make sure the basket or net bag is made from rubber. Older fly fishing nets consist of black nylon mesh bags that can tangle flies and damage a fish's exterior slime coat. A fish's slime coat is designed to help prevent bacteria and infections from forming. Using a rubber net is the least disruptive to their valuable slime coat.
Resource:
Length
As discussed earlier there are many different landing net sizes that yield better results depending on the type of fishing you're doing. Shorter nets are more conducive to smaller rivers and creeks and times when you may be traveling long distances up and down the shore.
On the other hand, a longer net is more useful if you're in a boat or raft. The extra length gives you an advantage when trying to land a fish from a few feet above the water.
Hoop Shape
There are several different net shapes from oval, teardrop, elongated oval, and circular. The shape of the net is mostly based on personal preference, but it's important to find a net shape that feels the most functional, based on the fish you're targeting.
Conclusion
Finding a fly fishing net can be a challenge with the multitude of different products. Whatever you choose–for catch and release, make sure you choose a rubber fishing net.
We hope this article has made that process a little easier and are happy to endorse any one of these nets we recommended.
Please feel free to leave a comment with what you thought we did well or could improve on. If you haven't already please sign up for our free email newsletter in the footer below.
Related Readings: