Finding a pair of waders in your budget that fit correctly, function correctly, and most importantly, last longer than one season, can be a frustrating and challenging endeavor for all of us.
The women I've fished and camped with, however, have expressed particular difficulty in finding a pair of waders that are equal parts comfortable and durable.
In this review we'll cover:
Best women's waders (overall)
Best women's waders for they money
What to look for in women's waders
And much more!
Fishing in general is becoming more and more accessible to everyone, and it's not the boy's club it used to be!
Let's talk about it!
---
Best Women's Waders | Fishing & Hunting
Patagonia is a great company with great values, and they have put a lot of effort and research into making their Swiftcurrent waders.
Designed by female anglers for female anglers, these waders are breathable, and that's a major improvement over neoprene in regards to comfort.
They aren't as hot or constricting as neoprene, and as such, you can layer up clothing underneath for low temperatures, or go light in the summer and beat the heat. Women who bought this model from Patagonia were particularly pleased with the gusseted crotch, allowing for more freedom of movement and a better fit.

Features/Specification
Breathable Microfiber Material
Gusseted Crotch
Single Seam Construction
EZ Lock Suspenders
Anatomical Booties
Welded Waterproof Pocket
The EZ lock suspenders are a great feature, and they allow the angler to avoid "hanging straps" during bathroom breaks. When watching the Patagonia advertisement, this feature stood out as particularly useful and a major improvement in general over the two-strap Hodgman neoprenes I use in the winter.
The anatomical booties that Patagonia uses on their Swiftcurrent waders are another stand-out feature that keep your feet dry and fit better, with less volume to try to fit in your wading boot.
The fact that Patagonia addressed this issue is just further evidence of a great research and development team. They are doing their best to take the challenge out of finding a good fit between quality waders and wading boots.
The Swiftcurrent model also has numerous storage options included as well as a velcro-lined hand warmer and a welded waterproof pocket for your phone. These waders are a great example of Patagonia's commitment to quality and functionality.
Redington's Sonic Pro waders are light and durable. Customers who purchased them seem in general very happy with the fit, and this is due mostly to their use of stretch mesh on the back and sides.
Not only does this feature allow for a better fit for different body types, but it also means these waders are easier to get into and out of than neoprene.
I have a dear friend who fishes extensively with his girlfriend, and it was a three person event to pry her neoprene Frogg Toggs off after we made it to the spot we intended to camp and fish from. Redington remedies this problem by including the stretch mesh panels on the back and sides.
These waders are breathable, which again means there is room to layer up in the cold and size down in the heat. 4 MM neoprene booties keep your feet dry and provide ample warmth in cold waters, and the fleece-lined chest pocket allows you to revive cold digits so you can tie on that size 20 midge in December.

Features/Specification
100% Nylon Breathable Waders
Side and Back Stretch Mesh Material
4 MM Neoprene Booties
Chest Pocket with Water Resistant YKK Zipper
Two-Sided Fleece Hand Warmer
This product gets consistently good reviews on Amazon, and is another great addition to Redington's collection of waders. Some sizing issues do happen, but Redington has a great return AND repair policy, so you can buy with confidence.
Simms is another name that screams quality and ruggedness, and their Freestone Z waders are a top-tier example of this. These waders are built with multiple layers of QUADRALAM fabric, which is a breathable, micro-porous material that Simms layers in panels to increase durability and warmth.
Warmth is a quality that most breathable waders don't have, so this is an innovative improvement, and an impressive fabric that was designed for fishing.
The shoulder straps on these waders are easily adjustable to accommodate bust and/or winter layering, and the neoprene booties have built-in gravel guards and boot hooks to keep dangerous rocks and gravel out of your wading boots.

Features/Specification
Multi-Layered Toray QUADRALAM Fabric
Gravel Guard with Boot Hooks
Fleece-lined Hand Warmer and Zip Pocket
TZIP Waterproof Side Zipper
Adjustable Shoulder Straps
The TZIP waterproof side zipper is the standout design feature on these waders for me however. This side zipper allows the wearer to get the waders on and pull them off easily. This feature stood out to me because I have a broken back due to a car accident, and for me, getting out of my waders after a long day on the water is extremely uncomfortable and sometimes downright painful.
The TZIP Zipper helps to alleviate the struggle of donning your waders creekside, or getting out of them on the fly.
With Simms, you get a commitment to quality and customer satisfaction, and like Patagonia, they take their return and repair policy very seriously. This is always a big plus when trying to find the waders that are going to be right for you, and Simms means it when they say they want you to fish harder and go farther.
---
Other Gear Related Articles
---
Best Women's Waders for the Money
Simms comes through for the fly fisherwomen again with their Tributary waders.
Quality usually means a higher price tag, but these waders are affordable and built for durability at under $200.
Simms states specifically that these stockingfoot waders are built for the new angler to hone their skills on the water and on the trail.
The Tributary waders are made out of breathable nylon panels that can stand up to the occasional brush and thorns, as well as encounters with submerged logs and stones that you might not see while plodding along the creek bed.

Features/Specification
Affordable Price
Breathable Nylon Construction
Two Belt Loops with Wading Belt
Fleece Hand Warmer
Chest Pocket Organizer
Their women's-specific cut is comfortable and works well with any brand of wading boot.
You're getting Simms guarantee with these waders at an affordable price. These are a great product for the new angler from a company I cannot speak highly enough of.
These stockingfoot waders by Caddis are affordable and well made, making them a great choice for your first pair. The reinforced knees are a great feature, particularly if you frequent mountain streams, where access is limited and brush and overhang are constant obstacles.
Getting breathable waders at this price is a great way to evaluate their pros and cons without breaking the bank.
Caddis is good at making products at a reasonable price to get you on the water for less money.
Proper care and maintenance will extend the amount of use you can get out of them, and I would recommend them specifically to people who have used neoprene and are looking to see what all the buzz is about breathable waders.

Features/Specification
Polyester Material with CaddisDry Breathable Technology
Double Reinforced Knees
Quad Pocket with Hand Warmer and Storage Pocket
Very Reasonable Price
---
Other Wader Related Articles
---
What to Look For in Women's Waders?
After a deep dive into what women have to say about the various waders they've tried, bought, and returned, there are several things I have found that stand out as far as what to look for before you purchase.
Breathable waders seem to be the standard type recommended for women. As a rule, breathable waders fit looser and are more spacious than neoprene.
However, companies that design specific features like Patagonia's gusseted crotch and Simms' TZIP side-panel aid in getting a better fit for different body types. Consider these features before you buy.
Proper sizing and proportions can be difficult to figure out, especially when shopping for waders online.
Simms and Patagonia have very detailed size charts, and Amazon always has numerous questions and answers about their waders included on their website in regards to shoe size/height and weight and how that relates to what size waders would be right for you.
Taking a good look at the size charts and measuring yourself accordingly can help ensure you get the most out of your purchase.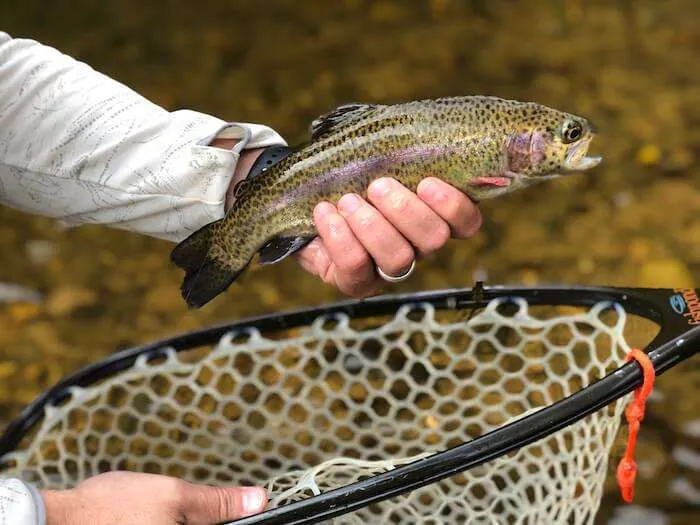 Even with these resources available, it is possible you'll get waders that just don't fit right out of the box. That is why I made mention of the various return policies that some companies have, and it is why they are important to review before you buy.
To try to remedy the woes of sizing yourself for waders that you buy online, consider making a trip to your local fly shop and trying them on in person. I know that I have more confidence investing in a quality pair of waders when I am able to try them on in person before I buy.
If your only way to get a pair is online, read the fine print of the return policy so you know what the parameters are for return and repair. Knowledge is power!
Reeling it in!
The days of 'One size fits most' waders seem to be coming to an end—which is a good thing! More and more companies are making waders that are tailored to people with different body types and that maximize comfort and ease of use while maintaining functionality and durability.
It is refreshing to see the big names in fly fishing take this seriously and create products to fit everyone's needs.
As time goes on I am sure that the angling community will see even more advancements in design features and wader material, making products more accessible for all genders, shapes and sizes. Inclusivity and attention to the needs of all anglers is a must, and will effectively draw newcomers to the sport.
Buying waders that fit and perform correctly for your body and your style of fishing can seem daunting at first but hopefully this review sheds some light on the best of the best and the best for the money. See you on the water!