One of the most often overlooked pieces of fly fishing equipment is the wading staff. It's the type of tool that you look at and think "Eh, don't really need that" until you give it a try and discover what you've been missing out on.
Fly fishing comes with a lot of associated gear and accessories. Some of it makes presenting a fly easier, such as floatant, while some of it makes your time on the water more comfortable, like sunglasses. Some of these pieces of equipment, like wading staffs, can be life-saving.
In this article we will cover:
Best fly fishing wading staffs
Best wading staff for the money
Wading staff extras and holsters
Wading staff sizing
Pros and cons of using a wading staff
And much more!
Let's get started.
Best Fly Fishing Wading Staffs
This is the absolute cream of the crop.
Folstaf practically pioneered the foldable wading staff, and they haven't had to change much since the 1970s. That's because this simply-engineered system works efficiently. It's made of ¾" aluminum tubing that surrounds a thick double-shock cord.
It folds down into six sections, from a non-slip, floating cork handle down to a strong carbide rock-biting tip.
The Folstaf Wading Staff sets itself apart in a few areas: it's lightweight (under 15 oz.), compact (folds to just 10") and it can be deployed with only one hand. That's a feature you'll want to prioritize if you're planning on not wading with it on your belt and using it as needed.
This staff's design makes it so it won't collapse while in use. It comes with a lifetime warranty and great customer service.

Specifications/Features
3/4 aluminum tubing
double shock cord
floating cork handle
This staff also comes with a compact belt holster that will allow you to attach it to your wading belt. It's available in three different lengths, allowing you to get the right fit.
While it's the most expensive of the staff on our list, all of its features make it worth the higher price. You can't put a price tag on peace of mind and safety.
Simms has put out a high-tech offering with this Wading Staff. With design elements taken from avalanche probe technology, this wading staff is strong and light.
It consists of four collapsible sections made of a super durable and lightweight aluminum tubing and includes a fast-lock system for quick and efficient application on the water. The handle on this staff is a contoured foam for a secure grip.
The Simms Staff is 54.75″ when deployed.
Simms is a trusted brand and this lightweight, yet strong staff is a great tool. It will help you to wade safely and quickly.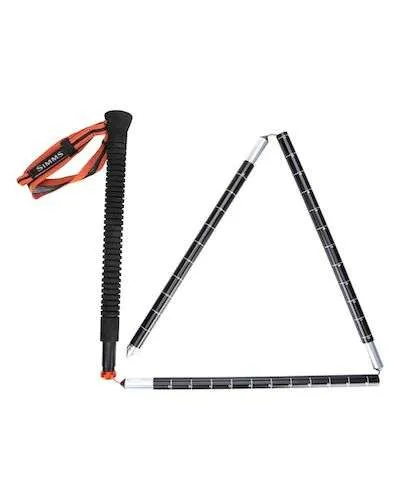 Specifications/Features
4 Aluminum sections
Non-slip grip, contoured foam handle
FastLock system
Ergonomic strap is quick-release enabled
Neoprene sheath
In typical Patagonia fashion, this wading staff takes the things you'd expect to find and delivers an extra little bit of a "above-and-beyond" factor.
It's the lightest of the bunch (11.8 oz) and is made of carbon fiber-wrapped aluminum. It Deploys quickly, with three sections and an easily-adjustable feature that allows you to dial in the exact height you'd like.
The bottom section of the staff is made of sturdy anodized aluminum and the staff has a thin diameter to reduce underwater vibrations to avoid startling spooky fish.
Like the Orvis staff, this staff comes with a built-in retractor and a stuff sack that makes for easy stowing and toting. Patagonia offers a lifetime warranty on this product as well, so buy with confidence.
Specifications/Features
11.8 oz
Carbon Fiber wrapped aluminum
built-in retractor
lifetime warranty
---
Check out our other gear related articles:
---
Best Wading Staffs For the Money
If you desire a wading staff but have a limited budget we provided a couple of great wading staffs at a more affordable price.
If you don't want to blow your budget on a wading staff, the Hammers Collapsible Wading Staff is a great option.
It won't leave you wanting more, despite the lower price tag. It features nice touches not often found in "budget" offerings, like a wrist strap for security and an ergonomic grip for comfort and control.
This staff collapses down to a small, compact 12" and can hold and support you as you lean on it. It's stronger than you expect and we believe it'll be a durable option at its price point.
For a wading staff in the $ 30 range, you may have to make some sacrifices. This staff can potentially separate out when you plant it into softer surfaces. This isn't the end of the world – you'll have to pull the bottom section out and fit it all together again. But, this can get old quickly and is something to keep in mind. However, if you're wanting to test the waters on a wading staff, this is a great choice.
It comes with a case and a carabiner link to keep it attached and stored when not in use.
Specifications/Features
Compact (12″)
Secure wrist strap
Carabiner attachment
Aventik is a good brand for affordable fly fishing equipment, and their Foldable Wading Staff is another piece of quality, less-expensive gear.
This staff is sturdy – especially for a "cheap" one. It collapses into four foldable sections, with extra weight added to the tip section. Theoretically, this will prevent the staff from separating while in use and will add to the overall durability.
It measures a total of 55", and folds down to a nice, compact 12" when not in use. The handle on this staff is another nice feature – it's made of cork (more durable than foam), which adds an extra touch of "looks good" to this affordable staff.
Specifications/Features
55″ total 12″ collapsed
Cork handle
Weighted tip
As is always the case with budget gear, this probably won't hold up over years and years and years of use and abuse. Probably. But who's to say?
The science and engineering behind a wading staff is a pretty simple concept, and I know that my forefathers got by with whatever sticks were within reach. With that in mind, the Aventik staff is a good bet for getting a lot of value out of a simple ask.
Wading Staff Extras and Holsters
Here are a few products that go great with wading staffs
If your wading staff doesn't come with a built-in retractor, you're going to want to pick one up. It's pretty much a must-have.
We've all lost gear, and you don't want to have your wading staff go swirling downstream in the current when you need it most. This retractor from Simms extends up to 3 feet long and connects to both your wading staff strap and sheath for additional security.
It weighs absolutely nothing (1.6 oz) and is made of a braided Spectra cable that will hold up over time.
This is our favorite option for storing wading staffs on your belt. Made from a thick PVC-coated nylon-woven mesh, it's designed to fit on any wading belt up to 4" wide.
The pocket is perfectly shaped and 10" deep, which will accommodate nearly any size of collapsible or retractable wading staff. It's also backed by a lifetime warranty.
This tool keeper from Dr. Slick is a great option for keeping your wading staff at hand. It's got a great alternative threaded stud pin, which will allow you to mount the tether with either the traditional D-ring approach or through any mesh or vest material.
This magnetic tether has a nice, smooth action that stays secure but is easily removed. It could also be used as a net retractor, too.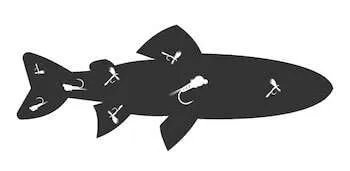 ---
Wading Staff Sizing
How tall should my wading staff be?
It depends on how tall you are, and a bit of personal preference. To get the most out of your wading staff in regards to safety, you're going to want to be able to use it as a third-leg, tripod sort of staff as opposed to a shorter cane.
This will require it to be chest height, not hip height. A good measuring point is usually to measure up to your armpits. If a staff comes this high, it will allow you to lean onto it for support and use some of that extra length for poking and probing as you prepare to take your next step.
Pros and Cons of Using A Wading Staff
Before you decide to pull the trigger on purchasing a wading staff, you'll want to consider the pros and cons.
Pros
The most obvious benefit of using a wading staff is the most important one: safety. When you're treading across the current with the use of a staff, you can and will have only one point of contact between you and the river bottom in between steps.
Standing in moving water on one leg is crazy when you slow down and think about it, even if only for a temporary amount of time. A wading staff gives you a third point of contact that you can always rely on.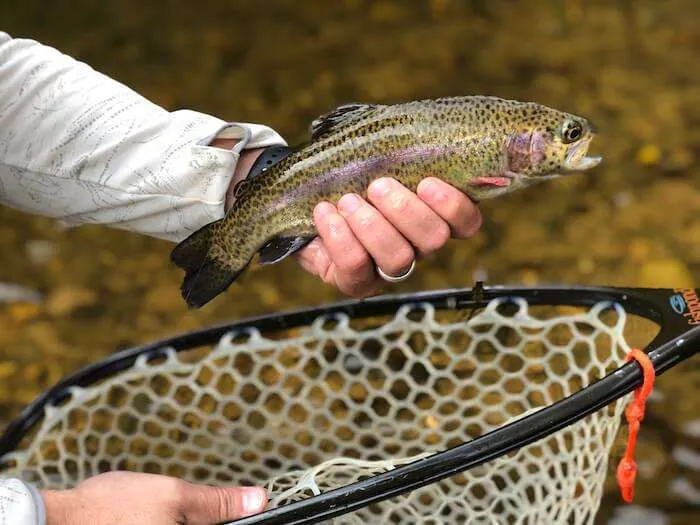 This results in other benefits beyond just safety. Because you won't have to tread so carefully, and because you'll spend less time slipping and sliding off of rocks, you'll be able to wade faster. Even if you consider yourself light footed and balanced while waiting, it's a guarantee that you'll be able to wade quicker while using a wading staff.
Wading staffs can also be used to probe and poke into places before you step into them, and they can assist with the occasional untangling job and bushwacking adventure.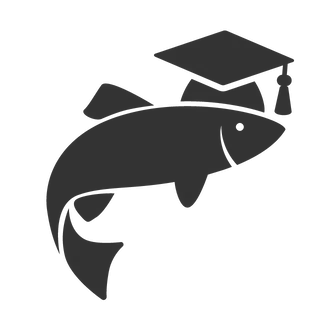 Cons
There are some cons to using a wading staff. The metal tip can clang on the bottom and spook fish, so be cognizant of that. Also, it's another thing that you'll have to pack onto yourself, and another item for your fly line to get tangled around as you cast to or fight a fish.
With that being said, there are ways to minimize these factors: prioritize lightweight wading staffs with good retractor systems (or third-party retractors), and come up with a storage spot that will keep your staff consistently out of the way.
For me, that means my staff stays retracted and tucked into the small of my back right behind my net. I'm able to grab it with my dominant hand as-needed in an instant and it doesn't snag my line.
Conclusion/Final Thoughts
Wading staffs are underrated tools that can help you to access water safely and quickly. They'll provide you with peace of mind and can be the difference between avoiding a major accident or not.
If you find yourself wondering if a wading staff might benefit you, it will. Take the time to find one that will last, won't weigh you down, and can be deployed and stored quickly.
Hopefully, this guide will help you to make an educated purchase that will keep you dry and safe. Tight lines!
---
Further Reading: