Keep Those Bits Warm
As fall conditions replace summer, water temperatures begin to drop as well. For those of us willing to brave the colder weather and continue our outdoor pursuits into the winter, neoprene waders are a must.
Here you will find reviews of numerous different types of waders produced by a number of different companies so that you can make an informed decision on a pair that will carry you into winter warm, safe, and able to fish/hunt where others cannot.
In this article we'll cover:
Best neoprene waders
Best neoprene waders for the money
What is neoprene?
Neoprene Vs. breathable waders
Pros and cons of neoprene
How to repair neoprene waders
And much more!
Let's get started!
---
Best Neoprene Waders
Hodgman Caster's were the first pair of neoprene chest waders I ever used to begin plumbing the waters of the Bald Eagle for brown trout in Pennsylvania. Their popularity here in PA is evident, usually because as fast as these waders arrive on the shelves of tackle shops and sporting goods stores in the spring, they are bought out quickly.
Even more affordable than the previously reviewed Frogg Toggs, these are another overall winner for the newbie.
The reinforced knees are a feature that I feel gets overlooked sometimes, usually because that 3.5 MM foam can make a new angler feel invincible and willing to plod through dangerous thorns, slide down short embankments, etc.
Features/Specification
Very Reasonable Price

Rear D-Ring for Net

Reinforced Knees

Internal Pocket and Handwarmer

Two Front Accessory D-Rings
Take advantage of the reinforced knee and consider kneeling instead of sitting on that round rock in shallow water. With care and wherewithal on the trek, these waders can last several seasons.
Frogg Togg is a name that I've been familiar with for a long time. They provide a very solid product for the price, making these waders ideal for the entry-level fly fisherman that wants to try their hand at winter browns.
3.5 MM neoprene is thick and allows good protection from the cold, but remember, these are designed for use in the water. Bushwhacking and muscling through thorn patches and sharp twigs can poke holes through them and should be avoided.
I've seen new fly fishermen overestimate just how much abuse neoprene can take, and they ended the beginning of the season with wet feet.
Features/Specification
Adjustable Suspenders

High-Back Design

Handwarmer Pocket

3.5 MM Neoprene Foam

Reinforced Knees

Insulated Rubber Boots

Cleated or Felt Boot Option
With proper maintenance and use I've seen these waders last my friends multiple seasons with no issue. They are a great choice for your first pair of winter waders. 
I upgraded to stockingfoot waders when I discovered just how beneficial and safe wading boots can be. Instead of having an insulated rubber boot attached to the chest waders themselves, stockingfoot waders end in just that–a neoprene sock.
Paired with a good wading boot (I prefer the Chota brand), you will have much more grip and better footing in fast water than normal cleated or felt rubbers.
The sliding gravel guards are very useful for keeping pesky flakes of rock away from the neoprene sock inside your wading boot. Always be mindful that you're walking on your own neoprene with waders like this, and walking back and forth in the stream with sharp flint in your shoe will spell disaster.

Features/Specification
Stockingfoot Style

Web Waist Belt

Gravel Guards

3.5 MM Neoprene

High-Back Design
Stockingfoot waders also keep your toes warm and protected, whereas the insulated rubber boots of the previous models can get cold after a few hours in the water. The high-back design lets you go deeper, so find some wading boots and try these out.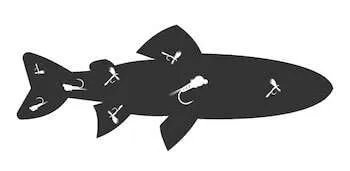 Best Neoprene Waders for the Money
The TideWe neoprene waders are extremely affordable, again making winter fishing and deep water wading accessible to nearly everyone. The standard 3.5 MM foam that TideWe uses is durable and protects against the cold and the occasional thorn.
What must be mentioned specifically about TideWe is their warranty program. Waders can leak right out of the box, it's an awful, frustrating thing but it does happen. TideWe is fantastic when it comes to honoring its warranty program, which I have included below:
" To ensure your complete satisfaction, we offer an exclusive one-year. Our warranty does not cover damage inflicted by tree branches, fish hooks, fillet knives, shotguns, chainsaws, falling down a mountain, failure of your chute to open, fire-walking, becoming a porcupine's love interest, gator wrestling, or any similar brushes with Mother Nature and its inhabitants."
Features/Specification
3.5 MM Neoprene Foam

Cleated Rubber Boot

Very Reasonable Price

One Year Warranty
The Foxelli chest waders again combine a reasonable price with a stellar return policy. The camo pattern is an added plus, and the waders use 4 MM foam, upping the durability.
Included with the purchase is a waterproof phone case that most buyers find functional and useful. It can be clipped to the D-ring attachments, which can help with the organization of frequently used tools and keep them at hand.
The return policy again is iron-clad and a talking point among Foxelli's buyers. This lets you buy with confidence on a budget. These waders really are a lot of bang for your buck.
Features/Specification
Affordable Price

Waterproof Phone Case Included

Camo Pattern

30 Day 'No Questions Asked' Return Policy

One Year Warranty
---
Other Gear Related Articles
---
Best Neoprene Hip Waders and Boots
Frogg Togg's Rana II hip waders are affordable and good for early spring and summer use. The non-insulated PVC boot gets cold, so double up on socks if you're fishing in cold weather and especially if you are walking through snow.
I have mixed thoughts on the Rana II, but one thing that is mostly agreed upon by buyers is that they will honor their return policy and fix manufacturing mistakes.
Features/Specification
100% Polyester

Cleated PVC Boots (Not Insulated)
For more hip boot options, explore our dedicated hip boot review
What is Neoprene?
You've probably encountered neoprene in everyday life without even realizing it. It's definitely not just for waders! It's used in medical grade seals and gaskets, diving suits, laptop cases, and even sometimes in the fashion world.
It is technically known as polychloroprene and is created as the result of a chemical reaction. Its ability to repel water and provide warmth at the same time are the characteristics that made it desirable for use in and under the water.
Sometimes it is wrapped between two different fabrics for flexibility, but its chemical composition hasn't changed since World War II.
Neoprene vs. Breathable Waders
Breathable waders are fast becoming the standard for fly anglers, and for good reason. They are light, and very durable for being remarkably thin, and some of the better brands make models that actually wick internal moisture (I'm talking about sweat!) away from your body.
Where neoprene has the advantage against breathable waders is insulation. You just can't spend much time waist-deep in cold water in the light, breathable waders. There is a time and place for neoprene and breathable-type waders, and I think it hinges on the seasons.
Pros and Cons of Neoprene Waders
Pros
Affordable Price
Warmth/Insulation
Durable
Enables the Angler to Stay in the Water Longer
Cons
Bulky
Boot-foot Models can be Uncomfortable
Warm in the Summer months
Sizing can be Complicated
---
Other Wader Related Articles
---
Neoprene Wader Repair
Repairing neoprene waders is easy to do. However, finding the leak can be a bit tricky. Check out this video below for some tips on neoprene wader repair.
Reeling it in
Neoprene has been around for a long time and for good reason. Winter fishing would not be safe or comfortable in my opinion, without the use of neoprene. No waders are perfect and neoprene has its flaws, but I highly recommend neoprene chest waders if you plan on routinely having a go at big winter brown trout. Stay warm!
Thanks for checking out the article! Please leave a comment with what you liked or thought we could improve on.
Related Readings: