Something for the Long Haul
A pontoon boat can provide the committed angler with a watercraft that is extremely sturdy, dependable, and able to withstand tougher water conditions than your standard kayak or stand-up paddleboard.
Modern pontoon boats have numerous features to make fishing from them easier and more streamlined, and most can be modified with ease to suit the type of fishing you like to do, on the waters that are geographically relevant to where you're at.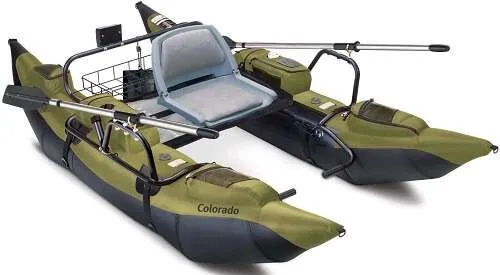 Here at Anchor Fly, I've reviewed a lot of different boats to fish from, but pontoon boats stand out from the rest due to their higher max carry-load and bigger size.
In this review, I'm going to do a deep dive into a few well-rated pontoon boats so that you can make an informed purchase if you're in the market for one. Whether you're ready to upgrade from a kayak or float-tube, or if you're new to fishing from a watercraft in general, this review should have some pertinent information about these heavy-duty, dependable boats.
In This Review We'll Cover:
Best inflatable pontoon fishing boats
What to look for in a fly fishing pontoon boat
Pontoon boats Vs. other watercrafts
Pontoon boat safety
And much more
Let's get started!
---
Best Fishing Pontoon Boats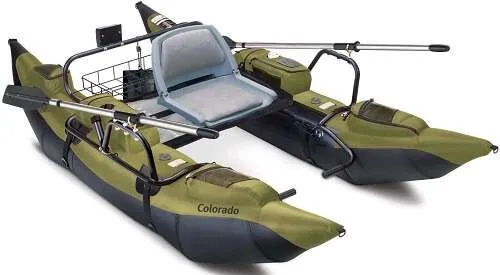 Specifications/Features:
9 Foot Pontoon Boat
108" Length x 56" Width x 28" Height (To Top of Seat)
77 lbs Weight
400 lbs Max Carry Capacity
Powder Coated Steel Tube Frame
7 Foot Two-Piece Aluminum Oars
20 Pockets (!)
Anchor System With Fillable Mesh Bag, Cleat, and Pulley Controls
Adjustable Foot Rests
Removable Stripping Basket
Fly Patch
Two Year Limited Warranty
Stowable Transport Wheel
Classic Accessories has created a heavy-duty and reliable pontoon boat with their Colorado. The frame is all powder-coated steel, and the pontoons are made of abrasion-resistant PVC that customers reviewed as very forgiving and durable.
The total weight is 77 lbs, but the stowable transport wheel makes this boat easy to navigate into your favorite fishing hole by yourself. The Colorado packs down small, and I was particularly impressed when one Amazon reviewer commented that the entire package fits into his Nissan sedan. This boat is rated for Class 1 water, meaning it's best suited for Fast-moving currents with small waves and few obstructions that are easily avoided. Low-risk.
Aluminum oars are included and there are adjustable footrests on the open floor. The inclusion of a removable stripping basket and fly patch make this boat very well-suited for the fly fisherman who wants to try their hand at a larger body of water than they could fish with a float tube or in waders.
There are ample pockets for gear storage, and the boat can handle a 400 lbs max load, which is impressive with its relatively lightweight profile. After poring over dozens of reviews, the only negative remarks made about the Colorado were that the seat, while functional, doesn't swivel and that this could complicate casting and stripping to some extent.
However, many customers easily modified the seat to swivel themselves or replaced it outright with a different seat to achieve the movement they wanted. Other modifications to the boat include adding an electric trolling motor, and with this boat's ability to carry quite a bit of weight, you can still pack in all your gear on it with the battery and motor included.
This boat is sturdy and durable, and the warranty that Classic Accessories has included covers a lot. Aside from this, all the parts are replaceable online from their website, should disaster strike in one form or another. All in all, this is a workhorse of a pontoon boat that lives up to the hype of its many happy reviewers.
Specifications/Features:
9' Long, 4.5' Wide Pontoon Boat
Haswing 12 Volt, 55 lbs Bow Mount Hand Control Trolling Motor Included!
Adjustable 24" Shaft Length
550 lbs Max Load
Swivel Seat With Adjustable Height
Aluminum Floorboard With Non-Slip Coating
Stainless Steel Guard Bar for Incredible Stability
Oars and Oar Mounts Included
Gear Bag Included
Deep Cycle Battery Not Included
The AQUOS inflatable pontoon boat is a complete-package watercraft, motor included. I've done quite a few reviews on boats here at Anchor Fly, and usually, they are capable of having a motor, but rarely is a motor included in the package.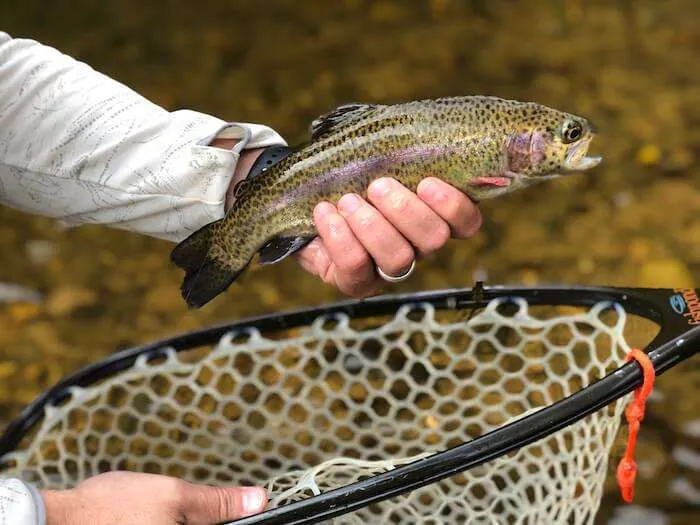 Aquos has included a Haswing 12 V, 55 lbs bow mounted and hand-controlled electric trolling motor that was designed to work well with their nearly 9 foot long, 4.5-foot long pontoon boat. While the deep cycle battery necessary to power the motor is not included, having a motor that performs well with the design of the boat takes the guesswork out of trying to find one that will work on your own.
The motor itself is dependable, with an adjustable shaft for nearly all water depths and conditions. It has 5-Speed forward and 3-Speed reverse capabilities and many owners of the AQUOS were impressed at the motor's consistent and powerful performance.
The motor is obviously a major selling point for this pontoon boat, but it has many other features that make it worthy of buyer consideration. One of these features is the guard bar. The guard bar is constructed of treated stainless steel and is extremely useful for getting on and off the boat with ease.
Its utility extends to on-the-water activities as well, and it works great to provide stability for stand-up fly casting and spinning. The aluminum floorboard combined with the four floating air chambers adds up to make the AQUOS super stable if you need to repeatedly stand up or sit down.
The seat that comes with this package does swivel, but if necessary can be removed to better suit what kind of fishing you're committed to.
The price tag on this boat may seem daunting at first, but with all the features that the AQUOS has, I think it is more than reasonable. Saltwater fishermen have also given this boat good reviews when surfing the flats for bonefish, and to me, that speaks volumes about its ability to handle everything freshwater has to throw at it.
This boat is a well-engineered answer for fly fishermen looking for something that packs down small enough to fit in a sedan, but with enough power and features to go farther and stay longer on the water.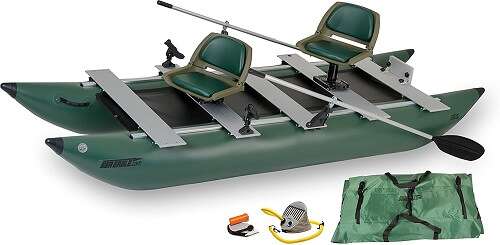 Specifications/Features:
12' 4" Length, 4' 6" Width Dual Chamber Pontoon Boat
75 lbs Hull Only
Two Person/ 650lbs Max Load
Aluminum Floorboard
3 HP Gas or 70 lbs Thrust Electric Motor Compatible
Two Removable, 360-degree Swivel Seats
Compatible With Numerous Scotty Brand Accessories
Oars, Foot Pump, and Repair Kit Included
My pontoon boat review would not be complete without mentioning Sea Eagle, a company that has made a name for itself in both the boating and angling world for rugged and dependable products that last season after season.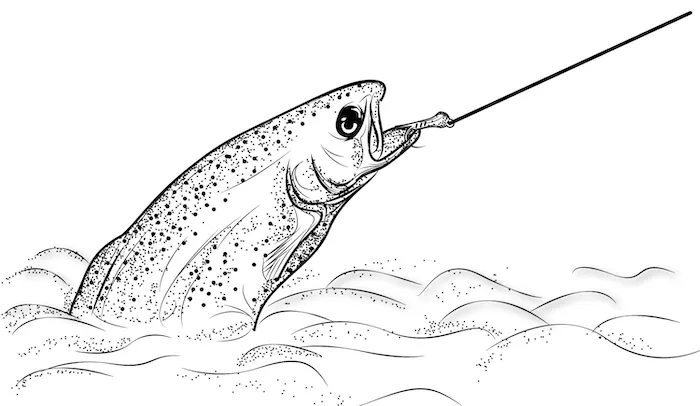 I've reviewed at least three other Sea Eagle products here at Anchor Fly, and the FoldCat, like their other watercraft, is an expertly engineered boat that can take your fishing to the next level. This is a two-person boat, with an impressive 650 lbs max load and two seats that rotate 360 degrees.
The FoldCat's proprietary folding hull means that this thing is easy to set up, even when you're fishing alone. While Sea Eagle claims that the entire boat can be set up in ten minutes, customers have reviewed the actual set-up time at about twenty minutes, but considering the size and capabilities of this boat, that's still an impressive number.
An aluminum floorboard and two large float tubes make this boat incredibly stable. The floor is more than capable of not only holding all your gear, tackle boxes, rods, reels, and coolers but also a deep cycle battery if you're using an electric trolling motor.
Unlike the other pontoon boats in this review, this one is rated for a gas-powered motor if you don't wanna go electric, and a gas motor means further floats and more access to those spots on the river you just couldn't get to otherwise.
This is the boat with the biggest max load in this review, and it still can pack down and fit in the trunk of your car for transport, no trailer necessary. If you fish with others often, as I do, this may be just the pontoon boat you're looking for.
The FoldCat is compatible with almost all Scotty accessories, so do yourself a favor and check out what that company has to offer if you're looking for a feature that this pontoon boat doesn't have. I imagine that will be hard to do because the FoldCat covers all the bases as far as a fishing boat goes.
The price tag is high, but this thing does it all and has enough room and weight capacity for you to take someone on the float with you.
---
What to Look for in a Fly Fishing Pontoon Boat
When trying to find a pontoon boat that's right for you, consider first the environment you'll be fishing in. For example, I would probably lean more towards the Colorado XT if I was mainly fishing the Bald Eagle, a broad but sometimes shallow creek.
If fishing the Susquehannah in search of smallmouth (or muskie) I would definitely want something beefier and able to hold a stronger motor, and would probably opt for the Sea Eagle. Even if you just fish ponds and need something to float you out into the middle, be honest with yourself about where and how you fish because this will often determine what type of pontoon boat is right for you.
Outside of your particular fishing environment, you're going to want something that's easy to assemble and inflate on your own. Weight will be important if you're not using a boat launch and have to carry your watercraft to the water.
The length of time and the distance you will be fishing are also major factors in choosing a boat that's right for you.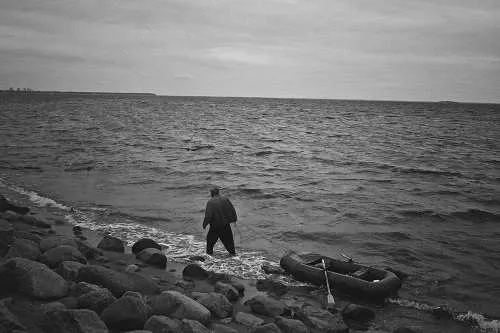 If it's a multi-day affair down the Sussy or other major river, you're going to need food, water, and more, and that means you need a higher max load. If it's a one-day float through a larger creek, being able to float hundreds of pounds becomes less important, and portability becomes more of a factor.
Pontoon Boats Vs. Other Rafts
Pontoon boats stand out from other watercraft like kayaks and SUPs because they can often support a bigger motor, more carrying capacity, and in general are far more sturdy and stable on the water. While a SUP or a kayak can excel in smaller waters and ponds, pontoon boats hold their own on lakes and bigger rivers.
Also, pontoon boats can withstand wind and changing currents better than their lighter counterparts, and this is important especially if you plan on fishing with no motor, relying solely on these currents and your oars.
Pontoon Boat Safety
Safety should be your number one concern when out on the water. Fishing is dangerous, and caution should be exercised at all times to avoid potentially life-threatening accidents. Most importantly, know where you're fishing.
Get an idea of the depth and the general water conditions long before you hit the water. Keep an eye on the flows from any relevant tailwaters, and always avoid going out when the water is high or flooded. Keep careful watch of the weather as well. When the water is high, things get more dangerous, and this is a fact.
Throughout this entire review, I have been applauding the ability of pontoon boats to withstand many conditions that other lighter boats cannot, but this extra power, load capacity, and stability will not make you invincible, especially when the water is high.
Always wear a life vest, and always tell someone where you're fishing, when you'll be back, etc. If you're new to being on the water in a boat, you need practice, plain and simple.
Taking your pontoon boat on kayak waters that are reviewed, rated, and frequently used is a must so that you become comfortable and capable in your boat.
Always keep an eye out for debris, and if your pontoon boat does not include a repair kit, purchase one and learn how to use it. Always be prepared for the worst, even on the water you're familiar with.
Here are some basic boating safety tips, but I still strongly advocate taking a class near you.
Conclusion/Reeling it in
Pontoon boats are perfect for those long-haul excursions on bigger water. The power, maneuverability, and stability they provide make them perfect for those of us that spend a lot of time fishing rivers and lakes.
They do carry a higher price tag than your standard kayak or float tube, but they can get you to parts of the water that other watercraft cannot, and they can get you there safely. The higher max load makes them perfectly suited for longer trips, and that means more time spent fishing.
I hope that you found this review helpful. Be safe out there, and as always, tight lines!
Related Readings: